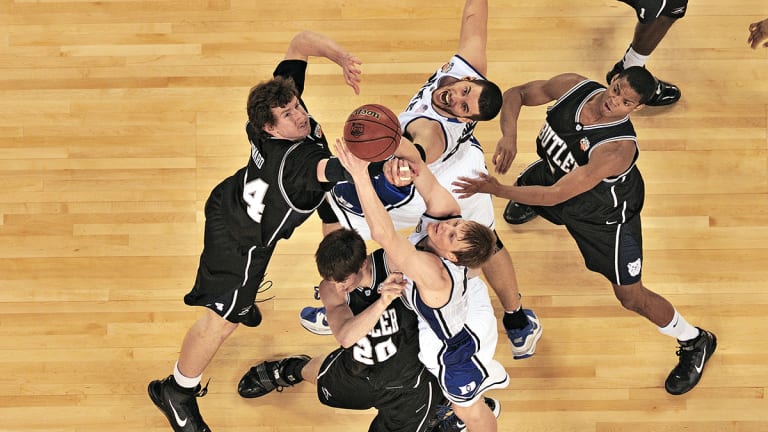 Tough As They Come
Led by a rejuvenated coach and embracing a bruising brand of play, Duke seized its fourth national title in Indianapolis—but only after resilient Butler gave the Blue Devils all they could handle in a breathtaking final
They were portrayed as just not good enough in recent years, when measured against the towering success of their program over the last two decades. And then on the final night of Duke's unexpected climb to the national championship, suddenly the Blue Devils were too good, cast in a Final Four morality play as blue-blooded giants come to beat up on a fresh-faced, underdog newcomer playing in its home city before an adoring throng in a massive football stadium. It wasn't easy being Duke on one of the most remarkable Monday nights in the history of the NCAA tournament.
When it was finished, and the nets were sheared from their rims in celebration of a riveting 61--59 victory over Butler in which neither team ever led by more than six points and every basket was earned like a long day's wage, Duke coach Mike Krzyzewski stood in front of his team in a small locker room in the belly of Lucas Oil Stadium in downtown Indianapolis. He held the game ball in his two sweaty hands, the championship trophy propped up nearby on a storage locker. It was his fourth title, tying Duke with archrival North Carolina for the most in the post--John Wooden era. "All year long I told you that you're a good team," he said to his players. "Tonight, you're a great team."
The Blue Devils became great because of the Bulldogs, who had won 25 straight games and become the first so-called mid-major to reach the championship in the 64-team era. Butler's story was sweet and tender, but its basketball was brutal and relentless, grounded in swarming half-court defense. "We almost had an aura where we thought we were going to win every game," said Bulldogs coach Brad Stevens after Monday's final.
They very nearly won this one. With seven seconds to play and Duke clinging to a 60--59 lead, Butler's gifted 6'9" sophomore Gordon Hayward missed a fallaway 15-foot shot from the right baseline. Duke's 7'1" senior center, Brian Zoubek, a central figure in his team's revival, clamped the rebound and was fouled with 3.6 seconds left.
Zoubek made the first free throw and then heard Krzyzewski tell him to miss the second. ("We figured with a rebound, and possession, it would force them to shoot from half-court," Coach K said later.) Zoubek threw the ball hard off the back rim. Hayward grabbed the rebound, pounded several dribbles to half-court—getting a crushing and possibly illegal pick on Duke's Kyle Singler from Matt Howard—and heaved a 46-foot shot. "Son of a gun looked good to me," said Singler.
The shot traced a sublime arc as the clock froze zeros. The ball hit the glass and the rim and fell away. The crowd of 70,930, second largest for a championship game in tournament history, seemed to gasp as one. Duke players tumbled into piles in celebration. "When it missed, this rush came over me," said Duke senior forward Lance Thomas. "Then Jon Scheyer tackled me."
Duke's performance was emblematic of a team that finished 35--5 and won with toughness rather than style. Before the game Krzyzewski wrote four words on a whiteboard in the locker room: STRONG. TOGETHER. TALK. CRASH. (As in the boards.) It was the language of effort. The Blue Devils won not just because Hayward's last shot bounced away but also because Singler (a junior wing who switched from power forward just this year, as the team was transformed) was the one player whom Butler couldn't stymie. He scored a game-high 19 points and was named the Final Four's Most Outstanding Player. "We've developed and grown together," said Singler. "This is going to last forever."
Zoubek, whose sophomore and junior seasons had been undone by foot injuries, played the final 9:08 with four fouls and grabbed the critical rebound off Hayward's first miss. Scheyer, so often criticized for Duke's shortcomings, battled Butler's defense and committed just two turnovers. "Not many people can end their careers like this, even at Duke," Scheyer said after the game. "To do it with these guys just feels incredible."
And in a sweet piece of symmetry, Blue Devils junior guard Nolan Smith had 13 points and four assists in the same city where his late father, Derek, won the NCAA title with Louisville 30 years earlier. "This means the world," Smith said, while standing on the floor with a piece of net tucked behind his left ear. "I give this to my dad."
Three days before the start of the Final Four, on a warm Wednesday night, the Blue Devils' bus pulled out of the Indianapolis airport en route to their downtown headquarters. An old, familiar hotel came into view. Krzyzewski doesn't embrace reminiscences; he is perpetually annoyed by words like since and never, expressions that shackle today's goals with yesterday's glory. But here he allowed himself a brief indulgence. "That's where we stayed in '91," he said to his wife, Mickie, who was sitting next to him. They remembered that, at the time, it seemed too far from downtown, too far from the celebration of the sport. And then the bus rolled on.
That was the year Duke won its first national championship after four trips to the Final Four under Krzyzewski, an emotional title enabled by an upset of unbeaten UNLV in the national semifinals. For the Krzyzewskis it seemed like yesterday, and it seemed like 100 years ago. On occasion they are asked to reflect on all the wins (868 of them) and all the championships and all the honors, and they find the weight of it almost paralyzing. "When you put everything that's happened in a bucket and just hand it to us, it's too much to take in, it doesn't seem real," says Mickie. "It's almost like when somebody has a billion dollars. I can't process a billion dollars. Too many dollars."
The players sitting behind them on the bus knew all about the symbolic bucket and the symbolic dollars and the singular history of Coach K's teams. Scheyer insists that he remembers Christian Laettner's epic shot against Kentucky in 1992, even though he was only four at the time. Smith was a Louisville fan until Jay Williams joined Duke in '99. Thomas played Coach K's video game when he was a little kid.
And if they didn't know enough about their place in the sport, they would be coldly reminded last Friday morning, when The Indianapolis Star published a story headlined DESPISING DUKE, purporting to detail a rampant dislike of the Blue Devils' program because of its success and perceived smugness. The article included a picture of Krzyzewski that had been doctored in blue ink—with a bull's-eye in the middle of his forehead, among other defacements—as if it had been attacked by Duke-hating graffiti artists. In a press conference that same day, Krzyzewski called the photo "juvenile," and the paper apologized for publishing it.
Later Krzyzewski said, "It was stupid, and it's because we live in a weird world, but I'd rather have it go on me than on Scheyer. I grew up Polish in Chicago. My father had to change his name to Kross, instead of Krzyzewski, so he could get work. People want to take a free shot, I understand that it comes with the territory."
But even if the name on the uniform—and all that goes with it—was the same, this team was very different from the three previous Duke champions. The coach had been reborn, and the players were not good enough to win alone, so they had learned to win together.
Krzyzewski sat on a folding chair in a small locker room at Lucas Oil Stadium a few minutes before midnight following last Saturday's 78--57 semifinal victory over West Virginia, his suit jacket removed but his tie still knotted. As a measure of his place in life, the next day—Easter Sunday—his seven grandchildren, ages four months to 10 years, would be conducting an egg hunt in his hotel suite. "This team could not have achieved what they have because of one individual playing good," he said. "Or even two individuals. It's so great to have a five-guy team. And it's such a good feeling for me to be in their moment."
It is a moment that actually began long before Indianapolis and far from Durham, N.C. In late October 2005 Krzyzewski was named coach of the U.S. Olympic team that would seek to restore the nation's basketball pride in Beijing. He was 58 and four years removed from his last NCAA title. "I was totally against him taking that job," says Mickie. "I thought it was too much. But I was wrong. It's turned out to be one of the best things he's ever done. It rejuvenated him."
That latter-day Dream Team (the Redeem Team, as it was called) included Kobe Bryant, LeBron James, Dwyane Wade and Carmelo Anthony and emphatically returned the gold medal to the U.S. It also gave Krzyzewski a learning experience that he couldn't have found elsewhere.
"Every player on that team is really smart," Krzyzewski said in Indianapolis before the Final Four semifinals. "Every [assistant] coach—"Mike D'Antoni, Nate McMillan and Jim Boeheim—"is really smart. I learned so much, like how not to have complicated game plans or how to strategize certain situations. I learned to listen. I listen more to my own players now. And where else would I go to get that at this point in my career? A clinic? If there's a clinic, I'm probably giving the clinic."
The world that Krzyzewski returned to at Duke in the fall of 2008 was more challenging than the one he left behind in Beijing. In the previous spring the Blue Devils had been taken out in the second round by tough, overachieving West Virginia. Late in that game Mountaineers guard Joe Mazzulla mocked a Duke tradition when he slapped the floor while playing defense.
A year later Duke again fell ignominiously, in the Sweet 16, as Villanova scored 51 points in the second half of a 77--54 rout. While 'Nova players didn't woof, the result was embarrassment enough. "I'll never forget those games," Zoubek says. "If you play your heart out, you have no regrets. But against West Virginia we just got outfought, and against Villanova we fell apart."
The Blue Devils had not been to a Final Four in five years, the longest drought in Krzyzewski's tenure. Worse, they had become a finesse team (read: soft), but three things happened to propel them in another direction: Dynamic 6'4" junior guard Gerald Henderson left for the NBA, sophomore guard Elliott Williams transferred to Memphis and Zoubek got healthy after two years of either missing games (nine in 2007--08, one last year) or lacking strength and conditioning because of foot injuries.
With the 6'8" Thomas, and the 6'10" Plumlee brothers—Miles (a sophomore) and Mason (a freshman)—Duke shifted its emphasis from the outside to the inside. "We had to become a physical basketball team," says assistant coach Steve Wojciechowski, who tutors the team's big men. "There was a time when Duke could generate easy baskets through turnovers with pressure. Now we have to do it with offensive rebounds."
Zoubek embodies the new Duke. Healthy for the first time since his freshman year, he lifted weights ferociously all summer to strengthen his lower body. He also shaved his head and grew a beard to project toughness, transforming his look from Glee to WWE. The facial hair, normally forbidden in the Duke program, prompted discussion at a fall team meeting. "Coach said, 'So what about the beard?'" recalls Zoubek. "Then Wojo spoke up and said he liked it, and Coach went around and everybody said they liked it, said it made me look tougher. So I could keep it, as long as I trimmed it clean."
All year Zoubek was the leader in fierce practice sessions among the post players, most often in a three-man drill in which Wojciechowski throws a ball off the rim and three Duke bigs battle for the rebound until somebody controls it and scores on the other two. "And Wojo never blows the whistle," says Mason Plumlee. "Never."
Zoubek made his first start of the season on Feb. 13 for a home game against Maryland, and the Blue Devils went on to win 15 of their last 16 games. His increased presence helped create shooting and driving space for the 6'5" Scheyer (18.2 points per game), the 6'8" Singler (17.7) and the 6'2" Smith (17.4). When Duke beat Baylor on March 28 to reach the Final Four, it was tough man Zoubek who wept in the team's locker room at Reliant Stadium.
Zoubek's growth was on full display in the title game, as was Scheyer's, who all season long fulfilled the career expectations heaped on him four years ago, although on his own terms. When he arrived in Durham, he was immediately compared to former Blue Devils star J.J. Redick, the 2006 Player of the Year.
Krzyzewski saw another side. "People wanted to call him a point guard," the coach said. "But he's not a point guard, he's just a real unique player. He doesn't really have a position. But he's a beautiful kid. In four years he never had a down day, never needed any maintenance. I never had him on the couch." Scheyer emerged from those four years mature and dangerous—shooting, slashing and passing with equal efficiency.
"It took me a while to find myself as a college player," said Scheyer before the title game. "People did expect me to be J.J. Redick, and I wasn't. I struggled a little bit. It's kind of crazy, this path I've been on. But I appreciate what it took to get here."
It was appropriate that in order to reach the title game, Duke would have to beat the same program—with some of the same players—that so exposed the Blue Devils' lack of toughness two years before. In preparation for West Virginia, Krzyzewski and his assistants showed his players a four-minute video of the Mountaineers' 77--62 loss to Purdue in West Lafayette, Ind., on New Year's Day. Built in the image of coach Bob Huggins, they had developed a reputation for toughness, but Purdue had pounded West Virginia into submission.
"Purdue played physical, pressure defense," said Wojciechowski. "We wanted to show our team what happens when you do that." What happened in Indianapolis was an unexpected blowout. Duke stretched an eight-point halftime lead to 14 midway through the second half and never allowed the Big East champions to make a run. And when the game was nearly finished, Krzyzewski emptied his bench and brought his regulars to the sideline. They hugged and raised fists to the sky and then sat on the Duke bench, full of joy and celebration.
Only then did Krzyzewski turn to his players and admonish them, and for a moment it was 1991 again. It was then, after the stunning victory over UNLV, that Krzyzewski had walked onto the floor, scowling, pushing his palms toward the floor to quell the celebration. "It was a similar thought," said Krzyzewski later. "You can't think about what you just did, even though you just did it. Because there's one more game." And sometimes there is a little value in history, after all.
Forty-eight hours later the Duke players climbed atop the ceremonial platform on the floor of the stadium, wearing gray championship T-shirts and blue hats. Confetti lay strewn around them. It is a place that Blue Devils have stood before, but this team is richer for its struggles and the drama of the season's final weekend.
If this were a movie, Hayward's shot falls. "Good thing this isn't a movie," said Scheyer. One team's fairy tale ends. Another's mission is fulfilled.