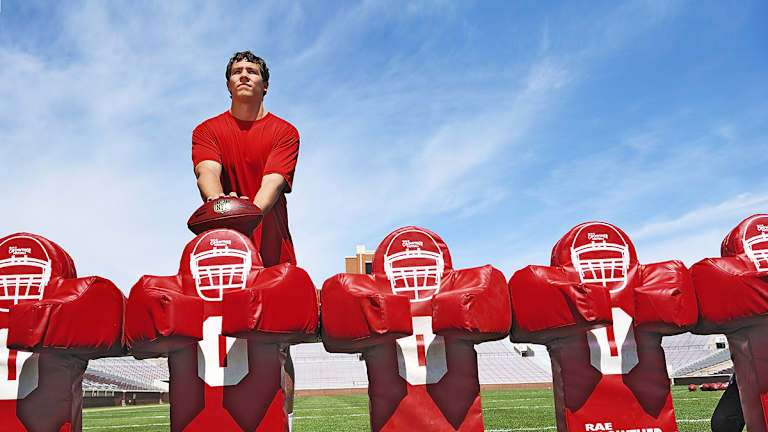 A Shoulder To Lean On
After surgery and a long football layoff, Oklahoma quarterback Sam Bradford has had plenty to prove—to scouts, to himself—in the run-up to April 22. Now he's ready to show he has what it takes to carry a franchise
2010 NFL Draft Preview
The father stood near the football men and wondered what they were thinking. What did they make of his boy? To Kent Bradford, the passes looked sharp and crisp, 13 throws spinning from his boy's fingertips, every one of them right on target. Glad that's over with. Wait, that's the warmup? Fifty throws to go. A 10-yard stick route. Complete. A 10-yard hook route. Complete. Another 10-yard stick route. Complete. A quick slant. Incomplete. Was that Sam's fault or the receiver's? More passes now—digs, hitches, curls, outs, posts, gos, comebacks—and the only sound is pigskin hitting hands.
Now, it's over. The football men with their Super Bowl rings and poker faces are ready to leave Oklahoma's Everest Indoor Training Center, but not before a few words. "Great," says the St. Louis Rams general manager. "Beautiful," says the Seattle Seahawks coach. "Picasso," gushes the former Dallas Cowboys personnel man. "Odd," says Kent, recalling the silence that surrounded his boy's workout, an opera in which no one knew when to clap. "I'm watching him, and in my eyes everything was on the money, but you don't really ever know how those NFL guys are looking at it. They've probably been to 200 pro days. I've gone to a total of one."
Sam Bradford didn't know what they were thinking either, but he did know he'd passed a significant milepost during that March 29 pro day. His right shoulder—twice injured last season, surgically repaired with an absorbable synthetic braid, and the subject of endless speculation ever since—had held up. In front of representatives of 21 NFL teams he had thrown 63 passes, completed 62 and vaulted to the top of the 2010 NFL draft charts. "I knew there were a lot of questions about my shoulder, about my release," Bradford says. "I wanted to leave a good impression."
Says Bob Wilson, Bradford's high school football coach, who was also there, "I got home that night, and I was thinking about it. That was probably more pressure than playing in front of 80,000 people."
On the morning after his pro day Bradford was back on the Oklahoma campus, walking across the football field that had made him famous. Before his first start at Gaylord Family--Oklahoma Memorial Stadium in Norman, as a redshirt freshman in the 2007 season opener, he'd been so nervous he thumbed through his Bible looking for a verse to calm himself. Then he went out and threw for 363 yards. Now, after three seasons as the Sooners' quarterback, he was saying goodbye—to his college life, to the state of his birth, to his youth, to pro days. Few athletes have come through the Sooner state with a deeper connection to it. While his mother, Martha, attended Oklahoma State, Bradford followed his father's route to Norman—where Kent had played on the offensive line for Barry Switzer in the late '70s—after spending his teenage years as an Oklahoma City schoolboy legend. There wasn't a three-iron Sam couldn't flush or a three-pointer he couldn't swish.
"He and I would take turns driving to practice, and we'd always stop at this gas station and get a Snickers ice cream and Gatorade," says Blake Griffin, the Los Angeles Clippers forward who played AAU basketball with Bradford. "He was good—really good, actually. He could shoot, he could pass, he could do it all."
It was Kent who first coached his son in sports, planting a kiss on Sam's head after games, critiquing his baseball swings in the cage and asking for a little more knee bend in his jump shot. After games, Kent was frugal with the compliments, and father and son would ride home with the radio off, neither one speaking, Sam ready to bolt out of the car, run past Martha and into his bedroom.
"I would be so mad at him," Sam says. "But I look back, and he just wanted me to be the best I could be."
Says Kent, "I will admit, as most dads would, it's probably not a great thing to have your dad be your coach."
But it was also Kent who spoke with Dr. James Andrews on Sept. 6, the morning after last year's Oklahoma-BYU opener. Sam had sustained a third-degree sprain of his AC joint in the second quarter of that game, the first sign that his junior year would not follow the form he had hoped it would. Says Kent, down home, matter-of-fact, "Everything doesn't always go as planned."
Sam had won the Heisman Trophy in 2008, only the second sophomore, after Tim Tebow the previous year, to do so, but in the BCS title game, a showdown with Tebow's Florida Gators, the Sooners lost 24--14. So Bradford had chosen to forgo the NFL draft and return to Oklahoma in 2009 in search of a national championship.
After the BYU game, Sam and Kent traveled to Birmingham, where they discussed treatment options with Andrews over dinner at Fleming's Prime Steakhouse. Bradford could have the shoulder operated on, ending his junior season and maybe his college career, or he could rehab the injury and play. He decided on the latter and missed only three games, returning on Oct. 10 to pass for 389 yards in a blowout win over Baylor. Then it all went bad.
The next week, in the first quarter of the Red River Shootout against Texas, Bradford faked a handoff, turned to throw and was met by Longhorns defensive back Aaron Williams, who forced the quarterback to the ground. Bradford fell hard on his right shoulder. He rolled onto his back, stood up and fell again, this time to his knees. In what would be Bradford's final play as a collegian, he sustained a grade-three shoulder separation.
His college career now clearly at an end, Bradford underwent surgery and embarked on a nine-week rehabilitation program at the Andrews Institute for Orthopaedics & Sports Medicine in Gulf Breeze, Fla., the longest stretch he'd spent away from home. Living alone, Bradford sent text messages back to his family and friends by the dozen, and wondered if his arm would ever be the same.
On most days he would arrive at the facility shortly after 8 a.m. to begin a workout program with Andrews, his trainers and the quarterback guru Terry Shea. "We had four weeks to ourselves, just working with his lower body, all the fundamentals of a drop-back passer without worrying about throwing it," Shea says. "I related the story to Sam about Bill Walsh bringing in Joe Montana from Notre Dame. Joe told me that for three days in a row, two hours in the morning, two hours in the afternoon, all they worked on were drops, and he didn't have a football in his hands. That legacy was passed on to Sam Bradford."
Bradford says the focus on footwork served two purposes. Josh Heupel, his quarterbacks coach at Oklahoma, had always stressed that poor footwork led to poor throws. That lesson would be doubly important following surgery. "If I'd just tried to throw without working on my feet, I probably could have put some more pressure on my shoulder," Bradford says. "It would have turned into more of an arm throw instead of getting my lower body into it."
Even as he got stronger and tightened his footwork, Bradford was thinking about his shoulder. He'd exchanged text messages and phone calls with the Saints' Drew Brees and the 49ers' Alex Smith—two quarterbacks who'd undergone similar procedures with Andrews—but Bradford couldn't know if he'd heal with the same success. As he put on weight (about 13 pounds of muscle), he still wondered what the 10- and 12-hour days would lead to. "The whole time you're doing rehab, you're just thinking, I hope this pays off," Bradford, 22, says.
At last, after three months, it was time to throw. Bradford gripped a ball, brought his arm back and tossed a pass 10 yards, not an inch longer. Little by little his range and workload increased, with Shea wary of pushing too hard and Bradford wondering when the strength would return. At the February combine the quarterback met with NFL teams for his rounds of interviews but was not ready to showcase his arm. Soon after that, however, Andrews finally told Shea to cut Bradford loose.
In the weeks that followed, Bradford started winging it, 80 passes, 90 passes, some days more than 100. "He was like a thoroughbred," Shea says. "The more he lathers up, the stronger he appears to get. You can just tell he has a real knack for throwing a catchable ball. Sam's ball just melts in your hands."
The rehab left Bradford's body visibly sturdier, but what happens when he gets hit? Pro days and private workouts are controlled environments, while the games are choreographed only until the snap. On a rebuilding team like St. Louis, which owns the first pick, Bradford's shoulder will be constantly tested against the chaos of an NFL pass rush. "The biggest question mark is that St. Louis offensive line and if it can protect him," says one scout. "But I've read the medical report, and it's like a new shoulder. He's not that lanky quarterback he was at Oklahoma. And he's hands down the best quarterback in this draft."
Says Andrews, "It's the same operation Troy Aikman had before he won his Super Bowls and the same procedure I did on Emmitt Smith. [Bradford] never had a hitch, never had any problems, and everything went perfect with his rehabilitation. I don't have any hesitation about saying he's ready to play NFL football."
Joe Theismann, whose playing career with the Washington Redskins ended in a broken leg, says the one thing he tells young quarterbacks is to learn to protect themselves. "You don't get medals in this business for getting yourself beat up," he says. "You have to be able to play and practice every day. When they're calling a quarterback a tough guy, that means he's taking a beating or has a crappy offensive line."
At 6'4" and 236, Bradford has the prototypical NFL quarterback build. In 2007 he set the NCAA record for touchdown passes by a freshman, with 36. Even with his truncated junior year, he left Oklahoma as its alltime leader in passing yards and touchdown passes. But Bradford also possesses something less tangible, the glint of a young man used to success. His hometown mayor approved a Sam Bradford Day. His high school has a Sam Bradford Drive running through campus. Days after he won the 2008 Heisman, he rang the bell at the New York Stock Exchange: The Dow rose 100 points. "He's incredibly bright and talented, he has a great humility and spirit to him, and he's an example of great parenting," says Oklahoma coach Bob Stoops.
"I'd love to take credit for it," says Wilson, Bradford's high school coach, "but he was that way when we got him."
When Bradford's pro day was over, the practice facility began to empty, the football men leaving campus for their draft rooms. Bradford and Stoops hopped into a golf cart and slowly pulled away. "I never thought [the injuries] were something he couldn't overcome," Stoops says. "When you look at his stats from his first two years, can you imagine what he might have done as a junior and a senior? He's only going to get better."
That, of course, will be determined later. For now, Kent is leaving the Everest facility too, and it is springtime on the Oklahoma plains. He'll know what the NFL guys think of his boy soon enough. What does Kent think?
"The thought that came to mind was just how Sam handled it all," he says. "You know how kids tell you they learn from their parents? In this case, and all last fall, I truly learned from him."