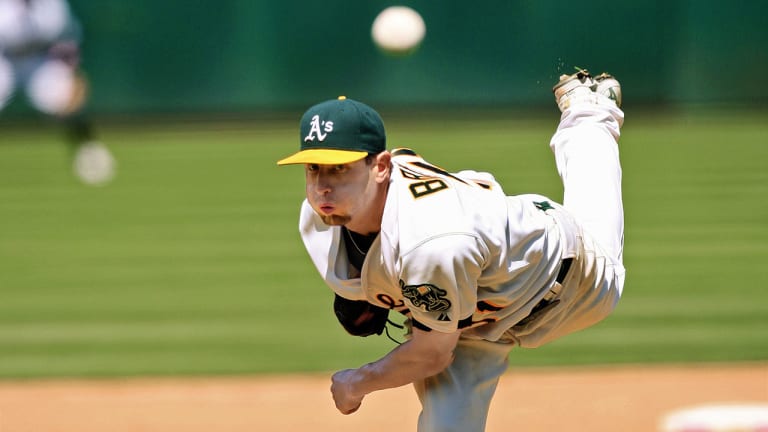 The perfect ending was not the 27th out, one more weakly hit ground ball off Oakland pitcher Dallas Braden, as if those pink bats swung by the Rays on Sunday were made not of ash but of bubble gum—supersized versions of those birth-announcement cigars for the nonsmoker. The perfect ending, as Braden and any scriptwriter worth his imagination would have it, happened when Peggy Lindsey made her way down to the field from section 121 of the Oakland Coliseum on Mother's Day to share a moment of joy with her grandson, the boy she raised out of a motel in Stockton, Calif., after his single mother became ill and eventually died from cancer.
Braden reached for the three pendants that hung from his neck. One is a Celtic cross, to honor his lineage. One is a peace sign, to represent the easygoing, benevolent spirit of his late mother, Jodie Atwood. The third is a medallion of St. Christopher, the patron saint of the traveler. Braden pulled St. Christopher from among the three and raised it to his lips. He and Peggy each kissed it twice—once for his grandfather and once for his mother—and then the grandson and his grandmother fell into an embrace. "At that moment," he said, "everything I hold in life so near and dear was right at my fingertips."
Perfection, when it comes to sports, is a clean, uncluttered, inarguable measurement. Every pin knocked down in bowling. Every shot made in basketball. Every batter retired in baseball, which is what Braden did on Sunday, making him just the 19th man to do so in the history of baseball. That's only seven more men than have walked on the moon.
Braden's game was the triumph of imperfections, a hardscrabble, 26-year lifetime of them. Here was a former 24th-round draft pick—726 players were picked ahead of him in 2004—with a lifetime record of 17--23 and no complete games entering Sunday, a player known more for verbally sparring with Alex Rodriguez last month than for anything he had done on the field. Here was a pitcher who did not crack 90 miles an hour with any of his 109 pitches and got the Tampa Bay hitters to swing and miss only five times. And yet he threw a perfect game against the team with the best record in baseball.
In the past four years Braden has undergone surgeries to correct a defect in the upper part of the humerus bone in his pitching arm (quite literally, the guy from Stockton, an inland city infamous for being named last year by Forbes as the Most Miserable City in the nation, had a chip on his shoulder); a nasal defect that made breathing difficult; and, last August, a cyst in his left foot. The foot surgery took a horrible turn when doctors mistakenly severed a nerve, leaving him with tingling and numbness in the foot that could take years to subside—if it ever does. "But the pain is nowhere near as bad as it was," he said this spring, "and I can flex on it and stand up straight. And if I can stand, I can pitch."
"He's not afraid—never has been," says Athletics general manager Billy Beane. "You need a shopping cart to take his cojones out to the mound. He's absolutely fearless. He's been like that since the day we drafted him."
Braden has Stockton written all over him—or at least his midsection, where among his many tattoos is featured a large "209," the area code of his hometown. In the early years of the 19th century the city was known as Mudville, and time has done little to enhance its reputation. Stockton earned its infamy from Forbes for its high rates of crime, unemployment and poverty, and its steep taxes. In other studies it has been tagged as the most illiterate of large U.S. cities, the most obese and among the most devastated by the collapse of the subprime lending market, which whacked 44% off property values from 2007 to '08.
It was in a small apartment in Stockton, however, where a boy named Dallas Lee Braden was loved. Before she became ill, his mother operated a home-cleaning service. "She uprooted where we lived just so that I could play in a better Little League," Dallas said. "She was the kind of person who would give the shirt off her back if it meant improving your situation. If it meant taking something of her own, even though she didn't have a lot, she would give to others."
Dallas was a junior at Amos Alonzo Stagg High when his mom, after being diagnosed with skin cancer, sent him to live with Lindsey at the motel she ran in Stockton. Jodie Atwood died the following year, at the age of 39. Mother's Day since then has been difficult for Braden, particularly when he pitches. Said Braden, who pitched at American River College in Sacramento and Texas Tech before Oakland drafted him, "I lost my best friend when I lost my mother. It's hard when we play [on Mother's Day] to devote the time thinking about her that she deserves."
On Sunday, Braden was still warming up in the bullpen when the game was scheduled to start; the Athletics infielders and outfielders were exchanging warmup tosses waiting for him to jog in to his usual entrance song, a hip-hop tune called Welcome to Stockton. Watching from the stands, in addition to Lindsey, was an entire section of fans from Stockton—seated, as part of a discount promotion, in the karmically appropriate section 209. (The game drew an announced crowd of only 12,228; more showed up the previous day in Sacramento to watch Oakland's Triple A team.) The teams used pink bats to support breast cancer awareness and research.
"Overall, it felt like a quirky day, Mother's Day and everything," Oakland reliever Craig Breslow says. "The timing of the day was off a little bit. . . . Everybody had a feeling that something was unusual."
Two days earlier Beane had telephoned Braden from a scouting trip because he was concerned about comments Braden had made about Rodriguez. During his April 22 start against New York, Braden had chastised the Yankees third baseman for running directly over the pitching mound while returning to first base from third after a foul ball. Braden screamed at Rodriguez, and after the game he called the invasion of his mound a violation of the game's code of conduct. Rodriguez dismissed Braden, first with a wave of the hand on the field and later to reporters by making light of his "handful" of major league wins.
What concerned Beane was that Braden took more shots at Rodriguez last week, when he called the mound trot "a lack of respect" from "an individualistic player." Once again, Rodriguez reacted by belittling Braden, saying he did not want to add to "his 15 minutes of fame."
"[Braden] is a great kid," Beane says, "and I wanted people to know that instead of getting caught up in this."
Braden assured Beane, "Don't worry. It's over."
In a headline last Friday the New York Post called Braden a's scrub and described him as "on the way to journeyman status." Two days later he was a baseball immortal. Braden flummoxed Tampa Bay with an assortment of fastballs, sinkers, cutters, sliders and changeups called by Landon Powell, a backup catcher making only his 44th major league start since the A's took him in the same draft as Braden.
"I have to throw hitters off-balance," Braden says. "My job is to go out there and do my best to make sure they don't score more runs than we do. That's all I was trying to do, until obviously the ninth inning. I never had thrown a [major league] complete game in my life, so I didn't even know the feeling of being out there in the ninth. And as I went out there for the ninth, the crowd stood up and cheered, so that's when I knew there was something going on here."
The last inning held little drama. Willy Aybar hit a soft liner to first base. Dioner Navarro lined out to leftfield (one of only two balls Tampa Bay hit squarely). Then, after working the count to 3 and 1, Gabe Kapler hit the ball on two hops to shortstop Cliff Pennington, who threw to first baseman Daric Barton to start the celebration. "It was such an emotional moment for a lot of guys," Breslow says. "Most guys know how important his grandmother is to him. He has so much loyalty to his family and his hometown."
Braden is a well-traveled soul, and not only in regards to his baseball journey. He twice has traveled to the Netherlands, once on a backpacking trip, taking in such diverse sights as the Anne Frank House, the Van Gogh Museum and the Medieval Torture Device Museum. He plans to see Germany this off-season. "After gathering all the information I did at the Anne Frank House, I want to gain an appreciation for everything that occurred over there and enlighten myself," he says. "Plus, I hear they have some good beer over there."
He remains, however, true to Stockton. There he has bought Lindsey a house, organized free Thanksgiving meals for the past two years for hundreds of residents who need assistance and every year has sponsored at least one Little League child who is being raised by a single parent, picking up all fees and costs associated with baseball.
Braden's teammates, knowing his love for and philanthropy toward Stockton, came up with a fitting way to celebrate his historic achievement. Reliever Andrew Bailey fished out the iPod from Braden's locker, knowing well it would be the only place in the clubhouse he'd find the song they needed. Braden was still on the field at the time, hugging Lindsey and conducting interviews. Finally he made his way up the ramps and stairs from the dugout, turned right into a hallway and then right again into the clubhouse. The song playing over the clubhouse speakers to greet him was Welcome to Stockton.
"He was smiling, exhausted," Breslow says. "It was so much more emotional than what you would imagine a no-hitter or perfect game to be. It wasn't so much loud screaming and joking as it was appreciation. Everybody was so happy for him."
Braden wasn't about to believe that everything in his imperfect life suddenly was about to change. "If my life wasn't full of adversity and speed bumps, I don't know if I'd even know how to react," he says. "Put it this way: I've never had 'smooth sailing' in my forecast."
For one day, anyway, there was joy in Mudville. The kid from Stockton, raised by a single mom he lost to cancer, made history on Mother's Day, with the grandmother who helped raise him and the hometown folk who know well his generosity watching in person. It was, too, the date each year on which the Eastern Orthodox Church venerates St. Christopher, the patron saint for travelers like him. It was all so perfect, this day on which the 15 minutes Rodriguez allotted him became an eternity.