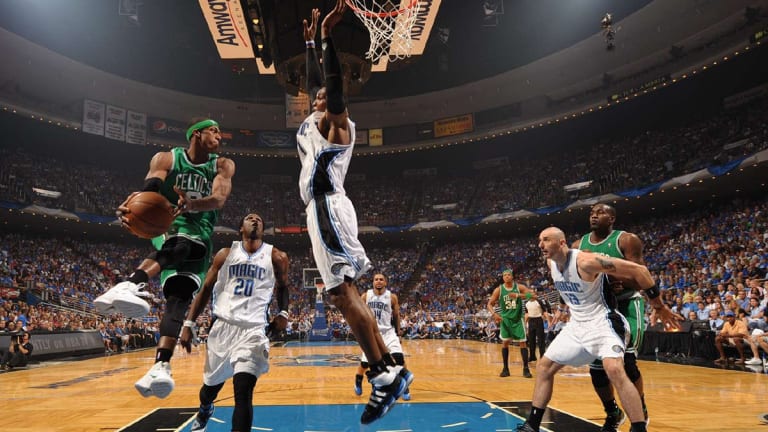 The hand appeared between Jason Williams's ankles as if it were reaching from the grave in a horror movie. The Magic point guard was bending down to pick up a loose ball when a second hand joined with the first to rip the rock away. Williams could not mask his anguish as he turned to face a sight that's become more frightening to NBA players than a slasher in a hockey mask: Celtics point guard Rajon Rondo.
That second-quarter play—which Boston forward Kevin Garnett called "pure hustle, pure basketball, a pure I-want-it-more-than-you type of play"—in Game 3 of the Eastern Conference finals last Saturday is emblematic of the Celtics' shocking transformation from victim to victimizer. Williams appeared to have Rondo boxed out as he pursued a deflected Orlando pass that had rolled into the backcourt. But Rondo dived in, stole the ball and trampolined back up for a layin past Williams as the Celtics routed the visiting Magic 94--71 to seize a 3--0 series lead. "He's giving an amazing effort, never giving up on any possession," says Boston coach Doc Rivers. "When you have that speed and then you have that heart, you become a pretty good player."
Pretty good? Rondo, 24, is the breakout star of the postseason as well as the de facto MVP of the Celtics, a No. 4 seed aiming to become the NBA's biggest underdog champion since the sixth-seeded Rockets won it all in 1995. After going 27--27 over the last four months of the regular season (including gruesome losses on their own parquet to the hopeless Nets and Wizards), the injured and elderly Celtics appeared to be out of the running for a title. But by week's end Rondo had powered Boston to six straight victories against the two best teams in the East. The first three closed out LeBron James's top-seeded Cavaliers in the second round; the next three came against an Orlando team that headed into the series having won 28 of 31 games since February.
Rondo has shown improvement in each of his four NBA seasons (this year he made his first All-Star team and broke Bob Cousy's 50-year-old franchise record with 9.8 assists per game) but his postseason ascent in the past four weeks has been far steeper. Through Sunday he was Boston's second-leading playoff scorer (17.3 points per game) and third-leading rebounder (5.8)—despite being the smallest member of the rotation at 6'1"—and his 10.7 assists led all players in the postseason. Just as impressive has been the manner in which he's put those numbers up. The Celtics haven't had such a flamboyant point guard since 1963, when Cousy said farewell.
And even as Rondo is mentioned with increasing frequency in the same breath as Boston's postseason heroes, he shows little interest in history. Ask how he feels when looking up at the franchise's 17 championship banners, including the one that he helped win two years ago, Rondo says, "I'm thinking about a new one." He is especially—and proudly—oblivious when it comes to the accomplishments of his thirtysomething teammates who among them have 36 All-Star appearances: Garnett, guard Ray Allen, forward Paul Pierce, forward Rasheed Wallace and swingman Michael Finley. The first three in particular were quick to offer constructive criticism to Rondo two seasons ago, when he was viewed as the team's weak link. Now that their roles are reversed and he is often carrying his elders, Rondo is happy to interrupt their conversations about the rugged old NBA days to tell them he has no idea what they're talking about, such as when Allen mentioned he took part in the 1997 slam dunk contest. "I couldn't believe that," says Rondo. "Ray can't jump! But I guess he could back then." (Garnett's typical response is along the lines of, "Shut up. You can't talk in this conversation.")
As he listens to Rondo & Co. bicker over card games in the back of the plane, Rivers and his coaching staff wonder why the wise men take the bait. "He likes needling the old guys when he says he didn't watch them—that's his way of saying, 'You guys are frickin' old,'" says Rivers. But Rondo swears he didn't begin to study the NBA until the Celtics drafted him No. 21 in 2006 after two seasons at Kentucky. "I never watched basketball," he says. "Football was my dream."
Rondo played quarterback for Eastern High School in his hometown of Louisville. He gave up on the sport when he realized he wasn't big enough to be a major-college QB, but to this day play-action fakes are part of his repertoire. He routinely hides the ball behind his hip as he did while driving by J.J. Redick for a three-point play in the second quarter last Saturday. Every few games he likes to employ his version of the famed Hakeem Olajuwon ball fake, stopping a drive in the shadow of a shot-blocking center and extending the ball in his cupped right hand before pulling it back, like a quarterback keeping on the option, then pivoting to dish or shoot. As much as Rivers appreciates the foundation for those moves, he can't help but rib Rondo: "I tell him, 'How could you ever play football? In football there's a huddle every play, and you've got to pay attention and follow direction.'"
Joking aside, attention to detail is what now distinguishes Rondo. According to Rivers, Rondo studies video—only the modern-day stuff, of course—more than anyone except himself and defensive coordinator Tom Thibodeau. "He calls out the plays, he knows exactly what the other team's running," says Rivers. "What I like about him in this playoff run is that he's holding everybody accountable in the walkthroughs when they forget a play from the other team. He'll say, 'Hey, get into your books.'"
The Celtics limited Orlando to 39.4% shooting through the first three games in no small part because Rondo was staying in front of Magic point guard Jameer Nelson instead of gambling for steals as he used to. "My first year I was letting my man go past me and then back-tipping, trying to get the steal," Rondo says. "I thought [not doing that] would hurt my steals, but it actually worked out for the best." By staying at home and keeping pressure on the ball, Rondo led the league with 2.3 steals per game this year and was voted to the All-Defensive first team by NBA coaches.
Rondo's newfound maturity can be seen in the improved on-court relationship he shares with 25-year-old center Kendrick Perkins. They are close friends who supported each other as the lone youngsters in the starting lineup two years ago. And yet at least once a game they could be seen feuding: Perkins mad about committing a foul in response to Rondo's defensive gambling, Rondo angry that Perkins had bobbled a pass that should have been a highlight assist. "Friends should say what the other person should hear—not what they want to hear," says Rondo. But watching Steve Nash has taught him the power of encouraging his teammates. "You don't want to praise turnovers," says Rondo, "but you want to stay positive on the court."
The good feelings extend throughout the squad. If Rondo is knocked on his back, he'll look up to find his teammates helping him up. "That's a team thing," says Rivers. "Whenever a guy doesn't pick another guy up, we put it on film [and show it to the players]. We think it's very important—if a guy's willing to go to the floor, we should have four guys willing to pick him up. It's funny now, but when we were struggling [in midseason] a couple of times a guy would be laying on the floor and guys would walk right by him, because everybody was pissed at everybody."
But now, says Rondo with a laugh, when a player goes down, "it might be the whole team [helping him up]. There might be some bench players coming out there."
After a season and a half of struggles set off by Garnett's right knee injury in February of 2009, the Celtics look more balanced and fluid than ever. The most obvious improvement since their win over the Lakers in the '08 Finals has been Rondo's blossoming confidence as a driver and shooter, enabling him to not only orchestrate but also play off the ball as a potential finisher. The difficulties the Celtics pose to defenses were illustrated with 1:33 remaining in Game 2 at Orlando. The Magic trapped Pierce above the top of the key only to have him find Rondo for an open 16-footer at the left elbow. He smoothly drilled the biggest jump shot of his young career to give Boston a 93--90 lead. (The Celts won 95--92.) "I don't think Rondo runs from those shots anymore," says Rivers. "He's put the time in, and I think he's eager for [his defender] to leave him now at the end of a game."
So much of Boston's postseason success against Miami, Cleveland and Orlando—the top three teams in opponents' field goal percentage during the regular season—has been generated by Rondo, who bursts low past defenders like a sprinter out of the starting block. Once he's in the paint he can score with floating Nash-like runners or outlandish scoops high off the glass. Otherwise, the ball control provided by his exceptionally large hands and long arms (he has a 6'10" wingspan) enables him to complete passes out to the three-point line. "One of the things that Red [Auerbach] said that I never even thought about is that point guards with short arms can't make passes, because everything is deflected," says Rivers. "So when you see Rondo with long arms and big hands, he can reach around, he can do things that guys who are 6'8" or 6'9" can normally do."
Rondo rivals Nash as the league's best one-handed passer off the dribble, and in practice Rondo has been refining his behind-the-back deliveries. "I'm pretty good at it off the dribble, standing still," he says. "I can probably do it from half court to the free throw line with accuracy." Rondo was a math whiz in high school, and his feeling for angles and distances gives him the courage to attempt and often complete outlandish bounce passes in transition that he'll thread through a running herd of defenders. "I like it only when it works," says Rivers with a smiling grimace. "But you've got to give him rope because he's gifted. He sees things, and he has the ability to do things that 95 to 98 percent of the league can't do."
And perhaps that knack for geometry helps Rondo rebound. How else to account for the 18 boards he collected in Boston's Game 4 win against the Cavs? "I've always had that ability where I could see the shot go up and know where it's going and how it's going to hit the rim," says Rondo, who added 29 points and 13 assists in that game. The longer the rebound the better: "That's like the first pass on a fast break to me," he says.
Should the Celtics and the Lakers, who at week's end held a 2--1 lead over the Suns in the Western Conference finals, renew their rivalry next week in the Finals, then Rondo promises to be the second most essential player on the floor after Kobe Bryant, who may be the Laker best equipped to cover Rondo. If he does draw that assignment, then Kobe had better be ready to run. The Celtics have occasionally been tracking each player's mileage during the playoffs, and their basketball operations analyst Mike Zarren told Rondo he ran a team-high 3.65 miles during one of the games against Cleveland. Rondo was disappointed—he thought the number should have been up around six—but Rivers is grateful that Rondo, who is averaging 41.9 minutes in the playoffs, has been so durable. "Without his speed," says Rivers, "we're a slow-ass basketball team."
Add it altogether—the speed and ball skills, the versatility and resiliency, the defense and court vision, the deep playoff run—and Rondo knows the final score. "I'm biased, but if I truly felt someone was that much better than me, I would give credit," he says. "Derrick Rose, Chris Paul, the young guys, Deron Williams—they're very good. But for what I do, I think I'm the best. I don't think I'd be this successful so far if I didn't have that confidence. I don't think I'd be able to do what I've done leading this team, because it's not easy playing with these high-caliber guys."
That's why he looked so proud as Garnett lauded him during a press conference last Saturday after Rondo doled out 12 assists—two more than the Magic roster. "He's just showing the world what he's made of," said Garnett. "He grits down, he works extremely hard, he's earned the respect of every guy on this team." Rondo was uncharacteristically beaming. He had worked three hard years for this recognition, and then he sealed it by rubbing a large hand across Garnett's bald head. Peers at last.