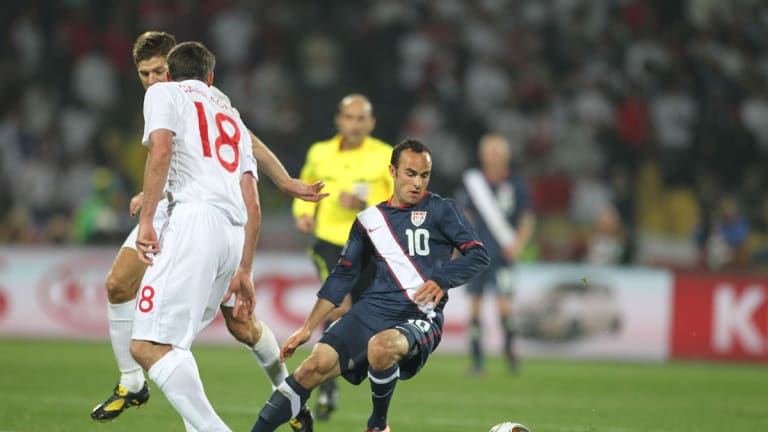 Good isn't Good Enough
American soccer's most accomplished and enigmatic star, Landon Donovan embarks on the defining tournament of his career with a knowledge that has long eluded him: what it takes to play like a champion
The life of Mozart is the triumph of genius over precociousness.
—PETER GAY,Mozart
Landon Donovan cannot move. Well, this is Kansas City. Nobody can move. The Wizards' field is the bane of American soccer. Carved into a minor league baseball stadium, CommmunityAmerica Ballpark, it's way too short and way too narrow. Playing here, as Los Angeles Galaxy coach Bruce Arena will say, is like playing big league baseball with the bases 75 feet apart. The field smothers creativity. There is no open space. There are no clear angles. It is soccer in a Chevy Equinox.
Landon Donovan cannot breathe. No, really. He has bronchitis. His cough makes his sides hurt. A cold Midwestern rain falls, and the pitch is mud, and the lights shine at an odd angle, and an April wind blows right through him. The announced crowd is 10,045. Reality demands that number be cut in half.
The Wizards and the Galaxy will play a dreadful scoreless draw that could spark three days' worth of "soccer is dull and un-American" talk radio. Fortunately there is no talk radio show host within miles of the place.
And yet ... something happens here, something that no one in the crowd notices but that may define Landon Donovan—Galaxy star, U.S. national team veteran—at this point in his life. Anyway, he thinks so. Donovan was once called the best young player in the world. He was once called the man who would change American soccer. Not so long ago he sparked people in England to cheer for him: "U-S-A! U-S-A!" He is the creative force behind a U.S. World Cup team with hopes of advancing deeper into the world's biggest tournament than it ever has, beginning with a match on June 12 against England in Rustenburg, South Africa, that may be the most anticipated in the history of American soccer.
And still, at 28 years old, in the prime of his life, at the happiest point of his career, after accomplishing more than any American soccer player ever has, Donovan finds something worthy on a cold rainy evening in Kansas City, something he never expected.
I just got good.
—BOBBY FISCHER, chess champion, explaining his emergence in the game at age 11
One thing Americans agree about soccer—the fans and cynics both—is that goals are rare things. The critics will say this critically, of course; how could anyone love a game in which neither team might score at all? Who can sit through 90-plus minutes of that sort of drudgery? We are a nation of the tangible. We are a country of Avatar (in 3-D!), slam-dunk contests, NFL's Greatest Hits music videos and Lady Gaga. Subtlety isn't our thing.
Fans, though, will say the scarcity of goals in soccer is the whole point. A goal at the highest level of the game is a miracle. Consider the odds. You have to move a ball across a large field, eluding 10 obstinate foes, without using your hands. You cannot legally pass the ball to a teammate who has raced past the last defender. Once you approach the goal, you must put the ball into a net eight yards wide and eight feet high, guarded by the one man on the field allowed to use his hands. It is, when you think about it, an impossible task.
But it is not impossible. It happens. And this, the lovers of the sport will tell you, is why soccer soars. What it takes to score a goal goes beyond hitting a home run, beyond scoring a touchdown, beyond slipping the puck past the hockey goalie. It is something beyond athletic skill, something that transcends ball handling and deft touch and a powerful shot. It takes, for lack of a better word, magic.
And magic is what has eluded American soccer stars for a long time. Oh, there have been competent U.S. players through the years, even good ones. Goalkeepers, for example: Kasey Keller and Brad Friedel and Tony Meola—as a nation, we are good with our hands. For a time the inescapable American player was Alexi Lalas, a big, strong defender who was not overly skilled but was a master of positioning, self-promotion and beard-growing. Occasionally, but not often, there were creative players, like Tab Ramos (who was born in Uruguay) and Claudio Reyna (whose father played professionally in Argentina before moving to the States). On the right day, under the right circumstances, they could do special things.
And then Landon Donovan just ... well ... happened.
There was no way to see it coming. He was not raised in a soccer family. He did not grow up in a soccer-driven community. "He was just a really hyper kid," his twin sister, Tristan, says. "He had a lot of energy—a lot of energy. He was a little bit aggressive with the other students. ['I think I bit another kid's nose,' Landon says.] We had to leave a couple of preschools. And then we were at this great preschool, and a counselor suggested he play soccer. She said, 'There's a lot of running around in soccer.' "
As a kid in Southern California, Landon spent some time kicking the ball in the backyard with his brother, Josh. He seemed to like it. He was five when he played his first game, and scored seven goals. His mother, Donna, sat in the crowd, embarrassed, quietly wishing her son would let someone else's kid have the ball. But no one else's child knew what to do with the ball. It all came so naturally to Donovan. There was no explanation—there rarely is for prodigies.
At 15 Donovan was taken into U.S. Soccer's Olympic Development Program. At 16 he was getting offers from teams around the world. Gurus in soccer places could not understand how such a player came from America. "In those days," Donovan's agent, Richard Motzkin, says, "the respect for American soccer players was almost nonexistent. Americans were good athletes. Americans were mentally tough. But Americans didn't know how to play soccer."
Donovan knew. He knew how to control the ball. He knew how to anticipate the defenders' moves. He knew where the open spaces were and when to rush in and how to guide the ball into the net. He worked hard, sure, and he was obsessed with soccer—"All my memories of him as a child, he had a soccer ball on his feet," Tristan says—but those instincts for scoring goals and making magic, well ... he just knew.
One of the teachers of the great musical prodigy Franz Schubert said, "He learned from God himself."
"I don't want it to sound like bragging," Donovan says, "but I always had a talent for the game."
All children are artists. The problem is how to remain an artist once he grows up.
—PABLO PICASSO, child prodigy
John Ellinger was coaching the U.S. team at an Under-17 tournament in France in 1997 when, for fun, he brought back a highlight video featuring some of the great moves of the Brazilian superstar Ronaldo. Everyone on the team was having a great time watching Ronaldo, laughing and high-fiving as he slipped between defenders and made the ball disappear and reappear. When the video ended and the rest of the team had left, Donovan wandered over to Ellinger. He was just 16 and making his first international trip with a U.S. team.
"Would it be O.K. if I watched it again?" he asked.
Ellinger handed him the tape. And for a few moments he watched Donovan watch Ronaldo—there was one move in particular that seemed to fascinate him. Ronaldo, standing on the left side, appeared ready to shoot at the far post, but at the last instant he altered his shot and kicked left, to the near post. Donovan rewound the tape a couple of times.
The next day, against New Zealand, Donovan scored on a dead perfect impression of the Ronaldo move to give the U.S. a 3--2 victory.
"He was just different," Ellinger says. "He had pace—he could run away from people while dribbling the ball. You just don't see that at the international youth level. But the thing you noticed even more was how much he understood. He had this feel for the game that you don't see at 17."
Here was the great American soccer hope. Here was a soccer nation trying to do two things at once: 1) win over skeptical American fans who found the sport boring and foreign, and 2) show everyone else that the U.S. could develop world-class players in the most popular sport on earth. Donovan was the answer to both questions—an archetypal all-American kid who also played with the imagination and verve you might find in England or Italy or even Brazil.
"You just couldn't miss it with Landon," says Jimmy Conrad, Donovan's first roommate in MLS. "He was exciting to watch every time the ball came near him. He had ... it."
Donovan knew it too. Ellinger happily admits he coached his U-17 team to be brash. The U.S. had dubbed its youth efforts Project 2010 because it planned to win the World Cup by then. Ellinger wanted that sort of boldness in his players. He gave them a mantra that even now, more than a decade later, they will all repeat with a smile on their faces: "Respect everyone, but fear no one."
"I definitely got the 'fear no one' part down," Donovan says, deadpan. "Our whole team—we had this brash, youthful stupidity."
When the U-17 team played D.C. United, the reigning MLS champion, Donovan got into the faces of some of the pros. That inspired United coach Bruce Arena to call him a punk, a description he does not regret even as he coaches Donovan 12 years later. "He's an amazing person who has matured so much," Arena says. "But yes, he was a punk."
Donovan pleads guilty. "I was obnoxious," he says. "I wish I knew then what I know now. But I guess everyone feels that way as they get older."
At 17 Donovan went to play professionally for Bayer Leverkusen in Germany, a hard experience for everyone involved. His mother was opposed to the move, but Donovan pleaded with her. He signed a four-year, $400,000 deal—"all the money in the world to a 17-year-old," Tristan says—and left for his own apartment, his own life.
He was not ready, not close. Donovan was extremely lonely—he and Tristan would have long, emotional conversations on the phone. And on the field, his creative, high-risk game did not fit at all in the strict, conservative, relentless world of German football. Donovan would get booed when he turned over the ball, something that had never happened to him before. He was soon on the bench, another new experience.
"They just had no use for my style of soccer—not at that age, not from a kid who hadn't proven anything," Donovan says. "Thing is, that was the only way I knew how to play. I was never taught to keep my mouth shut. I was never taught to just work hard and wait my time. It's not like I wasn't trying. I was trying. I just didn't know."
He felt cheated. Here he was, the wunderkind of American soccer, and the Germans just could not see it. Donovan proved the point to himself by winning the Golden Boot as most valuable player of the 1999 U-17 World Cup in New Zealand, a tournament with such precocious talents as Ghana's Michael Essien, Spain's Mikel Arteta, Brazil's Adriano and Germany's Thomas Hitzlsperger.
"As great as that was, it was probably a bad thing," he says. "I went back to Germany and said, 'Look, I was the best player at the tournament; I should definitely get a chance.' And they said—not unreasonably, I should add—'Well, you haven't done anything here.' "
He continued to do amazing things for the U.S. At the Sydney Olympics coach Clive Charles was reluctant to unleash him (drawing, among other things, a couple of angry Internet postings from Donovan's father, Tim), but when he did, Donovan scored a goal and led the U.S. to the semifinals. But Germany was no more satisfying when he returned. He had been dropped to Leverkusen's third-division squad in the spring of 2000, and later that year he was sent to the fourth division. In frustration he challenged a referee and drew a six-game suspension. Donovan pleaded with his agent, Motzkin, to work out a way to leave Germany and come home. "I talked to him every day," Motzkin says. "He was frustrated." Eventually Motzkin negotiated a loan to MLS's San Jose Earthquakes that would last the better part of three seasons.
Donovan simply did not know how to handle the frustration of Germany. He developed a reputation—one that would stick with him for a long time—as soft, a malingerer, a player who would follow great games with bad ones, someone who melted under the heat of adversity. "I was just a little kid who thought he was better than he was," Donovan says. "And it got so bad that I was on the verge of saying, 'I quit.' "
He pauses, as if he's done with the answer. Then he says this: "Quitting soccer—that's a lot more real than you might think."
For every child prodigy that you know about, at least 50 potential ones have burned out before you even heard about them.
—ITZHAK PERLMAN, violinist, in a New York Times interview
"People have a hard time understanding this," Bruce Arena says, "but just because a player is great at 16 does not mean he will be a world-class player at 20. Look at Freddy Adu."
This is the name that comes up, again and again, when you talk with people about Donovan: Freddy Adu. He was another American soccer prodigy—a phenom who at 14 joined MLS and appeared in a commercial with Pelé, and who at 20 will not be part of the World Cup team in South Africa. Player after player, coach after coach, talks about how the struggles of Adu are what can happen to someone who faces too many expectations and is burdened with too much promise at a young age.
But maybe that's wrong. Adu is not what can happen. Adu is what will happen, most of the time. "A child prodigy is, by its nature, a self-destroying artifact," Peter Gay writes in Mozart, and the world is littered with stories of brilliant young talents who could not improve, could not cope, could not find motivation, could not stay interested, could not deal with failure. Freddy Adu is not the exception. Landon Donovan is the exception.
"I think Landon just refused to allow himself to settle," his Galaxy teammate and close friend Chris Klein says. "He never stopped and said, 'Well, I've learned everything there is to learn about the game.' He never stopped trying to grow. He never was content."
Misery had a lot to do with his success. Donovan was miserable in his early 20s. Being on the bench in Germany made him miserable. The sky-high expectations in the U.S. made him miserable. And, perhaps more than anything, he found his motivation drifting.
Donovan insists that by this point he considered quitting soccer altogether. His mother had always told him to play the game only if it was fun, and it had stopped being fun. "I'd call my agent pretty much every day, and I'd tell him, 'I don't want to do this anymore. I'm done. I'm over this.'
"It was everything. The pressure. The expectations. That was all part of it. But it wasn't just that. It was where I was as a person. I just didn't know. All my life, all I've ever wanted to do was play. That's it. And when it stopped being fun, I just didn't want to do it anymore."
He admits he needed something extra to play his best: a big crowd, an important situation, a fired-up teammate—something—to inspire him to play his best. Occasionally even those things would leave him cold.
"I worried about everything but myself," he says. Especially about teammates. "I worried about 'Why isn't he playing? Why isn't he learning this? Why isn't he practicing harder? Why is he leaving early? Why is he doing this?' And you forget about yourself. You're just wasting all this energy."
He was playing well in America—his remarkable speed and skill made him clearly the best player in MLS. But even after a stellar 2002 World Cup in which he scored twice and nearly led the U.S. to an upset of Germany in the quarterfinals, his worldwide reputation didn't match his status at home. He returned to Germany in early 2005 but played just seven games for Leverkusen before arranging a permanent move back to MLS.
Through it all, Donovan didn't feel fulfilled. Two years ago he was quoted in The Beckham Experiment as saying, "I can't think of another guy where I'd say he wasn't a good teammate, he didn't give everything through all this, he didn't still care. But with [Beckham] I'm not so sure. I'd say no, he wasn't committed." The quotes drew global attention, mostly focused on David Beckham and his rocky start with the Galaxy. But Donovan wondered what those comments said about himself.
"I've always thought the world was a certain way," he said. "And in the last year or so I've learned that I was seeing it all wrong. It's like I lived in this glass house. And after I threw a lot of rocks, I realized that the world is a different place than I thought."
It is not good to be too free. It is not good to have everything one wants.
—BLAISE PASCAL, French mathematician and child prodigy
Landon Donovan talks about the "aha" moments of his recent life, moments when things became clear for him. There is one morning he thinks about a lot. He was with Bianca Kajlich, his wife at the time (they were married on New Year's Eve 2006 and divorced in mid-2009), grumbling about having to take a road trip, grumbling about his role with his team, just grumbling. Kajlich, a budding actress struggling to make her career, snapped.
Donovan: "She looked at me and said, 'Do you have any idea how much I would give to be able to do those things you do, to be able to do what I love? And you take it for granted.' She was right. I did take it for granted.
"I always worked very hard on the game, but, you know, soccer came pretty easily to me. I had to realize and accept that I do have great responsibility. It's not just because I'm immensely talented and blessed with a gift physically. It's also because of the mental [feel for the game]. It would be horrible of me not to bring that out."
Donovan says the realization came over him gradually but also all at once. He scored two goals and played some of the best soccer of his life in helping the U.S. reach the final of the 2009 Confederations Cup. Then in January he went on loan to Everton in England's Premier League and for the first time had real success in European club soccer. Donovan scored a couple of goals, created numerous chances and was named Everton's player of the month in January. Fans who had been skeptical ended up loving him. Those chants—"U-S-A! U-S-A!"—in the last home game of his loan were in his honor. Toffees manager David Moyes wanted to keep him.
"To me," longtime Everton fan Peter Howard told The New York Times, "he's an old-fashioned English winger." There is no higher praise in England.
Donovan says his success at Everton was hugely important, but probably not for the reasons people might expect. It isn't because he proved himself on such a stage. It isn't because, at 28, he established himself unquestionably as a world-class player. It isn't because he doused the final doubts about himself.
"No, here's the thing," Donovan says. "I proved something to myself. I proved to myself that I could play at a high level game after game. I couldn't do that before. I always needed something outside myself. I used to be on the field and think, 'Maybe I'll hear a song that will remind me of my family or where I came from or my wife. Maybe the crowd will get really loud, and that will lift me up.' I realized I don't need that."
As the World Cup begins, American eyes will follow Landon Donovan as he wears the traditional number 10 that marks him as a playmaker. In 2006 Arena asked Donovan to be a leader on the World Cup team, and Donovan admits he simply wasn't ready to do it. He played passively, and the U.S. went three and out. Now U.S. coach Bob Bradley asks him once again to lead with his aggressiveness, and Donovan feels sure he's ready. "I'm proving it to myself all the time," he says. "I can play at a high level and bring the best out of myself no matter what the situation."
That's why Kansas City matters to Landon Donovan. He's not getting any outside help here. He's playing on a dreary night in front of a sparse crowd on a field too small to give him a chance. Donovan finds himself constantly surrounded. There's no chance he can break free. His great speed—"He's probably a half step slower now, but he's still almost always the fastest player on the field," Arena says—is all but useless here. His cough stops him cold. His creative gifts will not be summoned for this game; Arena figures his team's best hope is to try long passes again and again in the event something lucky happens. It's artless soccer.
Throughout Donovan's life he would check out of a game like this. But not this night. He pushes. He prods. At one point he manages to break the defense, create a reasonable scoring chance. He doesn't score, but he comes close. And he's trying.
"This is what I'm supposed to be doing with my life," Donovan says. "And I need to embrace it. In the past I needed something to get me going. Now I know: If I want to have a good game, it's right here."
And with that, Landon Donovan pounds his chest, where his heart is.