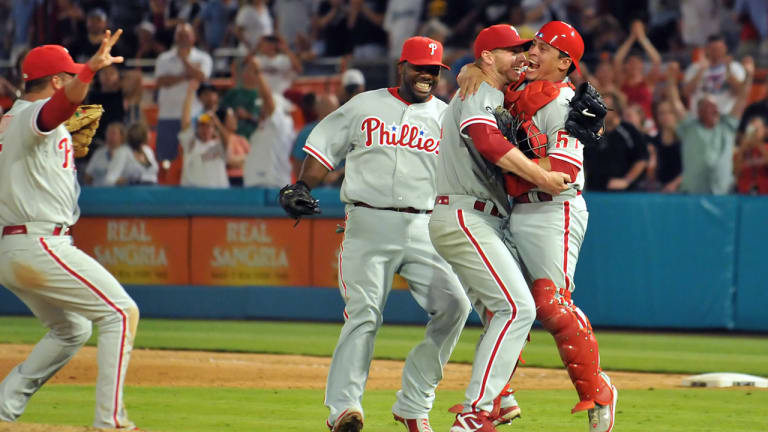 No Offense ...
But a wave of pitching talent is dominating hitters in both leagues. Another perfect game? It's no fluke
In South Florida last Saturday, for the second time in a month, baseball achieved a state of perfection. Twenty days after Oakland's Dallas Braden threw the 19th perfect game in major league history, the Phillies' Roy Halladay tossed the 20th, a 115-pitch dissection of the Marlins in a 1--0 win. He was wilder than usual—the righthander fell behind on about half the hitters he faced and went to three-ball counts on seven of them. But aside from that it was a vintage Halladay performance: He struck out 11, allowed few well-struck balls and didn't even require any of the highlight-reel defensive plays that so often help preserve such gems. It's a tribute to what Halladay has become that he could etch his name in the history books on a night when he didn't have his signature command.
It's easy to view perfect games as flukes, but this one felt different. Halladay, after all, is the game's preeminent pitcher, and his achievement capped a week of terrific pitching performances around the majors that seemed to be building toward a historic moment. A night before his masterpiece, the Giants' Matt Cain one-hit the Diamondbacks. From May 25 to 27 the Mets held the Phillies scoreless in three straight games. And with eight shutout innings against Arizona on May 26, Colorado's Ubaldo Jimenez—who also has a no-hitter this year, on April 17—pushed his ERA down to 0.88.
The string of standout pitching performances fits a larger trend: Scoring is down in both leagues compared with 2009—dramatically so in the AL, where it's dropped by more than half a run, from 9.64 runs per game last season to 9.04 through Sunday. (In the NL total runs per game has dipped from 8.86 to 8.84.)
This marks the third straight season in which American League offensive stats have swung wildly, with 2007 and '09 being hitters' years and 2008 and '10 dominated by pitching. The ups and downs defy the easy explanations that a steady decline in scoring might suggest, such as the impact of baseball's increased testing for performance-enhancing drugs or many clubs' recent emphasis on improving team defense.
But over the long term there are trends that help explain the decreased offense. The major league per-team strikeout rate continues to reach new heights every year—it's risen from 6.8 in 2008 to 7.0 in '09 to 7.1. That lack of contact is dragging on batting averages, which are at their lowest levels in years and taking on-base percentages down with them. Through Sunday the AL was hitting .258, which would be its lowest mark in a full season since 1981. The NL was at .256, its lowest since '92. In the NL the ground ball rate has ticked up a bit.
That's not just the Halladay Effect. (He's new to the NL this year after 12 seasons in Toronto.) It reflects a surge in young pitching talent in the league, with hurlers such as Jimenez, Florida's Josh Johnson and the Mets' Mike Pelfrey becoming dominant starters. In the AL pitchers such as the Yankees' Philip Hughes, the White Sox' John Danks and the entire Rays rotation are making life difficult for hitters. For the first time in a while, the balance of talent across the majors is shifting toward the mound.
On Sunday morning Halladay was back at Sun Life Stadium, plowing through his legendary workout routine as if nothing special had happened the evening before. "Journey's always better than the destination," he said.
"It's unreal how he just goes about his business," Johnson said after he lost to Halladay despite allowing only a single unearned run in seven innings of work. "No messing around, no joking around. He's there for one reason ... which is very impressive to watch." So far this season the same can be said for pitching in general.
Now on SI.com
Joe Lemire lists the 10 likeliest candidates to throw the next perfect game at SI.com/mlb
PHOTO
Photograph by WILFREDO LEE/
AP
GEM STATE Halladay and catcher Carlos Ruiz celebrated the 20th perfecto—and the second in three weeks.
PHOTO
STEVE MITCHELL/US PRESSWIRE