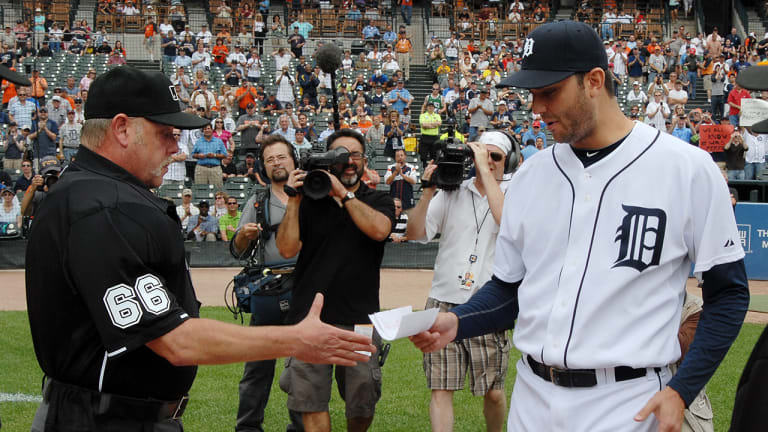 A Different Kind of Perfect
Armando Galarraga lost a place in history, but he and Jim Joyce gave us something sweeter: a lesson in sportsmanship
On the long, sleepless night he became the most infamous umpire in America, Jim Joyce drove home to his 86-year-old mother, Ellouise. For all of his 23 years as a major league umpire, Joyce, whenever he's been assigned to work games in Detroit or Cleveland, has eschewed fancy hotels to stay at the three-bedroom, one-bath brick house in Toledo in which he was raised, not far from the factory where mother and son once worked on the same automobile assembly line.
Joyce's father, James A. Joyce Jr., also worked in that Jeep factory in the shadows of what passed for Toledo landmarks: three towering brick smokestacks erected in 1910. James Jr. worked at the factory for 33 years, though not on the labor side like his wife and son, but in management as part of the payroll department, which made for lively debate at the Joyce kitchen table.
Coming home, though, was different this season for James Joyce III. His father had died suddenly last year at the age of 85.
Jim could hear the television through the still evening air even before he reached the small stoop of the house. It was still too early for the late news. The Tigers and the Indians had played their game in just 104 minutes at Detroit's Comerica Park, the last two minutes or so made necessary only by the most heartbreaking call in baseball history, courtesy of Ellouise and James Jr.'s son. Jim walked through the door and saw his mother in front of the TV.
"Hi, honey," she greeted her son.
"Did you watch the game?" he asked.
"No," she said. "I started to, but I got interested in something else."
"Oh, so you haven't heard what happened?"
Ellouise may have been the last person on earth who hadn't heard. Her previously anonymous son had become the hottest search item on Google, displacing a porn actor who allegedly murdered a colleague with a samurai sword.
"Can you turn that down so I can talk to you?" Jim asked. Ellouise shut off the television.
"This," he said, "is going to be all over the airwaves."
A baseball diamond is, most simply, the intersecting of four 90-foot baselines—and, most powerfully, the intersecting of seemingly random lives. At first base at Comerica Park on June 2, Joyce and Detroit pitcher Armando Galarraga, the ball in his glove and his right foot on the bag after taking a throw from first baseman Miguel Cabrera, met for what should have been the 27th out of the 21st perfect game in baseball history. Only the formality of the out call by Joyce, the first base umpire, remained.
What happened next changed their lives and may well do the same to baseball, at least to the sacrosanct manner in which out and safe have been determined since the game's inception. Joyce called the runner, Cleveland's Jason Donald, who had bounced a grounder to Cabrera, safe. So preposterously wrong was the call that it sparked instant and voluminous cries for the expanded use of instant replay in baseball, a chorus that had gained amplitude in the wake of several critical blown calls during the 2009 postseason. (Replay is currently used to review disputed home run calls but not plays on the bases.) Last Thursday commissioner Bud Selig issued a statement vowing more consideration of an enhanced replay system.
Bigger than the call, however, were the unscripted responses of Joyce, 54, and Galarraga, 28, to their chance meeting. It was the epitome of the human element—not so much for the mistake that was made as for the subsequent humility and grace of the two men. Galarraga, despite having a place in history suddenly ripped from his grasp, gave Joyce no word of protest. Instead, as many of his teammates held their heads in shock and shouted at Joyce, Galarraga looked at the umpire with a wry smile of disbelief. It stayed on his face for several moments, as the righthander turned and headed back to the mound. "I was so excited, he couldn't ruin my happiness," says Galarraga. "I just started laughing. That included nervousness. With the nerves coming out, I just laughed."
"His smile is burned into my memory," Joyce told SI three days later. "I am absolutely enthralled with the way Armando has handled this."
Galarraga climbed back up the mound and took care of the 28th out, instantly more famous for having lost a perfect game in such a cruel manner than having actually completed one. Several Tigers, especially manager Jim Leyland, ripped into Joyce as he made his way off the field. "I felt pretty good when I made the call," Joyce says. "But halfway off the field was the time I knew I probably missed it. Jimmy came out and said, 'You've got to look at this. You blew it!' And he was right."
When Joyce made it to the umpires' dressing room, he immediately instructed the attendant to cue up a replay. He watched it once—he hasn't watched it a second time—and knew he was wrong. He invited reporters into the room and, distraught and emotional, admitted with brutal honesty that he had just blown the biggest call of his life.
Meanwhile, Tigers president Dave Dombrowski walked up to Galarraga in the Tigers' clubhouse and told him, "He needs to talk to you."
"When I saw him," says Galarraga, who needed only 88 pitches to complete his gem, "I was like, 'Oh, my God.' He was red, like a tomato. He hugged me right away. Not even one word."
Then Joyce managed to say, "Lo siento [I'm sorry]." He started to cry.
"I took something away from him," Joyce says, "and if I could, I would give it back in a minute. He just looked at me and hugged me, and I couldn't talk after that. My emotions got away from me."
Says Galarraga, "He tried to talk. He'd say a couple of words. 'You were perfect, I was not.' I felt so bad. I didn't feel bad for me. I felt bad for him."
Leyland, who grew up in Perrysburg, Ohio, in the shadow of Toledo, heard from reporters about Joyce's anguish and bolted for the umpires' room. "He just busted in," Joyce says, "and said, 'C'mon, kid. We're going to have a beer together. It's unfortunate that it happened, but we're going to move on.'"
In the first few hours after the game Joyce was threatened with physical harm through comments to his grown children's social-networking accounts. (Major League Baseball ordered security personnel to keep surveillance the next day at Joyce's home in Oregon and his mother's home.) But as word spread of Joyce's admission, apology and anguish, he and Galarraga became shining examples of sportsmanship and forgiveness.
The next day Joyce was greeted with applause at Comerica Park as Galarraga, who minutes earlier had been awarded a red Corvette by General Motors, handed the ump Detroit's lineup card. Joyce was moved to tears. And he was greeted warmly by everyone he encountered at the Detroit airport the next day when he flew to Philadelphia for his next series.
"All positive," Joyce says. "A police officer, with his police dog, stuck his hand out and said, 'Thank you.' The police officer is out there every day with his life on the line, and he's thanking me? My job is just to uphold the integrity of the game, call ball or strike, safe or out, and try to be 100 percent right."
Technology, especially the ubiquity of multiple high-definition replays, is breathing hotly down the neck of major league umpires. As Joyce noted, the game of baseball has not changed, but the scrutiny has intensified. Veteran umpire Tim McClelland, who was in the public crosshairs last October for questionable calls that he made during the postseason, responded to the Joyce mistake by supporting expanded use of replay. Joyce himself declined to take a position, except to say, "I'll just let what Tim McClelland said stand."
Says Padres manager Bud Black, "I'm a traditionalist who's been against it. But I've come around to think we need it. The technology just has gotten too good to ignore."
If Joyce provided a tipping point toward baseball's embracing more technology, the irony is that baseball never seemed so human and empathetic as it did in the aftermath of his blunder. It turns out that Joyce and Galarraga are baseball ambassadors more alike than different. Both are baseball lifers by way of Toledo, with the scars to prove it and the parenting that made possible such grace in response to adversity.
Galarraga took the ball on June 2 with a career record in pro ball of 51--55. He had thrown for 12 teams in three organizations, beginning with the Expos, who in 1998 signed him for $3,000 out of Venezuela at age 16. Galarraga has had surgeries on his pitching elbow and shoulder, been traded while on his honeymoon and was the first starter cut this spring training in a competition for Detroit's fifth rotation spot. But when the winner of that competition, Dontrelle Willis, faltered, the Tigers called up Galarraga on May 16—from Triple A Toledo, not far from Ellouise Joyce's house.
Galarraga has survived his bumpy professional career with an easygoing attitude, plenty of clubhouse card tricks and a slider that when it behaves properly, he throws as well and as often as any pitcher in baseball. Asked how he felt that night against Cleveland, the righthander said, "My warmup was the same. [But] from the first inning to the last inning? Incredible. It was the kind of day when everything was going my way. It was like I was playing video games. 'I want a fastball down.' Boom! 'I want a fastball up.' Boom! It was like, Damn, I feel good today."
Galarraga's perfect game would have been the third in the majors in 25 days, following those of Oakland's Dallas Braden (May 9) and Philadelphia's Roy Halladay (May 29). When his masterpiece was broken up by an umpire, not a hitter, and he reacted with that smile, Galarraga thought of his mother, Marizat, a chemistry teacher, and father, Pepe, a marine biologist, who raised him in the town of Cumanà and did well to keep him en la linea buena, he says—in the good line.
"In crazy moments they try and lay back and be calm," he says. "To be honest, I never thought I could be like that. But at that moment there was something calm about [me]. I was like, Don't get angry... . He was wrong and apologized. What can I do about that?"
Joyce attended high school in Toledo and college at Bowling Green (where he played baseball) and then did factory work back in Toledo. He was holding down a job assembling driveshafts on Jeeps when, one day in 1977, he jumped in his car and drove to Florida to attend umpire school. He's not sure exactly why; perhaps it was because his father had worked as an umpire for youth baseball games. "It's the proverbial story of wanting to stay in baseball," he says. "My parents thought I was nuts. They said, 'What kind of living can you make as an umpire?' They were right for 10 years."
After a decade in the minors, he became a full-time big league umpire in 1989, going on to quietly work two All-Star Games and 13 postseason series, including the 2001 World Series (when a Secret Service agent posed as a seventh umpire for the ceremonial first pitch by President Bush before Game 3 at Yankee Stadium) and the classic 2004 American League Championship Series. Joyce worked the plate for the pivotal Game 4, the first step in the Red Sox' comeback from a 3--0 series deficit, calling 416 pitches over five hours, two minutes. "It's my 33rd year in baseball," he says, "and until this week I could walk through an airport and nobody knew who I was."
Upon seeing a replay on the night of the blown call, Yankees closer Mariano Rivera said, "It happened to the best umpire we have in our game. The best. And a perfect gentleman. Obviously, it was a mistake. It's a shame for both of them, for the pitcher and the umpire. But I'm telling you, [Joyce] is the best baseball has, and a great guy. It's just a shame."
The first thing Joyce had to explain to his mom was the historical significance of a perfect game. She listened and told him, "You just have to forget it."
"No," Joyce said, "this one is a little hard to just put aside and hope it goes away. I'm going to have to deal with this for awhile."
They stayed up for hours talking about the call, until Ellouise went to bed at 1 a.m. Joyce never did get to sleep—well, perhaps a nap between five and five-thirty in the morning, he says. Soon, though, he realized a new day had dawned. The messages, texts, e-mails and media reports had turned positive, focusing on his courage to quickly admit his mistake and apologize, rather than the call itself.
One of the e-mails he received was sent to Major League Baseball by a 10-year-old boy with spina bifida. The boy was upset because he was having difficulty trying to walk. His physical therapist, the boy said, had told him, "It's coming. Don't cry over spilled milk." The boy wrote, "Tell Mr. Joyce this is just spilled milk."
Said Joyce, "Baseball is a great game. And it is life to a lot of us. But when you hear things like that, it does put a lot of things in perspective."
By Saturday, Joyce considered himself a fortunate man. "The whole thing switched," he says, "and became all positive."
It was hard to explain, Joyce said, without thinking about his father. Back at the factory in Toledo, James Joyce Jr. occasionally would leave his office, dressed in his suit and tie, to make sure everything was fine on the assembly line with Ellouise and Jim, dressed in their blue jeans and T-shirts.
"The way this turned out," he said, "I'm not so sure he didn't have an active part in this. I'm not a metaphysical guy. But this has turned this way for a reason. There had to be some reason for this to happen this way. Where does it come from? I'm just going to say my dad is still helping me."