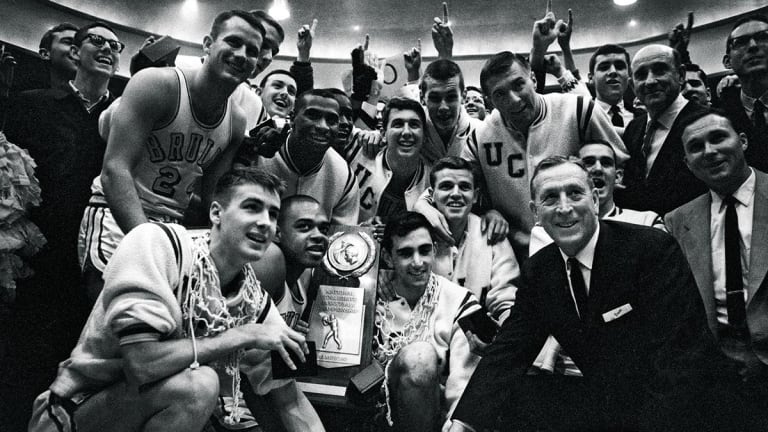 Remembering The Wizard
A personal reminiscence of the greatest coach that college basketball has known, and the values and character that made him an equally accomplished man. There will never be another like him
If death had granted him a moment to convey the sentiment, John Wooden would have declared his passing last week at age 99 a happy transit. After his wife of 53 years, Nell, died in 1985, the old UCLA coach came to regard life as essentially time to bide until he might be with her again. For two decades he had taken Nell to every Final Four, first as a conquering coach and then as a conventioneering one, but without her he couldn't bring himself to go. During his first years as a widower Wooden slept atop the covers of their bed so as not to have to slip beneath them alone.
Coaching colleagues and former players pleaded with him to reengage with the game, to no avail, until 1989, when a number of them prepared to stage an intervention. That spring I joined in, writing a survey of his life through age 78, marbling it with the homiletic precepts behind the 10 NCAA titles that UCLA won between 1964 and '75, using Wooden's own philosophy as a kind of prod. One of those sayings seemed particularly apt. "Avoid the peaks and the valleys," he told the Bruins, urging them neither to exult in victory nor sulk in defeat. He even made a point of calling timeouts late in those championship games to remind them to keep their emotions on an even keel. As outrageous as it seemed for anyone to dispense advice to John Wooden, my piece ended with this impertinence: "Before this extraordinary life gets played out, before the buzzer sounds, won't someone please call timeout to remind him? He has taught so many of us such wonderful lessons. He has one more lesson, his own, to study up on."
I might just as well have adopted the classic Wooden pose, taking a copy of this magazine, rolling it up and brandishing it sternly. Goodness gracious sakes alive—get over it! Yet in time he had struck precisely the kind of balance he once preached, honoring Nell and their life together, yet also speaking, teaching, weighing in on the sport's problems and turning up for the occasional Final Four. Nell died almost precisely when their first great-granddaughter, Cori Nicholson, was conceived, and even in his grief Wooden couldn't miss the relevance of another of his favorite sayings: "God never closes one door without opening another." Ultimately he could count more great-grandchildren, 13, than NCAA titles. Each shone brighter than a trophy in his eyes.
Right from its beginnings on a farm in rural Indiana with a three-hole outhouse out back, the path of Wooden's life alighted on touchstone after touchstone of Americana. He learned to shoot at a hoop his father had forged of iron. He gained confidence in a speech class at Martinsville High that his sweetheart (Nellie, of course) urged him to take. Three All-America nominations at Purdue ensured that Wooden would be inducted into the Hall of Fame as a player before being welcomed as coach. Indeed, when he took a job at South Bend Central High in 1934, he regarded coaching duties as secondary to teaching English.
Wooden regarded the classroom and the gym as serving essentially the same purpose. Explanation, demonstration, correction and repetition—his notion of pedagogy lent itself equally well to English grammar and fundamental basketball. After a stint in the Navy during World War II and two years as coach at Indiana State, where he earned a master's degree in education, Wooden arrived in Westwood in 1948, when basketball fortunes (and hence expectations) had reached a nadir. Thus he could survive for 15 seasons without his Bruins' reaching the NCAA title game. Sportswriters pegged his teams as devotees of the Midwestern "pell-mell" style—well-conditioned but not very sophisticated defensively. Before anyone called Wooden the Wizard of Westwood, the phrase was used to describe flashy guard Walt Hazzard, the floor leader of UCLA's first title team.
UCLA called the new building that opened on campus in 1965 Pauley Pavilion, but to Wooden it was still a gym and therefore a classroom—and he insisted that it come with bleachers that rolled back. His essentialist approach to teaching the game is all in the title of his 452-page textbook, published in 1966 and still in print: Practical Modern Basketball.
Any coach would have envied Wooden's pupils: Lew Alcindor, Bill Walton, Sidney Wicks, Hazzard, Gail Goodrich, Keith Wilkes, Curtis Rowe, Marques Johnson, Dave Meyers and Lucius Allen were among the 17 All-Americas and 24 NBA players to file through his class. But he had such a profound effect on even the Bruins' reserves that after graduation, Swen Nater gifted the old coach with a personal rendition of Wind Beneath My Wings on a cassette, and Andy Hill, a sulking bench warmer for three seasons, circled back to Wooden to collaborate on a self-help book.
As an underclassman Hill believed that Wooden held starters to a different standard than subs like himself. And once he came into his full glory as a coach, Wooden did make strategic accommodations or, in the case of the barracuda booster Sam Gilbert, let accommodations be made. But it's where Wooden held the line that left the most enduring impressions on his players. Upon first hearing their coach deliver the lecture on precisely how to pull your socks on, scores of freshmen rolled their eyes—yet there was Allen, decades later, visiting his son's high school team to give another generation the same spiel. Wooden's great strength was a knack for knowing when and what to change, and when to leave things be. As college campuses such as UCLA's were in revolt, he could coach teams to all those titles and set a record with 88 straight wins in one stretch, because he let sands shift, but only over bedrock.
Fourteen years passed between my presumptuous call for the coach to snap out of his funk and a blindingly bright San Fernando Valley morning in September 2003 when I visited him again. Wooden was 92. I had come to his Encino condominium to drive him to Vip's, his usual breakfast place, for our first extended talk since the story's publication. This time I came with a different mission, to celebrate the impending 40th anniversary of the first of his 10 NCAA championships and four undefeated seasons. The Bruins had won in 1964 with an asphyxiating press and without a starter taller than 6'5".
We didn't talk about my earlier scold job. He had long since come out of his wallow; so dedicated a lifelong learner hardly needed help with his homework. (IT'S WHAT YOU LEARN AFTER YOU KNOW IT ALL THAT COUNTS read a sign on his office wall.) The condo remained a shrine to Nell's life, taste and spirit. He pointed out a wedding anniversary gift from their children, a black-and-white shot of John, then 16, beaming at the camera, with 15-year-old Nell—"the only girl I ever went with," as he described her—looking up at him in adoration. Every month on the 21st, the day of Nell's death, he would write her a letter and add it to a stack secured by a yellow ribbon.
We talked about death; he actually brought the subject up, insisting that he had no fear of it, for Nell would be waiting there and then—"out yonder," he called it, or "the inevitable hour," quoting one of his favorite poems, Thomas Gray's Elegy Written in a Country Churchyard. Death had given him a wide berth: During the war, after being assigned to serve on the USS Franklin in the Pacific, he ruptured his appendix and had his orders canceled; the Purdue fraternity brother who replaced him was killed in a kamikaze attack. Years later, delayed en route to a speaking engagement in North Carolina, he had just missed his connecting flight, which crashed. In 2006, despite blood in his urine, he vowed to fly to Indianapolis to fulfill a commitment to speak at the Final Four on the afternoon of a title game that featured UCLA. "You can go," his doctor told him, "but if you go, there's a good chance that you'll die. And if you die, no one will care about the game. All they'll care about is you." He did not go.
It's hard for anyone, even a skulking sportswriter, to visit the home of a nonagenarian who lives alone and not ask if there's a chore to do or an errand to run. It turned out that Wooden needed a lift to the post office. It was deep in his small-town Hoosier English-teacher bones: If you wrote John Wooden, he wrote back. Some people had figured out how to take advantage of this. They'd pluck stuff off eBay, old Purdue yearbooks and UCLA memorabilia, and send them for his autograph, often with no return postage, surely sometimes (Wooden suspected) with an eye to turning around and selling them.
But if you're a person who writes back when written to, even into the final decades of your life you'll gamely lug several bulky envelopes to the post office a few times a week. The errand we ran stands as a fitting final memory of the old coach and the values that sustained him during a long life and an extraordinary career.
Former U.S. poet laureate Billy Collins, who practices the art Wooden so revered, once wrote that "experience holds its graduation at the grave." When John Wooden is finally laid to rest, at long last alongside his beloved Nell, may there be a band graveside to play Pomp and Circumstance.