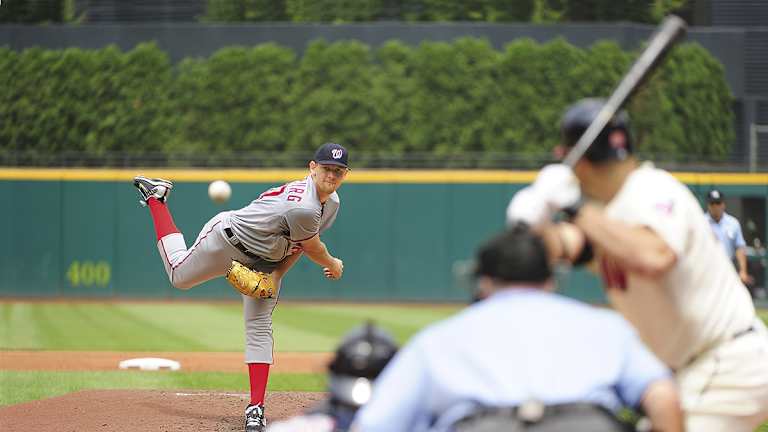 National Treasure
Yes, he's that good. But Stephen Strasburg did more in his first week as a major league pitcher than live up to the hype: He became the rare player who fills stadiums. Meet baseball's newest, biggest drawing card
It was half past noon at Cleveland's Progressive Field, and fans in the rightfield stands were lined up three, four, five deep behind a wall overlooking the visitors' bullpen. Boys stood on seats and grown men held camera phones over their heads like teenage girls at a Justin Bieber concert. The pitcher standing on the mound below, Stephen Strasburg—his cap pulled low, a game-day glare on his face—unleashed his first warmup pitch, a fastball that hissed through the air and popped like a rifle shot in the catcher's mitt. Two boys in blue Indians T-shirts turned to each other and, without saying a word, smiled. There was another fastball, then a changeup, then a curve; with each pitch, the mob squeezed in tighter. A man yelled out, "Show us what you got, Jesus!"—a reference to the nickname bestowed on Strasburg by a dazzled teammate during spring training. But no one laughed. They all stood quietly, in awe, as if, after all the hype, the 21-year-old righthander hailed as the best pitching prospect in generations was, in person, even more spectacular than they had imagined.
Five days earlier Strasburg had made his breathtaking major league debut in Washington, D.C., an event celebrated with all the pomp and circumstance of a presidential inauguration. Strasmas, the locals called it. The rookie didn't disappoint: He struck out 14 and allowed just four hits and two runs in seven innings as the Nationals beat the Pirates 5--2. Last weekend Strasmas came to Cleveland. On Sunday morning fans began arriving at the Progressive Field gates three hours before Strasburg was due to take the mound for his second big league start. Inside the ballpark memorabilia stands sold Strasburg T-shirts ($25) and replica jerseys ($100) alongside Indians merchandise. One booth offered only Strasburg shirts—and was sold out in two sizes by the sixth inning.
In the 12 months since Strasburg was drafted No. 1 by the Nationals, the former San Diego State star has gone from curiosity to phenom to baseball's biggest attraction. He draws fans to ballparks and compels networks to blow up their programming schedules like no other player. In the 12 hours after Strasburg's first start, the Indians, ranked last in the American League in attendance, sold 4,000 tickets to their game on Sunday, Strasburg's next outing. (The final attendance, 32,876, was by far Cleveland's highest total since a sellout in its home opener.) Three days before the game, TBS scrapped plans to show the big-market Red Sox--Phillies matchup on its Sunday-afternoon broadcast. Instead the network chose to air a game between two last-place teams.
Strasburg's second start began the way his first ended: spectacularly. Against the Pirates he struck out the last seven hitters he faced, and on Sunday the ballpark crowd gasped audibly when his fifth pitch was a 100-mph heater that blew past the Indians' leadoff hitter, centerfielder Trevor Crowe, for a swinging strikeout. Five of Strasburg's first eight fastballs reached 100 mph on the radar gun. He walked five batters and needed 95 pitches to get through 51/3 innings, but at times, Nationals manager Jim Riggleman said, Strasburg was "even better than he was [in his debut]." Washington won 9--4. Strasburg's line from his first two starts: 121/3 innings, six hits and three runs allowed, 22 strikeouts, two wins. "There are guys who come up to the plate, look down at me and just say, 'This guy is unbelievable,'" says Nationals catcher Ivan Rodriguez, who was behind the plate for Strasburg's starts. "I've caught a lot of guys in my career, and it's true what people say about this kid. He is unbelievable."
On Sunday morning the television sets in the Indians' clubhouse had flashed live reports from the ballpark teasing Strasburg's second start. "Look out, everyone, it's the phenom!" a Cleveland player bellowed sarcastically from his locker. But by late afternoon the Indians had become believers.
"He's clearly a big deal right now," said DH Russell Branyan, who twice struck out swinging against Strasburg. "There's a reason why they made him the Number 1 pick. There's a reason why he's getting the attention. We [got] a glimpse of that today."
What have we learned about Stephen Strasburg in two games? Radar-gun readings aside, he is a joy to watch pitch, with his effortless mechanics and a delivery that appears not to cause him to break a sweat. His fastball, which averaged a staggering 97.8 mph over his first two starts, is as devastating as advertised. But his secondary pitches are just as good. His changeup, which dives down and away from lefthanded hitters, is only about 10 mph slower than his heater—the speed of most other pitchers' fastballs. (Three of Strasburg's strikeouts in his debut came on his low-90s off-speed pitch.) His filthy curveball is as much as 20 mph slower than the fastball, but it's still one of the hardest curves in the game; its velocity and eight-inch break make it nearly impossible to hit.
Moreover, says Rodriguez, Strasburg can "locate all of his pitches pretty much where he wants them to go." And, even at his age, he appears unflappable, as calm and seemingly bloodless on the mound as he is off it. Under the hot lights of his debut Strasburg did not walk a single batter; he was the sixth pitcher since 1900 to strike out as many as 14 in a game without issuing a base on balls. The first walk of his career didn't come until the fourth inning against the Indians. It was followed by a second free pass, putting a runner in scoring position. Strasburg responded by striking out the next two hitters.
Two hours before taking the mound in Cleveland, the rookie was sprawled on a leather couch in the visitors' clubhouse, having fallen asleep while watching a college baseball game on TV. Asked if he had paid any attention to the media hysteria around him, he said, "I've never really been one to read all the stuff and watch everything. I'm still watching TV—I'm just not watching those channels." Asked after the game to describe his first week in the majors, he replied, without irony, "Just another week."
Of course, it was not anything of the sort for baseball, or for Washington. With his debut Strasburg gave a city with a spotty sports history one of its greatest moments—even if the facilities weren't equipped for it. A standing-room Nationals Park crowd of 40,315 saw Strasburg set a franchise record for strikeouts, but in the seventh inning the electronic strikeout display along the outfield wall went blank. (The scoreboard was wired to list only 12 K's.)
MASN, Washington's regional TV network, reported that ratings for the game, played on the same night as Game 3 of the NBA Finals, were three times higher than those for the Nats' previous top-rated broadcast. And at least four D.C. restaurants began selling Strasburgers. Now available at the Burger Joint in DuPont Circle: a hot dog atop a burger smothered in cheddar cheese, in honor of Strasburg's pro debut with the Phoenix Desert Dogs of the Arizona Fall League in 2009.
Virtually overnight, Strasburg became a national celebrity. The Hall of Fame asked for his cap and a game ball from the first outing. Senate minority leader Mitch McConnell gushed on the Senate floor, "I was there and had a chance to see Strasburg. There was literally electricity in the air." Bob Costas, who called the game for the MLB Network, proclaimed it one of the 10 most memorable sporting events he'd covered.
Later in the week Strasburg delivered the Top Ten List on The Late Show with David Letterman. (Little Known Fact No. 9 About Stephen Strasburg: "Every morning, I spread Icy Hot on my toast.") "Baseball's new original phenom," Letterman announced, almost giddily. "We haven't had one of these guys in a long, long time."
On Sunday, another one of those original phenoms sat in the press box at Progressive Field. In 1936 Bob Feller, now 91, struck out 15 hitters in his first major league start, with the Indians, at age 17. He, of course, went on to a Hall of Fame career. Impressed though he was by what he saw last week, Feller wasn't quite ready to enshrine Strasburg in Cooperstown. "He'll probably be dominant," Feller said, "but let's wait and see how he does after hitters have seen him a few times."
Such a levelheaded response to the Strasburg Show is rare. The challenge for the Nationals now is to manage expectations. It's easy to forget that Strasburg is a six-inning pitcher, a 21-year-old who's just a year removed from college and is tied to strict inning and pitch counts. And, at the risk of being overly levelheaded, it's worth noting that the Pirates and the Indians, the teams he dominated in his first two starts, have two of baseball's weakest lineups.
How long can the dominance and the lovefest last? That may depend on the Nationals. The team has said that Strasburg has a 160-inning limit this season. He logged 551/3 innings in the minors and 121/3 last week, which means he has less than 100 to spread over the next four months. Washington says he'll pitch every five days until the All-Star break; after that the team will keep him in the rotation through September but space out his starts so as not to cross that innings threshold. The difficult decision will come if the Nats, who were two games under .500 and 5½ games out of a playoff spot through Sunday, are within sniffing distance of the pennant race late in the season. Will they really shut down their best pitcher with a spot in the postseason on the line?
Dreams of playoff berths, dazzling career numbers, Hall of Fame acceptance speeches: Strasburg makes it easy for those who watch him to get ahead of themselves. But for now, he pitches—and the world watches. Up next: starts against the White Sox at home this Friday, then the Orioles and the Braves on the road. Those games will be nationally televised. All eyes will be on Strasburg this summer. Every fifth day in the baseball world, it will be Strasmas.