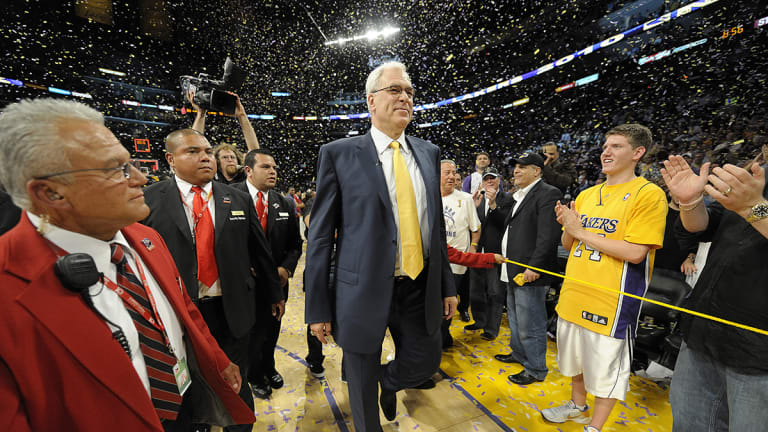 DYNASTY: Beginning Or Ending?
The Lakers beat the Celtics thanks largely to the masterly coaching of Phil Jackson. L.A.'s hopes for another threepeat rest with him too—as Kobe Bryant knows
June Jackson calls them her champagne shoes, the woven espadrille flats she wore at L.A.'s Great Western Forum 19 years ago, when she had no idea what she was stepping into. The shoes were christened that night, when the Bulls bested the Lakers and her husband collected his first championship as an NBA coach. But instead of buying a new pair she just kept slipping them on every spring as the bubbly chilled and another title appeared imminent. Through 10 damp celebrations, a move to L.A., even a divorce a decade ago, the shoes remained. Stains told the stories of games won and parties conquered.
Last Thursday night, after championship number 11, Lakers coach Phil Jackson strode into his private lounge at Staples Center, which is really just a spare locker room with black curtains covering the walls and 10 bar stools scattered about. The room was filled with children and grandchildren, sons- and daughters-in-law, pizza boxes and popcorn bowls. One of Jackson's twin sons, Charley, raised a glass of Moët. "Here's to another one," he said, and June kicked up her champagne shoes.
The family began to tick off all the nights they had gathered like this, impromptu reunions across the country, and the giddiness that ensued. The time Phil rolled down the window of his car leaving the United Center and yelled at the Chicago sky, "We are the champions!"; the time his middle daughter, Chelsea, went swimming with her friends in the fountain at the town square in Deerfield, Ill.; the time they shot pool until morning at the Harbor Room in Playa del Rey, Calif. They tried to match moments with years, but struggled to find a consensus. There had been, if possible, too many titles.
"When he first won I was 16," Chelsea says. "Now I'm 35. I've spent my entire adult life doing this."
In the sports world it is the recurring harbinger of summer, Jackson standing in another locker room with another commemorative cap on his head, Chelsea having bent the brim "so he doesn't look like a nerd." The scene is reassuring in its familiarity, as if a permanent date on the NBA calendar.
His 11th title seemed the stuff of routine—once again he had the best team and the best player—and yet at the end it was anything but.
The week the playoffs began, Jackson made a decision that would spur the Lakers to Game 7 of the Finals: Kobe Bryant would no longer have to practice. He stood in his black sweatsuit next to his coach and rested the ankle, finger and knee that had bothered him for months. Some assistant coaches worried that the players would lose their timing, since Bryant is the one who handles the ball the most, but Jackson understands better than anyone the value of a superstar at full strength.
Bryant erupted for 32.0 points per game in a second-round sweep of Utah. He averaged 33.7 in the Western Conference finals against Phoenix. He hit the 30-point threshold three times in the Finals against Boston. But with his heart racing in Game 7, his legs finally gave out and Jackson had to find another answer. "I was on E," Bryant said.
Jackson's friends like to joke that he could be in the middle of a tsunami and look no different than he does on the bench in the fourth quarter of a playoff game, sitting perfectly still in his padded orthopedic chair, a twinkle in his eye, a bemused smile across his face, "displaying the royalty of a king," says mentor and former coach Bill Fitch. But a Finals Game 7 would test even the Dalai Lama's composure, and despite Jackson's unparalleled success in June, last Thursday was the first Game 7 he had coached with a title on the line.
That it came against the Celtics, two years to the day after they vanquished the Lakers from the Finals with a 39-point thrashing, only added to the emotional onslaught. Jackson spent the summer of 2008 in a foul mood, thanks to Boston, even mentioning to girlfriend and Lakers executive Jeanie Buss that the Hall of Fame featured a disproportionate amount of Celtics memorabilia. Jackson is not driven by revenge, but the rivalry was stirring within him.
Buss, who is collaborating on a book appropriately titled Laker Girl, was professionally obligated to observe Jackson's behavior in the hours leading up to the game. She caught him the night before scribbling plays on the back of a piece of junk mail. She asked him an innocuous strategic question and was subjected to a 30-minute lecture on the seven principles of basketball. She brought up Charley's upcoming summer wedding and he refused to discuss it.
On Thursday morning Jackson awoke at 6 a.m. and made his signature pancakes, a dish with no fewer than 10 ingredients that he prepares to help him relax. Before shootaround at the Lakers' practice facility he led the players through a nearly 15-minute meditation in the dark, their longest session of the season, the only sound in the room the hum of the air conditioner. Courtside seats were fetching more than $50,000. Ratings would be the highest since Game 6 of the 1998 Finals. The word legacy was tossed around like purple confetti. Jackson just wanted his guys to block out the noise.
Jackson thought he could count on Bryant, the toughest-minded player in the sport. But Game 7 even got to him. Bryant missed 16 of his first 21 shots. He dropped passes, dribbled off sneakers, clanked one shot off the side of the backboard. Jackson spent timeouts just to slow his star's pulse. After three quarters the Lakers trailed by only four points, and guard Derek Fisher gathered them on the bench.
"Take a breath," Fisher said, and if ever there was a moment when a team adopted the personality of its coach, this was it. When the Lakers meditate, Jackson instructs them to breathe the same way—up from the abdomen, out through the nose, back again. "That's how we control our chi," says guard Sasha Vujacic.
Bryant did not allow his anxiety to diminish his effort. He grabbed 15 rebounds and drove the lane relentlessly in the last period, making nine free throws. Bryant was MVP, but he turned over the closer role to forward Ron Artest, whose three-pointer with 1:01 remaining pushed the Lakers' lead to 79--73.
As the clock ticked down on the 83--79 win, every Laker stood except Jackson. Finally, he rose and ambled toward midcourt, exchanging a few embraces. Usually when a coach wins a title he can't get an inch of personal space. But the 64-year-old Jackson stood alone for a solid 10 seconds, staring into the upper bowl, savoring what he had wrought. He recognizes, even after 11 of these things, that each one could be his last. Jackson has said that he'll decide this week whether to return to the Lakers. "I think this is it," Chelsea says. "I think he's done now."
Really, what is the difference between 11 championships and 12, between three threepeats and a fourth? Jackson eclipsed Red Auerbach's record of nine titles last year. He could walk away on his two artificial hips and his bum left knee and be thankful the damage from a career spent in the gym was not worse. This seems like the time, with his contract up and owner Jerry Buss threatening to slice his $12 million salary.
"If you asked me last February if I was going to continue to coach, I'd have given you a long look and said, 'Probably not.'" Those were Jackson's words, to this magazine, more than 14 years ago, before his second threepeat with the Bulls. He claimed then that he would retire within two seasons, and go off to another career, possibly in politics. Growing up, he assumed he would be a minister. Friends in college pegged him for a philosophy professor.
"From his countenance," says Paul Pederson, Jackson's close friend and former teammate at North Dakota, "you'd never know how competitive he really is." How his assistants find his dress shirts drenched with sweat even in the regular season; how it is not enough to beat Jeanie at Scrabble every time they play, he has to double her score. These are the kinds of stories people tell about Bryant and Michael Jordan, not the mild-mannered Zen Master, but there is a reason he has always been able to relate to the game's killers. If you want to get Jackson going, ask him about the time in high school that a barnstorming team of former Negro league players swung through his hometown of Williston, N.D., and he hit a double off Satchel Paige. That will lead to a demonstration of how he blocked a shot by Wilt Chamberlain as a rookie with the Knicks.
When Jackson left the Lakers after the 2003--04 season, he rode his motorcycle through Australia and Fiji, gave speeches to CEOs and pondered how he would spend the next phase of his life. "Nothing else appealed to his competitive drive," says Charley Rosen, Jackson's biographer and former Albany Patroons assistant. That's why many in the Lakers' organization believe he will be on the bench again. When Bryant signed his three-year contract extension in April, he told Jackson, "Don't go nowhere." Kobe reiterated that sentiment last Thursday after winning his fifth title with Jackson. "I'm reticent to use this analysis," Jackson says, "but you talk to guys who come back from the war and they miss being in the war. They go back and reenlist because they miss that total immersion of life."
Among coaches, competitiveness is most often associated with ripping off sport coats, cracking clipboards, sleeping in your office and watching tape until your eyes bleed. Jackson does his work when no one is watching. The Lakers rarely scrimmage. They often drill without a defense, Jackson taking them through the paces of each play in his flip-flops, constantly interrupting to remind whoever has the ball what options are open to him. "It's chess," says guard Jordan Farmar, "not checkers."
By the time Jackson gets to the arena for the game, the work is complete and he does crossword puzzles in his office. The goal is to keep his emotions tucked away, for fear they will color his thinking and disrupt the plan he worked so hard to conceive. When Artest made his buzzer-beater against the Suns in Game 5 of the Western Conference finals, and the Lakers mobbed him, Jackson rushed off the floor because he didn't want to "relish in that energy out there." He refused to get too high. And, after a Game 5 loss in the Finals to Boston, he refused to get too low. Asked what Jackson told the players when they returned to L.A. for the final two games, shooting coach Craig Hodges said, "What are you going to tell a pit bull that's ready to fight. You get the f--- out the way."
What separates Jackson are the speeches he doesn't give, the timeouts he doesn't call, the spaces he forces his players to fill on their own. "It's like going to a psychologist," says former Bulls center Will Perdue. "He doesn't give you the answers. He expects you to figure it out for yourself." In Game 3 of the Finals, the Lakers gave up the first six points in Boston, and guard Shannon Brown stole a glance at Jackson. He could not believe what he saw. Jackson was clapping along with the Celtics' fans. "He's a mysterious dude," Brown says, but the mystery is part of the magic. Because players never know what Jackson is thinking, they have to pay attention. "You ever see Lord of the Rings?" says L.A. assistant Chuck Person. "He's Gandalf."
Jackson would appreciate that comparison, given his taste for adventure. This is a man who lives 10 minutes away from his youngest daughter, Brooke, but refuses to take the same route to her house that he takes home. "It's always about the journey," says Jeanie. Or as Brooke's three-year-old son, Jackson, puts it, "The twisted way."
When you drive, you drive. When you cook, you cook. When you coach, you coach. Such is the definition of Zen. John Wooden had a different label for it—being in the moment—but the idea was the same. For some reason Jackson has become easy to caricature, perhaps because of that silly nickname: Zen Master, as if Zen can ever be mastered. It is a state of being, whether active or retired, with 11 championships or with none.
Wherever Jackson winds up next season, the pursuit will continue, and he will live in every breath the Lakers take.