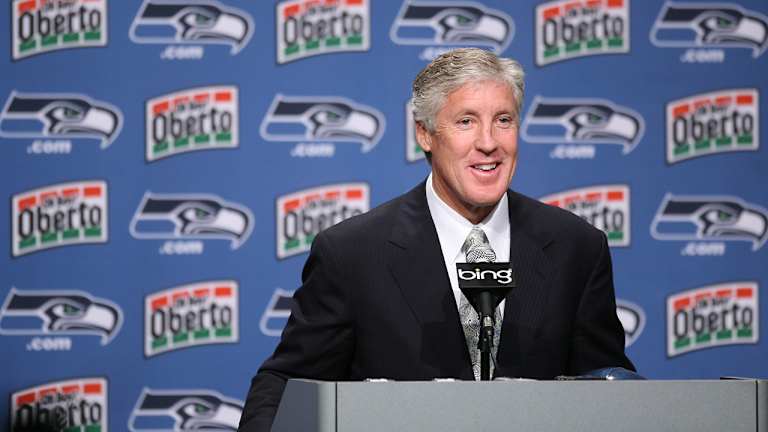 Why Is This Man Smiling?
The NCAA just burned USC for violations on his watch, but Seahawks coach Pete Carroll is still full of cheer. Or is it denial?
The defiant clouds over Seattle part for the Sunshine Boy, a force of natural light that blinds as much as it reveals. Never mind the sun damage that Pete Carroll inflicted on the USC football program—the elements in the Great Northwest don't ask questions. On this spring day the sky over Lake Washington turns blue to greet him, a bald eagle alights on a utility pole a few feet from the practice field to watch him and a crowd of Seahawks employees gathers to buy into him. "I invited them," says Carroll. "I asked [team CEO] Tod Leiweke if we could shut the building down for them so they could come out and see what we're doing."
If Carroll noticed the resident of one of the houses across the lake sitting in his backyard with what looked like binoculars, he didn't seem to care. You can bet Bill Belichick would have had the eagle tagged, the lake houses evacuated and secretaries obliged to sign nondisclosure agreements. But that's not Pete. He is the Uncola of coaches: secure, self-aware, an innovator and renaissance guy who courts celebrity with the interactive savvy of Ashton Kutcher. "Hollywood," as some Seahawks good-naturedly refer to their extroverted new boss, has about 400,000 followers on Twitter. "He's a texting fool," says Seattle quarterback Matt Hasselbeck. A day after Carroll jarred USC by bolting for the Seahawks in January, he hit send on his first text to Hasselbeck. It went something like this: We'll turn this team around. Need you to buy in. I promise it works. Just saw Avatar. 3-D. Awesome!
There is an endearing enthusiasm to Carroll, a quality that won over recruits and pissed off his more dour counterparts during his nine-year revival of USC. "Never did I think of it as a negative," Carroll says. This seemingly naive spirit also helped him rationalize his failures in his first two tries as an NFL head coach: He was the young victim of an aging, impatient Jets owner in 1994, and from 1997 to '99 in New England he was perceived as the court jester who replaced the domineering Bill Parcells. Each firing led to soul-searching—internalizing a book by John Wooden, gaining solace from the song Growin' Up by Bruce Springsteen—but Carroll remained certain of one thing: He wouldn't go changing to please anyone. "I'm confident in who I am," he says. "That's the great thing about [being] here. They didn't ask me to change anything about the manner in which I operate."
Seahawks owner Paul Allen needs Carroll's lightness of being. Allen can buy anything—he has a habit of throwing his Microsoft fortune at sinking oddities, such as a yellow submarine and the 2003 Trail Blazers. By paying Carroll almost $33 million over five years, the billionaire is buying hope. "Our owner deserves that, with all he's been through," says Leiweke. Allen has non-Hodgkin's lymphoma and has been undergoing chemotherapy, but he has spent time with Carroll throughout his first few months with the team and has been charmed by him.
Carroll's not interested in just winning hearts and minds. "I think what Pete wants is to compete at the highest level," says Leiweke. "He wants to show he can succeed in the NFL in a way that is true to him." In Carroll's Up with People world, the audience at that Seahawks practice—sky, eagle and staff—was participating in a séance to lift a moribund franchise with happy thoughts. "It's a mentality, it's a belief, it's a culture," Carroll says. "It's what we started at SC." He mentions SC a lot—reminiscing, ignoring the bad stuff, as if paging through a yearbook. Good times.
At 58, with a healthy head of gray hair, Carroll seems ageless as he preaches his pumped-and-jacked gospel in the camp-counselor wear that has come to define him: hoodie pullover, khakis, tin whistle. Over the years the hue of the hoodies has changed, but the pants haven't. A Seahawks staffer keeps 20 pressed pairs of khakis in Carroll's locker. "I think of them as the ultimate utility pant," Carroll says. "You can work out in them, coach in them and look like you kind of tried around the office."
Carroll has an upbeat take on every topic; his motivational proselytizing makes him the Joel Osteen of football. Like the feel-good evangelist, Carroll is an author. His forthcoming book is titled Win Forever: Live, Work and Play Like a Champion. It's bound to read like coaching soup for the soul, but those who build a following on faith are bound to be held to a high standard of righteousness.
For nine years Carroll was seen as a savior at Southern Cal. When he arrived at USC, a school demoralized after a five-year football slump, skepticism abounded. The phone banks were shut down by angry calls asking what the hell Carroll knew about college recruiting. Winning cured that. Carroll also hit town as gang violence was on the rise. His night visits to Watts and his assistance in developing the nonprofit group A Better L.A., helped tamp down violence. He even fielded blind-side hits with grace. Last December, Charlie Weis, who had just been fired by Notre Dame in part because he couldn't beat USC, aimed a haymaker at the pretty face of his rival. "I'm scrutinized when I swear," Weis complained to the website Irishillustrated.com, but Carroll wasn't for "living with a [female] grad student in Malibu."
Carroll—a father of three whose wife, Glena, is always at his side—was stung. "I was really, really disappointed in [Weis], but I'm not going there," he says by way of response. "Are you a target if you succeed? Yes. But in a way, and maybe this is a bright way of looking at it, that's respect."
Now that's a beachcomber with a metal detector for silver linings. Whatever anyone thinks of Carroll's Kumbaya outlook, it's never been an act, even when he lived in the land of actors. "There is no darkness here," Carroll says. "I'm not that way. It's no accomplishment; it just comes easy to me to be optimistic. I really do think something good is about to happen."
But now, as the USC faithful look at Carroll's legacy, they might wonder if his rose-colored glasses were a prop. Sure, they all went along for the joyride while Carroll's teams went 97--19, owned the Pac-10 and won two national titles, but didn't Coach Feelgood suspect something sinister in the machinery? This see-no-evil approach led to the NCAA's smackdown of the Trojans on June 10 over the relationship between Heisman Trophy winner Reggie Bush and a fledgling sports marketer while Bush was a running back from 2003 through '05. The marketer allegedly wooed Bush by giving him cash, a car and free airfare and his family a rent-free house.
The NCAA punished USC's football program harshly—a two-year ban on postseason games, the loss of 30 scholarships over three years, probation for four years and the annulment of 14 victories from December 2004 through the '05 season—and the BCS may yet wipe out the Trojans' '04 national championship. (USC's basketball program was also sanctioned, for violations involving the recruitment of O.J. Mayo in 2005.) "Elite athletes in high-profile sports with obvious great future earnings potential may see themselves as something apart from other student-athletes," the NCAA report said. "Institutions need to assure that their treatment on campus does not feed into such a perception."
It should be noted that the NCAA, like the rest of America, was aware that Carroll's practices looked like celebrity reunions, with everyone from Will Farrell to Snoop Dogg to O.J. Simpson invited to watch. It seems disingenuous for the NCAA to rebuke these I [hearts] L.A. practices while it profited from USC's visibility and high TV ratings. That said, there are compliance issues here. Throughout its 67-page report, the NCAA hammered USC for its reluctance to monitor its star players, and it's true: Carroll refused to dust people for fingerprints every time they approached his stars. He didn't see a problem—or wouldn't see a problem.
This selective vision was clear in Carroll's YouTube response to the NCAA sanctions, which he released through his Twitter page on June 10. "I never, ever thought it would come to this," Carroll said. "The agenda of the NCAA infractions committee took them beyond the facts, and the facts don't match the sanctions. ... I feel terrible for the Trojan family that we have to go through this, but as always we'll be strong and keep our heads. ... Fight on."
At no point during the two-minute, six-second video did Carroll accept responsibility for failing to shoo the Gucci-wearing flies away from his players. Like USC athletic director Mike Garrett, Carroll claimed the NCAA enforcement committee was motivated by envy, as if its members were UCLA operatives. During the many hours he spent testifying at NCAA hearings in February, Carroll denied knowledge of any wrongdoing, according to the report. "Listen, what we know now is different from what we knew then," Carroll says at the Seahawks' complex, leaning forward for emphasis. "Reggie Bush wasn't Reggie Bush when he was a sophomore [in 2004]. Now you look back—the second pick in the [NFL] draft, a Super Bowl champion—but he was competing for a job as a sophomore. People ask, 'Why wouldn't you have known this or that; why didn't you anticipate this or foresee that?' He wasn't that Reggie Bush then." Carroll fails to note that Bush set a Trojans freshman record for all-purpose yards in 2003, and during his sophomore year he finished fifth in the Heisman Trophy balloting and was named the team's MVP.
Now that Carroll's aura has been buried in USC's equivalent of Pompeii, he asks everyone to remember how great, how much fun, how authentic his run was. Don't throw all that away, he pleads, because of a misguided NCAA punishment. "I know what we did," he claims. "I sleep very well at night." Maybe that's the best way to face the rain of ash: eyes closed.
The truth is that much of what the glorious Trojans teams achieved under Carroll has been branded with an asterisk. "Anytime something like this happens, there is a taint on a legacy," says Dallas Sartz, a captain of the 2006 Trojans who played linebacker in the NFL for two seasons and is now an assistant at UC Davis. "It may change the way some people think about Coach Carroll and the team, but we beat who we played. He coached the best team."
Carroll coaxed victories out of his players partly by using sing-alongs, juggling competitions and Punk'd-style pranks to bring them together. "I'll always be grateful to have been at SC," says Sartz. "It was the time of my life. I learned a lot from Coach Carroll. He's a great mentor. He's all about enthusiasm, being positive, seeing the glass half full."
In the minds of some Trojans boosters, Carroll hit I-5 north toward Washington just as the storm began rustling the palms of Southern California. "That's why, after all those years of [NFL] teams pursuing him, miraculously he's in Seattle," alumnus John Morea told the Los Angeles Times at a booster dinner the day the sanctions hit. But Carroll claims he never believed the worst was coming. His friends say he was sure the damage to USC would be minimal. "The investigation had zero, zero bearing on what I chose to do," says Carroll. "I never thought I was going to leave. This [Seattle offer] came out of the blue. I never imagined I'd have this kind of opportunity to go back to the NFL." Maybe the most powerful ally of optimism is denial.
Carroll played ragtime piano at the Patriots' family days in the late '90s. He brought life to every party. Sometimes, after long days at training camp at Bryant College in Smithfield, R.I., Carroll still had energy to burn. He would slip into the campus auditorium, settle into the piano bench in the orchestra pit and begin jazz riffs. "He wasn't afraid to be a different kind of coach," says Steve Sidwell, Carroll's defensive coordinator at New England. Carroll was at ease being the outlier in a career full of one-dimensional men: He didn't eat and sleep on his office couch; didn't demean or threaten his players; didn't fret over minutiae. He went to movies, played harmonica, cruised the countryside in a gold Jaguar. The Sunshine Boy was easy to be around, which was just what Patriots owner Robert Kraft had longed for after inheriting the indomitable Bill Parcells, one part legend, two parts mule's behind.
"After Bill left, [Kraft] wanted to decentralize power and make it more of a family-type organization and structure," says Sidwell. "[But] that didn't work." Instead of being grateful for a coach who displayed none of Parcells's ogrelike tendencies, players such as linebacker Chris Slade aired their doubts about Carroll, while others climbed the back staircase to complain in the office of player personnel vice president Bobby Grier. This undermined Carroll's message and authority. "No coach can win under those circumstances," says Sidwell. "I think Pete was excellent and said all the right things in team meetings, but I'm not sure the players were listening all the time. They were not sure that Pete had the hammer. They respected him but didn't fear him."
Although Carroll took the Patriots to the playoffs for two straight years, he finished 1999 with an 8--8 record and no future with the franchise. "It was more difficult than I wanted it to be," he says. "It was tough coming in after Bill. He's one of the greats. But it would have been O.K. if the organization hadn't still been pulled in his way of doing things. Bill was such a figure there that [players] thought it should still be done the way he did it. They questioned things. It wasn't their fault. They were young and didn't know any better than I did. The job that I didn't do well was this: I didn't convince them to give us a chance to do things differently. I didn't get it done off the field as much as on the field."
Carroll could make sense of the dismissal: bad fit, bad timing. This was a firing he could learn from. But the first one, with the Jets? That was a baffling blur. A season that started decently (6--5) unraveled in Miami on Nov. 27, 1994, with one play: the Dan Marino fake spike. The Dolphins' quarterback stunned New York defenders when, after hustling to the line and motioning for a spike to kill the clock, he fired the winning touchdown pass to Mark Ingram. It was a pie in the face of a Jets franchise already up to its ears in banana cream. Joke's on them—again.
"Everyone said, 'Same old Jets,'" said Ronnie Lott, a Hall of Fame defensive back who played for New York then. "It changed the whole season." The desultory end—another four straight losses—triggered a rash decision by owner Leon Hess. "I'm 80 years old," he said. "I want results now." In a flash he swept out Carroll and hired the recently fired Eagles coach Rich Kotite, a move that prompted the New York Post to run full-page photos of Carroll and Kotite with the banner headline DUMB AND DUMBER.
Carroll surprised himself with how quickly he recovered his equilibrium. "I didn't believe in [the Jets' reasoning]," he says, "so it didn't register." He doesn't indulge in the negative. He absorbed the body blows in New York and New England and emerged with his self-confidence intact. "He is resilient," says Jeff Diamond, who spent nearly three decades in NFL front offices and was a Vikings executive when Carroll coached defensive backs in Minnesota from 1985 to '89. "I think what is so likable about Pete is that he can go through anything and come out as the same person."
Carroll believed he was a good coach, with a great mind. "The buzz back then was that Pete Carroll was an ideal college coach but wasn't suited to be in the pros," says Sidwell. "I always disagreed with that theory, because I saw him as a forward-thinking, bright football coach. He was not an outward hard-ass, but if he'd had enough power, that wouldn't have mattered. The sad part about professional coaching is that the public thinks, well, these players are paid and entitled, and they [need] a coach who gets on their asses. That's wrong. All Pete ever needed was to have the show be his to run."
The morning meeting at the Seahawks minicamp was lights-out. Carroll darkened the room and hit the switch on a grainy YouTube clip showing a cheering, frothing crowd circling two competitors at a fight club. One fighter, with a long, wild mane, bounded into the clearing in silky white boxing trunks. He looked high on Red Bull: He fist-bumped the fans, did break-dance moves, then trotted tauntingly around his opponent, a clean-cut kid in black shorts who didn't play to the crowd. The bell rang, and as the preening fighter emerged from a cartwheel, the quiet one decked him with one roundhouse punch. Silky white trunks in a crumpled heap. Fight over.
The Seattle players were stunned. What a clip! What a way to start the day! The video shook the cobwebs out of their heads and focused them on a message dear to Carroll. "It was about finishing," says Hasselbeck. "You clearly thought the showboat was going to win—and then, with one punch, the showboat was out. Pete understands what's necessary to get through. I think especially with the generation right now—it's a multimedia, visual generation—we'll all remember that clip. It'll stay with us."
Carroll sent a message his way. That's what Seattle had wanted: a coach who could hold smelling salts under the nose of a franchise three years removed from its last playoff appearance and fresh off a 5--11 season. "Paul Allen knows every day counts," Leiweke says. "He asked us, 'Who's out there?' It was urban legend that Pete wouldn't leave USC." Leiweke flew to Los Angeles in early January and made his pitch. Carroll's excitement about the opportunity was tempered by not wanting to abandon the community. "I saw him tear up once," Leiweke said. "He got emotional talking about A Better L.A."
Leiweke asked Carroll what he needed to win. Control, Carroll said. "It's exactly what they offered," Carroll says. "You have to be yourself. If it's a divided self—if it's two thirds you and one third someone else—the message isn't whole."
His is now the voice of the Seahawks. He still doesn't curse and still doesn't demean. He has the hammer, if wrapped in velvet. He reinforced his authority not with bluster but with swift, bold personnel moves. In March he made a trade with the Chargers for backup quarterback Charlie Whitehurst, whom he expects to compete with Hasselbeck. "Is it what I would have done?" says Hasselbeck, laughing. "I mean, hey, how about a receiver or offensive lineman? But I think what Pete has shown is consistency: He wants competition at every position. I'm all for that."
In April, Carroll drafted aggressively, grabbing win-now players: Oklahoma State offensive tackle Russell Okung (sixth pick), Texas safety Earl Thomas (14th), Notre Dame wide receiver Golden Tate (60th). Carroll also acquired Titans running back LenDale White for nothing (good thing, since White was cut) and used a fifth-round pick to sucker the Jets into giving up running back Leon Washington. The grade was universal A's from the Mel Kiper draft-o-sphere.
Seattle fans were giddy. Carroll cares what they think: He made sure they felt a part of the action by Twittering song hints leading up to the draft. First clue: Soul Sacrifice by Santana. Second clue: Let the Beat Build by Lil Wayne. Tweetville went mad scrambling to decode Coach Riddler. There was no code. Carroll was just tweaking the absurd hype around the draft.
"He hasn't changed at all," says linebacker Lofa Tatupu, one of seven former Trojans on the Seattle roster. "He's as advertised: energetic, enthusiastic, eternal optimist." Carroll, in fact, has made positivity a mandate. Of the three rules he established for the Seahawks, beginning with Protect Your Teammate (on and off the field) and ending with Be Early for Everything (as a sign of respect), Rule No. 2 stands out: No Whining or Complaining. "It's a challenge, particularly for guys who have been used to doing things a certain way," Carroll says, but the beauty of it is that "we all held each other accountable immediately." If a player so much as rolls his eyes at running the hill next to the practice field at 7 a.m., a teammate will call out, "Rule 2 violation!" If a teammate even mumbles about a play call, another will cut him off in mid-groan: "Nope, stop, Rule 2."
"You won't dare complain," Hasselbeck says, "not even about the weather."
It's blue skies, 24/7, in Carroll's universe. But these are grown men here, long removed from the college hoopla. Can Carroll sell sunshine in Seattle? "If he didn't have respect and credibility, it wouldn't work, but in Pete's case it will, because he has experience in the NFL," says Diamond. "The hardest thing for college coaches coming into the pros is adjusting to the fact that they don't win all the time; it's not always 11--1 and the Rose Bowl. But Pete knows that. I think his personality is only going to help. I think players deep down like a coach who shows fire. The great coaches know what buttons to push."
The Sunshine Boy was miserable once. In 1973. At Redwood High in Larkspur, Calif., and then at Pacific, he had ignored people who said he was too small for football. As a defensive back, he had blown up opponents with rattling hits. But his faith in himself went unrewarded. In '73 he was cut at tryouts for the World Football League. It hurt him to the core. "I thought I'd play forever," says Carroll, "but I didn't spiral downward—I wouldn't know what that is." He decided sports were a negative and cut himself off from them, went cold turkey. "That was a mistake in judgment," he says now. He started working in a roofing business but had zero passion for it (though he says, "I still make a pretty good presentation on the 25-year Hallmark shingles").
He laughs about his roofing career now and sees it like everything else in his life: a passage to a better place. USC is behind him, left to cope with NCAA sanctions on its own. On to Seattle. Carroll is wearing shades, looking out over Lake Washington on a glorious day. "Perfect, isn't it?" he says. "What rain?"
Give Pete Carroll this: The man can light up even an entire climate.
Whatever anyone thinks of Carroll's Kumbaya outlook, it's never been an act. "There is no darkness here," he says.
To some Trojans boosters, Carroll left just as the storm began rustling the palms of Southern California.