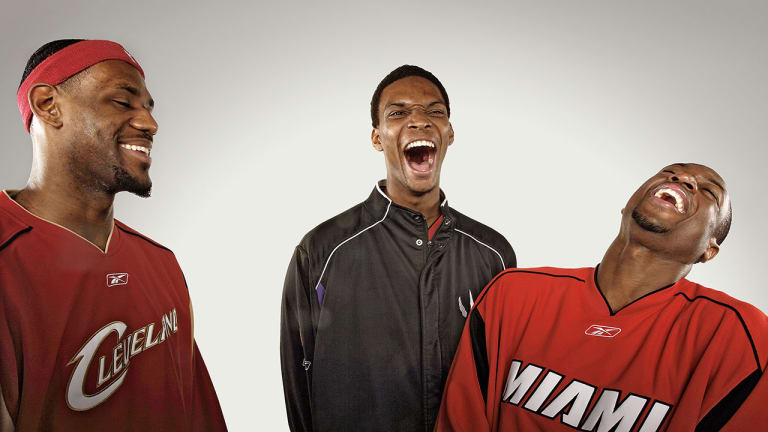 The Plot Starts Here ... Showtime Starts Here
How LeBron James and Chris Bosh came to join Dwyane Wade in Miami.
In February 2006, during All-Star weekend, LeBron James , Chris Bosh and Dwyane Wade posed together for SI. Not long after, they started talking about forming an alliance that would change the NBA for years to come
PART I: THE ANNOUNCEMENT
Last week the world's most talented basketball star abandoned the story line that could have culminated with him becoming the most triumphant and beloved player of his age: Born and raised in nearby Akron, he was delivered upon the Cavaliers like a basketball Moses to lead the depressed region of northeast Ohio to the promised land. Now it turns out he wanted no part of that. He expressed no kinship to his people, and he didn't want to be the Man. Instead he chose the less stressful path of sharing the burdens of leadership with fellow free agents Dwyane Wade and Chris Bosh, who already had committed to the Heat when James announced he was joining them Thursday during a live broadcast of The Decision, the disastrous ESPN infomercial that revealed that James wasn't the lovable guy that his crossover appearances on Nike ads or Saturday Night Live had made him out to be.
All of the upside was gone, leaving only a 25-year-old small forward who after seven hype-filled seasons had failed to produce a championship; who admitted that he didn't have the grace to personally tell his former team's owner that he was leaving; and who had kept his announcement secret because this spectacle was ultimately more important to him than his relationships with the fans he was abandoning in Ohio. Asked how James should have managed his departure, Cavs majority owner Dan Gilbert said, "He would have come in at least a day before and had face-to-face meetings with us. He would have told us what the reasons were and given us the opportunity to make one last argument or move or whatever it might take, even if there was nothing we could do. He should have held a news conference in downtown Cleveland to face the music like a man, let people ask the questions, give his reasons and express gratitude to all of the people in Cleveland who have supported him, knowing this is a blue-collar town and they were going to take it hard.
"There is a difference between Cleveland being deeply disappointed in the decision—which we are—and the feeling of betrayal that only came from his part in the process and the way he communicated it to the world. He crossed the line from disappointment to betrayal."
Teams are occasionally duplicitous in their dealings with players, so should James have owed the Cavs an explanation? The answer is yes, because of how much his relationship with his local team benefited him and Cleveland. "I feel awful that I'm leaving," James admitted as he sat hunched and apprehensive in a director's chair upon a small raised stage, as if he realized he was rendering the only place he's ever lived uninhabitable with his own version of the BP oil spill. Within two hours Gilbert was recklessly ceding the high ground by ripping "our former hero" for his "narcissistic, self-promotional" display. "You simply don't deserve this kind of cowardly betrayal," wrote Gilbert in an open letter to Cleveland fans.
According to one of his marketing advisers, James did not hold a farewell news conference in Cleveland because he feared for his safety once word got out that he was leaving. But James's tortuous TV appearance, combined with Gilbert's equally regrettable response, only served to enrage the city. That night fans were seen burning JAMES jerseys and WITNESS T-shirts on sidewalks and throwing rocks at his 10-story Nike billboard downtown. By Saturday work crews were unpeeling the billboard, strip by strip, while in the Cavs' nearby gift shop all of the LeBron paraphernalia had been removed like mementos of Lenin in the new Russia. "I had this sick sense inside," former Browns quarterback Bernie Kosar, a native of suburban Youngstown, told The Plain-Dealer's Terry Pluto. "I really thought that as an athlete, your ultimate goal would be to win a title for your hometown team. That's what drove me when I was with the Browns. I wanted to finish what I started."
PART II: THE MAN
There was something deeper in James's decision that set off negative reactions throughout the league. Not only had he forgotten where he came from, but the reigning two-time MVP seemed to be accepting a lesser station alongside Wade, the 6'4" shooting guard who had led Miami to the 2005--06 championship, and Bosh, the 6'10" All-Star power forward who spent the first seven years of his career with the Raptors. "I was surprised that he went [to Miami]," said Orlando G.M. Otis Smith. "I thought he was more of a competitor. The great ones usually stay in one location."
A Western Conference G.M. added, "It sparks a huge debate about how you determine greatness. We put him on this pedestal and we believed he was fulfilling it—and now we're idiots for believing in him. Maybe at his core he isn't a very confident guy."
Up to the moment of his revelation James, who entered the league to unparalleled hype in 2003, had appeared as comfortable with his celebrity as a young Jordan or Julius Erving. He carried himself with prodigious maturity while winning eight postseason series—twice as many as the Cavs had won in the previous 35 years—which made his obliviousness during and after his strained televised farewell all the more surprising. "It is a tough decision because I know how loyal I am," he said on the air on Thursday. The following night he joined Wade and Bosh to say hello to 13,000 Heat fans, as if their frenzied screams absolved James of any responsibility he might have felt to his home state. "The [Heat] organization is a close-knit group," he told his new audience. "It's all about family, and that's what I'm all about." Easy come, easy go.
Clearly James couldn't see why he had turned off so many believers. Hadn't he, Wade and Bosh each sacrificed at least $15 million over the lifetime of his contract in order to play together in Miami? (Though the difference in real money for James, thanks to the absence of state income tax in Florida, was closer to $6 million.) Wasn't James putting the pursuit of championships ahead of his individual stats, potentially loosening his hold on the MVP trophy? Hadn't profits from The Decision resulted in a contribution of more than $2.5 million to the Boys & Girls Clubs of America?
Until the stain of The Decision is washed away and he has proved the sacrifices to be championship-worthy, however, James has surrendered the benefit of the doubt. "If I was 25 I would try to win it by myself," said Charles Barkley on NBA TV. "This definitely hurts LeBron. When you are 25 you shouldn't be trying to piggyback on other people."
PART III: THE SEA CHANGE
Think back to the NBA's golden era when Magic Johnson, Larry Bird and Isiah Thomas were winning a combined 10 championships from 1979 to '90. Would those three rivals ever have wanted to join forces? They were more interested in beating each other than in deferring to one another.
"I came of age as commissioner when the Lakers and Celtics each had a Hall of Fame team," says David Stern of the Lakers of Magic, Kareem Abdul-Jabbar, James Worthy and Bob McAdoo, and the Celtics of Bird, Kevin McHale, Robert Parish, Dennis Johnson and Bill Walton. But those rosters were assembled over time by management, while this trio has come together as the result of a cabal by the players themselves. This AAU-ization of the NBA is the culmination of three decades of players gaining more and more power, a movement that started with the Magic-Bird era. Next summer the commissioner may, like Dr. Frankenstein, have to kill off the monster he created when he presides over labor negotiations that are expected to result in a lockout. "It's safe to say that if contracts are shorter and guarantees are less, we may see opportunities for this to actually increase," says Stern, noting that players in the next system may become free agents more often. "But the [next] collective bargaining agreement is going to be focused solely on sustainable business models, in a context where we encourage teams within the rules to compete with each other for talent as hard and tenaciously as they possibly can."
Mavericks owner Mark Cuban wants the league to reconsider its enforcement of tampering rules as it applies to players, with the inference that Wade helped lure James and Bosh to Miami while they were still under contract. "We're not going to become the thought police, the speech police, the private-meeting police," said Stern, who has received no formal complaints from the Cavs or the Raptors. "That said, if they are directed by their teams [to recruit other players], that would be a different situation."
Collusion among players is a common and unstoppable practice. The NBA salary cap has grown by 1,600% since its original 1984 threshold of $3.6 million per team, which has created a chumminess among the elite players. And never has a group of players exerted as much power as James, Bosh and Wade, all chosen among the top five of the 2003 draft. In 2006 James persuaded Wade and Bosh to join him in agreeing to three-year contract extensions (with a fourth-year option) that would make them free agents this summer to maximize their bargaining power before the collective bargaining agreement expires in 2011. They realized they could thrive together while helping lead the U.S. to the gold medal at the 2008 Olympics, and their bond was deepened further last year when Henry Thomas, who represents Bosh and Wade, joined James's representative, Leon Rose, at CAA Sports.
In the meantime Heat president Pat Riley was plotting what he called "the triple play." It began when he traded Shaquille O'Neal to Phoenix in 2008 to clear cap space and continued as he unloaded long-term contracts and developed relationships with confidants of the 15 All-Stars who were among this summer's class of free agents. One advantage of Riley's intelligence gathering was his understanding—as relayed to him by Wade—that James wanted to become less of a scorer and more of a distributor, and that he looked forward to no longer carrying the offense night after night. "Now the pressure of making every shot or shooting a high percentage for our team to win is not a big deal anymore," says James. "You look at Game 7 of the Finals—Kobe Bryant shot 6 for 24 from the field, and they still won because he knew he had help and guys came through for him."
The Cavaliers have depended on him to score (he's averaged at least 27 points per game over the last six seasons), but what if he never wanted to be the second coming of Jordan? James has long viewed himself as having more in common with Magic than with Michael, and this move enables him to become the Man in a more creative and entertaining way—as the playmaker who pushes the ball in the open floor and delights in watching Wade and Bosh finish what he has started. Riley knew exactly how to sell Miami to James. "LeBron would be Magic and Dwyane would be Kobe and Chris would be Kevin Garnett," said Riley, reciting the pitch he made during the Heat's July 2 presentation to James. "He actually liked that conversation. He lit up and he said that would be great if 'I didn't have to score,' that he could be maybe the first guy since Oscar Robertson to be a triple double guy."
The Heat's meeting with James in the IMG offices in downtown Cleveland lasted close to three hours, and Riley was the star. Riley has seven NBA championship rings, and he has three copies of each—one gold, one silver, one platinum—to go with whatever he may be wearing on a particular day. He tossed the bag of rings on a table for James to look inside. "Like a weapon," as Riley would describe the scene later.
"Hey," said Riley playfully, "try one on."
They had spoken in other settings, and Riley knew he had James's attention. After also meeting with the Nets, Knicks, Clippers, Cavaliers and Bulls over the first three days of July in Cleveland, James quickly narrowed his final choices to Miami, Cleveland and Chicago. "The process was taken extremely seriously, and it was not predetermined," says Rose. "I can tell you he vacillated after certain meetings. He went back and forth."
Early last week he was leaning toward Miami, but James insists he didn't make a final decision until a heart-to-heart last Thursday morning with his mother, Gloria. Seven ringless years in the NBA had left James hungry to begin winning championships, even at the cost of his legacy. No doubt he found himself recalling the message Riley delivered: "The main thing is the main thing."
The irony of Miami's coup is that Riley, of all people, was so eager to marry three leaders of rival teams—the same Riley who as a coach used to famously scold his own players for fraternizing with opponents. And the trend of tribalism among NBA players was on display again at Carmelo Anthony's wedding to MTV personality LaLa Vazquez last Saturday in New York City. Among the guests were James (who was booed by spurned Knicks fans as he climbed out of his limo) and Hornets point guard Chris Paul, who may have been inspired by Miami's new big three. According to the New York Post, Paul offered a toast suggesting that he, the groom and new Knick Amar'e Stoudemire should form their own power trio in New York.
PART IV: THE FUTURE
Rivals who are hoping the Heat will need time to fill out the roster are making a serious mistake in underestimating Riley. By dumping Michael Beasley and his $5 million salary on the Timberwolves and offering packages of draft picks and $16 million trade exceptions to Toronto and Cleveland to complete sign-and-trade deals for Bosh and James, Riley has freed up a salary slot for swingman Mike Miller while creating room to re-sign big man Udonis Haslem, whose defense-first mind-set and physical play upfront will be indispensable throughout the playoffs next spring. "Not two, not three, not four, not five, not six, not seven," says James of his expectations for titles. "When I say that, I really believe it. I'm about business."
Even if the three win and win big, there will be complaints that they cut corners to their parades. "I guess I'm a purist, but I believe the journey to the championship is really what it's all about," says a former star who is now a league executive, and who asks to remain anonymous because he may try to acquire one of the Heat stars if their partnership fails. "It's the heartache, the ups and downs, the winning 60 games and losing in the playoffs, and then all of a sudden the breakthrough. Winning the championship is more about the journey than it is about getting three or four guys and [saying] let's win because we're so much better than everybody else. It's like if Bill Russell and Wilt Chamberlain had gotten together and said, 'Let's both play together in Chicago'—what would have been the meaning of that?"
The championships will be hard to come by if James, Wade and Bosh can't learn how to share the rock over the course of more than 100 regular-season and playoff games. After winning the championship in 2008 with his new All-Star threesome of Kevin Garnett, Paul Pierce and Ray Allen, Celtics coach Doc Rivers acknowledged that the experiment might not have succeeded a few years earlier, when each player was still exploring his own potential. But by the time the three united in Boston, each was in his 30s and ready to sacrifice for the team. "I had a group of guys that were very willing to be coached and weren't stuck on who they were," said Rivers two years ago. "I hear guys say they want to win it, but I think what they're really saying is, 'I want to win it as long as I can keep doing what I do.' I had three stars who said they wanted to win and they would change to do it. I don't think you get that a lot."
Gilbert remained skeptical of his former star, accusing James of quitting on the Cavs during the playoffs in each of the past two seasons. "He's going to need to do some deep, deep soul-searching and get an understanding on who he is and if it is important enough to him," Gilbert said on Saturday. "Without that I don't think he'll ever reach his potential from a championship standpoint. It's not anything physical on the outside; he'll have to do some work on the inside to get to the Kobe level, or the Michael Jordan or the Tim Duncan level."
For years Gilbert had dreaded the possibility that James would leave. Now that the day was here, what was he feeling? "It's kind of a relief on the organization," he said, acknowledging that the franchise had made trade after trade with the short-term goal of convincing James to reenlist. "People have to understand this was a Lebron-centric situation," said Gilbert. "We haven't experienced trying to do it the right way, and in a way it's exciting for us to move forward without that kind of weight on us. Because you do start compromising."
Now most of the compromises are going to fall upon James. In one intensive week his profile shifted from NBA darling to a player who has exhausted the public's patience. The last two years' worth of emotional capital that has been invested in speculation about his future is now being held against him like an expensive loan, and the only way he can pay it off is by winning a championship.