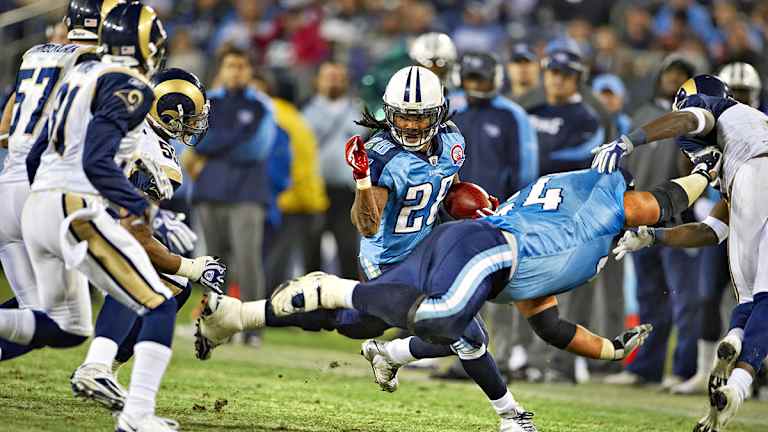 Crash Course
Once the face of the game, the feature back is falling victim to the harsh laws of physics and economics. Brutal hits and a brief shelf life are turning the elite runner into the league's most endangered species
Late on a sweltering August afternoon, the Titans were nearly finished with two hours of training camp drudgery. In the middle of a grass field next to a warm, muddy finger of the Cumberland River near downtown Nashville, Tennessee's first-string offense and first-string defense were locked in a monotonous stalemate, already sick of facing each other, both awaiting the air horn that signals the end of practice and brings them one day closer to games that count. Fans awaiting autographs stood behind a fence, staring vapidly at the scrimmage.
Rare is the action than can enliven a day like this. Then quarterback Vince Young stuck a handoff in running back Chris Johnson's belly, and Johnson darted through a small hole into the second level of the defense. Cornerback Cortland Finnegan bounced forward to confront Johnson; they were wearing helmets and shoulder pads, but only shorts, so Finnegan could induce a play-ending whistle just by thudding Johnson with his pads and wrapping him up to a standstill. But as Finnegan squared to make contact, Johnson dipped his left shoulder inside and then burst abruptly to the right, like a minnow startled in shallow water. Not only did Finnegan whiff on the thud, but he also would have whiffed if it had been touch football. The spectators gasped.
Johnson accelerated to the outside, sprinting toward the pylon 60 yards away. Free safety Michael Griffin caught him on the angle inside the five, but Johnson straightened Griffin with a vicious stiff-arm and rolled across the goal line with Griffin dangling from his forearm.
Ten minutes later, as Johnson walked off the field, it was suggested to him that maybe Finnegan was coasting. Thud scrimmage and all. "Nope," said Johnson. "I just dismissed him." Griffin? "Nuh-uh," said Johnson. "All real." He flicked his prodigious dreads from his face and nodded for emphasis.
Johnson, 24 years old and entering his third season, is a running back at the peak of his powers. In 2009 he became only the sixth player in league history to rush for more than 2,000 yards, and he set an NFL record with 2,509 yards from scrimmage. Johnson rushes with a palpable urgency befitting a man who runs a 4.24 in the 40, a speed all but unheard of in a running back. And he's urgent away from the field as well. Despite having three years remaining on the rookie contract he signed out of East Carolina in July 2008, he had his deal restructured just before the start of training camp, reportedly quadrupling in his salary for 2010. Because Johnson knows he is also this: endangered.
The Big Back ("big" as in "Give me the ball every down") is central to NFL lore. Jim Brown was a Big Back. Walter Payton too. Eric Dickerson. Emmitt Smith. The Big Back carries the ball on nearly every running play, supporting half the offense on long, punishing drives that often conclude in the end zone—and lead the way to Canton. Yet subtly, the NFL is shifting, devaluing the position that once defined the sport.
"One day you're a real good back," says Johnson. "And the way I look at it, right now I'm better than all of them. Then all of sudden something happens to you, and you never did get paid. So why shouldn't I get paid now?"
Terrell Davis, retired in 2002
Status: banged-up
• "How am I doing, physically?" Davis says in response to a question. "Horrible." In his first four years Davis averaged more than 330 carries and 1,600 yards a season and won two Super Bowls with the Broncos. "He was off the charts in big games," says Mike Shanahan, who coached Davis in Denver and brought him to Washington this summer to work with the Redskins.
Davis blew out his right knee in season 5. "Never the same after that," he says. "Never had the same explosiveness or the same quickness. I couldn't make a cut without thinking about it. Face it—running backs, we don't last that long. It's a lot of pounding. Now? I've got bone-on-bone in my knee. My neck hurts. My back hurts. Like I said, horrible. But I wouldn't change anything that happened. Not a thing. That's just the way it is for a running back."
According to the NFL Players Association, a running back's career lasts 2.6 years on average, the shortest of any position. It's not hard to understand why. "We get hit on every play," says the Redskins' Larry Johnson. "On every one of the those hits, we're the hittee, not the hitter. We run the ball, guys are taking shots at our legs, our hips. Then when we're not running the ball, we're pass-blocking, which means some strong safety or outside linebacker is getting a 30-yard run at us while we're stationary."
There's no position quite like it, and no real remedy. Chris Johnson carried the ball 358 times last year and caught 50 passes, a staggering 408 touches. That number is not likely to drop this year. "The object here is to win games," says Titans coach Jeff Fisher. "Everybody is so evenly matched in this league, we're all desperate. Now I think CJ is pretty unique. He gets his feet up off the turf on contact, just gets ping-ponged around and then bounces right back up. He doesn't take the really big hit [with his feet planted]. We're going to put the ball in his hands as often as we can. There may be a time at some point in his career where we say, let's back him down. But right now it's full speed ahead. Let's have some fun. The defense gets worn down too."
This approach comes as no surprise to Brian Westbrook, 30, who spent eight years with the Eagles and racked up 1,734 touches. He played only eight games in 2009 with Philly and suffered two concussions. In mid-August he was still planning to sign with a team for 2010 but remained a free agent. "Eventually you learn the truth about the business of the NFL," says Westbrook. "The coaches, the front office—their job is to win football games. And to do that they're willing to use you until you have nothing left. They will disregard your health and disregard your injuries to win games."
It is this harsh calculus that truncates many running backs' careers. "They go downhill faster than most," says Jets coach Rex Ryan. "It's not a position where you can avoid contact."
Although some coaches try. Cam Cameron was offensive coordinator of the Chargers from 2002 to '06, during which time LaDainian Tomlinson averaged more than 400 combined carries and receptions a year. "With LaDainian, I would try to game-plan four or five no-contact touches every week," says Cameron. "Maybe a swing pass where he could get out-of-bounds for three or four yards and not get hit. Maybe a sweep where he could flatten out and not take a shot. Five times every game, that's 80 touches a season with no hit."
That would be about the only way to preserve a player at the position. "Running backs want the ball," says Bills coach Chan Gailey, who coached Emmitt Smith for two seasons in Dallas in the late '90s. "I've still never once had a back tell me he wanted fewer carries."
Thomas Jones, Chiefs, 11th season
Status: realist
• Jones has rushed for the second-most yards in the NFL over the last five years, yet twice teams have cut him loose to go with a younger back—first the Bears in 2007 with Cedric Benson and now the Jets with Shonn Greene, after Jones rushed for 1,402 yards and 14 touchdowns last fall. By not signing him, New York avoided paying a $3 million bonus. The Chiefs gave him a two-year, $5.8 million contract.
"I've come to expect the worst," says Jones. "The Jets had one guy who was going to be 32 years old making $6 million. Then they had another guy who's 25 years old, making a whole lot less than that. Here's the thing about running back: It's an instinctive position. A young guy can come in and play right away. More than a lot of other positions. But I never asked to leave a team."
Each season from 2003 to '06, a different back led the Broncos in rushing, and each gained at least 1,000 yards. That established the economic blueprint for managing the position: A team can succeed, sometimes even win the Super Bowl, without a great running back, provided there is ample talent at quarterback and offensive line. Hence management will economize at the position, moving out highly paid, established backs in favor of cheaper up-and-comers or journeymen.
"I am of that mind-set," says Chiefs general manager Scott Pioli, who came over from Bill Belichick's Patriots regime in 2009. "That special guy [Payton, Smith, Dickerson] has always been rare. Generally speaking, you need a good season out of the position. In New England, Antowain Smith was not a great back, but he had a great season [rushing for 1,157 yards in 2001, a Super Bowl--winning year]. Corey Dillon was not a great back, but he had a great season [1,635 yards in 2004, another Super Bowl year]."
It is also a guessing game. Every running back comes stamped with an unknown expiration date. "You don't know how many times they've been hit in high school, hit in college," says Pioli. "Or how well they've taken care of themselves."
Emmitt Smith was known for "getting skinny" just as hits arrived, seldom taking heavy shots to the sternum and shoulders. Jamal Lewis, who rushed for 2,066 yards with the Ravens in 2003, was known for the opposite. "He had some phenomenal seasons for us," says Eric DeCosta, Baltimore's director of player personnel. "But his style was physical. He took on hits. And the hits took a toll on him."
Shanahan, who orchestrated the revolving door of rushers at Denver in the early 2000s, says, "There are places on the field where you need a great player. I don't think running back is one of them. I look for overachievers."
Willie Parker, Redskins, 7th season
Status: hanging on
• Eighteen months ago Parker, 29, started Super Bowl XLIII for the Steelers. Three years earlier he had rushed for 93 yards on 10 carries in Super Bowl XL. Now he's buried on Washington's depth chart, fighting to keep his career alive. There have been three injuries: a broken right leg in 2007, a sprained left MCL in '08 and turf toe last fall.
"I had those injuries, and every time I came back, I was playing to protect myself, but I didn't even realize it until I watched myself on film," says Parker, whose competition includes Larry Johnson and Clinton Portis, two other aging warhorses. "I talked to [former Colts star] Edgerrin James about it. He said the same thing happened to him. It's like a subconscious thing. In Pittsburgh they were trying to move me out for Rashard Mendenhall for two years. That's the way it goes. You gotta have a tough soul to be a running back in this league."
Eddie George had a tough soul. And a tough everything else. The 1995 Heisman Trophy winner at Ohio State, George played for the Titans from 1996 to 2004 and was a Big Back by every measure—a 6'3", 235-pound bulldozer whose 21.4 carries per game over the first eight years of his career is among the highest in league history over such a span. He would have looked perfectly at home in a leather helmet. When George entered the league, Emmitt Smith and Barry Sanders were still active, and running backs were still giants.
"Over the course of my career I saw that change," says George. "The NFL became a quarterbacks' league. A passing league. And the business of the league changed with all of that. After quarterbacks, the important positions were left tackle, pass rusher, wideout, cornerback—all the positions associated with the passing game. Running backs have become less important." Salaries reflect that. The 2010 franchise tender—the average of the league's top five salaries—is lower for running back than for any other position except defensive tackle, safety, tight end and kicker--punter.
As franchises deemphasize the search for the next Marcus Allen or Earl Campbell, they recycle the familiar concept of sharing carries among two or three backs. On the unbeaten 1972 Dolphins, Larry Csonka carried 213 times, Mercury Morris 190 and Jim Kiick 137 (in a 14-game season). On the Super Bowl champion '76 Steelers, Franco Harris had 289 carries and Rocky Bleier 220; both went over 1,000 yards.
The reasons now are the same as the reasons then. First, to lessen the pounding on a single back. "Think about how much bigger and faster defensive players have gotten in the last 20 years," says Gailey. "But the field is the same size. So for running backs, the field is shrinking every year."
And second, to stock an offense with complementary talents. Ryan offers this explanation for dumping Jones's salary and then grabbing Tomlinson to run with Greene. "Thomas and Shonn are very similar," says Ryan. "They're both that battering-ram-type runner. LaDainian gives us a little more flexibility."
Ray Rice, Ravens, 3rd season
Status: learning
• "Here's the difference between college and the NFL," says Rice, 23, who rushed for 1,339 yards and caught 78 passes last year, his second season out of Rutgers. "In college it's all instinctive. If I want to have a long career in the NFL, the fundamentals are going to carry me." But those fundamentals aren't simple.
Ravens running backs coach Wilbert Montgomery, who played nine years in the league, has been teaching Rice how to read the outside zone running play. "It's all about the triangle," says Rice, who takes a notebook and begins animatedly diagramming. "The points of the triangle are the three technique [defensive tackle] and the [inside and outside] linebackers. As I'm running outside, I have to see the three, feel the inside linebacker and move the outside linebacker. As simple as it sounds, your feet are moving fast and your brain has to move just as fast. [In the NFL] there are 100 things like that."
For the modern back the game is a race to earn money before the tires fall flat, a reality that often doesn't hit until deep into a career. "When you're young, you don't see past your youth and strength," says Priest Holmes, who played for 10 years and gained 8,172 yards with the Ravens and the Chiefs. "You don't see the toll on your body, and you don't worry about it. But as you get older, you have to get wiser. You realize the game is [about] getting first downs and winning, not dishing out some big hit on the sideline so you get on ESPN."
Says Westbrook, "The front office is always telling you how the game is a business and it is. For us our bodies are our business. If you don't run that business right, it will crumble."
Jones says he has trained harder each off-season to keep up with advancing age. The Ravens' Willis McGahee, 28, who came into the league seven years ago with a shredded knee, has eliminated beef from his diet. "Because if you lose half a step at my position," he says, "you're looking for another career."
At the side of a practice field in upstate New York, Bills fifth-year running back Fred Jackson smacked his shoulder pads. "Equipment changes every year," he said. "They've got pads inside of pads now. They've got futuristic helmets if you're concussion-prone. It can add to the length of your career, which is good, because teams feel like they can replace running backs. We're recyclable." That word made him laugh. Recyclable.
C.J. Spiller, rookie, Bills
Status: green
• "My body feels good," Spiller says. "Never had surgery. The good Lord upstairs has taken care of me. I want to do this for as long as I can."