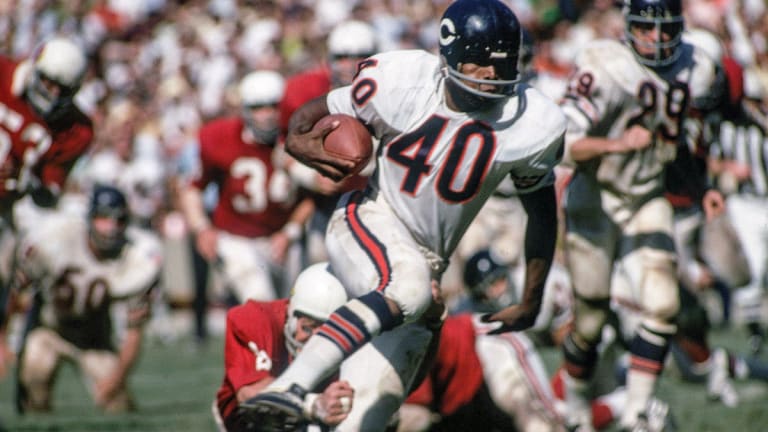 Gale Sayers: The Icon
Gale Sayers's sheer, blinding talent made him the standard for all open-field runners since—but when he hobbled into history after a brutally shortened career, football was left to wonder what might have been
The knee lasted nearly 37 years after its magic was gone. That's what Gale Sayers's teammates called him: Magic. Because of the things he did on a football field, things that they had never seen before (and which no one has seen since), and for which they could deduce no worldly explanation. He went out for a jog one day in the spring of 2009, and his left knee hurt just a little bit more than usual. Or maybe he had just grown weary of the pain. For a long time doctors had been telling him that this day would come, although none of them imagined it would take so long. Thirty-seven years, Sayers thought. This knee owes me nothing.
So on the morning of April 27, 2009, Sayers lay on an operating table in Elkhart, Ind., where at age 65 he would receive an artificial knee. Orthopedic surgeon Mark Klaassen stood over Sayers, and this is what he saw: three long scars, one running down the front of the knee, another on the inside and a third on the outside, curling around to the back. These were from decades-old open surgeries, "dissections," as Klaassen calls them. "The multiple scars made the surgery technically a little more involved," he says. "Because you don't want the skin to die."
Inside the knee Klaassen found carnage. Sayers's anterior cruciate ligament was gone; the posterior cruciate ligament was stretched and frayed. There was evidence that the medial collateral ligament had been sewn or stapled at some point in an effort to create stability (a practice common at one time but later found to be ineffective). A half-inch wedge of his tibia had been sawed off in an osteotomy, a surgical procedure designed to redistribute weight away from an arthritic surface. Almost no cartilage remained, and as a result, the joint was filled with dust and fragments from bones rubbing together for many years.
It was not the worst knee Klaassen had ever seen. But it was by far the worst on which the owner had been actively exercising. "This thing was utterly shot," says Klaassen. "And Gale had been jogging on this knee. All I could think was, Wow, that's a lot of pain tolerance. This is a unique individual here. Very determined. Very stoic."
Even more remarkable, the knee in question was not the knee that first derailed Sayers's career, when he was famously hit by a diving Kermit Alexander of the 49ers at Wrigley Field in November 1968. That was the right knee, and Klaassen says that one is in rough shape too. But the left, first injured in 1970, had become much worse.
Klaassen replaced the damaged pieces of Sayers's left knee with a two-pound, state-of-the-art prosthesis made of polyethylene, titanium and a cobalt-chrome alloy. The surgery took 60 minutes, after which Klaassen disposed of the old bone and tissue. Sayers stayed one night and then went home to Chicago. "It was time to get it replaced," he says, "so I got it replaced."
Sayers played football more than four decades ago. His career has passed into the realm of grainy film mythology, and within that mythology certain assumptions have taken root. Such as this one: He was uniquely great. In a 68-game career from 1965 to '71 (just 51 games in 3½ years before his first major knee injury), Sayers played running back like no other man in pads, a blinding talent who could make defenders miss him in a phone booth or outrun them in the open field. That assumption is true. "There really has never been anybody else like him, even to this day," says Steelers defensive coordinator Dick LeBeau, who as a defensive back for the Lions played against Sayers 10 times and has been a coach in the NFL for 37 seasons.
"He was the best runner with a football under his arm I've ever seen," says Mike Ditka, who played with Sayers in 1965 and '66 and, notably, later coached Walter Payton.
Here's another assumption: The injuries that blunted Sayers's career—Alexander's hit in the ninth game of Sayers's fourth season, and a stretched left-knee ligament in an exhibition game before his sixth season, an injury that deteriorated with time—left him unfulfilled. That assumption is false. His battered knees ended his football career and started a rich second life, and he offers up two statements, spoken countless times since 1972, to describe this transition: As I prepared to play, I prepared to quit. I walked away, and I never looked back.
Now 67, Sayers is the chairman and CEO of Sayers40 Inc., a $100 million suburban Chicago company that supplies information-technology services to more than 400 clients, including several in the FORTUNE 500. It's the latest version of a business Sayers started with a partner in 1984 after spending a decade in college athletic administration.
And at an age when many former athletes are long retired, the CEO position is just one of Sayers's many roles. Since last August, he has been raising funds for a football stadium expansion at his alma mater, Kansas. Sayers and his second wife, Ardythe, also founded The Gale Sayers Center, an after-school facility in Chicago for children ages eight to 12, and actively support The Cradle, an Evanston, Ill.--based adoption agency through which Sayers and his first wife, Linda, adopted their now 40-year-old son, Scott. (Sayers has three children; Ardythe has four. Between them, the couple has 12 grandchildren and seven great-grandchildren).
In Sayers's 1970 autobiography, I Am Third, he detailed his friendship with teammate Brian Piccolo, who died of cancer that year. That became the inspiration for the movie Brian's Song, a cultural landmark that lives on today. The Brian Piccolo Cancer Research Fund has raised more than $8 million in the four decades since Piccolo's death. "The relationship between Gale and Brian is still going on," says Piccolo's widow, Joy Piccolo O'Connell. "That's the beautiful part."
Sayers, meanwhile, says that if 10 people approach him in a given day, more will mention the movie than his football career. "That's fine," says Sayers. "I'll never, ever forget Brian. That part of my life will be with me forever." Pressed, he'll say he wishes Billy Dee Williams had looked "more like a football player," and didn't stammer quite so much in the climactic "I love Brian Piccolo speech" because, says Sayers, "I gave a hell of a speech that night."
In fact Sayers speaks frequently in public, and occasionally, as in May, he will be asked about the plight of the modern-day Bears, and he will speak his mind and wind up in a public spitting match with Brian Urlacher. "Everybody knows the Bears aren't going to the Super Bowl," says Sayers. "I just said it."
Sayers's football career is legendary not only because it ended prematurely, but also because so little of it can be witnessed today. Fans under 40 didn't see him play in person or live on television; they would know Sayers mostly by the handful of clips recycled on the NFL Network and ESPN and periodically snagged and posted on YouTube. Even older witnesses recall only pieces. "I remember the highlights," says Titans coach Jeff Fisher, 52, who played for the Bears in the '80s. "Just the highlights. But those were amazing runs." Redskins coach Mike Shanahan, 57, who grew up in the Chicago area, says, "I'd have to go back and study all his carries, but those cutbacks, like defenders were trying to catch smoke in the air—you don't see players like that nowadays."
The tiny film sample adds to the mystique, but also to the mystery. This could be why journalists, fans and players seem so comfortable anointing various players as "the next Gale Sayers," a list that includes but is not limited to Reggie Bush, Barry Sanders, Marshall Faulk, Willis McGahee, Chris Johnson, Walter Payton, Devin Hester, Curtis Enis, Ben Gay, Wendell Davis and Denzel Washington. (O.K., Denzel said that about himself and only that he once wanted to be the next Sayers.)
Sayers scored a still-standing NFL rookie-record 22 touchdowns in 1965, including six in a single game against the 49ers on Dec. 12 at Wrigley Field. Over the course of his career he averaged five yards per carry, 11.7 yards per reception and 30.56 yards per kickoff return—still the highest in NFL history. He was elected to the Hall of Fame in 1977, his first year of eligibility, at age 34. He is still the youngest player to be enshrined in Canton.
Yet the numbers alone are embarrassingly insufficient to portray Sayers's greatness. For that, you need visual evidence, and so a small monitor is balanced on a countertop in a library at NFL Films in Mount Laurel, N.J. Because Sayers played in the film era, much of his career is missing (the film having been chopped up over the years to make various television shows), but entire games do exist, and his work is uniformly breathtaking.
In 1965 there is an easy run to the flag against the Packers, leaving Hall of Fame defensive backs Herb Adderly and Willie Wood laughably out of position. In the six-touchdown game against the 49ers he glides over a muddy field as if it's artificial turf. He runs 85 yards with a punt, at one point cutting back so sharply that he seems to run backward. "He had this ability to go full speed, cut and then go full speed again right away," says Bears Hall of Fame linebacker Dick Butkus, who came into the league with Sayers in '65. "I saw it every day in practice. We played live, and you could never get a clean shot on Gale. Never."
In '66 he takes a kickoff back 93 yards against the Rams, making half a dozen little moves as he approaches the wedge, freezing defenders and opening a giant hole that he attacks with blazing speed. In '67 he drops Lions Hall of Famer Lem Barney with a dead-leg cutback on a 63-yard run from scrimmage. "He had this unusual gait," says LeBeau. "His legs were long for his body, and he would glide and then wait, and when you moved, he was gone. And he always had another gear. He would be even better today, with spread offenses and hash marks in the middle of the field. Once that guy got in the open field, you were going to have a tough time getting him down."
Sayers, who played at 6 feet, 200 pounds, has spent 45 years trying to explain his elusiveness, always landing on the same position. "It was a gift," he says. "And trust me, it was easy. It was so easy, I can't even explain it."
Just as easily, it was gone. On Nov. 10, 1968, in the 51st game of his career, Sayers took a pitch left from quarterback Virgil Carter and ran up on the outside shoulder of pulling tackle Randy Jackson. Alexander knifed past Jackson and drove his left shoulder into Sayers's right knee. To this day Sayers is uncertain about precisely what damage was done, except that it was extensive. The morning after the injury, the Chicago Tribune reported, "Dr. Theodore Fox, who performed the operation, described the injury as a total rupture of all ligaments on the inside of the knee and torn cartilage."
Klaassen, who has seen records of Sayers's right knee, suspects that at least the ACL, MCL and meniscus were torn.
In 1968, options for repairing such an explosive injury were minimal. "In those days our ability to fix an ACL, MCL, PCL was in the dark ages," says Dr. James Andrews, who began operating on knees in '69 but never worked on Sayers. "We didn't know how to fix the ACL, so we left it alone and operated on the peripheral tendons to make up for the ACL. That didn't work. With the cartilage, we would do a total menisectomy, just take it all out. That was a mistake too."
All of this makes Sayers's 1969 season remarkable. He was in the Bears' starting backfield on Sept. 21, 10 months after a catastrophic knee injury that couldn't be properly repaired. He carried 236 times that year for a league-high 1,032 yards on a team that went 1--13. Sayers says with great pride, "I was the same player; I did all the same things," but the film disagrees. He appears to have lost much of his darting, ethereal quickness, and instead frequently lowers his head and burrows for extra yards.
"Have you ever hunted?" asks former Bears linebacker Doug Buffone, who played with Sayers from 1966 to '71. "Gale looked like a pheasant in a clearing, where he just stops and then starts over again to make his cut. All the quickness was gone. He took some huge shots that year. It was tough to watch."
It was also the last vestige of what Sayers had been. On Aug. 29, 1970, in an exhibition game against the St. Louis Cardinals, Sayers felt pain in his left knee. The good knee. It worsened in the season opener against the Giants, and Sayers didn't play again until Oct. 11 against the Vikings. In that game he carried six times for nine yards, and when 245-pound defensive tackle Alan Page recovered a fumble in the Bears backfield, Sayers couldn't catch him as Page rumbled 65 yards for the touchdown. Three days later Sayers had surgery on the left knee, probably to "fold" up either the MCL or the PCL. "Another method that was not very effective," says Andrews. "We were in the infantile stages of surgery to repair [ligament] damage."
There were to be two more surgeries on the left knee in the next two years. In '71 Sayers played a single home game against New Orleans and one road game at San Francisco, gaining a total of 38 yards. In '72 he dressed for the final preseason game on Sept. 9 at Busch Memorial Stadium in St. Louis, carried three times for a total of five yards and fumbled twice. "He was running on one leg," says Butkus. "It was tragic." Says Buffone, "I was just watching from the sideline, thinking, Quit, Gale. Just quit. You don't need to do this."
At halftime Sayers found Bears coach Abe Gibron in the locker room and told him, "Abe, I'm through. Every time I run, it hurts." Thirty-eight years later, this is how Sayers views that night: "I wasn't the same Gale Sayers anymore. I felt different. You asked me how I did it in those first four years. I said God gave me a gift. That night in St. Louis he took it away. God said, 'Gale, it's time to do something else.'"
Now Sayers sits in a booth at a restaurant near his office. In many ways he is the same person who came to the Bears in the summer of 1965: still shy and given to occasional stuttering, but more effusive as he becomes comfortable with any situation. The restaurant's manager drops a business card on the table and says, "If there's anything we can do for you, Mr. Sayers, just let me know." In some ways, it will always be 1965.
He stubbornly refuses to be just a former football player. Forty-nine percent of the company Sayers started with a partner in 1984 as Crest Computer Supply was bought in '93 by Notre Dame and Wharton School graduate Jim Martin. Among Martin's first moves was to change the name. "We've got this guy named Sayers, he's pretty popular," says Martin. "Why are we named after a toothpaste?" Sayers's ownership enables the company to get minority-targeted business, and his name attracts those who remember all those runs. Yet he bristles at any attempt to describe him as just a legend on the business card. "This is my company," says Sayers. "There was a time when people would say, 'That ain't no black company. He's got a white man running that company.' No. This. Is. My. Company."
He alternately guards and dismisses his own legacy. "Some people ask if I deserve to be in the Hall of Fame, playing only 68 games," says Sayers. "You're damn right I do. I did some pretty good things in those 68 games. Maybe nobody else ever did things like that." Yet, in the next instant: "When I walked off the field in St. Louis after that exhibition game, I knew it was over. And I never looked back."
On Sundays in the fall he will watch the NFL and hear his name invoked. If you offer him a vote on the subject, he'll says the closest thing to another Gale Sayers was Barry Sanders. "He used the whole field, just like me," says Sayers. (Others disagree. LeBeau says, "Anatomically, Barry was completely different from Gale. He was compact, Gale was long."). Reggie Bush? Devin Hester? No and no. At least for now.
Sayers has watched film of that first injury, the Alexander tackle, just once, shortly after it occurred. "At this point I probably could see it again," he says. "But it would just bring back a lot of memories. Like if I hadn't gotten hurt, what could I have done?"
His words carry a whiff of contradiction. Maybe every great athlete keeps a piece of the past inside him, and a guy like Sayers, so brilliant, yet unjustly finished at 28, holds that piece even closer to his soul, keeping it tucked away where others can't see it. Is that what happens? Sayers smacks his lunch companion squarely between the shoulder blades. "Nah," he says, almost casually. "Not really."
He walks across the parking lot, slim and graceful while limping ever so slightly to favor his new, artificial knee. Or maybe the old, battered one. It's hard to tell.