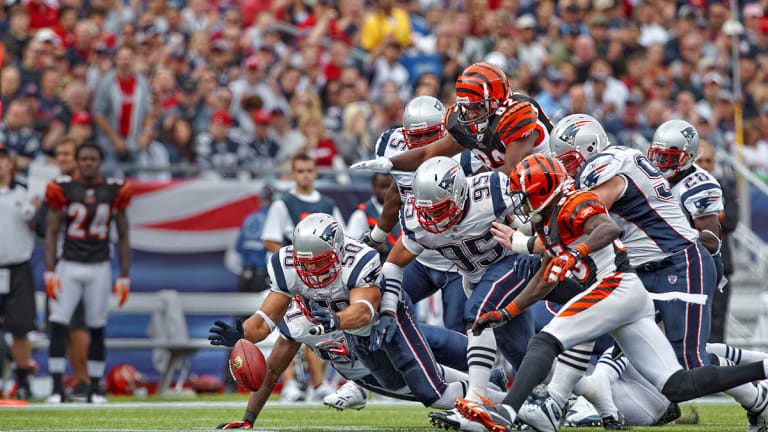 Publish date:
Worlds Collide
The NFL's 2010 season will be a conflict between button-down traditionalism and media-amplified showmanship—a culture clash embodied in the opening week matchup between the staid Patriots and the brash Bengals. Round 1 goes to the old guard
The first score of the Patriots' 2010 season came on their fifth offensive snap. Slot receiver Wes Welker shuffled two steps back from the line of scrimmage, caught a bubble screen from Tom Brady and followed tight ends Rob Gronkowski and Alge Crumpler for nine yards into the left side of the end zone, commencing a 38--24 victory over the Bengals on Sunday afternoon at Gillette Stadium in Foxborough. It was an unglamorous and bloodlessly efficient play, the white bread of touchdowns.
However, Welker's score—the first of his two on the day—was significant in a broader context. Seven months and 10 days earlier he had undergone reconstructive surgery after tearing two major ligaments, including the ACL, in his left knee on a gruesome noncontact injury during the regular-season finale at Houston. His recovery and return were not only uncommonly swift but also distinctly understated. Welker did not provide rehab updates on Twitter, because he does not tweet. He did not reveal his improving fitness on his reality television show, because he does not have one. Pressed for perspective in a postgame press conference, Welker—wearing a rumpled T-shirt, Chuck Taylors and a slightly goofy golf cap—called his momentous comeback "a cool thing," but then quickly downgraded it to "just another game."
His coach, the respected and relentlessly unforthcoming Bill Belichick, stayed even further from the dramatic in commenting on Welker's return. "I'm happy for Wes," said Belichick. "I'm happy for the whole team."
That would include Brady, who—three days after escaping a car accident unscathed, and on the heels of a four-year, $72 million contract extension—threw for 258 yards and three touchdowns and had a passer rating of 120.9. The performance looked much more like the presurgery Brady of 2007 than the recovering Brady of 2009.
In a locker room 100 feet away in the belly of Gillette Stadium, Cincinnati receivers Chad Ochocinco and Terrell Owens slowly dressed at nearly adjacent cubicles. Ochocinco has more than 1.25 million Twitter followers and T.O. more than a half million. Each has his own reality show, and before the game Ocho had suggested he might celebrate a touchdown by snatching one of the muskets that the costumed Minutemen fire when the Patriots score, and shooting it himself.
Within hours of their beatdown, a game in which the Bengals trailed 31--3, each had resumed tweeting:
@OGOchoCinco: Apologies to Cincy fans, tough loss today, only week 1, we've a long season ahead, all of you be blessed
@terrellowens: We will bounce back next week! All the haters keep it coming!! I'm lovin it! Continue 2 hate all year long!
Here, then, was Week 1 in the New NFL, where franchises can be separated by all the customary means—traditionally strong (Colts) versus traditionally weak (Lions); running (Steelers) versus passing (Saints); classic helmets (Bears) versus ugly helmets (Panthers); and now by another one as well: quiet versus loud. No game better exemplified this last paradigm than Patriots-Bengals, a culture clash pitting a team that almost never talks (with one future Hall of Fame exception; see below) against one that almost never shuts up. In the New NFL you are either a Welker or an Ocho.
It's difficult to say with certainty when the latest line that divides the NFL was drawn. The league has long thrived on a comforting homogeneity (there are a host of rules, down to the height of a player's socks, that effectively temper on-the-field individuality), but there have been notable exceptions, like the hard-partying Raiders of the 1970s and the Super Bowl--shuffling Bears of 1985. Yet in 2010 the outlandish are no longer outliers, and the opportunities for conflict between the old and the new—or to take the metaphor to an extreme, between good and evil—are more readily available on a weekly basis.
The tipping point might have come this summer, when Cowboys owner Jerry Jones, one year after opening an opulent, $1.2 billion stadium that will host this season's Super Bowl, surfaced playing himself in a recurring role in Entourage, the cameo-heavy HBO series in which another regular guest star is extroverted Mavericks owner Mark Cuban (and yet another is a porn actress). Or perhaps it was when Jets coach Rex Ryan virtually hijacked HBO's sixth season of Hard Knocks, adding "Let's go eat a goddam snack" to the lexicon of football history, alongside Vince Lombardi's "Winning isn't everything, it's the only thing," and Hank Stram's "65 Toss-Power Trap!"
Maybe it was in July, when the Bengals (Hard Knocks, 2009) signed Owens to join Ochocinco after having added notorious defensive back Adam (Pacman) Jones to the roster in May. The Ocho Division would also have to include not just the Cowboys but also the Redskins, who are strongly defined by quick-trigger billionaire owner Daniel Snyder's fits of petulance. And you can throw in the Raiders, who, though a pale imitation of John Madden's misfits on the field, haven't lost their flair for melodrama.
The Welker Division would include, most prominently, a group of teams coached by Bill Parcells's protégés, including the Patriots (Belichick), Giants (Tom Coughlin) and Browns (Eric Mangini), from which information escapes the compound at a trickle and there is little or no effort at creative public interaction. The Steelers and the Colts, staid and traditional NFL franchises, would also fall into that category. "Even though [Colts QB Peyton Manning] is in more commercials than any other player in the league and I can't even think who would be second," says pop culture author and essayist Chuck Klosterman. "But all the ads he does feed into the idea that he's a player who fits the way people perceive players from the 1970s."
Brady may have even more of the trappings of celebrity than Manning. Brady married a Brazilian supermodel, has appeared on Entourage and The Simpsons, hosted Saturday Night Live and pitches high-end products such as Movado watches and Audi cars. Yet despite all that, there is no sense that he is pushing himself on the public, and fans see very little of Brady's private life beyond what the paparazzi can capture. Last Thursday he agreed to the contract extension that will reportedly pay him a guaranteed $48.5 million, shortly after he emerged uninjured from an accident in which his Audi S8 was struck by a minivan near his Boston apartment. His cool performance on the back end of the week was typical Brady, and typical New England.
Even in a changing universe of behavior, it was Ryan's performance in Hard Knocks that established a new level of NFL personality. The Jets' edition was the highest rated in the series' history, and Ryan—unfiltered, profane and passionate—towered over everyone and everything else on the show. "As we're preparing to do Hard Knocks," says HBO Sports president Ross Greenburg, "I look at the head coach as the lead actor in a series. We've had Brian Billick [of the Ravens in 2001], Herm Edwards [Chiefs, 2007], guys like that. Rex has just captured the lead actor award for the history of the series, and we knew that would happen."
Jones, whose Cowboys (Hard Knocks, 2002, '08) suffered a painful NFC East loss at Washington on Sunday night, was big long before Ryan. For at least a decade he's been the most recognizable owner in a league in which many of his peers hide in their offices for the work week and behind the plexiglass of their luxury suites on Sunday. But Jones sees himself as only building on the business plan installed by Tex Schramm in Dallas in the 1970s. "The Cowboys, in my mind, have always had a glitz about them," he says. "That's not an accident; it's deliberate. Can that lead to a polarizing effect, where people don't like everything about us? Absolutely. But that can be very positive for the franchise as a whole. And it has been."
Billick, whose team was coming off a Super Bowl win in that first Hard Knocks, and who was accused of dominating the show with his ego, says of Jones, "It's a reprise of the old good news, bad news, doesn't matter, just spell my name right. There are people who would argue that Dallas is at the center of the football world, yet it's not a [big] market like New York or Chicago. Jerry has been very successful at the game."
In the eyes of the league, the polarization created by oversized personalities is neither accidental nor undesirable. "The goal is to have 32 strong clubs," says commissioner Roger Goodell. "That includes developing a brand and an identity for each of the franchises. There's something for everybody. And sometimes in there you do get the old issue of good versus evil." In this case, of course, good versus evil is not used literally but rather as the default description of polar opposites. There's no suggestion that Rex Ryan is sinister—it's just that he may not be universally loved.
And conflict sells, especially in the nationally televised games on Sunday night (NBC), Monday night (ESPN) and, later in the season, Thursday night (NFL Network), when themes are broader than in the regional Sunday telecasts. "There's no question that you would rather have those polarizing figures in your games," says Jay Rothman, lead producer for Monday Night Football on ESPN. "There's more controversy, more intrigue, more oddballs watching because they don't like Ochocinco or T.O. and they want to see them get jacked up. There's a built-in love-hate factor, and truthfully those games are easier. The story lines fall into your lap. Those games rate. And every broadcasting partner wants them."
Klosterman, who has lived in numerous cities, never found himself embracing the local franchise. Until now. "I've been in New York for eight years, and this is by far the most I've been interested in the Jets," he says. "I know I've been affected by Hard Knocks."
The emergence of outsized personalities like Ryan and the running themes of good and evil could be nudging the NFL toward professional wrestling territory. Except for one very central distinction: The outcome isn't fixed. "The good guy isn't going to win [just] because he's good," says Klosterman. "The charismatic manifestations give people a way to think about football when the games aren't on, but they aren't going to help you win."
There is evidence to suggest that those polarizing qualities aren't much use on Sunday and Monday. The Steelers, whose style generally reflects their historically utilitarian city, have won two of the last five Super Bowls (although quarterback Ben Roethlisberger's unraveling has clearly damaged the team's family-friendly image). The Patriots have played in four of the last nine Super Bowls and won three; the Colts won the title four years ago and the Giants the year after that. All those teams are vigorously conservative in their public image. "In some ways your circumstances are going to dictate how you behave," says Billick. "The Jets have always been the poor stepchild to the Giants. So they put themselves out there. The Patriots have three Super Bowl trophies in their pocket, so nobody will grumble about the way they do things."
Baltimore won the title in the 2000 season with a team full of characters led by the demonstrative, controversial Ray Lewis, the last contrarian franchise to lift the Lombardi Trophy. The Jets played for the AFC title a year ago. "I don't think there's any one way to be successful," says Goodell. "And I think fans grasp that."
When it comes to players as big personalities, former Chiefs and Jets coach Edwards says, "You have to keep the chain of command in place. There's Twitter now. There's Facebook. There's reality television. Football players have opportunities to promote themselves that they've never had before. But you've got to make the players understand that it's not you and the team, separately. It's just the team. If the team is losing and you've got guys out there, you're going to have to reel them in."
Says Jones, "I've never seen the promotion of the team negatively impact the quality of play." And despite his ubiquitous presence in the mainstream, he says, "I spend five percent of my time on marketing and 95 percent on managing the team."
The 2010 Jets would appear to be the control group in this ongoing experiment. If they win big after going all-in on Hard Knocks, other teams might be more compelled to join the act and follow the nontraditional path in general. A year ago, says Greenburg, HBO was approached by the Texans and owner Robert McNair, the first time an NFL team had sought to be on the series.
"At that point we were too far down the road with the Jets," says Greenburg. "But I think the series has done a lot to dispel the old notion of the No Fun League. Times are changing quickly. I won't be surprised if we get a few calls this year from teams that would like to be on the show. And I think it's only a matter of time before one of the real old, traditional franchises agrees to do it."
On the first play of Sunday's game, Owens ran a go pattern down the left sideline and nearly plucked the ball off the back of rookie cornerback Devin McCourty for a terrific catch. When Owens's name was announced as the intended receiver, the crowd booed loudly. On Cincinnati's next series Carson Palmer completed a short pass to Ochocinco, and Patriots fans jumped on the mention of that receiver too. Between them, the two wideouts, who call themselves Batman and Robin, caught 19 passes for 212 yards and were booed while other Bengals were just ignored.
But if this was at least in part a reaction to the would-be Dynamic Duo's philosophical distance from the team-first Patriots, New England fans will be challenged to decide their future treatment of Randy Moss, who on Sunday took the occasion of an uplifting, season-opening win to vent his frustration at the lack of a new contract. "This probably will be my last year here as a Patriot," Moss said near the end of his 551-word opening diatribe, "and I'm not retiring." His rant could not have been more horribly timed and his behavior more at odds with Belichick's locker room doctrine.
At the same time, Ryan's Jets were being investigated by the NFL for reported harassment of Ines Sainz, a female reporter for Mexican network TV Azteca. It's fair to ask if the coach's irreverence, however endearing, leads to an atmosphere in which the lines of appropriateness are blurred.
While further controversy adds to the growing mythology of Ryan and the Jets, reality will intervene as the season goes on. The Jets' Week 2 opponent, serendipitously, are the all-business Patriots, whom they'll play on Sunday at New Meadowlands Stadium, six days after New York opened its season against the talented Ravens. In the NFL, the battle of good versus evil is decided in the standings.