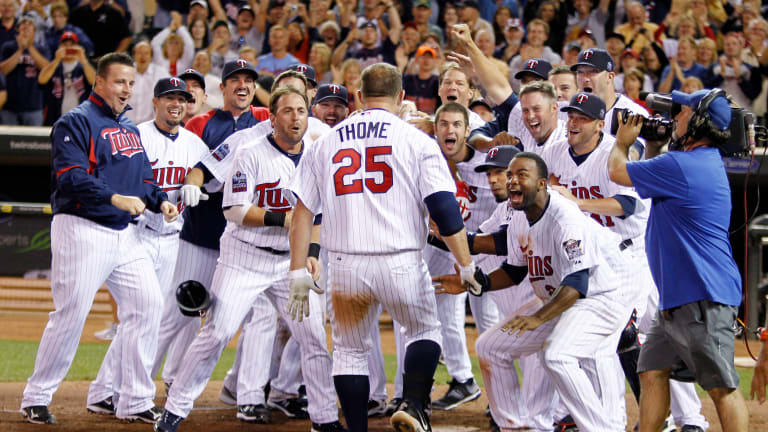 Still Going Strong
He's 40, but Jim Thome's mind isn't on retirement. He's thinking about hitting the ball a country mile—and winning his first World Series championship
Jim Thome stands in the underground batting cage deep inside Minnesota's Target Field, and he swings the bat very slowly, and it looks as if he is underwater. People would call what he's doing visualization, but Thome has little use for big words when it comes to hitting. "I don't really like filling my brain with a lot of stuff," he will say. He's just, you know, getting loose for his next at bat, thinking about hitting a baseball really hard. That's his job—his only job these days as the Twins' designated hitter. The man doesn't even have a glove in his locker.
"How's your charisma?" a teammate, pitcher Kevin Slowey, asks him. It's the seventh inning outside, it's August warm, the Twins and the White Sox are playing a huge game in the American League Central, and it is close.
With this, Thome breaks away from his hit-the-ball-hard thinking, grins his big grin and shouts, "Charisma's good! Charisma's real good! Something special going to happen! Going to do something special tonight!"
This is the answer Thome always gives.
"You going to hit your 900th home run tonight?" another teammate, reliever Glen Perkins, asks.
"Maybe," Thome says, and the grin gets wider. "Anything's possible."
Jim Thome still talks to his mother sometimes. Joyce Thome died five years ago, lung cancer, a horrible and yet also tender final couple of years. "It was so hard to see her in pain," he says, "but we also got to talk about so many things."
He still talks to her about things, the day-to-day stuff mostly. Lately Jim has been talking to his mother about how much longer he wants to play baseball. Though he turned 40 last month and is finishing up his 20th major league season, he's having one heck of a year, one of the most memorable of his memorable career. He has passed Harmon Killebrew, Mark McGwire and Frank Robinson to reach eighth on the alltime home run list: He was at 588 at week's end. More, he has been a difference maker in the AL Central race—maybe the difference maker. The White Sox had Thome in their lineup last year; they traded him to the Dodgers with four weeks to go but had a chance to bring him back as a free agent over the winter. They didn't, and instead Thome signed with Minnesota, where he has an absurdly small contract ($1.5 million for one year) and absurdly large numbers. In just 327 plate appearances through Sunday, Thome had 24 home runs and a 1.031 OPS (which would place second in the AL if he had enough at bats to qualify for the race). That production has been crucial to the Twins' building a 10-game lead at week's end with 13 games to play.
All this while Chicago, which had no use for Thome, has watched its designated hitters hit .242 and slug less than .400. And all this while Minnesota has been without star first baseman Justin Morneau, who has been out with a concussion since July. "I don't even think I need to say anything," Minnesota manager Ron Gardenhire says. "I think it's obvious how much Jim has meant to us."
So ... how much longer should he play? Thome's wife and young son and daughter live back in Chicago, and he misses them. His body—well, there are good days and bad days. He wonders how much longer it makes sense to keep playing, and so he asks Joyce. She knew how much he loves baseball. She would tell reporters the story of little Jim pulling white rocks from their driveway in Peoria, Ill., and pounding them, one after another, into the woods with his aluminum bat. Joyce understood that Jim never really changed, and why even now, after playing more than 2,300 games, with 1,676 walks behind him (most, by far, among active players) and with 2,394 strikeouts to forget (only Reggie Jackson had more), he still has the same urge to go out to a driveway and hit rocks.
So what does Jim hear Joyce say when he talks to her about retirement? "She wants me to keep playing for as long as I love playing," he says. "Or as long as my body lets me play."
Thome shrugs and looks around the Twins' clubhouse. "I think I'll love this game long after my body gives out, you know?" he says.
Matt Thornton is pitching for the White Sox, and he's a serious badass. Six-foot-six. Lefthanded. Fastball in the upper 90s. He's the kind of lefthanded badass who makes lefthanded hitters like Jim Thome crumble. In his career Thome has hit less than .240 against lefties. Lefthanded power pitching is Thome's Kryptonite, and there isn't a lefthanded reliever in the league who throws harder than Thornton. If Gardenhire had a viable choice, Thome would not be going to the plate.
But this is the gambler's moment. It's Aug. 17, and Minnesota and Chicago have been trading places atop the division all year. Right now the Twins are in first, but they trail 6--5 in the bottom of the 10th inning, and if they lose this game at Target Field, the White Sox will pull to within two games. There's a man on first base, and Gardenhire wants the home run. And in the long and fascinating history of baseball, if you want a home run, there are only a handful of men you would send up before Jim Thome.
"He told me his charisma's good," Slowey announces in the dugout as Thome walks to the plate. The high-pitched cheers of 40,000 or so Twins fans echo in his ears.
There was no other route for a kid who grew up loving Dave Kingman. The Thomes of Peoria had lived for baseball for two generations. Jim's father, Chuck, hit line drives; teams paid Chuck a few bucks under the table to smack liner after liner in the old fast-pitch softball Outlaw League. The Thomes were avowed Cubs fans (in Peoria it was Cubs or Cardinals), and Chuck was strictly a Bill Buckner man. Buckner almost never struck out and he almost never hit home runs—he cracked line drives that split outfielders and rolled into the ivy walls. "Watch Billy Buck," Chuck would tell his youngest son when they made the trip to Wrigley Field. "That's a hitter."
But the youngest son did not want to watch Billy Buck, not when King Kong was out there. Dave Kingman was everything that Bill Buckner was not. He was enormous (6'6", 210 pounds) and he struck out unapologetically, and he almost never hit line drives. Instead he hit towering home runs that were like tourist attractions. "I don't know," Jim says when asked why Kingman was his favorite player. "I didn't really hit home runs back then. I wasn't really all that big then. I mean, it was just cool to watch the way he hit those long home runs out onto Waveland Avenue. That's all. I guess I didn't think about it too much."
[dropcapsThere's an oft-told Thome parable,[/dropcaps] about the time his family took him to a Cubs game, and he wanted only to get Kingman's autograph. Kingman was not available—he seemed to take pride in his rare talent for not being available when little kids wanted his autograph—but eight-year-old Jim was not the sort to give up easily. He somehow wandered into the clubhouse in search of Kong. A few minutes later Cubs catcher Barry Foote carried Jim out of the clubhouse and back to his parents. "Is this yours?" he asked.
The story is usually told with the obvious lesson—Thome has been one of the most accommodating of players throughout his career. He signs autographs, and he is endlessly patient with requests and always has time for teammates. But Thome insists that his brush with Kingman didn't teach him to treat people the way you would want to be treated; he learned that from his family and from the people in Peoria. Watching Kingman taught him something simpler. Swing hard. Don't overthink. Don't fill your brain up with stuff. Jim Thome learned from Dave Kingman that it must be a lot of fun to hit long home runs.
Jim Thome holds out his left hand toward the umpire as he asks for a second to gather himself. He digs his cleats into the dirt, steadies himself. And then, like Robert Redford in The Natural, he points his bat past Thornton, toward the centerfield bleachers.
No, really, like Redford. Roy Hobbs was his inspiration. When Thome was a minor leaguer, he could not quite open up his hips when he swung. He was a 13th-round pick of the Indians in 1989; nobody saw all that much in him. His first year in the minors he batted .237 in rookie ball, and he did not hit a single home run. Then—"because I'm the luckiest guy in the world," he says—he happened to run into a hitting guru named Charlie Manuel. Manuel, who was Thome's manager in Triple A, told the kid that he had to open up his hips to power the ball to all fields. Thome tried, but he didn't really know how to do it.
"He saw something in me I didn't," Thome says. Manuel kept hammering away at him—open those hips, open 'em up—until finally they were in the clubhouse in Charlotte one day, and they were watching The Natural, and they saw Roy Hobbs point the bat toward the pitcher. "Let's do that," Manuel said.
Life is not often like the movies, but the Roy Hobbs gesture worked. It reminded Thome to keep his stance open and to drive the ball to left center. His power emerged. His strikeouts emerged. Jim Thome the slugger emerged.
So Thome points his bat, and he clears his mind. "Home run, Jim!" someone shouts from the crowd. Thornton fires a 95-mph fastball down and away, and Thome swings ferociously.
He misses.
Ooooooooh! the crowd moans. It's a familiar sound when Thome is at the plate.
"It's tough to strike out," Thome is saying, as he sits on the edge of the bench in the Minnesota dugout. "Believe me. I hate striking out. It's no fun. It's embarrassing."
He shrugs. "But there really isn't anything I can do. It's just a part of my game."
His hero, Kingman, struck out an astonishing 1,816 times—when he retired in 1986, that was fourth most in baseball history. Thome passed Kingman in strikeouts back in 2006. The thing about Thome is that he does not especially enjoy the all-or-nothing nature of being a big-time slugger. He has learned to accept the strikeouts because he does not know how to be a great home run hitter without them.
"Well," he says, almost apologetically, "I do walk a lot."
Yes, he does. Few have ever been better at drawing a walk. Thome has walked 90 or more times in 12 seasons. Only four pretty good hitters named Bonds, Williams, Gehrig and Ruth have done it more. Through Sunday, Thome had walked 57 times, or in 17.4% of his plate appearances. No one who had gone to the plate at least 300 times had walked more frequently.
Thome is the ultimate example of what the baseball stats community calls a "three-true-outcome" player—the true outcomes being walks, strikeouts and home runs. Those outcomes make up 47.6% of Thome's plate appearances, by far the most of any player ever with 8,000 plate appearances. (Jose Canseco is second at 40.7%, then Mickey Mantle at 40.2%.)
"I really do try hard to be a good teammate," Thome says. "I can't run very fast, but I try to always run hard. I may strike out a lot, but I try to walk to set up the guys who are hitting after me. The other day I didn't score from first on a double. I cost my guy an RBI. I felt terrible about that. I told him, 'Look, I really tried, but I'm old and I'm slow. I hope I can make it up to you in another way.'"
Teammates know he is sincere, and they love him for it. No, he can't run. He has played all of eight innings in the field (at first base) since 2007. His defense was the main reason the White Sox decided not to re-sign him. "[Manager] Ozzie [Guillen] wanted flexibility in his lineup," general manager Kenny Williams says. Guillen himself says, "Go ahead, blame me... . But I'll tell you I love Jim Thome. I wish I didn't. I wish I f------ hated the guy. But I can't hate him. Nobody can hate him."
Ex-teammates still talk about Thome lovingly in Cleveland (he does get booed a bit by Indians fans, but that's for leaving in the first place) and in Philadelphia and Chicago. He is relentlessly positive. Perkins remembers his first or second day back with the Twins this year after a long stretch in the minors. He was walking by Thome, who was taking his slow, methodical phantom batting practice. "And suddenly, he just stops," Perkins says, "and he smiles and gives me a fist. I mean, it's not like I'm Joe Mauer or Justin Morneau. He barely knows who I am. But that's the kind of guy he is. He's the best teammate I've ever had... . I think everybody thinks that."
Thome smiles in his sheepish way when the story is recounted to him. "I think you just want to be a good person," he says. "I'm getting to do what I've wanted to do my whole life. I'm getting to do what millions and millions of people would like to do."
Thome steps out of the box and adjusts his gloves. He touches the fat part of the bat. He knocks the dirt off his cleats. What is he thinking? "Nothing," he will say. This is the key. He watches very little video of pitchers—he's seen these guys enough. He watches very little video of himself—he has seen himself enough too.
Mostly, he wants the mind blank. He wants the background black. He wants the ball to glow in his vision. He's not a guess hitter. He does not sit on the fastball and adjust to the curve. "It's still just playing baseball for me," he says. "I want to go out there and play some baseball, just like I did when I was a kid."
Thornton looks in for the sign, but there's really only one sign. He has not thrown a changeup in 2010, and he's not about to get beat on his so-so slider. On a YouTube video of the moment, you can hear a man in the crowd say, "Double play or home run."
The fastball is 93 mph and right over the heart of the plate. Jim Thome knows what to do with 93-mph fastballs over the middle. He turns on it. And, in the words of Guillen, "he [hits] it 200,000 feet."
Every now and again someone will ask Thome about steroids. Nobody likes to ask—he's such a nice guy, such a wonderful teammate that nobody wants to think that he used performance-enhancing drugs. And there's no reason to think it ... except that he has hit all those home runs.
Thome says he has never used—he's farm strong—but it's impossible to prove a negative. He doesn't really fit the profile. He is not much of a weightlifter; his workouts are much more aerobic in nature and designed to keep him loose. He has not had the stubborn injuries or the sudden and dramatic improvements and declines. He hit long home runs when he was 25. He hits long home runs at 40.
In any case, his brilliance is often lost because of the era. When he gets to 600 home runs in 2011, he will find that remarkable milestone has been, well, cheapened. Not that Thome worries about that sort of legacy thing—that's just more stuff to fill the brain.
The other day, he says, he was talking again with Joyce about how much fun this year in Minnesota has been. Hitting home runs again, being part of a pennant race again—he feels rejuvenated. "I told my mom, 'You know, I might just keep on playing for a while,'" he says. "How long? I don't even know. I'd hate to put a number on it. If I keep feeling like this, I'd like to play forever."
Thornton hangs his head, and Thome pounds his way around the bases after the first walk-off home run hit in Minnesota's brand-new Target Field. It's a big moment: The new stadium shakes with joy, and even at that moment people sense that the divisional race is over. This is the home run that people in the Twin Cities will always remember from the summer of 2010.
After rounding third Thome tosses his helmet high in the air before leaping into the pile of giddy teammates waiting for him at home plate. "I've had a lot of great moments," he will say. "That was as great as any of them."
One day later Thome comes to the plate in the seventh inning of another close game. Another power lefthander, rookie Chris Sale, is on the mound. There are two men on, two strikes on Thome. Sale moves him off the plate with a 97-mph heater, then throws him a slider. Thome sees it and unwinds that power swing. The sound of the crowd, as if left over from the night before, crescendos with expectation. But this time Jim Thome misses. This time he strikes out.
"Your charisma wasn't as good tonight?" he is asked after the game.
"Naw, it's just as good," he says. "Charisma's good every night. Something special is always about to happen. You've got to believe it."