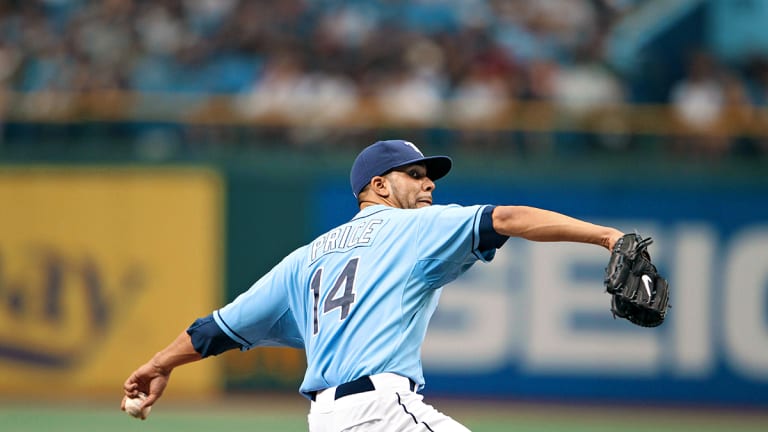 Turn up the Heat
October baseball is simple. If you want to win, you better bring a staff full of power arms—guys like Rays ace David Price (the game's hardest-throwing lefty starter). And postseason secret weapon Aroldis Chapman (the hardest thrower, period), who's breathing fire in the Reds' bullpen. Get ready. The next four weeks will be a gas.
At the midpoint of his windup, when his body is fully coiled, Tampa Bay pitcher David Price appears to be aiming at an aisle seat in row QQ of the upper deck. With a syrupy sweep of his long left arm, Price takes the baseball from his waist-high glove and brings it back as low to the ground as his back knee. His right shoulder and arm, bent elbow leading the way, are so much higher than his left shoulder that Price barely can peek over them.
This loaded position recalls the long, low reach of classic lefthanders such as Warren Spahn, Whitey Ford and Sandy Koufax. From the batter's box, it also recalls what it must have felt like in medieval times to have been on the wrong end of a freshly loaded catapult.
What happens next is both beautifully and brutally efficient. Price snaps toward the plate with Euclidian perfection, the incremental unwinding of six feet, six inches of hinges and lanky levers—a symphony of angles. "The fact that he's lefthanded," says Rays pitching coach Jim Hickey, "throws 96, 97 and has a little unorthodox delivery works to his advantage. David, on his best days, is as good as anybody who ever pitched."
There is nobody like David Taylor Price—and his ability to accelerate a baseball is only the half of it. Price is the hardest-throwing lefthanded starter in baseball (his average velocity is 94.6 and he has hit 100 mph) and, thanks to his deus ex machina relief appearance in Game 7 of the 2008 American League Championship Series, the youngest pitcher ever to save a sudden-death postseason game.
This year, in his first full season in the big leagues, Price (19--6, 2.72) set a Rays record for wins and will be the youngest of only six pitchers in the wild-card era to have a sub-three ERA while logging 200 innings in the brutal AL East. (The others were Roy Halladay, Derek Lowe, Pedro Martinez, Roger Clemens and Andy Pettitte.) "He's real good now," Rays manager Joe Maddon says, "but you're not going to believe how good he's going to be in a year or two."
Fiercely competitive, Price can't even chew gum without measuring himself against others. "Oh, no doubt," he says. "I've got the best bubble on the team." He's also motivated by the desire to be identified by a slightly grander title: "I want to be the best pitcher in baseball."
More remarkable still is that Price has arrived here, as an ace, a contender for the Cy Young Award ("Something I've wanted since I was a little kid," he said) and an unselfish role model, on the other side of a wickedly turbulent three-year learning curve. Since turning pro in 2007 as the first overall pick of the draft, Price not only added three pitches, lost 15 pounds and changed his windup, but he also became much more familiar with death than any young man should ever be.
"That's probably why I try to have so much fun," Price says. "I don't know when it's going to be my last time to play baseball. There's no telling what's going to happen to me, going to the field or coming home from the field tonight. You just don't know. I keep that in perspective and make sure that I enjoy every last minute that I have playing baseball."
Price attended Vanderbilt University for three years before turning pro. Only then did his schooling begin in earnest. It has been an education as Yeats understood it: not the filling of a pail but the lighting of a fire.
Price officially became a professional on Aug. 16, 2007, when he signed a six-year contract that could ultimately be worth as much as $11.25 million. The Rays invited the first pick in the draft to throw a bullpen session that day for Hickey at Tropicana Field. Price performed his personally choreographed sequence of 44 pitches from the stretch and windup, moving the ball in and out, up and down.
"It was very regimented, which is unusual for a young pitcher, but lends a little insight into the kind of kid he was," Hickey says. "Plus, his mother and father were there, and you could just tell he had a tremendous upbringing, probably more blue collar than not, with a tremendous amount of respect and love within the house. You could tell this was the product of some really good parenting."
David's father, Bonnie, who worked in a warehouse, and Debbie, who worked for a health care provider, had both read a book by Derek Jeter and were astounded by the similarities between their families: a black father who studied sociology in college and a white mother who studied accounting.
They raised David and his two brothers in a modest, single-story brick house in Murfreesboro, Tenn., 35 miles southeast of Nashville. From the time he was two, David would grab a bat and ball and play for hours by himself, tossing the ball up and whacking it over and over in the fenced-in backyard. As he grew, he could whack it over the house. He would unlock the gate, run to the front yard to retrieve the ball, run back, close the gate and happily repeat the process again and again.
Humble and quick to smile, David was a popular kid who had a core of six close friends who loved competing against one another in sports, video games and Monopoly marathons that ran until three in the morning. One of those friends was Nathan Stephens, Price's basketball teammate at Blackman High, who was known for his strength and will. Stephens, who began doing 200 sit-ups and 200 push-ups nightly in the sixth grade, never wanted to come out of a game. He went on to the University of Tennessee, where he served as a manager on the basketball team.
Another of Price's best friends was Tyler Morrissey, a class valedictorian, soccer player, host to the core of friends for televised big-time boxing matches and coconspirator with Stephens in those $20-winner-take-all Monopoly battles.
"Tyler and Nathan would make a deal, and I would go, 'That is just so pathetic!'" Price says. "'You gave him Park Place for Ventnor? You all are in it together!' We would get so mad, and it was so much fun."
One of Price's college buddies, Jensen Lewis, was in Tampa the day Price signed his contract. Lewis, a pitcher for the Indians, and Price celebrated at a local shopping plaza before Price returned to his hotel for the night. When he awoke as a professional for the first time, Price was alarmed to find more than 20 missed calls on his phone. "I knew it was something serious," he says.
It was Nathan. He had been playing pickup basketball at Tennessee when he suddenly collapsed and was rushed to a hospital, where he was pronounced dead from cardiac arrest. One of the first people Price talked to was Tyler. They couldn't believe their buddy, the guy who always was in great shape, suddenly was gone.
"I went from the best moment of my life to the worst in about 15 hours," Price says. "I probably signed at six and found out at nine. That was the first death in my life of somebody close to me. When I have a son—and I plan on having a boy—I want him to be like Nathan. That's the biggest compliment I can pay him. I want my kid to be like Nathan."
Just eight months later, the start of his 2008 season delayed by a forearm strain, Price was lying in bed one morning when he picked up his phone and found a voice mail from a friend, who'd heard that there had been a bad wreck in Murfreesboro early that morning.
Tyler Morrissey was in that wreck, and it didn't look good.
Price quickly dialed another friend and was met by heavy sobbing. It was then that he knew. Tyler was dead. He had been a passenger in the front seat of a car that was reportedly traveling more than 100 mph when it crashed. The driver was charged with DUI and later pleaded guilty to vehicular homicide.
Tyler was 21 years old. Nathan was 22.
"At the beginning, I was mad," Price says. "But I have a Christian background. My parents said, 'Don't be mad about it. This is not God trying to punish you or their family. They're in a better place now. It was their time. There's nothing you can do to bring them back. You just have to move on, but remember them.'
"That's why I've got them on my glove."
Embroidered on Price's glove are the dates Nathan and Tyler died.
"There's not a day that goes by that I don't think about both of them," he says. "I look at my glove, probably before every pitch. I see those dates a hundred times a day, a hundred times a game when I'm out there. I know they're with me. I know they're out there. There's stuff that happens all the time where I'll go, 'Wow, that's Tyler.' 'That's Nathan.' Numbers on the scoreboard, the clock ... there's always something that reminds me of one of those two. It's a good feeling. I love it when it happens."
Six months after losing a second friend, Price, at 23, armed with a hard slider and a harder fastball, slammed the door on the Red Sox to put the Rays in the World Series. (The embroidery on his glove that night read LIVE LIKE NATE. He gave the glove to Nathan's parents after the World Series.)
"That was a blast," he says of the 2008 postseason, "but I am a completely different pitcher now."
Price was a pure power pitcher back then—always was, even when he nearly quit Vanderbilt as a freshman. Price had been so frustrated by baseball (he was listed as the 11th pitcher on a 14-man staff) and the rigors of schoolwork that one night around midnight he placed two calls to Vanderbilt coach Tim Corbin to tell him he was quitting. Corbin didn't answer. The coach did meet with Price the next day.
"I want to go home," Price told him, "go to Middle Tennessee State and get a job working at McDonald's or something like that."
"Look," Corbin said, "your future is in baseball. It's not flipping burgers. It's not working in a factory. It's not teaching. It's in baseball. You've got what it takes to make a difference in this game. One bad fall shouldn't take you away from that."
Says Price, "I kind of opened my eyes and asked myself, What else do I want to do? Nothing." Price went on to become one of the top college pitchers in the country, ending his NCAA career by going 11--1 with a 2.63 ERA as a junior and leading the nation in strikeouts with 194 (in 1331/3 innings).
To become an elite pitcher in the majors, however, Price would have to learn how to do more than just overpower hitters. The education began by accident. One day in spring training last year, Price was playing catch with Scott Kazmir, who was throwing him curveballs. "Hey, I'll throw you one," Price said. Hickey happened to be standing behind him when Price broke off a hook. "Hey, that's not bad," Hickey said.
Price threw the curveball in his last bullpen session of the spring. Hickey signed off on it. Now Price throws three times as many curveballs as he does sliders—his out pitch from 2008 having jilted him like an angry girlfriend. "In games I have dominated, the curveball has been a big reason," Price says. "I don't get a lot of swings on it. I get a lot of takes for called strikes. The slider was my best pitch. Then I lost it."
Three months after adding the curveball, Price added a trustworthy changeup. He had thrown a changeup previously, but never often and rarely well. On the first workout after the All-Star break, Todd Greene, the Rays quality assurance coach at the time and a former big league catcher, showed Price how Roger Clemens threw his changeup: just like a fastball, only with the index and middle fingers spread apart, not quite as far as a forkball.
"I was like, I'll try it," Price says. "The first time I ever threw it, we were at home against Kansas City. I threw it three straight times to [Miguel Olivo]. All three of them bounced. He swung at all three of them. I said, This is it."
Hickey finished off the package by giving Price a two-seam fastball and simplifying his delivery so he no longer raises his hands above his head. "Since mid-May of 2009," Hickey said, "he's probably done four or five significant changes. That's how much development he has had in a short period. It is unusual, but more than unusual is how difficult it is to do at this level. He has the aptitude for it.
"He could be the best pitcher in baseball," Hickey adds. "And he wants to be."
Says Boston hitting coach Dave Magadan, "He's a different pitcher. You used to be able to zone in on one side of the plate against him. Now he commands the ball on both sides and at different speeds."
"It's no fun facing him," said Red Sox catcher Victor Martinez. "You don't see many guys who throw 98 with a good curveball and changeup. Believe me, it's no fun."
Price was seated at a Boston restaurant enjoying a September lunch when across the room he noticed teammates Matt Garza, Desmond Jennings and Reid Brignac. They nodded and waved at one another. "Now over there," said Price, "you have a pitcher, an outfielder who just got called up and an infielder. You don't see that all the time with teams. Tomorrow, it could be a different group. Our chemistry is second to none. Sometimes, it feels like being back in college."
The Rays do have a youthful, collegial spirit. In the clubhouse one day, righthander James Shields, the oldest Tampa Bay starting pitcher at 28, was setting up an iPad game called We Farm for his seven-year-old daughter. It didn't take long for the other starting pitchers to start their own We Farm competition. Price spends far more time tapping away on his iPad to tend to his virtual crops and livestock than he does on scouting reports, for which he has almost no use.
"Most times I don't even get a lineup card on my chair," Price said. "I'll see the lineup when I'm warming up in the pen and they'll be calling it out. I keep it as simple as possible."
As Price finished lunch, Brignac, who had left, called him from an Apple store. "Which iPad should I get?" he asked Price.
On this youthful team Price is the Rays' go-to guy, the rare pitcher who became the leader of the staff in his first full big league season. Their postseason chances begin with Price, who this week could become the fourth-youngest starter to win a Division Series opener, behind only Mark Mulder of the 2001 Athletics and Jon Lester of the 2008 Red Sox.
Price welcomes the responsibility of leadership. Two years ago he established Project One Four (he wears number 14), a foundation that supports youth educational programs by donating funds, computers, backpacks and clothing. He also established the Nathan Stephens Endowment Scholarship Fund, which annually awards a college scholarship to Blackman's "most outstanding person."
"My parents raised me to be a mirror images of themselves," Price says, "and they did it well. We are very blessed, and we like seeing other people smiling."
"What I'm most proud of," Bonnie says, "is his commitment to do the right thing. His commitment to work hard and be respectful, to conduct himself like a Christian young man."
When Price started the All-Star Game this year in Anaheim, Tyler's parents, John and Melinda Morrissey, were in the stands as his guests. He also invited Nathan's parents, Henry and DeeAnn Stephens, though they were unable to attend. Price speaks to and texts both families regularly, including the younger siblings of Nathan and Tyler. He still goes to the Morrissey house when there is a big boxing match on television or to play a game of cards.
"He stops by unannounced," John Morrissey says, "and that's as good as it gets. After a win, he might text us and say he's thinking about Tyler and Nathan. David's an exceptional athlete, but he's a better young man than he is a pitcher. We're blessed to have him as a friend."
Two friends from Murfreesboro recently visited him in Florida. They were sitting outside and talking when the conversation, as it does often, came back to Nathan and Tyler. "We were talking about how as much as it sucks now, we're going to be better people for it in the end," Price says. "I really don't know how now...."
The time when all about life is good and makes perfect sense is when Price is on a mound.
"There's no place I'd rather be," he says. "It's so much fun. The game starts and stops with me. Nothing happens until I say it does. That's so much power right there. That feels cool. You're king of the castle standing up there on the mound."
This week the king will climb to the top of the mound to make the first postseason start of his career, a newly minted ace. It is exactly as the Rays would have it—and the Stephens, the Morrisseys and the Prices—with the ball in his hands at a time they need someone to count on. And when Price reaches back with the baseball, spring-loaded, he will look to be aiming as high as the sky.