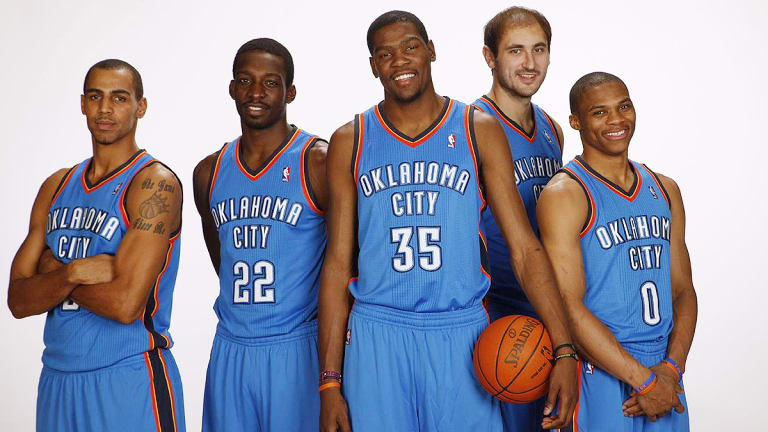 Rolling Thunder
What do the players do for fun in Oklahoma City? Plenty. Run hills. Eat wings. Hang out. And gear up for a run at the Lakers while basking in the love of the league's most appreciative fan base
Kevin Durant bows his head, raises his hand, and a franchise circles him like a maypole: teammates, of course, but also coaches and trainers, the general manager and assistant general manager, the scouting coordinator and communications director, folks from the video room and the equipment room, guys from the Development League affiliate in Tulsa and undrafted free agents who won't even make it that far. They try to reach the 6'9" Durant's outstretched hand, but no one can, so they settle for the wrist or the elbow or the space around him. They are too tired to lift their arms for long. "One, two, three, family," Durant says, in a haggard breath. "Family," the group pants back, in unison. Then they walk together across the field, over the ditch and up the Hill for the last time.
The Hill, as it is known to the Thunder, is a misnomer. Central Oklahoma does not really have hills, but it does have floods, which require drainage basins the size of parking lots. Run up the side of a basin and you might as well be scaling a sand dune. Twice a week every September, when NBA teams are technically still on vacation, most of the Thunder meet early in the morning at the practice facility, pile into pickup trucks and roll into a brick subdivision alongside a creek in nearby Edmond, Okla. The basin that borders the creek has been covered with grass, lined with sycamore trees and turned into a neighborhood park. The smell of fertilizer hangs in the air. Residents walk their dogs and wonder if summer will ever give way to fall. They look down at their park and shrug at the sight of professional athletes racing each other 60 feet up steep inclines while tossing medicine balls in the sky. "They're just part of our backyard now," says Angela Vaughn, who lives in a house across from the park.
Durant was not supposed to run the Hill this year. Only 21, the silky small forward led the U.S. to its first gold medal in 16 years at the world championships in Turkey, took one day off and was back at the Oklahoma City practice facility before his bosses even knew he was in the country. When he woke on the final Wednesday before training camp—the last time the Thunder would head for the Hill—he only felt like shooting. "Then I thought about it for a minute, and I couldn't do that to my guys," Durant says. "It wouldn't have been fair to them." The Hill does not afford preferential treatment. Front-office executives drop their Blackberries, swap dress clothes for practice gear and run suicides. Entry-level assistants join them. When they are all sufficiently gassed, they head back to the pickup trucks, Durant sneaking a spot in a bed before coaches wisely point him to a passenger seat.
One superteam has been built in a Miami boardroom. Another is being built in a prairie basin. The Thunder plays in the smallest market in the league (the population is 560,000), has the sixth-lowest payroll in the league ($50.3 million) and less than two years ago was on pace for the worst record in the league's history. The team started 3--29 in 2008--09, losing five games in the last six seconds, and coach Scott Brooks would stay up until dawn trying to think of something positive to say. The best he could do sometimes? "We're not losers." He was proved right last season, when the Thunder leaped from 23 wins to 50. Durant became the youngest scoring champion ever, Brooks the coach of the year, Russell Westbrook the must-see point guard. The Thunder bore the unofficial title Most Fun Team, sold out 31 games at the 18,203-seat Ford Center, nearly doubled its local television ratings and did it with leading scorers who were 21, 21 and 23. Duke's were 22, 21 and 21 when it won the national championship last April.
Oklahoma City's style was up-tempo but down-home. During the first-round playoff series against the Lakers, the players would forgo their charter bus ride after practices at Santa Monica High and stroll down Pico Boulevard to their hotel, even the ones with ice packs on their knees. But their finest moment followed another excruciating loss, in Game 6 to L.A., when Durant grabbed his teammates before they could leave the Ford Center floor, huddled them at half-court and said, "This will make us better." Then, as a legion of his peers bailed on big cities for bigger ones, apparently great situations for greater ones, he signed a five-year, $85 million extension. The deal was completed while Durant was at the Orlando summer league, sitting on the bench to support Thunder rookies and second-year players.
"Things happen in Oklahoma City that don't happen anywhere else in the league," says Kevin Ollie, who played for 11 teams, most recently the Thunder last season, and is now an assistant coach at UConn. "I've never seen a group of guys who are more in love with each other. The only question is whether it can last."
Durant left Texas in 2007, after his freshman year, and shortly into his rookie season in Seattle he feared he had made a mistake. The Sonics were a veteran team, a divided team, and Durant did not even know where they all lived. "I wanted to go back to college," he says. When the franchise moved to Oklahoma City the following summer, he saw an opportunity to re-create college in the NBA, with a hoops-heavy schedule to match: Go to practice, go to Wing Stop, then go home and play video games with a half-dozen teammates until bedtime. The next day, do it all over again at somebody else's house. "You can get 100 wings here for less than 100 bucks," Durant says. "Good deal, huh?"
Some Thunder players resent that they are seen as a college team, given that they are widely projected to finish second in the Western Conference this season, that Kobe Bryant referred to them during last postseason as "bad mother-------," that one prominent basketball writer suggested they all be sent to the 2012 Olympics to represent the U.S. as a group. "It's time to move on," says forward Jeff Green, 24, but it would be easier to believe him if he were not wearing Georgetown sweats and still taking classes at the university via phone and e-mail. Preserving the Thunder's collegiate culture may be more important now than ever, to help maintain the players' camaraderie and humility despite increased acclaim.
"It might be harder in Miami, New York or L.A. because there are more temptations," says Durant, who, like most of his teammates, is single. "That's why, every day I wake up, I feel blessed to play here." Teams often leave their home base in training camp and head for smaller cities, to bond in relative seclusion. The Thunder essentially does that all season. Every day is a retreat. "You don't really have a social life here," says guard James Harden. "You don't go out a lot. You just focus on basketball and each other." In that way and more, Oklahoma City has done as much to develop the Thunder as the Thunder has done to develop Oklahoma City.
Seven players file into a dimly lit room with gray carpet and a low-slung ceiling on the third floor of the Oklahoma City National Memorial and Museum in late September. They squeeze on to a narrow bench pressed against the back wall. The space has been designed to replicate the hearing room in the basement of the Water Resources Board building that used to be across the street. On a table in the front of the room is a tape recorder, playing a hearing that began at 9 a.m. on April 19, 1995. A man is petitioning to bottle groundwater from his property and sell it. Two minutes into the hearing there's an explosion, followed by sounds of breaking glass and cries for help. Lights flicker, the room in the memorial goes dark, and the faces of the 168 who died in the bombing of the Alfred R. Murrah Federal Building are illuminated on the wall. Two of them, five-year-old Aaron Coverdale and his younger brother, Elijah, catch the eye of guard Eric Maynor. Later, Maynor stares at a glass case holding Aaron's Transformers and Elijah's toy cars, shaking his head.
"You all are a part of this story," the tour guide, Joanne Riley, tells the players. "You are a testimony to how this whole city can rise like a phoenix from the ashes."
When the team moved from Seattle to Oklahoma City, general manager Sam Presti wanted all his players to tour the memorial before their first open practice. Now every new player is taken to the memorial, usually in the weeks leading up to training camp, and sometimes more than once. When guard Royal Ivey came to Oklahoma City for his free-agent visit this summer, he asked Presti about the crowd at the Ford Center, how such a small market generates the most noise in the NBA. The fans have become a source of curiosity around the league, for painting their chests like frat boys, standing for long stretches and commencing a 20-minute ovation for the team three seconds after the season-ending loss to the Lakers. Presti ushered Ivey to the memorial. "It took my breath away," Ivey says. "After that I called my agent. I wanted to be a part of this."
The Ford Center is only a mile from the memorial, but it is more closely connected than that. In the years following the bombing, the political landscape in Oklahoma City underwent a radical shift. A traditionally conservative constituency voted for every tax initiative put on the ballot. It didn't matter whether the initiative was for parks or sidewalks or an arena, Oklahoma City always voted to tax itself. "Every time," says Mayor Mick Cornett. "It was unprecedented." In March 2008, with the Sonics' move hanging on the outcome, 62% of voters passed an initiative to extend a 1% sales tax that would pay for a $100 million renovation of the Ford Center and a $21 million practice facility. A month later they had their team, a chance to tell the nation they were back, in full throat. "The genesis of it all is still April 19, 1995," says Steven Taylor, vice chief justice of the Oklahoma state supreme court, who sentenced Terry Nichols to 161 consecutive life terms for his role in the bombing. "The Thunder is just the latest building block." In the doorway to his chambers Taylor keeps a framed photo of Durant and Green, staggering off the court to a raucous ovation after Game 6 last April. They appear to be leaning on each other.
The Thunder has been built according to what Taylor calls "the Oklahoma model," the opposite of the quick fix. Durant, Westbrook and Harden were top five draft choices. Green was another top five pick who came from the Celtics for Ray Allen. But Presti's masterstroke was sending forward Rashard Lewis to the Magic in a sign-and-trade in July 2007 that brought back an $8 million trade exception and a second-round draft choice. It did not sound like much at the time, but Presti sent the exception and the draft choice to the Suns for two future first-round picks and Kurt Thomas, whom he then flipped to the Spurs for another future first-rounder. One of those picks was traded to the Bulls for defensive stopper Thabo Sefolosha, another was spent on budding power forward Serge Ibaka, the third on rookie center Cole Aldrich of Kansas. The cap space helped in acquiring center Nenad Krstic and Maynor.
Presti is 33, wears glasses and comes from Concord, Mass., but he was not hatched from the same laptop as many of baseball's wonder-boy G.M.'s. He researches backgrounds and personalities as much as advanced metrics. Most Thunder players fit a similar profile—or, as Harden puts it, "It's kind of weird that we're all the same." They tend to come from highly successful college programs, or at least programs that were highly successful when they were there. They are devoted to defense. And they don't think too highly of themselves. The front office fell for Westbrook when he reported 30 minutes early to a predraft workout. They liked Harden in part because he did not mind deferring to Durant. This year they spent a second-round pick on Ryan Reid, who scored only 6.8 points per game as a senior at Florida State. But the Seminoles allowed the lowest field goal percentage in the country, and Reid was their best post defender. The Thunder had to have him, even though no other team so much as worked him out.
Players like Reid are a crucial part of the Oklahoma model, which values hard labor in the face of long odds. For a franchise to succeed in a minuscule market, it cannot appeal only to hoops junkies; it must also resonate with the most casual fans. The Thunder has to remain a civic cause the way the Hornets were in 2006--07, when they fled New Orleans after Hurricane Katrina and found a temporary home in front of sellout crowds at the Ford Center. So far the Thunder has unified a sports scene that was forever divided between Oklahoma and Oklahoma State fans, selling more than 13,000 season-ticket packages this year, among the top five in the NBA.
The Thunder might need one more spot-up shooter and defensive-minded post player to win the West, but that does not mean Presti will be pursuing either. After all, he was $12 million under the cap heading into the summer, and the team didn't pursue a single big-name free agent. The franchise thinks in terms of development more than destination. Bringing in another shooter could have stunted Harden's development, as another big man could have stunted Ibaka's and Aldrich's. Besides, the team will need the cash later, when it is time to extend Westbrook or Green or both. The Thunder must hope that the loyalty it has shown will be reciprocated, the way it was with Durant, and the way it was not with so many other stars this summer.
Why is there so much venom toward them?" asks one Thunder player, and it is obvious whom he is talking about. Perhaps the answer is just old-fashioned jealousy, the player speculates, because why should LeBron James, Dwyane Wade and Chris Bosh get to win big and live in Miami? Or perhaps it is something else old-fashioned, the notion that true champions lose before they win, and genuine friendships are forged through struggle. There is a reason that Justice Taylor hung in his chambers a portrait of defeat and the defiance that followed. "I think the average fan can relate to us," Durant says, "because we were at the bottom."
They are the organic superteam, farm to table, with 24 appearances coming up on national television, after being scheduled for only three the past two years combined. Durant was MVP of the world championships and is the emerging MVP of the NBA, but when he walks into the Thunder practice facility, you'd swear he is still 3--29. He has come to view that mark as a badge more than a blemish, and should he win his championship, the experience will surely be more intense because he had to suffer for it.
Durant is interested not in being pitted as a counterpoint to the Heat, or to his peers, only in playing ball and running hills and eating wings and firing up another video game in a house full of noisy teammates. He ponders how his carefully crafted lifestyle will change if they all ever get married and have children. "Lots of uncles," he says.
More family.