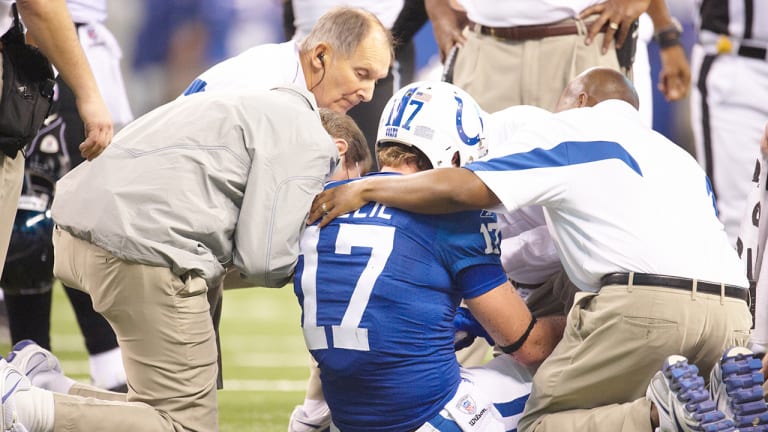 CONCUSSIONS
THE HITS THAT ARE CHANGING FOOTBALL
At the Veterans Administration hospital in Bedford, Mass., last Friday, one of the world's foremost experts on repetitive brain trauma—and a major Packers fan too, judging from the Aaron Rodgers and Brett Favre bobbleheads on a shelf next to her desk—slipped a slide into a microscope. Dr. Ann McKee, an associate professor of neurology and pathology at Boston University who has been studying the brains of deceased football players, wanted to illustrate the damage that repeated hits to the helmet can cause. This slide of a cross-section of a human male brain, magnified 100 times, showed scores, maybe hundreds, of tiny brownish triangular bits of a toxic protein called tau, choking off cellular life in the brain.
"This is Louis Creekmur," said McKee. "You can see there are hardly any areas untouched by the damage. Like with Wally Hilgenberg, it is widespread in Louis Creekmur. I would call it incredible chaos in the brain. Louis was demented when he died."
Lou Creekmur: 10-year NFL offensive lineman, Pro Football Hall of Famer. Wally Hilgenberg: 15-year NFL linebacker, one of the key members of the Vikings' Purple People Eaters defense.
Over the past three years McKee has been given the brains of 16 former NFL players, some of whom suffered dementia, ALS or severe depression. Families of the players wondered whether there was a link between football and the psychological, physical or behavioral problems that afflict some older players. Rigorous testing has been completed on 14 of the brains; 13 were diagnosed with chronic traumatic encephalopathy (CTE), the condition that was so widespread in the brains of Creekmur and Hilgenberg. In addition McKee has examined the brains of deceased college and high school football players and found evidence of CTE in several of them as well.
"I can say confidently that this is a distinctive disorder that you don't develop in the general population," McKee said. "In fact, I have never seen this disease in any person who doesn't have the kind of repetitive head trauma that football players would have."
McKee spoke three days after the NFL came out with its new points of emphasis on helmet-to-helmet shots, fining three players the eye-opening total of $175,000 for frightening hits in Week 6 and warning that suspensions were the next step on the disciplinary ladder if such blows continued. As she gathered up the slides of the damaged brain tissues of NFL players, McKee considered a question: What would she say if she could speak to Patriots safety Brandon Meriweather (fined $50,000 for a helmet hit on Ravens tight end Todd Heap) or Steelers linebacker James Harrison (fined $75,000 for his second offense, a shot on Browns wide receiver Mohamed Massaquoi)?
"I wouldn't say anything," she answered. "I'd just show them these slides."
Know the rules, and play by the rules. You are on notice."
In the meeting rooms of all 32 teams last week, players saw a four-minute video produced by the league and narrated by NFL executive vice president of football operations Ray Anderson, who is in charge of discipline. The video showed nine big hits. Six were plays that involved helmet-on-helmet contact or defenders launching themselves at defenseless receivers, the kind of plays that will result in discipline from the league office. The other three—including a decleating shot across the middle by Ravens linebacker Ray Lewis on Jets tight end Dustin Keller—were examples of hits that were within the rules because players did not launch themselves or strike their targets in the head or neck.
It's probably inaccurate to say all the players heard the entire presentation. Many of them were too busy catcalling the video—and the message.
"It was like a bad B movie," says 49ers linebacker Takeo Spikes. "Guys were booing, throwing stuff at the screen. They were mad. You heard stuff like, 'Did this guy ever play?!'" (Anderson was a receiver and kick returner at Stanford.)
It's a time of high emotion in the NFL. Countless players in the last week, mostly defenders, said they felt they're being unfairly singled out for discipline. They say that because things happen so quickly on the field, it is extremely difficult for them to avoid inflicting crushing helmet-to-helmet hits. Even when a tackler aims at a ballcarrier's chest, the offensive player often ducks to miss the contact, and the result is helmet-to-helmet. What's more, defensive players argue that they are invariably blamed for such hits even when it is the receiver who turns to run aggressively upfield, lowers his head and initiates the contact.
"It's a sad day for the sport," said Steelers safety Ryan Clark, a union representative and one of the game's hardest hitters. "The league has made James Harrison a villain for playing exactly the way he played to earn the Defensive Player of the Year award [in 2008]. I think what we're seeing is a knee-jerk reaction to the result of the hits, not a thoughtful reaction to the reality of the hits."
Even the Players Association was angry about what seemed to be an attempt to make the game safer. "The skirts need to be taken off in the NFL offices," said union president Kevin Mawae on ESPN Radio.
The battle comes down to this: players who believe you can't legislate the violence out of pro football versus executives who believe you have to try. Can the NFL continue to be king of American sports if it's a kinder, gentler game? Will families, scared by the viciousness they see every weekend, send more of their eight-year-olds out for soccer in the fall than for Pop Warner football? Will the game, as author Malcolm Gladwell suggests, become one played mainly by members of the underclass, or fall from grace the way boxing did when the brutality became too much?
What motivated the league was a near-perfect storm of viciousness two weekends ago. Within 24 hours at the New Meadowlands Stadium in East Rutherford, N.J., Rutgers defensive tackle Eric LeGrand suffered a severe spinal-cord injury while making a tackle on a kickoff return, and Lions linebacker Zack Follett lay motionless on the turf after a big hit against the Giants. LeGrand remains hospitalized, his prognosis unknown; Follett was released from the hospital after overnight observation.
There was more. Meriweather nailed Heap gratuitously in the head with his helmet. Harrison delivered a forearm to the head of Massaquoi, who seemed to duck to avoid the shot. Another defenseless wideout, DeSean Jackson of the Eagles, took a blow to the upper body and had to be helped off the field. All the shots were take-your-breath-away violent. Watching in the NBC viewing room in New York City, studio analyst Rodney Harrison, known as much for his vicious hits as for his overall strong play at safety, said after one of them, "Thank God I'm retired."
The players collectively shrugged: That's football. "It's what makes the game so popular," argues veteran Cowboys linebacker Keith Brooking, his voice rising. "People love the battle! People love the violence!"
But the league wasn't backing down, and in the coming weeks it's likely that a hit that two weeks ago would have resulted in a $15,000 fine—for example, the brutal Oct. 3 helmet-to-helmet shot by Cleveland safety T.J. Ward on Bengals receiver Jordan Shipley—will draw a suspension.
"If we get criticized for this, and I'm sure we will, then so be it," said Anderson. "We've got to protect players from themselves, and we're going to move aggressively to do so."
Whether the league acted to quell public unease or out of concern for the welfare of players, this season has been a particularly brutal one. Players had suffered at least 53 concussions through the middle of October. The Eagles have had six, including an embarrassing one for the league in Week 1, when linebacker Stewart Bradley, woozy from a hit, tried to wobble off the field and staggered to the turf as if he'd been plied with spiked punch. What made it worse was that within a few minutes Bradley reentered the game for several plays after being cleared by Philadelphia's medics; only later did they diagnose a concussion and sit him for good. It was Bradley's first concussion, and he said Eagles staffers made sure he was symptom-free for several days before allowing him back on the field. He returned in Week 3. "They say the number of concussions has increased," Bradley said last Friday, "but I think it's the awareness that's increased. In the past they didn't have the study of the ex-players who had passed away so they could look at the long-term effects of having concussions over years of playing in the NFL. Those weren't hot topics even four or five years ago the way they are now."
The NFL has gotten religion regarding concussions. In the past year commissioner Roger Goodell has met numerous times with retired players, many of whom suffered from the kind of dementia McKee studies. Last spring the NFL made a $1 million donation to the Boston University School of Medicine's Center for the Study of Traumatic Encephalopathy, of which McKee is a co-director. On Oct. 20 the Sports Legacy Institute, founded by former pro wrestler Chris Nowinski and Dr. Robert Cantu in 2007 to explore the effects of brain trauma on athletes, presented Goodell with the organization's annual Impact Award, recognizing the league's efforts to promote safety in youth football.
So Goodell is keenly interested in how to make the game safer—if it can be made safer. The fact that there is so much antileague sentiment in the locker rooms is not going to deter him. "If it changes the game for player safety," Goodell said at the Sports Legacy event last week, "that's a good thing."
"If it took one bad weekend for us to get here, then so be it," said Nowinski, a former Harvard defensive tackle and professional wrestler who retired from the WWE in 2003 after suffering a concussion. "Players are too fast and too strong to think they can hit each other in the head over and over and think they'll keep walking away unharmed."
Problem is, many helmet-to-helmet blows are perfectly legal. Because it's within the rules to hit an open-field ballcarrier in the helmet under certain circumstances, and it's standard operating procedure for players at the line of scrimmage to knock heads, many players greeted the league's reaction last week with shrugs. Pittsburgh's Clark pointed to a hit by Browns running back Peyton Hillis on Steelers safety Troy Polamalu. "Hillis runs straight at Troy, [lowers his head] and earholes him with his helmet," said Clark. "Troy can't play the rest of the game because he's woozy. Nobody says anything about that."
In Owings Mills, Md., last week, Ravens linebacker-end Jarret Johnson pulled his helmet out of his locker and held it by the face mask. There were long gouges across the crown of the purple helmet and numerous jagged paint stripes—some of them silver, the colors on the helmets of the Patriots, Baltimore's opponent the previous week. When it was suggested that perhaps two thirds of his collisions with offensive players involved the helmet, Johnson said, "Absolutely. That's all it is, helmet-to-helmet. Receivers don't have any of these marks. We do. And it's constant. Every play, every play, every play. All game long. You're squatting, rising up and hitting with your head. All game long."
Adds Brooking, "Let's keep it real. When I take on a 245-pound fullback, and we hit each other hard, that's probably a concussion. And that's every week. Has it affected me? I don't think my short-term memory is as good as it was 10 years ago, but that's football. I wouldn't change anything."
The NFL knows there's little it can do concerning helmet contact between linemen, or on running plays, that wouldn't radically alter—and maybe diminish—the game. Consider these recent efforts an attempt to affect what can be controlled. Two years ago the league's competition committee adopted new language about hitting a defenseless receiver, and last March that language was further refined. "If a receiver completed the catch and didn't have time to protect himself, the defensive player couldn't launch into him in a way that causes the defensive player's helmet, face mask, shoulder or forearm to forcibly strike the receiver's head," says competition committee co-chair Rich McKay of the Falcons.
That's the violation for which the league fined James Harrison. In doing so, Ray Anderson made it clear the defensive player is responsible for where he hits the receiver, even if the receiver ducks. So when Harrison's forearm caught Massaquoi in the head and neck, Harrison was guilty.
Harrison said the next morning he was considering retirement, but with four years and $22.6 million left on his contract, he thought better of it and returned to work last Thursday. He played on Sunday in Miami and had four tackles in a 23--22 Steelers victory.
Though several defensive players told SI on Sunday night that they hadn't altered their style, there was none of the helmet-to-helmet fireworks in Week 7 that had characterized Week 6. Titans defensive back Alterraun Verner, who drilled Eagles wideout Chad Hall in the midsection, said the hit "had nothing to do with the new rule. I tried to separate him from the ball. I've never tried to aim at the head."
After Pittsburgh's victory over Miami, Harrison reiterated that he wouldn't change anything about how he has played football since the age of 10. But early in the fourth quarter, instead of pile-driving a nearly prone Ronnie Brown, Harrison pulled up on the Dolphins running back. "The way he was going down, if I hit him, we would have hit helmet to helmet," Harrison said. "Obviously I didn't want to do that."
Zero illegal helmet hits, zero defenseless-receiver penalties across 13 games last Sunday: NFL vice president of officiating Carl Johnson felt the new points of emphasis had accomplished their objective. "I've seen a change in behavior in one week," Johnson said. "It's what we kept hearing players couldn't adjust to, but they did."
Brooking has a four-year-old son, Logan. Asked what he'd do when it came time for him to play a fall sport, Brooking said, "Sign him up. It's the greatest sport in the world. The teamwork and the other intangibles—the work ethic, even the situation we're in right now with the Cowboys. We start 1--4, and everyone's saying, 'The season's lost. It's over.' Well, not to me. The only thing I know to do is to go out and keep fighting. Where did I learn that? From football."
Halfway across the country, in her eastern Massachusetts home, McKee took a break from her study of the human brain—she's been a neurologist since 1984—and did what she does most Sundays: She settled in for a day of football. Steelers-Dolphins at 1, Chargers-Patriots at 4, Vikings and her beloved Packers at 8:30. McKee was born and raised in Appleton, Wis., a half hour from Lambeau Field, and says that every Sunday she's "glued" to the TV to get her football fix.
It's a little ironic, really, that this hard-core fan with a quick laugh is doing the grim but necessary research that could significantly change the way football is played—and how it's perceived. Will people ask, more and more, if it's a game our youth should be playing and our society worshipping? "I love football," McKee said, "but I feel as if I almost have an obligation with the knowledge I have. I can't sit on it. I owe it to public health. I just wish we could take the hits to the head out of the game, maybe make it more of a finesse game.
"I wonder: Can we make it more of an Indy 500 and less of a demolition derby?"