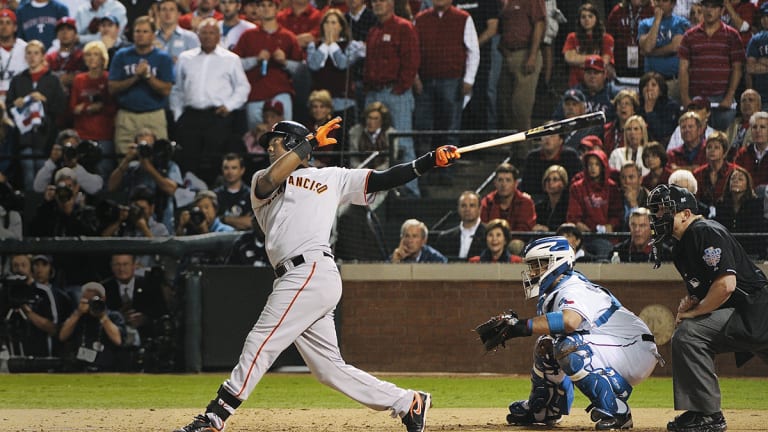 Giant Moment
Thanks to four homegrown, absurdly young starting pitchers and a lineup full of spirited castoffs, the Giants defeated Texas in the World Series to end 56 years of heartbreak and bring San Francisco a championship it can call its own
In the spring of 2007, a skinny kid with the mien of a batboy showed up at Giants training camp, looking nothing like a prototypical high draft choice. He fell into daily morning games of catch with another first-round pick. Tim Lincecum, the new guy, and Matt Cain, San Francisco's top choice in 2002, were 22 years old and so competitive, so full of the vigors of youth, that each would try to make the other miss a catch, or perhaps bend back a thumb, by throwing balls that danced and darted. Lion cubs testing their growing might, they called the ritual "burnout."
What began as a game blossomed into a friendship, the makings of a ferocious rotation and finally, on Monday night, the end of baseball's longest current championship drought this side of the Cubs and the Indians. "Last year other teams wondered what this team could do if this rotation got into the postseason," Giants pitching coach Dave Righetti says. "When your pitching is feared, that's always a good thing."
The wait in San Francisco is over. Lincecum opened and closed the World Series by outpitching the previously unbeatable—in October, anyway—Cliff Lee of the Rangers, including a dominating 3--1 victory in a Game 5 clincher not just three years in the making, but 56. The Giants had not won the World Series since 1954, when Willie Mays patrolled the vast Polo Grounds centerfield on 23-year-old legs and the implied promise of more championships to come. Four years later Mays and the dream were relocated to the Bay Area, which until Monday night knew only the heartbreak that came from playing three games that could have brought the next world title—Game 7 in 1962 and Games 6 and 7 in 2002—and losing them all.
Lincecum and Cain, along with rotation mates Madison Bumgarner and Jonathan Sanchez, would have no such angst. The Giants never even lost a lead in this World Series, most significantly when shortstop and Series MVP Edgar Renteria hit a lightning bolt of a three-run homer in the seventh inning of Game 5 to shake loose what had been a taut, scoreless duel between Lincecum and Lee.
The Giants' run to the championship was unique in the modern era in that they relied on four young, homegrown starters. The Giants' Big Four of Lincecum, Cain, Sanchez and Bumgarner provided a fitting endgame to the Year of the Pitcher. While each of them exceeded career highs for innings, they combined to go 22--8 with a 2.02 ERA after Aug. 29, including the postseason, with the Giants winning 76% of the time they got the ball (31--10).
There was a moment during Game 4 on Sunday when even Giants general manager Brian Sabean marveled at how the youthfulness of his pitching had stood up to the weight and wonder of the World Series. It was late in the game, and Bumgarner, a rookie who was pitching for Triple A Fresno five months ago and in the North Carolina high school playoffs three years ago, was dismissing the powerful Texas lineup as if doing an everyday chore. Bumgarner is familiar with such tasks: On his first day back home after last season at the family farm in Lenoir, N.C., he headed—without being asked—straight for the barn to muck out the horse stalls. "A helluva face, a pitching face," is how Righetti describes Bumgarner's perpetually placid expression.
Bumgarner gave away no worry—and no runs or extra-base hits for that matter—in eight innings of work in a 4--0 win that gave the Giants a 3--1 series lead. Only Fernando Valenzuela of the 1981 Dodgers, Jim Palmer of the 1966 Orioles and Bullet Joe Bush of the 1913 Philadelphia Athletics won a World Series start at a younger age. In a booth at Rangers Ballpark in Arlington, as Bumgarner calmly went about the chore of mucking the Rangers, Sabean turned to Dick Tidrow, his trusted vice president of player personnel and, less formally, his Yoda for all things pitching since Sabean took over in 1997.
"Look, I've got goose bumps!" Sabean said to Tidrow. "Do you believe this? He's 21! Twenty-one!"
If Sabean bore the look of a proud papa, it was because the World Series became a graduation ceremony for his young pitchers. In every game this postseason San Francisco sent out a starter who was signed and developed by the organization and was no older than 27. No other team had ever pulled off such a feat since the draft was instituted in 1965. To find that many homegrown starters in a World Series that young, you have to go back to 1956, when the Yankees started Whitey Ford, Dan Larsen, Tom Sturdivant, Bob Turley and Johnny Kucks. During the postseason the Giants were slump-proof because of that rotation. They never lost two games in a row, and the starters' ERA in four games following a defeat was 1.11.
In a postseason thick with dominant pitchers, the Giants' rotation stood out. Lincecum, 26, won four of his five starts. Bumgarner was 2--0 with a 2.18 ERA in four games. And with four Cy Young Award winners pitching in the postseason (Lincecum, Lee, Roy Halladay and CC Sabathia), Cain, 26, was the best of all: He did not allow an earned run in 211/3 innings.
"The postseason comes down to that: the starting pitching for both ball clubs," says Righetti. "Our guys are used to that. Baseball really does come down to that."
Starting pitching is studied like baseball's Talmud, and its ancient lessons were revalued and rediscovered this year. The game has changed drastically since this century began. There were 3,663 fewer runs and 1,080 fewer home runs this year than in 2000, making for a 15% reduction in scoring and a 19% plunge in balls leaving the yard. Most offensive numbers, in fact, dropped to levels not seen since 1992. Testing for performance-enhancing drugs, which began with penalties in 2004, and a generation of talented young arms have returned the game to a less volatile run-scoring environment.
With their core of young starters, the Giants were the right team at the right time, a team that ranked 17th in the majors in scoring runs but second in preventing them. Their offense mainly is a collection of opportunistic castoffs, none of whom hit 30 homers or drove in 90 runs. Indeed, their number 4 and 5 hitters when they opened the World Series, outfielders Pat Burrell and Cody Ross, had been released by other teams this year. Their number 3 hitter, first baseman Aubrey Huff, signed as a free agent last January after getting no other offers.
"Sometimes the time picks you," Sabean explains. "But also sometimes you pick the time. I noticed in spring training there was a feeling among this team that this was their time. Even in March they seemed to know they were good. And I think that's because they knew we had the starting pitching."
A world championship was the payoff for years of organizational emphasis on pitching—on drafting pitchers; on developing them with proprietary, counterculture ideas; and on keeping them. "Of all the moves we made," Sabean says, "the best was holding on to our pitching."
From 1999 through 2010, Sabean used 10 of his 13 top 30 draft choices on pitchers. In one key window from 2002 though '07, he selected his entire 2010 postseason rotation and closer Brian Wilson—all without ever holding a pick higher than 10th. Wilson (24th round, 2003) and Sanchez (27th round, '04) were late-round steals, but San Francisco also benefited from other teams' misjudgments near the top of the draft. First-round picks Cain (No. 25, 2002), Lincecum (10, '06) and Bumgarner (10, '07), for instance, all were on the board when the Pirates drafted in those years. Pittsburgh chose pitchers Bryan Bullington, Brad Lincoln and Daniel Moskos, whose combined big league record is 2--13.
Cain, the first building block of this championship team, arrived during the last gasps of the steroid era, as the Giants rode on the alarmingly broad back of Barry Bonds to the 2002 World Series, which they lost to the Angels. No one knew it at the time, but the first step toward ending the franchise's drought came several months before that heartbreaking Series loss. Tidrow and scout Lee Elder took a trip to watch Cain, a righthander at Houston High in Germantown, Tenn. One trip was enough for Tidrow. "I said to Lee, 'This guy is perfect for where we're picking,' "Tidrow said." 'He fits right there.' I didn't want to go back because I didn't want people to know we were on him."
Says Cain, "That's the way the Giants operate. They like to be very private and mysterious. I thought I was going to the Cubs or the Braves. I didn't know the Giants would take me. The one thing I do remember is Lee Elder had a [world championship] ring from the Yankees. Big, old honkin' ring. Biggest ring I ever saw. Yeah, I remembered that."
Cain zoomed through San Francisco's system. At the time the rest of the industry was responding to the breakdowns of the Cubs' hard-ridden phenoms Kerry Wood and Mark Prior by instituting all kinds of governors on young pitchers—pitch limits, annual innings caps, strictly laddered increases in annual workloads. But Sabean and Tidrow have long preferred to develop pitchers with a far looser hand. San Francisco has only one blanket rule for its minor leaguers: no more than 100 pitches in a game. The organization also puts a heavy emphasis on throwing fastballs, believing that young hurlers should add or refine secondary pitches later as they are needed to get major league hitters out. In 2006, for instance, a 21-year-old Cain threw 1902/3 innings in the big leagues. Since 1995 only two other pitchers have thrown as many innings at such a young age: the Mariners' Felix Hernandez and the Yankees' Sabathia, who was with the Indians at the time. "One thing the Giants are great at is pretty much leaving you alone and working with what you have," Cain says. "A lot of organizations might try to change guys right away. Not the Giants."
Adds Tidrow, "It's common-sense based. We tell our coaches, 'If a guy is throwing well, let him go to a hundred [pitches]. If not, take him out.' Look, if a guy can throw 200 innings each year, those are the ones who still have something in the tank this time of year. Look at Matt. He's the perfect example."
Cain has thrown 1,0491/3 innings since 2006, eighth most in baseball, but looked fresh this postseason, finishing with 72/3 shutout frames in a 9--0 victory in Game 2 against the Rangers. He carved up Texas not only with a fastball in the low 90s and a power curve, the pitches he concentrated on as a minor leaguer, but also with fiendish sliders and changeups, pitches he developed in the majors.
San Francisco is a ball club with a level of weirdness that works well in its home city, be it Wilson with a beard so ridiculously thick and black it seems store-bought, Huff with a lucky red rhinestoned thong he wears underneath his uniform or Ross, who grew up dreaming of becoming a rodeo clown and, at age 29, has bounced around five organizations. But Cain is the Giants' ballast, a man of such a calm comportment that he didn't even bother tipping his cap when the crowd of 43,622 at AT&T Park wildly applauded as he walked off the mound with a 2--0 lead in Game 2.
"Just my way," explains Cain. "I don't know, I felt like my job wasn't all the way done. There was still a guy on and the game wasn't over. It's just me. I don't want to create any riff-raff with the other team."
The 9--0 win—San Francisco erupted for seven runs in the eighth—was the most lopsided shutout in the World Series in 25 years and made the Giants, despite their modest lineup, the first team in the 106 Fall Classics to score 20 runs while winning the first two games.
San Francisco had hammered Lee in Game 1, 11--7. The beneficiary of that unlikely onslaught was Lincecum, who was more hittable than usual (he won despite allowing four runs in 52/3 innings) but made up for his lack of dominating stuff with determination. Lincecum was a college star at Washington who breezed through the minors and the majors, winning the last two NL Cy Young Awards. But things started to get more difficult for him in August, when he went 0--5 with a 7.82 ERA.
Until then Lincecum had thrived on maximizing the power in his small frame (5'11", 170 pounds) with a whirling delivery and pure athleticism. "Timmy is amazing," Tidrow says. "He can walk on his hands, do a backflip, jump higher than anybody.... In the minors in San Jose [in 2006] the Latin guys would always ask him to do his backflip. You know how most people will bend their knees and spring up? Timmy would be standing there one second, and the next second he was flipping."
In August, though, manager Bruce Bochy and his staff saw a tired, pallid pitcher without the same life in his body. They lectured him about improving his between-starts fitness regimen and taking better care of himself. Lincecum says he "changed [his] workouts" to include more core and lower-body work. It worked: Including his Game 5 gem, Lincecum went 10--2 with a 2.18 ERA after Sept. 1, including four wins and a 2.43 ERA in six postseason games. He had also run his season innings total to a career-high 2491/3.
San Francisco fans waited more than half a century for this world championship, but the mere fact that Lincecum was wearing black and orange was another reminder of how important patience was in Sabean's team construction. After Lincecum went 7--5 with a 4.00 ERA and 150 strikeouts in 1461/3 innings in his rookie season, 2007, Blue Jays general manager J.P. Ricciardi called Sabean and offered outfielder Alex Rios for the young righthander. Rios had hit 24 home runs that year, and the Giants were starved for offense. They had just lost 91 games and, in what would be Bonds's final season, scored fewer runs than every National League team but one. Baseball buzzed about the proposed deal that winter.
"It's like poker," Sabean says. "I'll always look at a hand. I'll listen. But that time I probably let the deal hang out there a little too long. I've known J.P. a long time. I was trying to be fair to him. But I let it get more attention than it should. I wasn't interested.
"I knew after Bumgarner we had nobody else coming. So the minute I traded a pitcher, I would need to replace a pitcher, and I couldn't do it. The other thing is that in our park and in our division, pitching wins. I never came close to trading any of these guys."
With Game 3 last Saturday the World Series came to Arlington for the first time, leaving Seattle and Washington as the only two current franchises never to have hosted what is becoming a traveling exhibit. The Series has been played in 11 cities in the past six years, making a return trip only to Philadelphia in 2009. Such democracy isn't necessarily good for television ratings: The first two games failed to crack a 9.0 Nielsen rating for the first time ever, and Game 4 was beaten by NBC's broadcast of the Saints' win over the Steelers. Still, the lack of a dominant team has engendered baseball joy and hope in more regional corners than ever.
The Rangers' World Series turn, 50 seasons after their founding as the Washington Senators, finally gave the franchise a bit of gravitas. A 4--2 win in Game 3 replaced as their most iconic moment the drama of Nolan Ryan's two no-hitters for the team or the silliness of either Jose Canseco heading a fly ball over a wall or Ryan punching a headlocked Robin Ventura. Behind righthander Colby Lewis, Texas beat the most mercurial of the Giants' four starters, Sanchez.
The 27-year-old lefthander has thrown a no-hitter (in 2009), pitched shutout ball in the division clincher on the last day of the season and allowed the fewest hits per nine innings (6.6) in the majors this year. But he also lost twice in the postseason while failing to last five innings.
Sanchez was a diamond in the rough discovered in 2004 by Tidrow at Ohio Dominican University in Columbus after rain washed out a game and the team held an indoor workout. Tidrow was intrigued by the way the baseball flew from Sanchez's hand when he was playing catch. But when the lefty stepped on the mound, his pitches flattened out and became lifeless.
"Try this," Tidrow told him, showing him how to glide his right foot slightly off the ground while striding rather than taking a high step. The life in his deliveries reappeared.
"I knew we could get him in the 40s in the draft," Tidrow said, referring to the late rounds, "because he didn't get results pitching in college. But then somebody drafted another Sanchez in the 20s and I got spooked. I said, 'That's it. Get him off the board before somebody else takes him.'"
Bumgarner, the last piece of the Giants' World Series rotation, also required some stealth scouting by Sabean and Tidrow. Bumgarner's father, Kevin, says 27 teams contacted him during the winter before the 2007 draft, when Madison was a senior at South Caldwell High. The Giants were one of the three teams that did not.
"We know who the good ones are," Tidrow says. He had watched Bumgarner pitch and came away impressed that he would be a major leaguer quickly, a big-bodied slinger with crossfire action on his pitches. On draft day high school outfielder Jason Heyward was also available with the 10th pick, but the Giants saw Bumgarner as a rarer asset. Heyward went to the Braves at No. 14.
"What jumped out at you was the fastball and the command of it," Tidrow says. "And he wasn't afraid to pitch inside, which is not usual at that age. When you see a kid at 17 locating with movement at 91 [mph], it's easy to imagine him at 21 throwing 94 in the big leagues and getting people out. Is that better than having an outfielder who can hit 25 home runs someday? We thought so."
The Giants handed Bumgarner the No. 5 starter's spot in spring training this year, but he handed it back with a poor spring. Sent to Fresno, where he struggled at first, Bumgarner got a stern wake-up call from the staff there. "He would let innings get away and lose focus," Sabean says. "We told him it was time to step forward. We made a request for him to change things in a hurry if he was going to help us. Basically, he was going to have to man up."
Bumgarner was called up to the majors on June 26 and gave the Giants seven wins during the regular season, added two more in the postseason—the NL Division Series clincher and Sunday's gem, both on the road—and piled up 2141/3 innings including his minor league work, an enormous sum for a 21-year-old in the age of pitcher protectionism. He also made moot for the Giants the question that gnawed at the other teams that reached the LCS round, the Yankees, Phillies and Rangers: whether to pitch an ace on short rest or throw an underwhelming fourth starter. The Giants were 3--0 with Bumgarner; New York, Philadelphia and Texas were 1--4 with their No. 4 starters.
Bumgarner pitches as if throwing around the corner of a building, often leaving hitters confused as to whence the ball is coming and where it is going. Rangers slugger Vladimir Guerrero, for instance, whiffed badly three straight times against Bumgarner, the first time he had ever done so against a lefthander in his 15-year career. Says Sabean of Bumgarner's stuff, "It's deceptive. It's tougher standing there in the clay than it is on the radar gun."
"It's a hugely difficult task," says Wilson, who had six saves and didn't give up a run while striking out 16 in 112/3 innings in the postseason, "to face pitching like ours if you've never seen us before."
Perhaps never before did the World Series, an institution older than manned flight, acquire such newness, such accessibility, as this one. It was welcomed with the ebullience of an unexpected gift in San Francisco and Arlington. Bay Area fans joyfully swayed to Journey's Lights while those in Texas stomped through Deep in the Heart of Texas. San Francisco was a costume party, Arlington a state fair.
But the newfound joy and unusual theater could be distilled into an old-fashioned lesson. The Giants became the first team since the 1966 Orioles to throw two shutouts in the World Series, giving them four for the postseason. Only two other teams, both legendary, ever threw that many in a postseason: the 1998 Yankees, winners of a record 125 games, and the 1905 Giants, the franchise's first championship team.
It was in that dead-ball environment a century ago when Christy Mathewson and Joe McGinnity won all four Series games with shutouts. Consider them the forefathers to the Big Four more than a century later. This Giants' title bore a striking resemblance to the first: Pitching was made cool again.