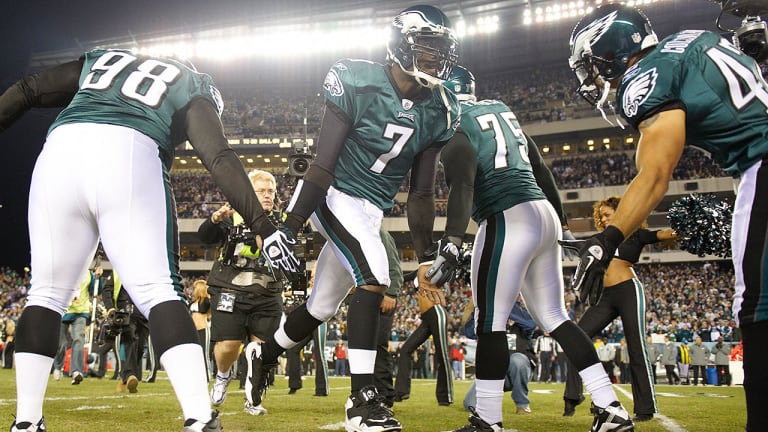 Is It O.K. to Cheer?
Admit it: You can't turn away. The rebirth of Michael Vick—the most compelling story of the 2010 NFL season—is forcing the league and its millions of fans to confront uneasy questions about crime, punishment and personal redemption
The Michael Vick story? Everyone has a version these days. The young teammates who grew up pretending to be him, the old coaches mesmerized by his jaw-dropping talent, the faithful raving about his big heart? Click on any sports channel. The skeptics recounting the failed drug test, the raised middle fingers, the tricked-out water bottle, the Ron Mexico nom d'amour? Turn on talk radio. Those who will never forget that Vick illegally bred, tortured and killed fighting dogs with those oh-so-gifted hands? Yes. Everywhere. They're all at it again.
Now that his comeback has taken on a seemingly unstoppable momentum, the Michael Vick story has become the irresistible talking point, refreshed each Sunday, refusing easy answers, touching on nearly every theme under the American sun. Take your pick: His pivot from inmate 33765-183 to Philadelphia Eagles superhero is about the public's ability to forgive or its jock-sniffing blindness or its short memory. It's about man's ability to change or to lie, paying one's debt to society or getting away with murder. It's the triumph of greed over principle, or mercy over horror. It's about loaded words like gullibility, redemption, fame and trust.
What you won't hear much, at least as long as the 30-year-old quarterback keeps piling up wins like the Eagles' 27–17 victory over the New York Giants on Sunday night, is how the Vick story is also about stupidity and gut-jangling fear. Because Vick's own version is earthier, far less conceptual, than most, featuring a snarling confrontation that he was sure would end this latest, triumphal chapter before it even began.
At around 2:30 a.m. on June 25, Vick sat clutching his weeping fiancée in a Virginia hotel parking lot, mind ticking off the new loaded words about to hit the airwaves—argument, co-conspirator, gunshot wound—and thought, My God. This is about to be a disaster.
"I knew it," Vick says. "I was done."
Hadn't his mother warned him? And all because of birthday cake.
The Michael Vick story? It can also be just about football. For a short time, for three or four hours even, it can be what it was when the Eagles played the Washington Redskins in the rain on Monday night two weeks ago: a cartoonish romp, a celebration of unstoppable skill, maybe even a quantum leap. Vick was so insanely good that night, leading the Eagles to touchdowns on their first five possessions, that it's impossible to name the highlight. Vick flicked his wrist on the first play and hit DeSean Jackson 63 yards on the fly for an 88-yard touchdown; he lofted a 48-yard strike to Jeremy Maclin that had a margin of error of about an inch; he ran for two touchdowns, casually turning the corner on the Redskins' fastest players and making them look slow. "Unbelievable," Hall of Famer Mike Ditka would say a day later. "Like a man playing with boys."
Still, though he crafted three quarters of astonishing athleticism, that wasn't the night's revelation. Spectacular for Vick is nothing new. "Nothing he does surprises me," said Jim Mora Jr., Vick's coach for three years in Atlanta and now an analyst for NFL Network. "I've seen it." What's different now is Vick's discipline, the control he wields over the offense and himself.
"He's better than what he was before all that stuff went down, a helluva lot better," says Eagles defensive end Trent Cole of Vick's two-year exile from the NFL. "His skills improved; he's very keen; he knows when to throw the ball away and when to run. There was all that jawing: They said he couldn't get the ball downfield and wasn't a pocket quarterback. But the man has paid his dues and come a long way. He's getting it done."
There was one moment, midway through the third quarter against the Redskins, when Vick's football maturity revealed itself as a weapon nearly impossible to defend: On third-and-goal at the Washington three-yard line, Vick found the pocket collapsing, stepped left, pumped, scrambled right, reversed himself and then, for just a split-second, did something shocking. He stopped dead, planted. Wide receiver Jason Avant was watching from the back of the end zone: The Redskins were prepared for the usual scrambling pass or a bullrush to the end zone, anything but this—and they froze like rabbits in a viper's gaze. "They just ... stopped," Avant said. Now Vick sighted him. His fourth touchdown pass, a rocket through the Washington statuary, looked as if it could have cracked a rib.
It was, all agreed, a transformative performance, up there with anything Unitas, Montana, Marino ever produced: Vick finished 20 of 28 for 333 yards and a career-high passer rating of 150.7, and added 80 yards rushing to pass Steve Young for second all time on the career QB rushing list, prompting Young, the normally prosaic ESPN analyst, into a full-on Johnnie Cochran. "We saw the full fruition," he said, "of the position." The Hall of Fame requested Vick's jersey. Media, fans and teammates had their come-to-Jesus moment: Vick had single-handedly put Philadelphia in the Super Bowl conversation and himself firmly in the MVP debate. Asked, if only out of politeness, about the Eagles' defense against Washington, Philly cornerback Dimitri Patterson batted the question away: "We got Michael Vick. We got Michael Vick. That's all I'm going to keep saying. Amazing. Magnificent. He's playing out of his mind right now. The guy is going as good as any quarterback in the league. Bottom line: He's in his prime, he's showing it, and it's a beautiful thing."
That Vick has 11 touchdown passes, no interceptions and a career-high 62.8% completion rate and leads the NFL in passer rating at 108.7 is good news in Philly. So is the fact that Vick survived a ferocious Giants rush on Sunday at Lincoln Financial Field in Philadelphia, ran for one touchdown and just skirted defensive end Osi Umenyiora's outstretched fingers to launch the fourth-quarter, fourth-down, game-winning pitch to LeSean McCoy that put the Eagles alone atop the NFC East at 7–3. That he is texting friends he's going to get better is bad news for opponents. But his can only be a football story until the game ends, and that presents the league—and the public—with a thorny problem.
The Eagles' last two games were much-hyped events, and Vick's rise will continue to boost ratings. But in a season of middling teams, few breakout players and the numbing travails of Brett Favre and Randy Moss, does commissioner Roger Goodell really want the Vick narrative to hijack the conversation, making a convicted felon—a man many believe is a sociopath—the new face of the NFL?
As long as Vick remains healthy it may be inevitable. Because, really, who's not going to pay attention? The Vick paradox is simple: You can't look away from the beauty, and you can't quite forget the brutality. His game is rivetingly kinetic, and now that Vick's commitment to football is making itself evident, it's impossible not to wonder how good he can be. Yet his infamous stewardship of the Bad Newz Kennels created a discomfort that has endured longer than the usual distaste for bad actors. On Thursday, Goodell stopped in Philadelphia and, 14 months after he lifted Vick's playing ban, spoke of the "message" behind Vick's rebound, the "lessons" to be learned. "We need our kids to see that kind of success story," Goodell told The Philadelphia Inquirer. "This young man has turned his life around, and he's going to contribute." But Vick's tale is not that tidy, and it's far from finished.
It wasn't even halftime of Vick's Monday-night rampage against the Redskins when Arizona Cardinals defensive tackle Darnell Dockett tweeted, "Vick doing so good, he got dogs cheering for him." Afterward Jackson, the Philly wideout, said the pregame Eagles had been "like pit bulls, ready to get out of the cage," and the snickering hasn't stopped yet. The next morning a New Jersey woman hit the streets with her bulldog in a shirt that read MICHAEL VICK: NEVER FORGET. The Eagles signed Vick in August 2009, an unpopular move that they are still defending.
"I'm proud we were the team that gave him a second chance," says Eagles owner Jeffrey Lurie. "I think the country is really built around this. It's an important principle. Because he served his time. If he didn't serve his time? There's not a chance in hell we would've done this."
Even Vick's actual 19-month prison term is hardly a thing of the past. Off the field, of course, he must follow the prescribed dictates of his probation. (Among them, to the dismay of one of his daughters, he is not to "engage in the purchase, possession or sale of any canine.") But it's a daily factor onfield too; to hear him tell it, Vick would not be the new, spongelike student of the game, the one watching extra film and doing extra work, if he hadn't been locked up. He'd been a classic last-in, first-out locker room presence before that, skating by on talent alone, his car littered with unwatched game film, living "a lie," as he told Mora in their extraordinary exchange last month on NFL Network, "everything from A to Z." Only prison forced him to change.
"That's the truth," Vick told SI last week. "I had to go through what I went through to be where I am now. I find myself in a position where I'm willing to listen; I've got coaches who are going to coach me regardless of what or how I feel. If I've got an attitude one day, or not just feeling it at the moment—I'm going to get coached, and they don't care: You step on that field, you better be ready. And I respect that to the fullest. It brings out the best in me."
Which may be, in the end, the most disturbing idea of all. Because if Vick is poised to challenge Tom Brady or Peyton Manning as the best quarterback in the game, it represents no small shift. There's a cultural heft assigned to the NFL's premier quarterback, the same kind of iconic significance once piled upon Mercury astronauts or Yankees centerfielders. And the implication here is simple. People speak of being conflicted about watching Vick, hating his crime and loving his game, as if the two can be separated. They can't. Think about it: Can it be that only hard time, earned by vile acts, made Vick the player he is now? For Vick to touch greatness, did dogs have to die?
As long as he keeps playing, and winning, those questions and that uncomfortable sensation aren't going away. We're seeing something special now but have no choice except to hear, amid the highlight banter and the roaring crowd, a sound rise as if from the cellar. The scrape of tooth on bone: It, too, is part of every wondrous pass, every perfect decision Michael Vick makes.
Had he changed? That was the question when Vick was released from Leavenworth and into house arrest in May 2009. Shortly before that, former Colts coach Tony Dungy, who had agreed to mentor Vick, met with him in prison for three hours. Vick spoke of how he wanted to be a good father for his three children, a better man for all the kids who once idolized him. He also told of how, given the chance, he intended to push himself, maximize his talent, for the first time. "He was very confident he could be a better player this second time around," Dungy told SI. "I wasn't sure; I didn't see how after two years off he could be better. But he was right."
Vick had plenty of motivation to show the world a new side. He needed a job. Once he had been the NFL's highest-paid player, but now his coffers were drained by mismanagement and his support of at least seven family members, including his mother, Brenda Boddie, and brother, Marcus, and the endgame combination of staggering legal fees and loss of income. In 2008 he declared bankruptcy. He reportedly still owes creditors $20 million.
But Dungy was convinced of his sincerity, as were Mora and Dan Reeves, Vick's first coach in Atlanta. And when Eagles coach Andy Reid phoned Dungy that spring to ask, "Do you think he's heading in the right direction? Do you think his heart's right?" Dungy told him, "Andy, I really do think so."
The Eagles weren't the most likely fit: Reid already had a superb starter in Donovan McNabb and an heir apparent in Kevin Kolb. But aside from Vick's obvious physical assets, Reid had his reasons. Both of his sons, Garrett and Britt, had been battling drug problems for years, and Andy had spent every Thursday for two years visiting them in prison. He had seen all kinds of cons in drug court and rehab: people making excuses, blaming the world. He'd seen others sincerely willing to change but often met with coolness or hostility. Garrett and Britt, though, were given jobs, support from other families. Reid's eyes still well up in gratitude. "I know what it's like to have young people who make mistakes and feel they've changed, and no one gives them a chance," Reid told Dungy. "I don't want to be that way. If that guy has changed and is looking for a second chance, I want to do it."
Still, over the summer of 2009 Reid didn't rush with the idea to his bosses. He made more calls. He gave Vick time to build a résumé: working construction, giving cautionary lectures for the Humane Society, staying straight. He asked Britt if he'd be "crazy" to bring Vick in. "You've got to talk to him," Britt said. "You can talk to all these other people, but that doesn't matter. You've got to talk to him, see if he's in that frame of mind where he's saying, 'I'm done. I'm going to do whatever it takes.' "
Several conversations with Vick convinced Reid. Lurie, a supporter of animal rights who displays a gallery of social heroes—Rosa Parks, Jonas Salk, Martin Luther King—rather than football players in the Eagles' front-office lobby, was the biggest hurdle. First told while vacationing on Martha's Vineyard of Reid's hope of bringing Vick to Philly, Lurie asked his friend Vernon Jordan, the noted civil rights leader, if he thought Vick deserved a second chance. Jordan's response, Lurie says, was, "F-----' A he deserves a second chance."
In August the Eagles quietly flew Vick into Newark, not Philadelphia, and his fiancée, Kijafa Frink, drove him to Lurie's Philadelphia home for a six-hour meeting. Lurie, owner of two dogs—one a Great Pyrenees rescued from abusive owners—watched Vick take his grilling about his upbringing and "heinous" acts. He watched Vick, who discovered chess in prison, challenge and then lose to his 14-year-old son, Julian, a former tournament chess player, in a 90-minute battle. He left for that night's preseason game convinced.
"I felt he understood how horrible that culture he participated in was," says Lurie. "It wasn't just what he lost." Yes, Vick had every reason to be at his humble best. "That was the judgment call: You didn't know," Lurie says. "Of course he could say all the right things. That's why I tried hard to read his eyes and expressions. You can read someone's genuine empathy or warmth or regret; it's hard to fake. Even the best actors you can see through. I could really see an amazing regret, a terrible regret."
There were, to say the least, skeptics. Word of the impending deal leaked during the second half of that preseason game, and one of Lurie's closest friends, a prominent animal activist who'd been sharing fall Sundays in his owners' suite for years, turned to him, aghast. "How can you bring in somebody who tortured animals?" she said. She hasn't been to an Eagles game since. The team's front office was deluged with protests and hate mail, but as the 2009 season progressed and Vick proved to be a diligent, if unimportant, third-string player, the furor faded.
Yet as the 2010 off-season unrolled, one key figure still wasn't convinced: Vick's mother. He had made $1.6 million in his first season in Philadelphia, and last March the Eagles exercised the $5.25 million option for 2010, with about one third of that guaranteed. Vick began making the rounds near his house in Virginia, staying out late, hosting parties with Marcus, putting himself out there where faces from his darker days could emerge. Brenda didn't like it. "I let her down so many times," Vick says. "Everything that ever happened, the reasons I ended up on ESPN in a negative light? She always told me, 'Stop doing it.' I never listened.
"She told us to stop having parties in February of this year. Kept doin' it. Kept doin' it. Kept doin' it, kept getting by, kept getting by, doin' them quietly. Then: boom."
With Vick's 30th birthday approaching on June 26, Brenda and Kijafa wanted to celebrate with a private, invitation-only party. Instead Vick decided to back his brother's bid to host an "All White 30th Birthday Bash," at $50 a head, announced through Twitter. "Open to the public," Vick says, "make some money." And Brenda huffed again, "You don't ever listen to me."
Vick and Kijafa, the mother of his two daughters, arrived at the Guadalajara restaurant in Virginia Beach about 12:45 a.m. on June 25. The plan was for them to have a couple of drinks, sing Happy Birthday and leave. But when Kijafa thought it'd be cute to smear cake on Vick's face in front of some 400 people, his temper flared. Then up stepped Quanis Phillips, Vick's codefendant in the dogfighting trial. Phillips grabbed the cake and shoved some into Vick's face too. Bad enough that probation, not to mention Image Management 101, bars the two men from being in each other's company. But to insult him in public?
Vick blew up. "Q, what are you doin'?" he said. Vick says the moment never got physical but entailed plenty of "strong" words. "It was just cake," Vick says. "But still, it was embarrassing for me. And my pride just got in the way. But I kept thinking, I just got to go. I need to go. In my younger days we would've been fighting, but I let it go. It took a lot to let it go, but I did it."
Vick grabbed Kijafa and they drove off. Fifteen minutes later he received a phone call saying that Phillips had been shot in the leg at a nearby parking lot, two minutes after Vick's departure. Kijafa burst into tears, apologizing. Vick called his lawyer. The couple barely slept, Vick sure he'd blown his chance one minute (hadn't Goodell and Lurie vowed he would have no margin for error?) and hoping for reprieve the next (didn't he leave when things went crazy?). Separate league, team and probationary investigations would later back Vick's versions of events, and the police dropped the investigation because of a lack of cooperation from witnesses and Phillips. But at the time Vick's future looked grim.
The next 24 hours were wrenching. Vick had to face kids at a football camp he'd been hosting at Hampton University, kids he'd been telling to live the right way. Burning with shame, he cried going in and coming out. Vick steeled himself to call Reid, whose explosion left him blistered: "You shouldn't have been in that environment.... You shouldn't have been out after 12.... I don't know where this is going to go." Vick then dialed Dungy but lasted only five seconds before hanging up in tears. The next call? It should have been Goodell. Vick didn't dare.
"That was so disrespectful," he says. "I should've been man enough to pick up the phone and say I'm sorry. But I was tired of saying I'm sorry—to everybody. You know? It was old. Look: no more excuses for anything. That was a bad situation. Somebody got shot. And I'm just getting out of prison; I'm still on probation; I just got reinstated into the NFL; and this is my first off-season—and this happened? I was ready to deal with whatever consequences I had to deal with, man. Because I was just ashamed, and I knew I was wrong."
Then came his mom, the absolute worst, laying into Michael and Marcus at Vick's Hampton, Va., home.
"I'm sitting on the chair crying, looking all crazy in the face," Vick says. "My brother, he's sitting there, he ain't got no expression on his face because he ain't going through what I'm going through. I'm going through something totally different: I know what I want in life. I'm sure he do too, but I love the game of football. I know what I can do on the field and what I can provide for a team. That's where my heart's at, and it would've killed me to have that taken away. And I could just see in her face, she was tired. She told us it was embarrassing. She wanted to disown us. That's what she told me: She wanted to walk away. She's like, 'You went to prison for 19 months, and you come out and you still ain't listening....'
"Right then and there I told myself, I am changing my life. I'm going to do everything they ask me to do. I'm getting myself away from this madness."
Vick got help with that, a nudge that's rippled out to rework the fabric of this NFL season. Because everyone credits Vick's work ethic from last summer—extended workouts, sessions with Eagles offensive coordinator Marty Mornhinweg, extra film work—as the foundation for what came next: the McNabb trade, Vick's startlingly high level of play after taking over when Kolb went out in the season opener with a concussion, what's happening now. None of it might have occurred if Phillips hadn't been shot and Vick's probation officer, on the day after Vick's birthday, hadn't ordered him to leave Virginia and plant himself in Philadelphia.
"That was the best thing," Vick says. "I came here for myself time. I was able to get into the playbook and start studying. It was time I needed, time I wouldn't normally have spent doing that. So everything happens for a reason. It's crazy, man. It's so unreal how God works."
Has he changed? That's the question haunting Vick still. Out of a tunnel he emerged on Sunday night, wreathed in smoke for the pregame introductions, palms pressed together in the classic steepled expression of prayer. He crossed himself, heard his name called, ran onto the field in Philadelphia amid loving cheers. Was it just a show? Two days before, Vick was sitting in an office at the team complex, detailing his summer's error and shame, how he cried that one day more than his entire time in prison. "More so the reason why I feel so blessed now," he said. Was it just words?
He has heard the speculation: Mike's a free agent at the end of this season; Mike needs to say the right things; Mike's broke. He chuckled. "Mike ain't broke," he said. "But that's what people say, yeah. I don't think me saying the right thing is going to get me a new deal or contract. It's all about my play. It's all how you conduct yourself as you play well. I don't have to put on a front around anybody. Everybody knows my personality."
That's not true, of course. For strangers eyeing the few clues—a scattering of star tattoos on his neck, the Superman inking on the back of his right hand, the walk your talk! sign in his locker—and listening to his raspy voice, there's a spring-loaded air about Vick, a sense of command or laughter or fury held in check. It's not hard to visualize, when teammates speak as they did after Sunday's win, of him snapping at his offensive line, the entire offense, for leaving him exposed and dropping passes and committing penalties. "He was really angry about it," Avant said. But after Avant coughed up a pass in the end zone against the Giants, Vick also said, "I'm coming back at you. I believe in you."
Knowing when to slap and when to massage, after all, is a leader's job, and Vick's place in the Eagles' locker room, much less among his peers around the league, is unquestioned. It's striking: You'd be hard put to find many athletes, including his opponents, who aren't rooting for him to succeed, and the fact that many are black men, out of hardscrabble places touched daily by crime and the prison system, is no coincidence. It's too soon to say whether Vick's case will, like the O.J. Simpson verdict, reveal a black-white divide, but Lurie was struck by the scene: In Martha's Vineyard, after endorsing the move, Vernon Jordan then turned to the room filled with, as Lurie puts it, "well-known African-Americans" and said, "What do you guys think? Does Michael Vick deserve a chance to get back in the NFL?" The answer, Lurie says, "was like a rallying cry."
"We look up to him," Avant says, speaking for the locker room, black and white. "The Bible says, 'The righteous man falls seven times but he gets up again.' He's getting up and trying, and it's helping him and helping our team. Guys look at him not as a quarterback; we look at him as an inspiration. We look at him as a guy who has been through hell and back—and he's conquered it."
Vick won't go that far. He's no longer the kid sure he could get away with any transgression. Friends say he seems "free" for the first time, unburdened by the distractions of hangers-on and activities he couldn't resist, but there's also a liberation that comes when the worst has come and gone. The world knows all the bad things Vick has done, yet he's still alive, admired, still able to make a living and play a game he loves. But he tells himself that he's one misstep away from losing it all.
"Every day is a challenge," Vick told SI last week. "Still. Right now. And it will probably be that way next year and the year after. So nothing's going to change. That means I've got to change."
Can he stay out of trouble? The more Vick wins, the higher the stakes rise. The more fans buy in. The more cynics say it's a con. The more viewers find themselves forced to take a stand, to comb through questions about race or justice or, God knows, the mystery of human nature. "You hope," Vick says, and maybe it's just a figure of speech. But it's true. We, watching, are a part of it. The longer it continues, the better it gets, the more the Michael Vick story becomes about us.