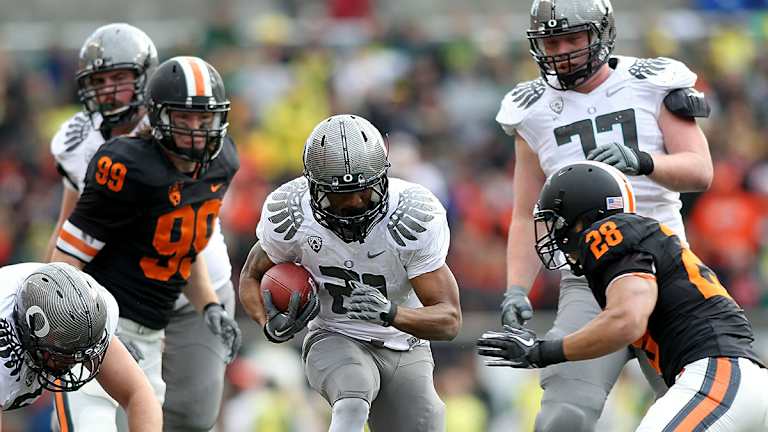 Racing to Arizona
Oregon dashed by its Civil War rival while Auburn romped to the SEC championship, setting up the fast-paced, high-scoring national title matchup that everyone (including BCS bashers) wanted
There was Phil Knight, the chairman of Nike, the Sultan of Swoosh, his customary reserve replaced by a luminous smile. The 114th Civil War had been history for 20 minutes. In keeping with the mantra of its coach, Chip Kelly, Oregon had "won the day," beating Oregon State 37--20. In so doing, the Ducks ran their record to 12--0, earning the right to play for the first national championship in the program's history.
What had Knight, an Oregon alum and benefactor, thought of the game's signature play, a preposterously daring fake punt dialed up in the third quarter with the Ducks on their 28-yard line? At the time Oregon was nursing a nine-point lead; there was no need to take a risk. Surely, with so much on the line, the moment called for caution, conservatism, right?
"That ain't the way we play," observed the chairman, who set down the items he was carrying, then pantomimed the act of juggling a pair of pendulous objects.
"You know how the cheer goes in our student section," he said. "Big balls Chip!"
Don't feel conflicted, BCS haters. It's O.K. to love this No. 1 versus No. 2 matchup—Auburn versus Oregon—in the championship game, even as you loathe the system that delivered it. How much fun is the BCS title game, on Jan. 10 in Glendale, Ariz., going to be?
Unless you have a closet full of purple and attended a certain school in Fort Worth, Texas—condolences, again, to 12--0 TCU—you've gotta love this matchup. Neither team has played for a BCS championship (though Auburn did win the 1957 national title), and in their 100-plus-year histories they have never faced each other. The game will pit the winner of the underrated Pac-10 against the champion of the strongest, deepest (and smuggest?) conference in the country, the SEC.
It will be an orgy of offense—"a heck of game," says South Carolina coach Steve Spurrier, whose Gamecocks were smoked 56--17 by the Tigers in last Saturday's SEC championship tilt. "Might be 60 to 55."
On one side you'll have Kelly, he of the prodigious pelotas, architect of the Ducks' turbo-charged attack, which leads the nation in scoring offense (49.3 points per game), is second in total offense (537.5 yards per game) and rattles off plays so rapidly that opposing defenders occasionally faked injuries this season just to catch their breath.
On the other side there will be Auburn offensive coordinator Gus Malzahn, whose wire rims and modest, folksy manner disguise the mad genius within, and call to mind Flaubert's advice to be "regular and orderly" in your daily life "so that you may be violent and original in your work." You want original? How about a modified Statue of Liberty play, followed by a fumblerooski, on the Tigers' first drive against South Carolina.
Remember the last Super Bowl? People wanted to give Saints coach Sean Payton a Bronze Star for calling an onside kick against the Colts. To Auburn and Oregon an onside kick is a trifle, a bagatelle.
The way he nervelessly rolls the dice on huge stages, the 45-year-old Malzahn might as well still be coaching at Springdale (Ark.) High, where he won a state title in 2005 before bringing his brand of innovation to the college ranks. The man who popularized the Wildcat formation and wrote the book on the no-huddle offense (it's titled The Hurry-Up, No-Huddle: An Offensive Philosophy) also has a penchant for understatement. After noting last Saturday that the Tigers are dangerous on the ground and through the air—"South Carolina rolled their safeties down to stop the run, so we threw the ball"—Malzahn made this observation: "We're flexible. And it doesn't hurt to have Cam."
No, it doesn't hurt to have the most dominant college football player not just of this season, but of any season in recent memory. Quarterback Cam Newton, a junior, put a capstone on his spectacular first—and likely only—Auburn season last Saturday in Atlanta, accounting for six touchdowns and 413 yards of total offense (a career-high 335 through the air; 78 on the ground). Given the magnitude of the moment, it was, quite simply, college football's top performance of the year, and one that displayed all his talents. He threw gorgeous deep balls, including a 62-yarder to wideout Darvin Adams on the game's second play. He alternately beat defenders around the corner and bowled them over, such as on his second touchdown run, when he deposited 201-pound linebacker Tony Straughter on his keister.
The moment the final whistle blew, Auburn's offensive linemen carried the 6'6", 250-pound Newton off the field. Then, for the first time in more than a month, Newton addressed the media. He was flanked by coach Gene Chizik and Auburn associate AD Tim Jackson, who whispered in the quarterback's ear like a lawyer during a deposition.
Newton was nothing if not disarming, noting that it had been a year to the day since he'd led tiny Blinn College of Brenham, Texas, to the junior college national championship. "It's a wonder what God can do in a person's life, in such quick fashion," he said.
He and Chizik made repeated mention of the Almighty's beneficence in helping Auburn get to Glendale. While it remains unclear whether God is a Tigers fan, this much is certain: All of us are going to a better place if He is as merciful as the NCAA's reinstatement staff.
Five days before the SEC title game the NCAA informed Auburn that a violation of amateurism rules had taken place. The NCAA's investigation determined that Newton's father, Cecil, had offered his son's services to Mississippi State late last year for up to $180,000 in a pay-for-play scheme. Auburn declared its quarterback ineligible—and ineligible he remained, for all of 24 hours, until being reinstated by the NCAA, which did not have evidence to indicate that either the son or the school knew of his father's illicit conduct. ("I've done nothing wrong," Cam declared at that press conference. The investigation is ongoing.)
For their part, the Tigers were overjoyed at the passing of a cloud that has followed them since early last month. "It was such a relief for all of us this week to have the NCAA come out and say he's eligible to play," says right guard Byron Isom. "You could see it in Cam's eyes that he was really ready to go today. He's so special. He's taking us to the Promised Land."
To reach there, the Auburn defense will need to slow an offense whose normal tempo is best described as hyperspeed.
Oregon right tackle Mark Asper was on the phone with his insurance agent earlier this season, and he was hot. If he took out some life insurance, he'd been told, he would get a discount on his car insurance. A 25-year-old junior who had been on a two-year Mormon mission, Asper is married to Michelle, who is due to deliver their second child any day. Sure, he said, I'll sign up for some life insurance.
He was weighed and measured. The insurance company took his blood and blood pressure. As an elite athlete, Asper was told, he would almost certainly qualify for a discount.
"Sweet!" declared Asper, who was then disappointed to get a letter informing him that he'd been placed in a higher-risk pool. The policy writers, it seemed, had seen his size and, based on that alone, judged him to be ... less healthy. Upset, he got his insurance agent on the phone, complaining, "I'm the most physically fit 6'8", 320-pound guy you've ever met!"
He and his linemates are in superb shape. They remember when Kelly arrived from New Hampshire as the offensive coordinator in 2007. That spring, the Ducks pushed the tempo as they never had before. "After that," recalls left guard Carson York, "every time we opened a new camp—spring or fall—Chip wanted us to be faster."
The spring of 2008 was even more miserable for the big uglies. There were only eight of them in camp, and Kelly ramped up the speed dramatically. "The next fall was faster," says right guard C.E. Kaiser. "Last [fall] was faster than that, and this fall was even faster."
They don't do wind sprints or conditioning drills during the season. "Practice is the conditioning," says offensive line coach Steve Greatwood, who never fails to smile, he admits, when an upcoming opponent vows to do "extra conditioning this week" to get ready for the Ducks: "If it's not there already, you're not gonna get it in four days of practice."
The Oregon O-linemen still remember the ragged breathing and desperation of Washington's defenders on Nov. 6. Driving for their final touchdown in a 53--16 rout, Oregon ran the same play, an inside run, nine times in a row. Having picked up the Ducks' signals, "They knew it was coming," Asper recalls. The Huskies kept gasping, "Same play! Same play!"
"They knew what was coming," agrees center Jordan Holmes, "but we were running it so fast, and they were so damn tired, they still couldn't stop it."
"We were exhausted," allowed Washington coach Steve Sarkisian.
Give his guys credit: They didn't flop. Arizona State, Stanford and Cal have all had players feign injuries in order to slow Oregon's tempo, which, at its quickest, averages one play every 17 seconds.
Bad news for Auburn: "We can go faster," says the 47-year-old Kelly, who invited Paul Westhead to speak to the team during the preseason. Now the coach of the women's basketball team in Eugene, Westhead gained renown for directing the Lakers to an NBA title in 1980. At Loyola Marymount, from '85 through '90, he became known as the Guru of Go for his team's relentless running.
"Anyone can run the fast break for 10 or 15 possessions," Westhead recalls telling the football team. "It's when you do it 70 to 80 times a game ... that's how you crack the opposition.
"Look at how they're outscoring teams in the fourth quarter," Westhead said. "It's some crazy number [115--24]. That's a prime example of how the pace of the game can crack an opponent. At this point Chip's teaching me how to play fast."
In the Civil War, Oregon was less crisp than it has been. "We didn't have a great game," said Holmes. "We were sloppy. Lots of turnovers [two], lots of penalties [10 for 61 yards]. Gotta clean that up for the next one."
On this admittedly "off" day, Ducks tailbacks Kenjon Barner and LaMichael James rushed for 145 and 136 yards, respectively. The team's third-leading ground gainer, linebacker Michael Clay, racked up his 64 yards on one scintillating play—that fake punt midway through the third quarter.
Beavers cornerback James Dockery described himself as "not surprised" by the call. "That's just their personality," he said. "They're trying to kill you."
Clearly, the kid can take care of himself. Yet to ensure that he was not waylaid by any rogue scribes with unwelcome questions on such topics as boosters and payment schedules, Cam Newton was escorted from the locker room to the postgame press conference by six police officers. "We're going to stay away from those questions right now and stay football-related, please," Chizik told a reporter, "with all due respect."
The coach describes Newton as "probably the best football player I've ever seen"—with all due respect to Vince Young. Chizik was the defensive coordinator at Texas in 2005, when Young capped a great season with an extraterrestrial performance in the Longhorns' BCS title game upset of USC.
Oregon will have five weeks to jury-rig some way to contain the most dangerous man in college football. It's not Mission: Impossible. The Ducks' D is resilient, opportunistic and underrated. Oregon finished the season ranked a highly respectable 14th in scoring defense (18.4 points per game) and 24th in total defense (331.6 yards per game). The more telling stat: Its 35 takeaways were second in the nation.
"That's pretty good," noted Ducks defensive coordinator Nick Aliotti, who was struck, halfway through a lite beer and in the midst of a Civil War rehash, by the enormity of the moment.
"Are you kidding me?" he said. "We're the University of Oregon, we're 12--0, we're back-to-back Pac-10 champs, and we are going to the natty!"
Aliotti is a 35-year coaching veteran and one of the most upbeat, gregarious guys in his profession. He was damned if he wasn't going to enjoy this moment. The best way for him to do that? "I'm not thinking about Cam Newton tonight."