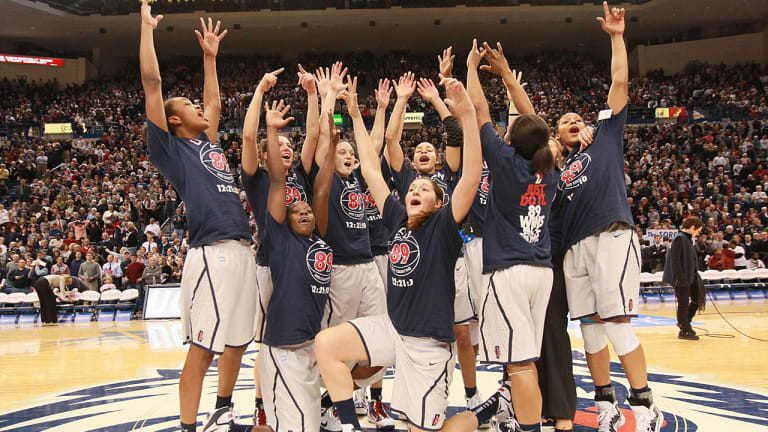 The Nutmeg Dynasty
Basketball is serious business for Maya Moore and her Connecticut teammates, who need just three victories to surpass UCLA's 88-game winning streak
A few days before she became Connecticut's leading scorer, Maya Moore listened self-consciously as her sophomore teammate Kelly Faris went off on a compliment rant. "Maya does everything," Faris said. "She's a great player. A great person. A great leader. We're going to miss Maya so much when she's gone." You know—all the usual stuff about the 6-foot senior forward who is already a three-time All-America and Academic All-America and a two-time player of the year, a young woman so poised and grounded that she might consider politics when she's finished with what should be a fruitful WNBA career.
When Faris was through, Moore pulled out a tissue, dabbed at her eyes and handed Faris a five-dollar bill. "I thought it was supposed to be 10," Faris said with a straight face.
The UConn women need a touch of levity from time to time, because, man, this team is as serious as root canal. Junior shooting guard Tiffany Hayes insists that the Huskies have fun away from prying eyes, particularly in prepractice shooting games of "two-up." But UConn generally comes across as a team that practices seriously, warms up seriously, plays seriously and (with some exceptions) interviews seriously as it pursues one serious milestone. A routine 86--32 win over Sacred Heart on Sunday afternoon in Hartford—during which Moore scored 17 points to pass center Tina Charles (2,346) on UConn's alltime list—was the Huskies' 86th in a row, leaving them three short of surpassing the 88 straight won by UCLA's men's team between Jan. 23, 1971, and Jan. 19, 1974.
And if UConn indeed wins the record 89th on Dec. 21 against Florida State, you will hear some serious braying. Women's basketball is weak. UConn doesn't play anybody. They have so much talent that they just roll over their opponents. Bryant Gumbel, the host of HBO's Real Sports, has already brayed. Following Frank Deford's recent segment on UConn coach Geno Auriemma, Gumbel looked as if he had eaten a bucket of bad clams as he begged his viewers not to compare UConn's accomplishments with UCLA's.
That slight was not taken lightly in the Nutmeg State, where Huskies of both genders are treated like royalty, and even less lightly in the Auriemma household, where male Auriemmas are exalted. "Watched the HBO interview again just to make sure I really believe Bryant Gumbel is an epic douche," tweeted 25-year-old Alysa Auriemma, who is, plainly, her father's daughter.
Comparisons across gender and time are both invidious and impossible, but let's be clear about a few things. UConn can beat only the teams on its schedule, and it always seeks out the best. UConn has beaten 29 ranked opponents (including 16 in the Top 10) by an average of 24.6 points during the streak, which isn't a great deal less than its overall victory margin of 32.3. UCLA beat just 10 Top 10 opponents during their run. The streak, which began with the first game of the 2008--09 season, includes 12 victories in the NCAA tournament and six in the conference tournament, perennial stumbling blocks even for great teams. Winning 10 straight in Parcheesi is difficult; winning more than 80 in a team sport is mind-boggling.
But if the Huskies finish a third straight season unbeaten, with a third straight NCAA championship and a winning streak of 117, they will not have accomplished it with a superb team. UConn is very good, of course, and barring injury, Moore (who was averaging 23.4 points and 7.3 rebounds at week's end) will probably win her third Wade Trophy as the country's top player. But the Huskies are fortunate to have beaten Baylor, the nation's No. 2 team, 65--64 in Hartford on Nov. 16, and lying in wait is sixth-ranked Ohio State at Madison Square Garden on Dec. 19.
Opponents may roll their eyes at the Huskies' "question marks," but that doesn't make these any less real. UConn lacks depth (the rotation is eight right now), experience (Moore and Lorin Dixon are the only seniors, and three freshmen are being counted on heavily), a consistent interior game (Moore favors jump shots over post-ups) and, for that matter, a consistent perimeter game (Hayes has been "struggling a little" from the outside, she admits, hitting just 24.4% from beyond the three-point line).
"I wouldn't use the word easy to describe the last two years," says assistant coach Shea Ralph, who captained the Huskies to the national championship in 2000, "but we were a well-oiled machine with multiple options. This year, sure, we have Maya, but we're still searching for consistency in our identity."
In other words, they're trying not to be Maya and the Mayanaires. Consider: The '09 title team had the country's best player at each position (Moore at forward, Charles at center and Renee Montgomery at guard), and the '10 titlists got 37 points and 18 rebounds per game just from Moore and Charles, a statistical kick-start in any game. "The last two years we had a ridiculous group that was supercommitted," says Moore. "Now, with so many new faces, we have to reestablish and recommit to stay ahead of everybody. A tougher road lies ahead."
And a small army of victims lies behind. One hopes that the UConn players understand how blessed they are, but perspective probably won't come until later, perhaps when one of them is mired in a .500 WNBA season or another is struggling to make a go of it overseas. For now, losing is something that happens to the Other Guys. Hayes had put on her UConn uniform 86 times through last Sunday and never lost; the number for Faris was 47. At least Moore is able to conjure up a memory of losing. "Stanford, Final Four, 2008, right here in this city," she said last Thursday, hours before a game against South Florida at the Sun Dome in Tampa. (USF became victim No. 85 as UConn won 80--54.)
Because of either inclination or indoctrination, perhaps both, UConn players do not talk a lot about the streak. "We don't really read or keep up with most of what the media writes," said Moore, as if the streak would not exist were it not mentioned in the papers.
"Are you sick of us?" a reporter asked her.
"I'd prefer to say it's just about keeping our focus where it should be," answered Moore. She gets an A in Handling the Press Diplomatically 101, further preparation for a political career.
Asked if they knew any players in UCLA's streak of the early '70s, Moore and Faris looked as if they had been challenged to name five Hapsburg monarchs. Bill Walton was one, they were told. Two heads nodded in faint recognition. The vibe from Moore and her teammates is clear: What's going on is about us. It's got nothing to do with some guys from California who shot misshaped balls into a peach basket.
Ralph swears that the coaches do not bring up the streak even among themselves. But in Auriemma's quiet moments—yes, he has them—he can't escape the streak's significance. Auriemma was a hard-nosed point guard at Bishop Kenrick High in suburban Philadelphia when UCLA was putting its streak together, and he says he won "lots of money" off his friends betting on the Bruins in NCAA tournaments. "I've always been a fan of UCLA and John Wooden," says Auriemma. "When I got the job at Connecticut [in 1985], I wanted our uniforms to look like theirs, with that stripe down the side. I always thought the repetitiveness of what they did, the fact that they looked the same and played the same every year, was admirable. I wanted that for my teams."
Auriemma delights in telling of his one meeting with Wooden, at a clinic in Palm Springs, Calif., in the late '90s. "It was like sitting down with the Dalai Lama," he says. The meeting didn't make much of an impression on Wooden; a few years later the Wizard of Westwood, while praising the unselfish way the UConn women play, remarked, "I've never met their coach, but he seems like a wonderful young man."
Auriemma laughs heartily and says, "Anytime I hear that Geno Auriemma is a p---- or an a-hole, I say, 'How bad can I be? John Wooden called me a wonderful young man.'"
These days the a-hole side of Auriemma (his own description, Alysa, so go easy on the tweets) comes out mostly when he's talking about his own team. When a reporter singled out 6'5" freshman center Stefanie Dolson for praise after a solid offensive game (16 points on 6-for-8 shooting) against South Florida, Auriemma was quick to bring up her tepid board play. "Three rebounds in 21 minutes—wow," he deadpanned. On the morning of that game Auriemma was asked about the potential of Bria Hartley, a freshman point guard who has scored in double digits in all but one of her first eight games. "Well, Bria slept through shootaround this morning," Auriemma said. "Slept-walked anyway." That night Auriemma started Dixon at the point, though Hartley played superbly off the bench. (She made six of seven shots, grabbed four rebounds and had no turnovers.)
Even Miss Maya, as the elegant Moore is called by John Altavilla, The Hartford Courant's Huskies beat writer, does not emerge unscathed. Auriemma describes her as an "instinctual player" who sometimes makes the right play by accident. To demonstrate, he leaps to his feet and elaborately choreographs the steps of a confused player. "You'll see Maya go down the lane and you know she's thinking, Hmm, I'm supposed to screen someone ... no, not there ... maybe over here. No, that's not right either. Hmm, so maybe I'll just flash to the top of the key and...." Auriemma is clearly enjoying this. "Then somebody throws her the ball and she knocks down a jumper, and the announcer says, 'Man, look how that Maya Moore moves without the ball!'"
That is Geno's shtick, of course, but he has to keep the Huskies grounded. Whenever they face an opponent that has almost no chance of beating them (like most of the teams on their schedule), UConn assistants prepare a scouting report as detailed as the one they prepared for Baylor. "No matter what the game, we have a focus," says Moore. "Make sure the other team doesn't get what they usually get. If they're really good shooting threes, we don't want them to get those off, or if they're really good at getting to the free throw line, we don't want to put them there. It's always about the little things, about being as good as you can be on every possession. It's not about the score."
Another politic response, but accurate nonetheless. The Huskies almost always play with intensity and fundamental soundness. Everybody flashes to the ball, so they rarely get trapped. They play man-to-man defense but double-team and help so energetically that they appear to be playing a matchup zone. They box out so forcefully that opponents' misfires sometimes hit the court, and all of them hit the floor in pursuit of loose balls, after which they rush to help each other up with an urgency that suggests firemen getting victims out of a burning building. They even have a system to help bench players keep their heads in the game. Every season one reserve is charged with springing up and high-fiving the rest of the team after a made three-pointer; this year it's freshman forward Michala Johnson. The net result is a regal team that plays with blue-collar grit.
Indeed, Moore's singular skills notwithstanding, if the Huskies remain undefeated and/or win a third straight NCAA title, it will almost surely not be the result of a scorched-earth rampage to the finish line. Rather, it will be a crusade with stops and starts, a victory of will and endurance as much as talent, a determined pursuit of excellence that—who knows?—might even nudge the dial on the Gumbel Approval Meter.