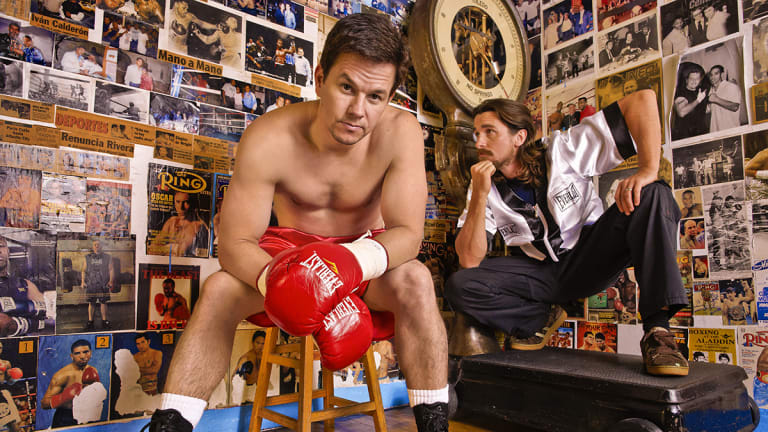 And New Champion ...
Powered by the passion of Mark Wahlberg, The Fighter just may be the best boxing film ever
By now all the dates are blurry. By now Mark Wahlberg has crumpled up too many no-thank-you's and tossed them deep into the bottom drawer of his head. Ask the actor to name all the times The Fighter was rejected, and by whom, and he goes quiet, his eyes turning toward the ceiling. And then he draws a blank. "A lot's happened," Wahlberg wearily tells a visitor, by way of explanation. Which is very true: Over the latter half of this decade a whole chain of seemingly interested movie studios, actors and directors spurned invitations to come aboard Wahlberg's personal passion project, the story of light welterweight contender Micky Ward (page 22). But Wahlberg—a die-hard fight fan who wouldn't have let anyone pry the role of Ward from his cold, dead mitts—just kept inviting, and just kept sparring, and just kept looking more and more like the best light welterweight fighter who's not actually a light welterweight fighter that anyone has ever seen. "No, I'm not punchy," Wahlberg says, jokingly. Then again, by now, he'd have a right to be.
A December sun is setting over Beverly Hills, and Wahlberg is inside his personal gym, perched high above the palm trees of western Los Angeles. His house stands yards away, just uphill, but this 2,500-square-foot white hangar is more or less a second home. There's the regulation-sized boxing ring, stamped with five Budweiser logos, that he installed in 2003; enough exercise machines to conjure the image of a physically fit hoarder; and a couple of black-and-white photos of Muhammad Ali as decor. (Outside, painted with a Celtics logo, is the basketball court on which he used to shoot hoops against opponents like Leonardo DiCaprio.) The answer to why The Fighter took so damn long to make is a complicated one, Wahlberg says, spanning issues of budget (which shrank as the project progressed) and billing (see: budget). But the reason SI now counts the film, opening nationwide on Friday, as the best sports movie of the decade—and one of the best since Martin Scorsese backlit Robert De Niro's Jake LaMotta in Raging Bull 30 years ago—can be traced back to how long it took.
Yes, there are other contenders for such a title. The runner-up, Darren Aronofsky's The Wrestler (2008), garnered Oscar nominations for best actor (Mickey Rourke) and best supporting actress (Marisa Tomei). Million Dollar Baby (2004) swept through the Academy Awards like brush fire, winning best picture, best director (Clint Eastwood), best actress (Hilary Swank) and best supporting actor (Morgan Freeman), with Eastwood nominated for best actor to boot. Just last year there was Sandra Bullock's best-actress Oscar for The Blind Side, itself a fairly middling adaptation.
But none of those films make you care for its protagonists like The Fighter (which came to be directed, at last, by David O. Russell). None of them have a performance as transcendent as Christian Bale's playing Dicky Eklund, Ward's jangly half brother and on-again, off-again trainer and the star of an HBO documentary on crack addiction. And none of them treat its subject matter—in this case '90s-era boxing in Lowell, Mass.—so authentically and with so little pretension. At bottom, The Fighter is the by-product of a sign posted back in a Lowell gym, Art Ramalho's, where Micky and Dicky began their careers and where much of the movie was shot. In big block letters, it is the sort of thought that sits up in the top drawer of Wahlberg's head: THE PERSON WHO REALLY WANTS TO DO SOMETHING FINDS A WAY; THE OTHER FINDS AN EXCUSE.
In the face of harsh numbers, of course, Micky Ward never sought excuses. He was 5'8", a middling 38--13 lifetime, and in 1991, discouraged after four straight defeats, he left the sport altogether for a day job paving roads in Lowell (toil evoked in The Fighter's early scenes). Even his legendary trilogy with the late Arturo Gatti in 2002 and '03—which the big-screen narrative builds toward but consciously does not encompass—ended with two losses. Yet Ward's talent for shrugging off brain-shifting punches, and dispensing incapacitating left hooks to men's livers, cast a spell across Wahlberg's native New England. Ward became a totem for heart, grit and every other cliché that makes sabermetricians and fight fans weep, for wholly different reasons. That he wasn't great on paper was the point.
Wahlberg—who at 18 first met Ward in Boston, when the actor was still a pants-drooping criminal turned rapper named Marky Mark—was one of the most mesmerized. Seven years ago, however, after Wahlberg approached his hero about one day playing him in a movie, he received cease-and-desist letters from the production company that was the reigning owner of Ward's life rights. It was only after a legal battle, on Oct. 13, 2006—one date Wahlberg instantly recalls—that he got a phone call from Brad Weston, the president of production at Paramount Pictures. "They wanted me to read a script," Wahlberg recalls, "about Micky Ward and Dicky Eklund. They had gotten the rights." Wahlberg went home and walked straight into his gym.
Names of other actors soon swirled—Wahlberg would field thrice-weekly calls for updates from Ward and Eklund—but the project did nothing but stall enough times to border on a running joke. Before Russell (Three Kings, I Heart Huckabees) came on board, the director's chair was to be filled by Aronofsky. Then, after Aronofsky dropped out, having made The Wrestler in the interim, Wahlberg asked Scorsese, who told him he liked the script but didn't want to "go back into the world of boxing" after Raging Bull. The first candidate to play Dicky Eklund, meanwhile, was Mark's own brother, Donnie Wahlberg. (Donnie, Mark says, was scratched by Paramount early on for lack of big-name appeal.) Then Dicky became Matt Damon. Then, after Damon was out, it was Brad Pitt. Then, after Pitt was out, Wahlberg ran into Bale, by chance, outside the school that both their daughters attended in L.A. By this point Paramount had already lost interest in financing the film, pushing Wahlberg to an independent studio and cutting the budget to about $24 million, less than half the original $50 million--$60 million estimate. "The pitch was, 'If you like the script enough, this is all we have,'" recalls the Welsh-born Bale, who would lose 30 pounds to play the crack-ravaged Dicky. "And the script was bloody good."
Wahlberg's devotion was particularly reassuring. With the real Micky and Dicky making several trips to Beverly Hills, staying for weeks at a time in Wahlberg's guest house, the celluloid Micky was preparing more diligently than many real pro boxers. Wahlberg would fly his two trainers, his gloves and his custom-made collapsible speed-bag to the sets of his other movies, getting up at four in the morning to work out before shooting began. In Wahlberg's ring the quartet of Ward, Eklund, Wahlberg and Bale would then hit the pads together, pairing off and then switching up, with Ward and Wahlberg trying to catch each other with body shots. And once the film's trio of major Ward opponents was cast—including real-life middleweight contender Miguel Espino, who plays Alfonso Sanchez—all put in 10-hour days, punctuated by Wahlberg doing 10 full-on rounds with each fighter and another 15 rounds of hitting the mitts.
The final product was shot using the same graphics and unforgivingly bright Beta cameras that HBO used for Gatti-Ward. The ring action is the polar opposite of Raging Bull's stylized, balletic choreography. "There are many, many boxing movies, and I love most of them," Wahlberg says. "But I knew that the thing that would set us apart was if the fights looked more real and I looked more like a boxer than anyone else who's done it in the past."
Yet, for all of the pugilism vérité—if some actors look familiar, it's because figures such as Sugar Ray Leonard, against whom Eklund went 10 (losing) rounds in 1978, and Ward's trainer, policeman Mickey O'Keefe, play themselves—the soul of The Fighter is the extended Ward family, a unit that can make a postindustrial mill town feel like quicksand. There's Charlene (Amy Adams), Micky's girlfriend; a bizarro Greek chorus of seven fright-haired sisters; the boys' mother-cum-manager, Alice (Melissa Leo); and Micky's wonderfully level-headed father, George (Jack McGee). One criticism of the movie from sports fans might well be that there seems to be more brawling done outside rings than in them.
This, however, badly misses the point. The street fighting was true to Lowell and to the Ward saga; the boxing scenes wind up being so powerful precisely because we spend so much time in a living room, a crack house, a bar. Even the momentous belt Ward competes for by the end—in reality, the little-known WBU title, against little-known Shea Neary, in London—is less important for what it means to ring aficionados than for what it signifies in context, after all this time, in Ward's life and on screen.
Wahlberg, who refuses to gloat or sling I-told-you-so's amid mounting Oscar buzz, is acutely sympathetic to such a concept. According to the numbers, he notes, "I spent more money paying my trainers and having them travel with me than I got paid, by a good half a million dollars." No matter: What Micky Ward's biggest fan will remember, lucidly, is that he really wanted to do something and found a way.