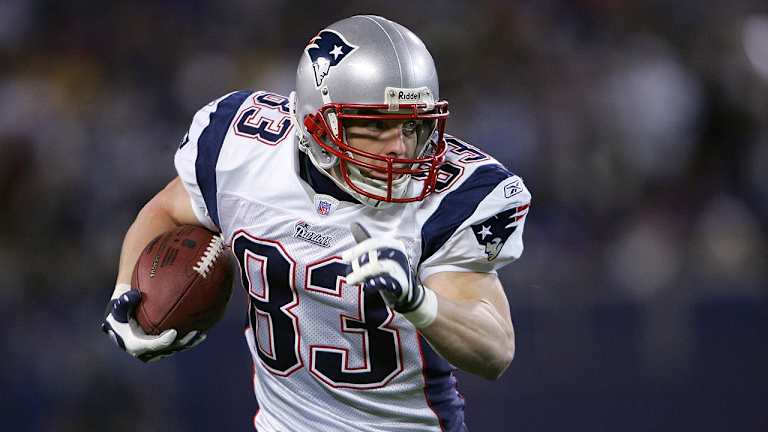 Do You See What He Sees?
It takes an audacious imagination for a 5'9" football castoff to view himself as an NFL difference-maker. But Patriots receiver Wes Welker has always envisioned the world as it might be, turning possibilities—no matter how unlikely—into reality
Part of genius is realizing that to look is only to begin to see. Someone looks at a block of marble and sees David. Someone else looks at a river and sees a boy and a man on a raft, one white and one black, floating through the purple twilight in a country facing the bargain that allowed it to grow but betrayed its ideals. Someone else looks at an ocean and sees a continent on the other side, real and solid, even though he has yet to step onto its shores. The eyes are the windows to the soul and all that rot, but they are something else as well. They are the engines of imagination. Geniuses see what isn't there but ought to be, damn well should be, inevitably will be. In this, seeing truly is believing.
Wes Welker's eyes are blue-gray and wide. Their gaze is steady, and their focus is like something alive. It misses nothing in a circular field of vision that seems greater than other people's. Welker sees spaces that nobody else sees. He looks at a field where everyone seems to be colliding and sees a place to run. He looks at a game played by much bigger men and sees a place in which a man who stands 5'9" and weighs 185 pounds can create a kind of art. An old friend of his remembers a broken love affair and sees the words of a song, a deep blue tint on every syllable. Wes Welker looks at a noisy, crowded, violent profession and sees a career.
Watch him yourself. You can look at what he does, but you won't see what he's creating, not until after he's made it. Watch him dart 22 yards through the Indianapolis secondary early in a game in November. A linebacker, Pat Angerer, comes up to cover him. Welker is looking at Angerer, but he's seeing the play he's going to make. He dips inside and then breaks outside—sharp, quick moves of no more than a single step. Angerer goes altogether gelatinous. The passing lane, the space that Welker saw even before he left the line of scrimmage, opens up, and Tom Brady delivers the ball. Welker cantilevers a bit in the air and makes the catch for a touchdown.
"I came off the line, and Tom saw that I had a linebacker," Welker says later, reversing the terms of the football argument. Usually it's a defender who says he has somebody. Welker's art has its own syntax. "Tom saw what I was doing," Welker concludes, "and he just put the ball there."
He looked at football and saw in it things that nobody else saw—such as Wes Welker. He came out of high school as the Oklahoma player of the year and couldn't get a Division I scholarship offer. He finally got an 11th-hour call from Texas Tech and so prospered in the mad-scientist spread offense devised by coach Mike Leach that Leach redesigned the position of slot receiver to suit Welker's abilities. By the time Welker left, in 2004, he'd caught 259 passes for 3,069 yards, both school records.
He wasn't even invited to the NFL combine that year. He was judged too short, too slow, his gaudy numbers a mere product of Leach's offense. He went undrafted, but he was invited to the Chargers' training camp and got cut three days after the first game of the 2004 season. San Diego offered him a job on its practice squad. Welker turned it down and signed with the Dolphins instead. He saw a space in Miami where he could pull off the plays he'd always seen himself making.
Despite the fact that the Dolphins never settled on a quarterback, Welker's ability to see holes in defenses and turn eight-yard catches into 12-yard gains was noticed, particularly by the Patriots, who simply couldn't cover him. He tormented Brady and New England coach Bill Belichick until they decided they'd rather have Welker playing for them than unraveling the seams of Belichick's elaborate defensive tapestries. In 2007 New England traded a second- and a seventh-round pick for Welker.
In his first season with the Patriots he caught a league-high 112 passes for 1,175 yards and developed an intensely symbiotic communication with Brady. As Randy Moss drew double coverage deep, Welker looked at the middle of the field and saw a limitless vista of slant routes and turn-ins and square-outs. He and Brady exploited them all. "He'll talk to me—on the sidelines it'll be, 'Hey, Tommy, this looks good to me' or 'I like this route here,'" Brady says. "He's usually right too."
Welker laughs and says, "I was always like that. In college you'd see Coach Leach kind of pondering, and I'd be over here signaling him. He'd call a play, and I'd say, 'Why don't we call 94-H?' H was my position."
In 2007 New England broke offensive records from hell to breakfast on its way to a 16--0 regular season. Welker continued to prosper over the next two seasons. He had 111 catches in '08, and last year he finished with a league-leading 123—second most for a single season in NFL history. Welker's three-year total of 346 receptions from 2007 to '09 stands second only to Marvin Harrison's 354 catches from 2000 to '02. On Sunday, in the Patriots' 36--7 victory in the snow in Chicago, Welker had eight catches for 115 yards, raising his totals to 80 and 787 for the season. With 20 more catches in his final three games, he would become only the second player, after Harrison, with four straight seasons of 100 catches. Thanks in no small part to him, New England is 11--2, tied with Atlanta for the best record in the league.
All this even though the diminutive Welker still looks like the soccer player he was growing up. In fact, the quick feet and wide-angle vision he developed in soccer are the media with which he creates what he sees when he looks at a football field.
"I think that football coaches have developed some respect for what soccer can teach a football player," says Leland Welker, Wes's father. You can see a soccer-born geometric logic in the way Wes plays: the precise cuts, the tight corners, the ability to see the space open a second before it does. The more confident he is, the sharper are his cuts, the tighter the corners he makes and the more vivid his instinct for where to go, until anticipation itself seems to become an act of imagination.
That was what first drew Welker to football and away from soccer. Football engaged his imagination in a way soccer never did. "I enjoyed the physical part of football, the hitting," he says, "but I also enjoyed the scheming part of it, the figuring out of plays right there at the line of scrimmage."
Wes Welker was a genuine soccer star. His parents took him and his older brother, Lee, all over North America to games and tournaments. One weekend Lee and Leland were in Toronto for one tournament while Wes and his mother, Shelley, were in Colorado Springs for another. "Growing up, it seems our vacations were going on those soccer trips," Wes recalls. "I think when I was younger I really didn't care. I wanted to make sure we got to the finals, and then I was like, 'Hey, we gotta go home.' We probably could have won a few more final games if I hadn't tucked it in that way."
Football was different. Leland saw it on the first day. He took Wes, who was then in sixth grade, to a Pop Warner practice near their house. Spontaneously, Wes joined in the team's wind sprints and was the fastest kid there. "That was pretty much it," Leland says.
Wes enrolled in Heritage Hall, a sprawling school north of downtown Oklahoma City that had been founded in 1969 in a church basement. One of Wes's classmates was Graham Colton, his best friend since they were four and a teammate on the Pop Warner team Wes had crashed. At Heritage Hall, Graham played quarterback and Wes seemed to play everything else—tailback, wide receiver, safety, linebacker, placekicker. In seventh grade, with Graham as his holder, Wes went 21 for 21 on points after touchdown, even though most middle-school placekicking looks like feeding time at the seal tank.
On the field, even in practice, Wes played every down as if it were his last. He was known to hurl himself across the finish line just to win a postpractice sprint. "He was the hardest worker I've ever seen," Graham says. "Me, I loved Friday nights, but I didn't love practice." What Graham really loved was music. As a high school student he haunted coffeehouses and clubs around Oklahoma City, sitting in on guitar and singing for whatever people were willing to toss into a hat.
As juniors, Wes and Graham and Heritage Hall pulled off a remarkable string of upsets to win the Oklahoma state Class 2A championship. (In the title game Wes had 150 yards rushing and receiving and 75 return yards, intercepted a pass, kicked a 47-yard field goal, scored the tying touchdown and kicked the clinching extra point.) But a year later national signing day came and went, and Wes received no offers from Division I schools. "I'm telling you," he recalls, "it was dark everywhere. I didn't have any choices. A lot of guys were getting scholarships that I thought I was better than, but I didn't know what the deal was. I was state player of the year, and I didn't know what more I could have done." He couldn't see himself in Division II and wanted no part of it.
Rod Warner, his high school coach, contacted more than a hundred schools on Wes's behalf. Finally Leach called, and Leland and Wes went down to Lubbock to meet him. "It was a three-hour lunch, and I'm thinking, Well, are we going to get an offer here or what?" Leland recalls. "[Leach is] there, and he's eating these strawberries the size of apples." At last the coach told them that Wes could have a scholarship abandoned by another player. Overjoyed, the two left Leach's office and discovered that their car had been towed.
At Texas Tech, Welker's quickness afoot and quickness of mind made him a star. Colton got an offer from SMU and went off to Dallas, but what Wes saw in football, Graham saw in music. He spent years woodshedding around Dallas, and sometimes Wes was one of the few people in the audience, watching his friend and seeing, through his friend's eyes, some of what Graham was trying to create for himself. In February the Graham Colton Band will release its third album.
"Music was always his passion," says Wes. "All through growing up, he was always about playing in those little bars and little places, trying to get noticed. We always had some place to go on Friday nights."
"I always say I'd play music even if there was nobody in the building," Graham muses. "Well, I'm pretty sure Wes would play football if there was nobody in the stands."
The ability to see where his space will open up, and the instinct to move just far enough and at just the right moment, have done more than keep Welker in the Pro Bowl. They have also helped keep him alive and ambulatory. His size makes him not only a target for the NFL's most prominent torpedoes but also something of an example in a league that has been forced to take its vestigial conscience out for a walk.
In 2008, for example, in a game against Pittsburgh, Welker went down the field and slanted in toward the middle. Matt Cassel's pass sailed past him. Welker took two more steps, and then Steelers safety Ryan Clark made him disappear. It wasn't until the TV broadcasters ran the play in slow motion—and they ran it more than once, God knows—that the full violence of the impact became apparent. Clark, who was flagged for unnecessary roughness, hit Welker with his helmet somewhere between Welker's collarbone and his right ear. Welker's feet kept going forward, but his upper torso went sharply backward in a demonstration of what might be called Zapruder physics.
Back in Oklahoma City, Welker's parents, who say a prayer for his safety before every game, were horrified. "My mom stood up in the house and started crying," says Lee.
"That was the one," recalls Leland, "that really made me sick."
Welker hit the turf, his head bounced, and he came nearly all the way up to a sitting position before falling back down on the ground. But then he got up and made it to the sideline. It was exactly the kind of hit for which the NFL has ostentatiously laid down heavy fines this season, having found that the public has tumbled to the fact that professional football turns young men into old men at a considerably accelerated pace, and from the inside out. Still, Welker says, "I don't feel [the game] has changed all that much. People might be more conscious about not leading with their helmet and trying to take someone's head off, but people are still going to try to make strong, clean, physical hits."
For Shelley Welker, "It's hard to watch sometimes. It's a scary sport. But he's doing what he loves, so I have to be happy."
Which makes it not a little ironic that last season Welker suffered the most serious injury of his career on a play in which no one was within three yards of him. It was Jan. 3, 2010, at Houston; the Patriots had already clinched the AFC East title, and the game had no bearing on the playoffs. Welker ran a route in the first quarter. He had created the space around himself to make his 123rd reception of the year, a new franchise record. He was nearly alone, trying to make a cut after the catch, when the turf at Reliant Stadium, which was apparently laid down with library paste, gave way beneath him. Welker's left knee detonated. He tore both the anterior cruciate and medial collateral ligaments. He left the field and sat alone on the New England bench with a towel over his face, like a child who believes that if he can't see the world, the world can't see him. Eventually he was carted into the locker room, head still draped. "They left him alone so he could call us," says Shelley. "Neither of us could console him."
Welker didn't stay in seclusion, though. He threw himself into a rehabilitation program in California with Alex Guerrero, the physical trainer with whom Brady had worked to overcome his own severe knee injury two years earlier. "It was just about every day," Welker says. "Sometimes we'd take Sundays off, and even then we'd do something for maintenance—massages, things like that. It was weights. It was bands. It was everything. Not only lifting and agility-type stuff, but doing some routes too."
His progress was swift and steady. By the 2010 preseason Belichick already was getting questions about when Welker would start again. In fact, he has started every game this season, in the face of questions not only about his knee but also about whether he would be able to create the kinds of spaces he had in the past. Four weeks into the season the Patriots hustled Moss out of town, thereby making Welker the center of attention for opposing defenses.
"Seriously, I've felt great this whole season," Welker says. "Every week that goes by I get more confident. Not just in my knee but in general—in going out there and playing and not worrying about anything." He laughs when he's asked which hurt more—having his knee explode last season or getting lit up by Clark two years ago.
"Oh, the knee, no question," he says. "That hit I took in Pittsburgh? I felt like I could go right back in the game and play. With the knee, I had to spend the whole off-season just getting ready for this season, and now, staying on top of it, just getting ready for each game."
His eyes widen as he says this, and it's plain that what Wes Welker sees when he looks out across the line of scrimmage is only half the story. The other half is what you see when you look at him as he talks, like any artist, about his art. All that stuff about the eyes being the windows to the soul is not rot. What you see behind Welker's looks very much like a flame.
In a great kettle of light tucked into the New England hills on a late autumn night, Patriots running back Danny Woodhead breaks loose against the Colts. Deion Branch, a wide receiver, paces him. So does Wes Welker. Nobody in the convoy, including Woodhead, is 6 feet tall. Nobody weighs 200 pounds. They all head for Colts defensive back Kelvin Hayden. First Branch shoves Hayden off to one side, and then Welker, running fearlessly and vibrating with joy, hits Hayden straight on and drives him back into the end zone. Woodhead scores.
"See, I'm a lot bigger than those other two guys, so I have to take care of them," jokes Branch, who at 5'9" and 195 has an inch on Woodhead and 10 pounds on Welker.
"You just get down there and finish things off," Welker says, smiling. "You have to let them know you're still coming after them, even all the way down there."
The eyes are blue-gray and steady, but there's something flickering there. It doesn't belong to anyone but Welker, because he's the only one who can look at a football field and see all of it, even what is not there but damned well ought to be. That's a gift as individual as seeing David in that block of marble, or Huck and Jim on the Mississippi, or that green place beyond the great water—the place only you see clearly, and in which you come to believe.