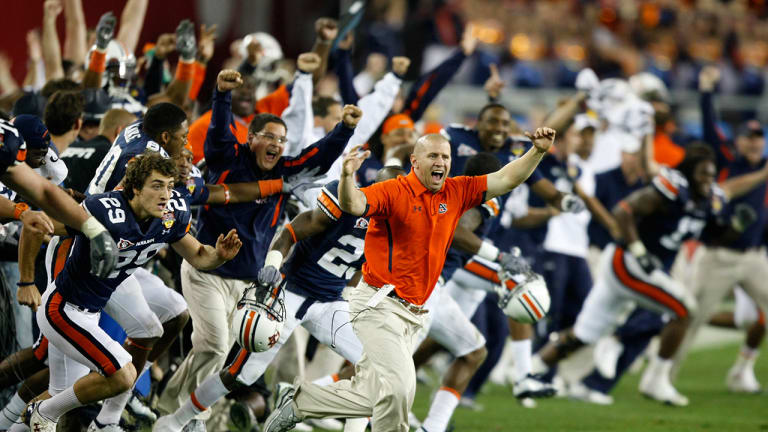 National Championship: Auburn 22, Oregon 19
Austin Murphy reports as the game of the year goes down to the last play ... ... after a medley of stout defense, missed opportunities and strange plays
He arrived at Auburn as an unknown quantity, a promising but unpolished athlete from an obscure junior college. His periodic lapses in judgment were quickly forgiven by Tigers fans and coaches starved for success. And on the biggest stage of his life, in Auburn's most important game in half a century, he played out of his mind.
Tigers defensive tackle Nick Fairley picked a good night to turn in the performance of his career. The team's usual hero, quarterback Cam Newton, was surprisingly ordinary, mortal, unCamlike in Auburn's heartstopping (and surprisingly low-scoring) 22--19 win over Oregon in Monday's BCS title game. The Heisman winner made any number of nice plays, but the freakish talent who rushed for 108.4 yards per game in 2010 was limited to 64 yards on 22 carries. He missed open receivers, and—shockingly—coughed up a fumble with less than five minutes remaining that nearly cost the Tigers the championship.
"I don't want anybody to feel sorry for me," Newton said afterward. "Throughout this year nobody [felt] sorry for Auburn. And we got the last laugh."
Not to worry, Cam. Very few people at the University of Phoenix Stadium in Glendale, Ariz., wasted pity on you in the moments after the game. Newton's fumble, forced by middle linebacker Casey Matthews and recovered by corner Cliff Harris, led to Oregon's final touchdown, a two-yard shovel pass from Darron Thomas to tailback LaMichael James. But that score only cut the lead to 19--17. Lining up for a two-point conversion, Thomas made a deft snag of an errant shotgun snap, rolled right and then, with a Tiger in his face, uncorked a sensational, against-the-grain fastball into the hands of leaping wideout Jeff Maehl. With 2:33 left to play, the game was tied. Oregon's D needed one stop—one lousy stop—to force overtime.
And the Ducks got it. Well, it sure looked as if they got it. But in a sequence more surreal than the Day-Glo stockings Oregon's marketing gurus unveiled for the occasion, running back Michael Dyer took a handoff from Newton, only to be wrestled to the turf by rover Eddie Pleasant. Play came to a stop. The Ducks' defense relaxed. From the Tigers' sideline, however, coaches could be heard screaming, "Go! Go! Go!" So Dyer did, trucking up the right side for a 37-yard gain. No whistle had blown after Pleasant's almost-tackle. Dyer's right knee and leg had swept over the turf, not quite grazing the blades of grass. A prolonged video review confirmed that the play had been still alive.
Five snaps later Auburn kicker Wes Byrum casually slotted the game-winner from 19 yards out as time expired, and Pleasant lost his will to move. As pandemonium erupted around him, he knelt near the south goal line for several minutes, finally bestirring himself to walk to the bench. There he sat, catatonic, mocked by an eruption of Auburn-colored confetti from a nearby cannon, mocked by his very surname.
College football fans will be of two minds concerning the Tigers' second national title, their first since 1957 and the SEC's fifth in a row. Members of the extended Auburn "family," to use the word preferred by coach Gene Chizik, believe that a great injustice has been redressed. Recall that the 2004 Tigers beat a trio of Top 10 teams, dispatched 15th-ranked Tennessee in the SEC title game, yet were excluded from the BCS championship game. Auburn finished the season 13--0 and ranked No. 2.
Coach Terry Bowden's 1993 Tigers won all their games as well but performed that feat under the cloud of NCAA probation. They were paying for the sins of Bowden's predecessor, Pat Dye, who'd been forced to resign in the wake of a (this may sound familiar) pay-for-play scandal. Ineligible for postseason play, the Tigers finished 11--0 and ranked No. 4 in the AP poll.
Twelve short months after Alabama had brought home the national title trophy and Tide coach Nick Saban looked to be gearing up for a dynastic run, there was the 'Bama coach on an ESPN set, analyzing the BCS title game rather than coaching in it, unable to avoid the occasional grimace as he bestowed bouquets on his archrival. After the final second ticked off the clock on Monday night, at least some of the bathroom tissue in Auburn designated for the ceremonial rolling of Toomer's Corner was used, instead, to wipe away tears of joy. Finally, perfection had paid off for the Tigers.
Those fans not in the habit of using War Eagle! as an all-purpose greeting will regard Auburn's triumph with a more jaundiced eye. They may note that Newton started the game 41 days after his own school declared him ineligible, following the discovery that his father, Cecil, had shopped him to Mississippi State for up to $180,000 in an attempted pay-for-play scheme.
Happily for Cam, Auburn and the SEC, the NCAA—lacking "sufficient evidence" to the contrary—concluded that Cecil had conducted his illicit business unbeknownst to his son. Thus was Cam reinstated, following a 24-hour suspension, three days before the conference title game. Even with investigations by the NCAA and FBI ongoing, Newton accounted for six touchdowns in that 56--17 beatdown of South Carolina. In the 13 games this season before Glendale, played mostly in the nation's toughest conference, Newton had his hand in 49 touchdowns (28 passing, 20 rushing, one receiving) and led the SEC in rushing (1,409 yards) even as he topped the nation in passing efficiency, with a mark of 188.2. That. Is. Simply. Not. Done.
Newton got a rough ride over the second half of the year from skeptics who found it implausible that his father could have been peddling his services without Cam's knowledge. The wisecracks never seemed to faze him. On Saturday after Saturday, at home and on the road, Newton took his case directly to his constituents—Auburn fans, whom he unfailingly joins in the stands after victories.
"You give and you get," Newton explained earlier this season. "You feed the crowd, and the crowd gives you this type of energy that [makes you] feel like you can do anything."
The architect of Auburn's offense doesn't exactly possess Newton's bottomless charisma. Second-year coordinator Gus Malzahn is a plainspoken, God-fearing, just-happy-to-be-here former high school coach who also happens to have one of the highest football IQs in the country. "If there was an 85-play script we were going over in film, and the 83rd play wasn't in there," says Auburn guard Byron Isom, "he would notice."
At 6'6" and 250 pounds, with 4.52 speed and a strong, accurate arm, Newton has skills that are fully utilized in Malzahn's offense—which isn't really a spread, he takes pains to point out. "We're a two-back, run, play-action team, with an emphasis on going fast and throwing vertically down the field," says the coach, a self-admitted football geek who calls to mind Gomer Pyle and Jimmy Neutron. Malzahn loves unbalanced lines and trick plays, which are so integral to the attack that the Tigers don't refer to them as trick plays. "We just see them as part of the offense," says wideout Kodi Burns.
The greaseboard in the Scottsdale, Ariz., office of Oregon defensive coordinator Nick Aliotti was a testament to his respect for Malzahn and Newton. On the right side of the board Aliotti had printed a list of LOOKS, out of which the Ducks would run their defenses. At the top of the list was the word CREEP, signifying a defense that allowed the Ducks free license to shift and roam until a moment before the snap, at which point they ran the defense Aliotti had called. "When I say Creep-Fox-Match, we're playing Fox-Match, but we're Creepin' it," he said two days before the title game. "It'll be friggin' nuts [presnap]."
How often had he used Creep in his 35-year coaching career? "Never," he said. "It's crazy, but we're going for craziness. This thing could end up 62--10 [in Auburn's favor]. I want to wake up Tuesday morning, look in the mirror and say, we were 12--0, playing for the national championship, and we let it all hang out.
"The bottom line is, we can't let Cam Newton beat us with his feet. If we lose with Newton throwing the ball, so be it. That is, in my opinion, the lesser of his strengths."
Early on Aliotti looked like a genius. Newton looked befuddled for the entire first quarter. He took an eight-yard sack on Auburn's first possession and was intercepted by Harris on the second.
On third-and-five on the Tigers' next series, he looked across the line, only to see Ducks defenders wandering and milling around. Yes, indeed: They were Creepin' it. Thoroughly confounded, Newton was drilled for yet another sack. For just the third time in the 13-year history of the BCS title game, there was no score in the first quarter.
Malzahn quickly got wise. His answer to Aliotti's zone dogs and blitzes and other exotica: hardball runs at the belly of the defense. Dyer started gashing Oregon for chunks up the middle. That, in turn, set up Newton to complete deep passes to his wideouts. Auburn went the length of the field on three successive drives. Newton's long touchdown throws to Burns and Emory Blake bookended a valiant goal line stand by the Ducks—a shining moment they quickly squandered when James was tackled in the end zone for a safety. After gaining a laughable 21 yards in the first quarter, the Tigers exploded for 268 in the second. Dyer, a freshman, would finish with 143 yards on 22 carries. Auburn left the field at halftime with a 16--11 lead and all the momentum.
In the entire week before kickoff the closest thing to trash talk was provided by Thomas, who was asked if he was aware of Fairley's reputation for late hits. Fairley, the Lombardi Award winner, is a highly effective combination of brute strength, sweet feet and latent sadism. His helmet-to-back spearing of Georgia's Aaron Murray—one of Fairley's three cheap shots on the Bulldogs' quarterback on Nov. 13—should have earned him an ejection.
"We've seen that he's got a lot of dirty plays, throwing people around after the play and things like that," Thomas replied. "But that's just football." Apprised of Thomas's statement, Fairley kept his remarks civil: "Hopefully, it's a good thing I'm inside those guys' heads."
Once the game got under way, he also got under their pads, around their blocks and into their backfield. "Nick Fairley is the best defensive lineman in the country. It was a tough matchup for us," Ducks coach Chip Kelly declared after the game, in a massive understatement.
Newton wasn't the only Auburn player to bust out in 2010. A 6'5" 298-pounder out of Copiah-Lincoln Community College in Wesson, Miss., Fairley spent last season adjusting to the speed and talent in Division I-A ball. This year he dominated, making 21 tackles for loss and 10½ sacks before Monday night. Along the way, he knocked three quarterbacks out of games. For long stretches against Oregon—the top-scoring team in the country (49.3 points per game entering the title game)—he did as he pleased, piling up five tackles, a sack, three tackles for loss and a forced fumble.
His game, his identity, was captured in one brief, telling stretch in the third quarter. On a first down he breathed life into an Oregon drive by committing a mindless personal foul: While extricating himself from the pile, he casually yet violently twisted the helmet, ergo, the head of James. Four plays later, he kneecapped the same drive with a vicious seven-yard sack of Thomas. On the Ducks' ensuing possession, Fairley made a touchdown-saving tackle on the one-yard line on third down and, for good measure, stuffed Kenjon Barner one play later to force a turnover on downs. Fairley is a brilliant player and something of a bully—a one-man study in the nature of good and evil.
This title game was celebrated, rightfully, as a tasty clash of conferences and disparate football cultures. Yet Oregon and Auburn shared a surprising amount in common. Both fielded breathtaking, up-tempo offenses. Both had demonstrated, throughout their seasons, a propensity for slow starts. Both prided themselves on their resilience. On Monday night the Ducks' defense was particularly resilient: It had to be, because for long stretches of the middle two quarters, Kelly's vaunted Blur attack couldn't get out of its own way.
But Aliotti's crew regained its footing. Auburn let the underdogs hang around. When Matthews jarred the ball from the Heisman winner's hands, it appeared that the Newton-Auburn saga might come to an implausibly sad end in the desert. As the stunned quarterback came to the sideline, Malzahn tried to encourage him. "Hey, man," he said, "you got us here. Keep your head up, 'cause you're gonna help us win it."
In fact, Newton was something of an afterthought in a game-clinching field goal drive that will go down in Tigers lore for the hustle and heads-up play of Dyer, whose knee never did touch the ground.
As the confetti swirled and the customary stage was rapidly assembled, a security detail set up barricades around it. Amid the exultation came the discordant voice of an Auburn coach shouting at one of the security guards. "Our whole season's been about family," he complained, "and you're not gonna let our wives in?"
A moment later, spouses got the all-clear. Players and coaches and their wives and children took turns posing with the crystal football. While his teammates passed the trophy around—"This is some serious ice!" proclaimed cornerback T'Sharvan Bell—Newton was 10 feet away with his back to them, standing, but slumped over the stage, cradling his head in his arms. He stayed that way for at least five minutes, soaking in the immensity of the moment, surrounded by teammates yet somehow by himself.
At the press conference, he was asked whether he will return to Auburn for his senior season. His boilerplate reply—"I'm not gonna make that decision right now. I'm going to sit down with Coach Chizik and my family"—offered little hope for back-to-back titles for Auburn fans. It sounded as if Newton has decided that it's finally time to get paid.
Now on SI.com
For off-season coverage, including Stewart Mandel's Mailbag, go to SI.com/cfb
"THROUGHOUT THIS YEAR NOBODY [FELT] SORRY FOR AUBURN," NEWTON SAID. "AND WE GOT THE LAST LAUGH."
PHOTO
Photograph by SIMON
BRUTY
BANNER DAY The pregame ceremonies in Glendale set the stage for a stirring and star-studded BCS matchup.
PHOTO
BOB ROSATO (DYER)
DASH 'N' MASH Dyer (right) raced for 143 yards, while Fairley made sure the Ducks' offense never got into gear.
PHOTO
JOHN
W. MCDONOUGH (FAIRLEY)
[See caption above]
PHOTO
JOHN
W. MCDONOUGH (DYER)
DYER STRAITS Though Dyer seemed to be tackled (below), he sprang up for a 37-yard run that helped set up the game-winner from Byrum (18).
PHOTO
ROBERT
BECK
[See caption above]
PHOTO
JOHN
W. MCDONOUGH
[See caption above]
PHOTO
ROBERT
BECK
ABOUT FACE Both Newton and Chizik quieted their critics by leading Auburn to its first national title in 53 years.