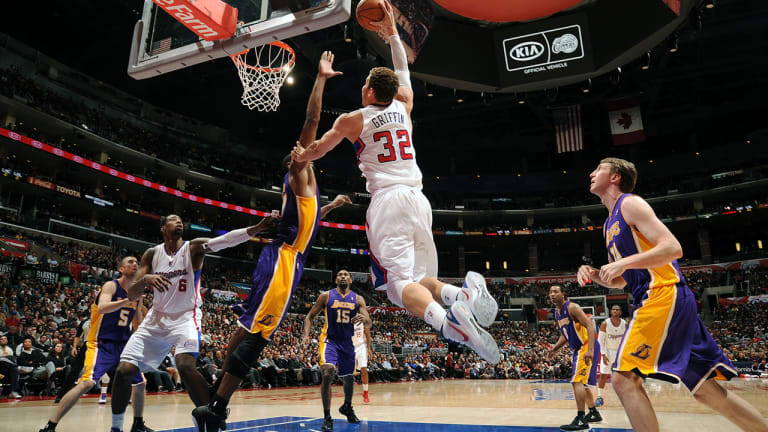 Blake Griffin's Poster Boys
There are enough of them to form a support group: the unwitting background performers in the growing dunk-porn oeuvre of the high-flying Clipper, whose star is soaring and who is making his team relevant.
The list becomes less exclusive by the day.
Here we have Victim #296 (give or take), a tall black male, aged 25 years. His name is Anthony Tolliver, he plays for the Minnesota Timberwolves, and he prides himself on never backing down from a challenge. Which is how he came to be standing under the basket on the night of Nov. 17, 2010, when Blake Griffin achieved liftoff. What followed was, in basketball terms, obscene. Suffice to say Tolliver ended up with an armpit in his face and a highlight to last a lifetime.
Two months later, when asked by a reporter, Tolliver remembers only certain details, as if recalling a traumatic childhood memory. It was from the left side. He reacted instinctively. The world went into slow-mo. As he speaks, he is standing in the visitors' locker room before a game against the Los Angeles Clippers, and his teammates, having overheard the conversation, enthusiastically chime in. "It was a-mazing!" Martell Webster declares with fake gusto, pretending to be Tolliver. "He had his balls on my head, and afterward he apologized and said, 'Good effort, guy.'"
Tolliver is left with but one recourse. He grabs the notebook of the reporter, on which resides the List, an unofficial but extensive accounting of every player whom Griffin has dunked on. The NBA portion of the List takes up an entire page and includes 30 names, including luminaries such as Tim Duncan (Lifetime Victim #305, Dec. 1, 2010, double-pump) and Pau Gasol (#323, Jan. 16, 2011, reverse).
"Yo, look at all the names on this list!" Tolliver says, brandishing the notebook in the direction of his teammates. "That's all just this year!"
Curious, the T-Wolves move closer, peering upon the names of the fallen. "You won't see any Corey Brewer on that list," announces swingman Corey Brewer, who is told that actually you will (Victim #311, Dec. 20, 2010, alley-oop). Reserve center Kosta Koufos, looking over Tolliver's shoulder, is equally confident. "I'll never be on that list," he announces, a claim that seems dubious considering that three hours later he will come within a well-placed hip check of joining it.
In fact, at the current rate, there may soon be as many players in the league bearing white-chalk outlines courtesy of Griffin as not. Some, like Ron Artest, are even looking forward to it. "I'm not going to lie," Artest told The New York Times. "I hope he dunks on me, puts his shoulders on my face and, like, 'Aaaaah!'"
Of course Griffin is more than the sum of his slams. A lock for Rookie of the Year, Griffin, 21, is averaging 22.6 points, 12.8 rebounds and 3.5 assists. He has led the Clippers back to respectability (they had won 13 of their last 20 games at week's end) and, perhaps most remarkable, somehow inspired Baron Davis to care about basketball again. Still, it is the slams that define Griffin, at least for now. They are what inspire the YouTube dunk porn (the Tolliver slam is the most viewed at yougotdunkedon.com), the bad nicknames (Half White--Half Flight, Blake Superior, the Human Highlight DVD) and the buzz surrounding this year's All-Star dunk contest, which Griffin's mere presence has made relevant for the first time in years.
They are also, in some respects, a mystery. After all, only one man knows what it's like to be able to dunk like Blake Griffin, and he professes to be at a loss. ("It's hard to describe other than it sends a little chill through you," he says after a moment.) Which is understandable, for while dunking like that may seem outlandish to you and me, as foreign as waking up one morning and being able to teleport, to Griffin it is just the norm. You just do it, right?
So instead, let us ponder another, far more answerable, question: What does it feel like to get dunked on by Blake Griffin?
Victim #1: Identity unknown, circa summer 2004
All we know is that he was tall, lanky and played for a Virginia-based AAU team. Our John Doe was loitering on the baseline when a 15-year-old Griffin got the ball, drop-stepped, rose up and flushed it with one hand, to the delight of his cheering teammates, if not his father, Tommy.
Tommy Griffin was the coach of Blake's high school team, Oklahoma Christian. He was—and remains—pure old school. He didn't allow Blake or his older brother, Taylor, to play organized basketball until he was satisfied they understood the game (which, granted, meant first grade). Likewise, he and his wife, Gail, decided to homeschool the boys until seventh grade. On the court fundamentals were paramount. "The glass corrects your mistakes," Tommy often said, and he forbade his players from finger-rolling in the lane. Sure, for years Blake's friends made fun of his predictable, methodical pump-fake, the one Tommy drilled relentlessly, but if you watch Blake today you can see the fruits of his father's labor; he handles the ball as well as most two guards, executes spin moves with uncommon grace and is already one of the better-passing big men in the game (seventh among forwards in assists).
Still, there was no denying that the young man could fly.
Victim #4:Wilson Holloway, fall 2005
The first dunkee whose name Griffin remembers also happens to be one of his best friends and high school teammates. At the time, Holloway was a 6'6", 240-pound power forward—strong and agile enough that he went on to play offensive tackle for Tulsa—while Griffin was a relatively slim small forward. (His nickname for many years, if you can believe it, was Little Blakey.) Every day the duo would stay after practice to work on their skills in OCS's tiny gym. In one particularly masochistic drill the boys took turns trying to dunk on one another. Player A would stand under the hoop, Player B would take a few steps and then—wham!—the two would meet at the rim. "In two years I never got one on Blake," Holloway says. As for him? Holloway chuckles. "Blake got plenty on me."
When the gym closed, Holloway, Griffin and two teammates would head to the local 7-Eleven, where they'd buy Slurpees and sit in Holloway's Ford Explorer or Griffin's silver Denali and watch the world go by. For Blake it was a chance to be on the other side of the glass. As a junior he'd already acquired local fame, which only grew as OCS won four state titles in his four years. Opposing fans taunted Griffin, yelling that all he could do was dunk, that he'd never make it at the next level, or ridiculing him for being mixed-race. (Tommy is black; Gail is white.) And yet after the games, which OCS invariably won, they lined up to ask Blake for pictures and autographs. "What impressed me the most was that he always signed," says Holloway, "even though he knew those were the same kids."
These days, that self-control is evident whenever Griffin gets undercut, which seems to happen at least once a game. Despite this, Griffin rarely gets angry or stops jumping. "Sure, you worry about it [leading to an injury], but you can't say, 'Don't jump,' " says Clippers coach Vinny Del Negro. "That's his skill set. Why not use it?"
Victim #75 (Disputed): Taylor Griffin, 2007
Maybe this happened, maybe it didn't. We're not here to get in the middle of a sibling rivalry. But if it did, it probably occurred for the first time in a scrimmage during Taylor's junior year at OU, when Blake joined the team as a freshman after eschewing many larger, more renowned basketball schools for a chance to play alongside Taylor. And it most definitely was repaid in full by the older brother in a hastily arranged game of one-on-one.
Not that Blake would admit it then, or now, but this was a big moment in his life (that is, of course, if it ever happened). He spent his childhood trying to catch his brother, literally. Footraces, touch football, made-up games like can-you-jump-that-fence. Being three years older, Taylor was always bigger and stronger (in high school he stood 6'7" and weighed 235 pounds), so Blake figured he just had to want it more. "It didn't matter if it was basketball or a board game, he was going after it as hard as he could," says Taylor, who's now playing in Belgium, where he watches his brother's games on his laptop with NBA League Pass. "There's no cruise setting on his dial."
Victim #172: Zack Novak, March 21, 2009
It is the second round of the NCAA tournament, and Griffin's Sooners are playing Michigan. Griffin is averaging more than 22 points and 14 boards, but his game remains limited. Outside of 10 feet, Michigan players are told, let Griffin shoot it. The coaches do not cover what to do if he decides to jump over your head.
In the second half Griffin catches an outlet pass on the right wing. Racing down the middle of the court is Novak, a freshman guard for the Wolverines. No slouch, the 6'4", 210-pound Novak was all-state in high school and has enough hops that he will win the UM Midnight Madness dunk contest seven months later. Still, like Griffin, he was coached by his father, so he knows that taking a charge is more valuable than blocking a shot. So Novak sprints with a mind to intersect Griffin's path in the key. There's only one problem: Griffin is too damn fast. "When I get to the three-point line, I start thinking, Why am I doing this?" remembers Novak, now a junior. "I'm in foul trouble, I'm not going to get there, and he's got this look in his eye like he's going to abuse me. I step in late and start to fall back, kind of flop it, hoping to maybe get lucky and get the call. Next thing I know his feet are at my face."
To Griffin, the dunk was merely "pretty good," but to Novak it became, for lack of a better term, a case of fame-by-posterization. Sure, he was disconsolate at first, mainly because his team lost, and for the first year or so he got sick of hearing from friends who, whenever Griffin's name came up, would say innocently, "Hey, isn't that the guy who dunked on you so hard he lifted you off the ground?" But now Novak sees it differently. "I see what he's doing to NBA guys, and it's cool to look back," he says. "My mom's a high school teacher, and she actually has the picture up in her room." Novak laughs. "I mean, one day it'll be proof that I got dunked on by Blake Griffin. It'll be a bar bet when I'm 50 or 60 years old." Indeed, Novak is so far from being embarrassed that after we talk on the phone, I receive a text message with a request: "Any chance we can use that photo in the story?" (Here you go, Zack—it's back a couple pages.)
Victim #265: D.J. Mbenga, Oct. 18, 2009* (*First NBA victim)
The Clippers are playing the Lakers in a preseason game, and most eyes are on Griffin. After being named player of the year by everyone with a keyboard, he was drafted first overall by the Clippers. There was talk of a Savior and a Franchise Rebirth. Griffin, who is friendly and approachable but not very quotable in person, refused to play the part. He would let his game do the talking, he said. There was no need for hyperbole.
And then this, against the Lakers of all teams. In the fourth quarter Griffin catches a pass on the left side of the lane, takes one dribble and—boom!—up he goes, summitting the airborne, seven-foot Mbenga and pulling the ball back in midair before hurling it into the basket. His teammates go bananas. For his part Griffin cracks only a tiny smile and later declares the dunk "fun," while adding, "I still gotta get better." No one's buying it; his teammates dub him Amazin', while Spurs coach Gregg Popovich calls him "a monster." Griffin's legend grows by the day. And then, suddenly, it stalls.
Victim #267: Blake Griffin, Oct. 23, 2009
Maybe it's the way he lands. Maybe he just gets too high. Who knows? But when Griffin touches down after a tremendous one-handed jam in his final preseason game, against the Hornets, he feels something crumple in his left knee. The doctors tell him "nondisplaced stress fracture of his left patella." It doesn't sound that bad but it lingers. By January, Griffin has yet to play a game and is shut down for the season. Surgery is required. Finally, someone found a way to ground Griffin. It's a shame it had to be a doctor.
So instead Griffin spends what should have been his rookie year wearing suits and frowning and doing endless rehab work in the pool. Everywhere he goes, he carries a pink Dora the Explorer backpack (rookie hazing rules still apply, after all). Looking back, he says he learned a lot, that he got an NBA education from the sideline, but Taylor knows how hard it was. "For a guy like Blake who is so intense, it was torture," Taylor says. "That's part of why you see him out there trying to prove himself on every play this season. He's been saving all that up."
Victim #269: DeAndre Jordan, fall 2010
It's a training camp practice and Jordan, a Clippers center, is going up for a rebound when he senses impending doom. "Somebody don't box Blake out, and all of a sudden it feels like someone is on my back and—ba-roooom!" Jordan says, pausing. "Then I look up, and it's Blake looking back at me, and I'm like, Damn. " The tip-dunk is impressive for two reasons. First, Jordan is 6'11", has arms like windmill spokes and jumps nearly as high as Griffin. Second, it signals that Griffin is fully back. In fact, some people, including Clippers assistant Marc Iavaroni, think he's actually jumping higher.
Victims #299 and #300: Timofey Mozgov and Danilo Gallinari, Nov. 20, 2010
If there is an official start to Griffinmania, a point at which his deeds morph from human to mythological, when young men start thinking about getting his face tattooed on their torsos and the editors at SLAM magazine consider devoting the next 47 covers to Griffin, at which he goes positively viral, it is on this night against the Knicks. You've no doubt seen the highlights by now (and if not, do yourself a favor and get to it). The slam over Mozgov is the more preposterous of the two, Griffin launching himself off the 7'1" Russian's forehead before throwing the ball down at the rim from a height roughly equal to the mezzanine of Staples Center. It is so emphatic, so emasculating, that Knicks coach Mike D'Antoni is only half-joking when he beseeches the media, "Don't say anything to him." The coach says of his reserve center, "Just keep it quiet."
The Gallinari dunk is the more telling, though, for not only does Griffin display his leaping ability and power, but he also includes a beautiful spin move in transition, at full speed, that likely no other big man in the league could execute. This, Griffin says, is his favorite dunk ever, and plenty of folks—including Taylor and Iavaroni—agree. After the game, Amar'e Stoudemire, a man who knows from dunking, weighs in. "That," he says, "was actually incredible." The fact that Griffin scored 44 points in the game is, remarkably, an afterthought.
Present Day
It is a warm January evening in Los Angeles, and the Clippers are hosting the Timberwolves. Once upon a time—like, say, last year—this matchup would have been roughly as exciting as a city council meeting. Now, however, 17,793 have come out on a Wednesday night to see two lottery teams. Or, more precisely, to see the Blake Show.
An hour and a half before game time Griffin provides quite a contrast to his teammates, many of whom proceed half speed through shooting drills, joking and laughing. Griffin, however, is already dripping sweat as he moves in a semicircle around the basket, shooting jumpers. Every time he misses, which is relatively often, he mutters under his breath, and the more he misses the angrier he gets. In most any other facet of the game Griffin can succeed by trying harder than anyone else, but this doesn't apply to jump shots (or free throws, where Griffin is shooting a Shaq-like 61.5%). So he shoots and he swears.
Once the game starts, he deploys this intensity squarely into the lower half of Minnesota's Kevin Love, who leads the league in rebounding, at 15.6 per game. Griffin grabs Love's jersey, wraps his arms around his back, gets low and digs into his legs. Watching the two battle for position, pushing and grappling, is at times more entertaining than the game itself. And this is part of what makes Griffin so dangerous, so much more than a dunking machine: He doesn't need the ball to score. According to Synergy Sports, 43.6% of his attempts in the half-court offense come from what are categorized as "Around Basket (Not Post Ups)," which is another way of saying hustle plays, cuts to the basket, alley-oops and putbacks. What's more, he's extremely efficient in this realm, averaging 1.292 points per possession. Hence the sumo wrestling with Love. "It's really an art form, the way he uses his body and his craftiness," Love says. "I always talk about using my leverage, but I can't jump like him. He uses both of those [skills]."
This, more than anything, is what other players, past and present, respect about Griffin: He plays really, really hard. Young stars typically need to be cut down to size by the establishment, whether it's Michael Jordan being frozen out at the All-Star Game or Vince Carter being typecast as a lackadaisical showboat, but the elders respect Griffin because, quite simply, he plays his ass off. Sure, he is only a mediocre defender at the moment, but he clearly wants to win. (Iavaroni, a starting forward on the Sixers' 1983 title team, compares his drive with Larry Bird's or Jordan's.) Accordingly, blessings have come from everyone from Kobe Bryant ("He ran right through us; we didn't have anybody that could put up a stand") to Charles Barkley ("He's bigger than me and more explosive than me").
Another common sentiment: Just wait until he learns how to really play. When Griffin gets the ball in the post, it's usually on the left block and he's usually looking to face up and go. (That slow-motion pump-fake still works.) If given space he'll shoot the 15-footer, preferably off the glass, though his shot is definitely a work in progress; for the season he is shooting 31.8% on jumpers. Still, Griffin knows he needs to add the J to his arsenal to be a complete player. He says his eventual goal is to become as dangerous as Carmelo Anthony on the wing; given the choice of stealing any player's move, he opts for Anthony's first-step rip-through or first-step spin-back.
Most of the time, though, Griffin heads right toward the basket at full speed, often appearing to leap with only a hope that a shot presents itself. Then again, if one doesn't, he just gets the ball to the glass and pursues his own rebound. Often enough he gets it. As of week's end he's on pace to be the first rookie to average 20/10 since Elton Brand in 2000.
Griffin's preferred finish, of course, is above the rim, though he is more rigid than most in his definition of what qualifies as dunking on someone. "I only count the ones where the advantages are the same," he says. "You're both there, and you both have time to jump." (For the purposes of the NBA List, I have counted every time his dunk is contested by someone at close range; the Lifetime List is, by its nature, more of an exercise in approximation, with me playing the role of Jimmy Olsen to his heroics.) Though Griffin tries to remain stoic on the court, he admits he does enjoy the chalk outlining. "The best part is if you dunk on someone at home and they show it on the replay [screen]," he says. "You come back down the court, and the other team is trying to run a play, and the crowd is like, Ooooh!" And the bigger and badder the defender, the bigger the Ooooh. Which is why the player Griffin would most like to summit is Dwight Howard. (Given his choice of anyone in history, Griffin chooses Dikembe Mutombo because "he really took pride in shot-blocking, which would make it more rewarding.")
Against Minnesota, it first looks as if it might happen with just over four minutes left in the first quarter. Griffin cuts backdoor, and Baron Davis sees him and lofts an alley-oop. Sensing the moment, the crowd begins to rise. Only Griffin cannot quite reach around Minnesota center Darko Milicic and is forced instead to try to lay it in. From the rafters there comes a collective, regretful sigh.
This is understandable. There is a fleeting element to what we're witnessing from Griffin. After all, Ray Allen's jump shot is as pure now as it was 15 years ago. You've had many chances to see it live in person, and until Allen retires, you will have plenty more. Same for Kobe's late-game greatness and Steve Nash's clever passing. But what you are witnessing now from Griffin has an expiration date. Opponents are already beginning to play him more physically, trying to foul their way off a poster. And as Griffin gets older and his game evolves, he won't need to dunk as often, having become more cautious, just as Stoudemire and Jordan and Barkley and countless other once-reckless dunkers did. Your window to see him at his primal best could be five years, it could be two. Who knows?
So when it finally happens on this night, just before halftime, it is sweet. Griffin drives and flips up a bank shot past Milicic. The ball caroms off the side of the rim, and for the briefest of moments it appears that Love, stationed under the basket, will snare another board. Yet before he can rise high enough to corral the ball, Griffin has already landed, leaped again and violently dunked the rebound with two hands. Love, heretofore known as Victim #327, ends up grasping at air, his nose in the vicinity of Griffin's navel.
On the bench Anthony Tolliver tries to suppress a smile. He just got more company.