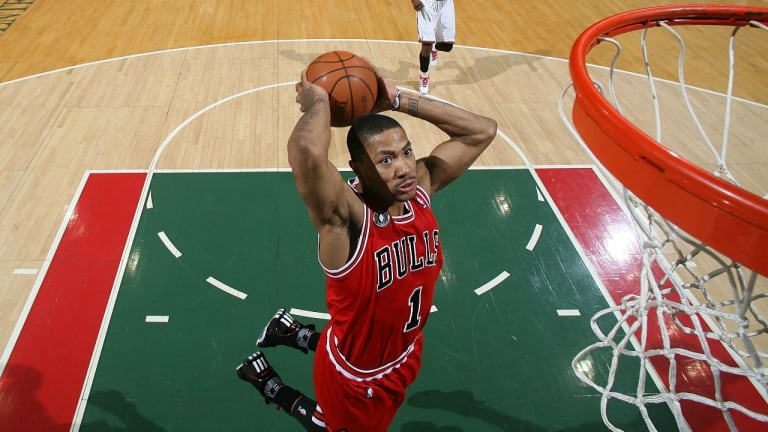 Second Coming in the Second City
By discovering a Jordanesque killer instinct, point guard Derrick Rose has transformed himself into the MVP front-runner—and Chicago into a title contender.
A killer was born in a game of cutthroat. Derrick Rose plays it on summer nights, often after 1 a.m., when he is too restless to sleep. "Let's go shoot," he tells his three roommates, who then know they will not be sleeping either. They pile into Rose's Ford pickup, take a 10-minute ride to the Bulls' practice facility and unlock the door to the court, where they remain until dawn.
The version of cutthroat Rose plays goes like this: Two players. Whoever has the ball starts at the top of the key, gets a maximum of three dribbles and must score to retain possession. First to 10 wins. Rose usually prevails, but his roommates—Tim Flowers, Randall Hampton and Bryant Orange—are no pushovers. They were Rose's teammates at Simeon Career Academy in Chicago, and he uses moves on them that he was reluctant to show opposing NBA point guards such as Deron Williams and Chris Paul. One night last summer Rose was teasing his roomies with step-back three-pointers and 20-foot fadeaways while tossing in some uncharacteristic verbal shots. The guys endured his boasts for a while before one barked, "Why don't you ever do this stuff in real games?"
Rose fell silent. He had no answer. "They were mad," says the 22-year-old Rose, "but they were right. I never did that stuff in real games."
Outside of those sunrise sessions, Rose rarely shot threes and fadeaways because he could so easily break down defenders off the dribble and rocket to the rim. Though a chiseled 6'3" and 190 pounds, Rose also rarely initiated contact because he could so easily avoid it, even while suspended in midair. He was a jitterbug and a contortionist but never a hot dog; he was so quiet and unassuming that teammates sometimes complained that they couldn't hear what plays he was calling.
At Simeon, Rose passed constantly because he was already in line for a college scholarship and he wanted to showcase his friends. At Memphis he feared alienating the upperclassmen. Taken by the Bulls with the No. 1 pick in 2008, he deferred to guard Ben Gordon and, after Gordon left, forward Luol Deng. Rose's good manners earned Chicago .500 records and first-round playoff exits in each of his first two NBA seasons. Coaches at every level begged him to take over games, and occasionally he did after hard fouls or questionable calls or in the face of insurmountable deficits. He erupted just often enough to prove that a killer lurked within. "But the best ones," Rose concedes, "are killers all the time."
It is a chilling term but high praise in the NBA, reserved for the likes of Kobe Bryant and Michael Jordan, Larry Bird and Isiah Thomas. Even in this era of advanced metrics, there is no quantifying killers, but players can tell you who they are by the shots they make. "They are the guys who get you the need baskets," says Bulls reserve forward Brian Scalabrine, referring to the vital hoops that stop runs and close out games. "I have a different word for killers. I call them mother-------. And right now, Derrick Rose is the baddest mother------ in the league by far. He is the reason we win."
The Bulls were 40--17 through week's end even though power forward Carlos Boozer missed the first 15 games with a broken right hand and center Joakim Noah sat out 30 with a torn ligament in his right thumb. The constant has been Rose, averaging a career-high 24.9 points and 8.1 assists, suddenly as efficient as he is entertaining. Many NBA players try to add one dimension every summer. Rose added at least three in the past off-season: Through Sunday he had already made more free throws (298) than he did all last year, more than five times as many three-pointers (85), and more need baskets than anybody else in Chicago since Jordan. Rose has defined MVP—even two members of the Heat, Chris Bosh and Juwan Howard, joined the Rose-for-MVP campaign last week—positioned his hometown Bulls as championship sleepers and tabled the interminable debate about who is the league's best point guard.
When Rose turned pro after his freshman year at Memphis, he met with a Nike representative who told him he was not yet in the same class as Williams and Paul. Rose signed with Adidas, and earlier this month he dismantled Williams and Paul in consecutive games on their home courts. After the game in New Orleans on Feb. 12, the Nike rep called Rose's older brother Reggie to relay his congratulations.
Randall Hampton was at that game, watching his roommate from the stands. With a little more than 2½ minutes left in the fourth quarter and the Bulls up by seven points, Rose dribbled 25 feet from the basket, the usual sleepy-eyed expression on his face. Paul hopped out to challenge him, respecting Rose's newfound range. Rose retreated a step farther and thrust back his shoulders, the signal that he was about to attack. He threw down a furious crossover, paused long enough to freeze Paul and blew past his right flank. The Hornets' 6'8" forward Trevor Ariza rotated over and cut off Rose's path to the basket, forcing him baseline. But by then Rose was airborne, levitating above Ariza's left shoulder, legs splayed as if treading water. He double-clutched and released a rainbow floater, so high it nearly clipped the top corner of the backboard. His momentum carried him out-of-bounds as the ball slipped through the basket. Rose has spent most of his life making the unfathomable look routine, but the nuances of the play set it apart: the way he drew Paul to the perimeter, attacked Ariza in the paint, finished the shot—and the Hornets with it. "This is what we saw on all those late nights," Hampton said in the stands.
Rose has taken one of his corkscrew leaps into the NBA's elite. Coincidence or not, his transformation came at the same time the league underwent its own seismic shift.
Delegations from six teams went to Cleveland in the first week of July to pitch LeBron James. The Bulls had the last meeting and, by most accounts, the longest. The New York Times had already published a story quoting an executive to the effect that James was headed to Chicago. "I think it's a done deal," the executive said. The Bulls had the point guard and the center, not to mention salary-cap space to add two max contracts.
Rose assumed a curious role in the proceedings. While other stars acted like college boosters courting the ultimate blue-chipper, Rose's recruiting effort consisted of one text message, sent mainly for damage control. Rose remembers texting James, I'm just hitting you up to kill all the rumors that I don't want to play with you. I'd like to play with you. I just want to win.
The message was vintage Rose, honest and understated, while his peers were over the top. James expressed his appreciation in a text, but on July 8 he joined Dwyane Wade and Bosh in Miami. The Heat's new threesome was portrayed as the product of the AAU culture, with its stacked rosters and superteams, but Rose came from the same system and took a vastly different lesson from the experience. "He always told me he didn't want to be on one of those stacked teams," says Reggie, who coached his younger brother's AAU club, the Mean Streets Express. "He wanted to be with an underdog."
Rose recognized that he would be affected by James's decision, but he was ambivalent about it, according to several associates. He loved the idea of playing alongside James and of the wins that would inevitably follow. But he also loved the team he had, with Deng at small forward, and he was not about to lobby strenuously for an upgrade. "That showed you what kind of guy he is," Noah says. "If you want to come here and be part of this, that's cool. If not, we're going to try to kick your ass."
The Bulls took their cues from Rose, and when he revealed no disappointment, they did the same. Owner Jerry Reinsdorf went so far as to call his team superior to Miami. If anything, Rose seemed emboldened, eager to accept the responsibility that James had turned down. "It made me want to get in the gym," he says. The gym was at St. Monica High in Los Angeles, where Rose spent more than two months of his summer practicing twice a day, six days a week with trainer Rob McClanaghan, Thunder point guard Russell Westbrook and Timberwolves power forward Kevin Love. Other players also stopped by, but when they tried to take breaks or skip sessions, the regulars told them to stick with the program or drop it. While Westbrook and Love had their own summer to-do lists, Rose was building a jumper almost from scratch. He shot 22.2% from three-point range as a rookie and 26.7% in his second season, while defenses sagged off him. On the rare occasion that Rose let fly, his release was low and his arc flat. The ball invariably smacked the front of the rim. McClanaghan told him, "If you can just get to 39 or 40 percent, where guys have to respect you, it will be over."
McClanaghan lifted Rose's release point, gave him the mantra "no short shots" and made him hoist upward of 1,000 threes a day, off dribbles and ball screens, pick-and-rolls and pick-and-pops. He hollered at Rose, "If you want to be an All-Star, you can't miss these!" and Rose's practice percentage ticked up, from 60 to 68 to 72. Defenses were not going to sag off him anymore, but to take advantage of open driving lanes he had to throw himself into big men as often as he slithered around them. McClanaghan guarded Rose with a three-foot black football pad, forcing him to absorb contact and appreciate the resulting free throws. The players who stayed in that gym and took the punishment—Rose, Westbrook and Love—would make colossal breakthroughs this season.
After Rose returned to Chicago, he raised his voice at media day and declared himself an MVP candidate. The Bulls wondered what had happened to their favorite wallflower. "We thought he'd gone nuts," says Noah. The gesture was indeed out of character, but it was a bold reminder that the Bulls were fine as constituted, with Rose supplying the spark instead of James. The new coaching staff had watched tape of every game from the previous season and seen in Rose a transcendent driver and improviser who often penetrated without a plan and did not always make full use of his quickness on defense. New coach Tom Thibodeau stopped practices in training camp when Rose wasn't chattering on D, and he taught Rose to distinguish between scoring drives and passing ones. Thibodeau urges Rose to rush directly at the basket—"More north-south," Rose says, "not as much east-west"—and look for his shot. But Rose also has to recognize when teams are collapsing on him and who they are leaving open. Typically, a point guard's scoring rises at the expense of his playmaking, but Rose is averaging 2.1 more assists than last year.
Early in the season, after a single-digit victory, Thibodeau charged into the locker room and screamed at the Bulls for not winning by more. Rose beamed. "That would not have happened here before," he says. Rose played for John Calipari at Memphis and Vinny Del Negro in Chicago but never for a tactician like Thibodeau, who leads the Bulls through 75-minute morning shootarounds in which he reviews every play the opposing team runs and every option off that play. The Bulls rank second in both field goal defense and scoring defense, keeping games close so Rose can win them in the end. He scored 17 points in the fourth quarter to beat the Rockets on Nov. 16 and 11 in the fourth to edge the Heat on Jan. 15. In a rematch with Houston less than three weeks later, he made a three at the buzzer to tie and scored five points in overtime to win. In Phoenix on Nov. 24 he made a layup with 0.1 of a second left in overtime to tie and added five points in double OT to win. "He has totally changed," says Hornets point guard Jarrett Jack. "Where he used to defer, he now realizes it's all on his shoulders."
Had James come to Chicago, he would have been the one making the need baskets. Rose would have backed off again. The Bulls might never have witnessed his growth. "We lost out on a top five player," says one club official, "but we got a top five player too."
Rose is not comfortable with compliments. When told he is playing well, he shakes his head and mutters, "I wish." In this way, at least, he is still hard to buy as a killer. He lacks the jutted jaw and pronounced strut and unrestrained ego. He says sir and ma'am. He apologizes to a tape recorder for cursing. He never challenges teammates, even though they sometimes wish he would. Despite his MVP proclamation and the trash talk with his buddies, Rose carries himself like the 15th man. "I'm way cockier than he is," says Scalabrine, "and I never play." During film sessions Rose provides a self-deprecating sound track: "My bad ... my fault ... my mistake ... sorry about that ... I'll get better at that."
Players new to Chicago accuse Rose of false modesty. Then they get to know him. "There's no one in the league like this," says Noah. Rose lives with his roommates in a three-bedroom town house north of Chicago. He drives his pickup. He hates to spend. He likes to have money around for friends in need. This season he released his first signature shoe, but not before he gave instructions to Adidas's vice president of global basketball, Lawrence Norman: The shoe had to be versatile enough to wear with pants as well as shorts, so people wouldn't have to buy a second pair. "He takes pride in being normal," says assistant coach Rick Brunson.
At the end of every practice the Bulls line up underneath one basket, and a player shoots free throws. If the player makes both, practice is over. If not, they all run. On Dec. 18 Rose missed a game-tying free throw with 0.8 of a second left against Del Negro's new team, the Clippers. The next day Rose asked to shoot the free throws at the end of practice, even though it was not his turn. He felt in debt. Six weeks later the Bulls faced the Clippers again, and Randy Foye guarded Rose. On pick-and-rolls Foye ran under the screens for Rose, daring him to shoot outside. Rose felt as if it were 2009 again. He sank three three-pointers in the first five minutes.
No one else is running under screens for Rose, but he is seeing plenty of traps and double teams, junk defenses usually deployed on Bryant and James. McClanaghan sends Rose e-mails to help him decipher coverages, and assistant coach Ron Adams makes him shoot with a heavy ball in practice to maintain his rhythm. And Rose has identified yet another way to expand his game. He plans to spend this summer developing post moves, and assuming the regulars are back at St. Monica High, he can use the 6'10" Love as a model.
But summer is a long way off. Even though Noah and Boozer have played only 12 games together, the Bulls still have the third-best record in the Eastern Conference. They don't yet know what they can be. Noah only returned from rehabbing his hand on Feb. 23, and he will have plenty of time to mesh with Boozer before the playoffs.
Appropriately, one of the Bulls' most reliable players this season has been Deng, the player Rose would not sell out during free agency. Deng is scoring 17.7 points per game and chipping in 6.1 rebounds, clearly benefiting from the confidence shown in him. Rose had enough success with his MVP declaration to throw out one more. "Yeah, I do think we can win it all this year," he says. "How could I think any different?"
If it sounds like he is dreaming, well, that's the most important part of his routine. Rose naps as much as a newborn, three hours a day, and the siestas are sacred. No one wants to wake him early. He can be cranky. He has to feel refreshed at tip-off, even if it means his body clock runs a little late at night. He can always round up a few roommates, grab the key card to the practice facility, hop in the pickup and go shoot.
The game, like the player, is cutthroat.
Now on SI.com
Read more on pro basketball from Lee Jenkins and Ian Thomsen at SI.com/nba
NOAH SUMS UP ROSE'S RECRUITMENT OF JAMES: "IF YOU WANT TO COME HERE AND BE PART OF THIS, THAT'S COOL. IF NOT, WE'RE GOING TO KICK YOUR ASS."
WHEN ROSE DECLARED HIMSELF AN MVP CANDIDATE, THE OTHER BULLS WONDERED WHAT HAD HAPPENED TO THEIR FAVORITE WALLFLOWER.
PHOTO
Photograph
by DAVID E.
KLUTHO
HARD DRIVE Rose charges to the basket as much as ever, but these days he has a feared perimeter game as well.
PHOTO
DAVID
E. KLUTHO (JORDAN AND PIPPEN)
LOOK FAMILIAR? The leaders of Chicago's six-championship run in the 1990s, Jordan (left) and Scottie Pippen, watch Rose and see a player who will take—and make—the shots that matter most.
PHOTO
GREG
NELSON
[See caption above]
PHOTO
DAMIAN
STROHMEYER
BULL RUSH The burly Rose has carried Chicago to two wins over James's Heat, averaging 30 points and seven assists.