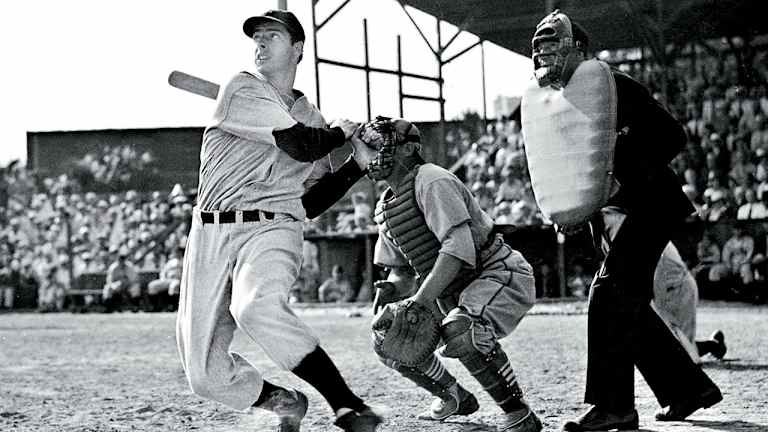 The Streak
Seventy summers ago, Joe DiMaggio hit safely in 56 straight games, setting the most hallowed record in sports. Along the way, though, a sweltering weekend in Washington, D.C., almost halted his march to history
Joe DiMaggio sat reading Superman and smoking in his room at the Shoreham Hotel in Washington, D.C. He adored Superman comics, although he did not want many people to know this. If the newspapers picked up on it, who knew what people might think? What if they made fun of him? His roommate, Lefty Gomez, had the assignment of discreetly buying the weekly comic book for DiMaggio; whenever Joe himself carried a copy he tucked it out of sight. He read the daily Superman strips in the newspaper too.
Superman was a story of unambiguous heroism in which the seemingly impossible was routinely achieved. Something important was always at stake. Everybody loved Superman, and unfailingly he saved the day. There was also the ever-present element of secrecy, of Clark Kent's disguising a completely other identity that no one, not even Lois Lane, could know.
"Why, Joe, you're just like him," Gomez would kid. "He puts on his uniform, and all of a sudden no one can stop him! He's everyone's hero." Sometimes when Gomez bought the comic—and DiMaggio always had him get it the very day it came out—he would goof around by calling out to DiMaggio, who hovered off to the side, "You mean this comic book, Joe? Or this one, the Superman?" DiMaggio would scowl and turn his back and walk off a few paces. Only Gomez could get away with tweaking him like this.
That night, June 28, 1941, with a chance for DiMaggio to pass George Sisler's American League record during a doubleheader at Griffith Stadium the next day, he and Gomez would stay in the room. DiMaggio's hitting streak was at 40 games, one short of Sisler's mark from 1922, and as the 26-year-old DiMaggio had realized over the last few days in New York City and Philadelphia, being out in public now meant being subjected to almost relentless pestering.
Even in ordinary times, when DiMaggio went out, someone invariably wanted to speak to him—and get his autograph. Fans interrupted his meals at restaurants and surrounded him when he left Yankee Stadium. At the movies DiMaggio found it best to sit near the back, to limit the number of people who might see him and come over to greet him even as the picture rolled. But the fawning was far greater now; even an attempt to sit quietly in the hotel lobby was a sure invitation to be bothered.
That was too bad. DiMaggio liked hotel lobbies, saw them as comfortable places to relax. He liked to sit in the plush armchairs beneath the fancy chandeliers and, with one or two other ballplayers in the chairs beside him, watch the hotel guests come and go. They'd sit without speaking. A few years back in St. Louis a reporter had seen DiMaggio and fellow Yankees Frankie Crosetti and Tony Lazzeri together in the lobby of the Chase Hotel. They sat for nearly an hour and a half without exchanging a word. Then DiMaggio cleared his throat. "What did you say?" Crosetti asked.
"Shut up," Lazzeri said. "He didn't say anything."
Then the three men fell back into silence. They sat and watched and were left in peace.
That would not be possible in this time of the hitting streak, so DiMaggio would stay in the room, and he and Gomez would put on the radio and order up steak. Even on a night like this, some enterprising fans would knock on the door, claiming to be bellhops or maids. Gomez would tell them to bug off and say DiMaggio wasn't even there. At times, though, a pretty woman would arrive at the room, and if DiMaggio had invited her or if he wanted her to stay (he had a fondness for redheads), Gomez would leave the two of them alone for a while. Rarely did Joe ever see these women again. He did not offer to take them out for a meal, nor did he suggest that they spend any additional time together. To none of the women did he play the cavalier.
The dalliances may have briefly pleased DiMaggio, but they did not lessen the loneliness he felt without his wife, the former actress Dorothy Arnold. When he was apart from her she seemed in every aspect ideal. The things about her that annoyed him seemed small and unimportant; she became in his mind the missing ingredient he needed to feel at ease. No other woman changed that. DiMaggio still looked forward to returning home to Dorothy's arms; he still wanted her to be at the ballpark for every game and by his side when the photographers came. Out in the nightlife, DiMaggio's gallantry was reserved for his wife. There may have been other women, but really there were none. Joe was always true to Dorothy, in his fashion.
And now Superman is foiling the enemy again, withstanding the blast from a death-ray gun, snaring a falling bomb just before it lands on the innocents below, flying above the tall city buildings carrying Lois safely in his arms. The stilted language of the comic strip was pleasing to DiMaggio—Forward battles Superman against the insidious force of the ray!—and over time the comic book would become creased and dog-eared, its margins foxed. DiMaggio lingered on the pages, reading and rereading, and smoked his Camels and ate his steak with Gomez, and then he tried to put the next day's assignment out of his mind, to see whether he could fall asleep.
Had it ever been so hot in Griffith Stadium? DiMaggio reached up and wiped his brow. Ninety-five degrees and still nearly an hour before game time, the ballpark was a cauldron. Even in these conditions fans had mobbed their way to the stadium. They had come down from New York City, Baltimore and Philadelphia, up from the South and from who knows where else. When DiMaggio and Gomez had arrived at the park and stepped out of their cab, people had shouted and whooped and pushed nearer. There would be 31,000 fans packed in the stands, sweaty shirtsleeve to sweaty shirtsleeve, hundreds more than the 30,600 the ballpark officially held. The last time the two teams had played here, a midweek day game in May when DiMaggio's hitting streak was an unnoticed 14, only 1,500 people had turned out.
"We couldn't draw flies before this," Senators manager Bucky Harris told reporters, peering up into a sea of hats. "The capacity crowd we have here is due to Joe and to nobody and nothing else."
As DiMaggio made his way to home plate for batting practice, boys and young men spilled from the aisles, pushed past the ushers onto the field and went right up to him, tugging on his uniform, pulling on his arm, begging for his autograph. Over here, Joe! A kid held a baseball and a pen. Joe, over here! Another had a program in his hands. DiMaggio did not quite know what to do. He smiled and quickly signed his name on a couple of things as he walked past, and then he took his batting-practice swings. Soon afterward he moved back to the dugout and up into the shaded tunnel for a few moments' respite. A last half cup of coffee. A Camel. Christ, it was hot. He just wanted the game to begin.
Sisler had played here as a Senator in 1928, acquired from the St. Louis Browns for a forgettable six-week stint near the end of his career. But it was not those days the old-timers remembered when they thought about Gentleman George. With the Browns he had been the best first baseman in baseball for years, the predecessor to Lou Gehrig. Sisler batted .407 in '20 and .371 a year later, and then came '22. It was said that no other ballplayer—not Ty Cobb, not the Babe—ever had a better all-around season than Sisler had that year. He led the American League with 246 hits, 51 stolen bases and 18 triples. He batted .420 and hit in a league-record 41 consecutive games. He dominated on defense, too, fielding his position with a range and agility unlike that of any other first baseman, before or since. In 1939 Sisler had been elected to the Hall of Fame.
The attention on DiMaggio at this doubleheader was not limited to the sweltering mass at Griffith Stadium—nor to the room in St. Louis where Sisler, now a sporting-goods salesman, tuned in. In New York City radios played on stoops in Jackson Heights and on fire escapes in East Harlem, where Italian was still the language of the street. In New Hampshire guests at a lakeside resort asked to receive updates on DiMaggio throughout the afternoon. The streak was being followed in Kansas City by Rugger Ardizoia and Bud Metheny and the rest of the would-be Yankees playing for the minor league Blues. Radios were on in Newark, of course—big Sunday crowd at the Vittorio Castle restaurant—and in small Connecticut towns. The play-by-play by the Senators' Arch McDonald would be broadcast on the powerful airwaves of WMAL through D.C. and east to the coasts of Maryland, Delaware and Virginia—the seaside hamlets that lay an entire country's width from Joe DiMaggio's Grotto on Fisherman's Wharf in San Francisco.
Business was thriving at the Grotto, and the explanation was clear. Joe's older brother Tom, who managed the restaurant, estimated that since the streak had caught fire, the Grotto's daily take had doubled. Tourists wanted to see the newspaper clippings of Joe on the wall and his trophies in the back, to chat a bit with Tom or his brother Mike and to imagine Joe returning to this place when his season was done. "Any wonder that I'm trying to keep this streak going?" a grinning Joe had told reporters after getting Tom's report on the Grotto. "It's cash in the register, boy."
All week long Joe's father, Giuseppe, had paced the front rooms of the family house on Beach Street, waiting for news of the streak. Tom couldn't remember ever having seen their father so preoccupied, so concerned with the accomplishments of any of his three baseball-playing sons—Vince, Joe and Dom. The radio that Joe had bought his parents played throughout the afternoons and evenings (you never knew when you would hear some talk of the streak), and sometimes Giuseppe would ask his granddaughter Betty to call the newspapers to see if anything new had come in. Such fussing, though, was not the way of Joe's mother, Rosalie. Each night she quietly lit a candle for Joe and changed the flowers in the Catholic icon, hoping to bring good fortune to her son.
Now at the bustling Grotto, Tom hustled about stroking his mustache and tidying things and making sure the customers were comfortable. Soon Mike came in from his fishing boat. Wine was being poured in the middle of the day. People ordered cioppino—It's authentic at DiMag's place, they reasoned. The restaurant's radio had been turned on and set atop the bar, in case there was a bulletin. Several times Tom had to scold the waiters and busboys to keep their minds on their work.
People were also listening over in the Mission District, at the Double Play lounge and in the smoke shop outside Seals Stadium. And they were listening, as ever, in North Beach, on the church square and at the taverns and in the kitchens of their homes. All afternoon, teenagers such as Alessandro Baccari Jr., a family friend of the DiMaggios, wore out the line phoning the Call-Bulletin and the Chronicle, hoping that the ticker tape had just delivered some news and they would have it a moment or two before others in the city. Getting the news first mattered to them. The boys who came from the playgrounds of North Beach clung to their roots, Joe's roots, and to their memories of him as a young man. They would remind anyone in San Francisco then, just as they would remind people all over for many, many years, that Joe was their Joe first.
Photographers knelt along both foul lines at Griffith Stadium, as if it were a World Series game, and saved their film for when DiMaggio came to bat. Motion-picture cameras were also trained upon him, to capture his historic at bats for the newsreels. DiMaggio remembered to smile casually into the lens, give a short wave, a friendly salute. When he prepared to hit, swinging two bats before tossing one aside, his face revealed nothing.
Inside, though, he churned. He had been like that for days now, as he neared Sisler's record, and at times this stress affected his behavior. A couple of games back DiMaggio had done something he could not remember having done before. A pitch came in that he believed was off the plate for a ball, and when the umpire barked out, "Strike!" DiMaggio turned back and gave him a sharp look. Every strike mattered; each hitless at bat could hasten the end of the streak. Yet the moment he turned his head, DiMaggio regretted it. Looking at an umpire this way was a sign of disrespect. More than that, it was an act of insubordination, a self-inflicted scratch upon his polished image. DiMaggio simply did not question umpires. He played the game as well as he could; the rest, he felt, was not his business. So uncharacteristic was DiMaggio's reproof that the umpire was taken aback. "Honest to God, Joe, it was right down the middle," he said through his mask. DiMaggio, chiding himself, turned back to face the pitcher without saying a word.
Washington's first-game starter, Dutch Leonard, was a coal miner's son from Illinois. At 32 he had the look of a man well into middle age; he was flabby, with a moon face and a hairline in full retreat. Guys razzing him from the dugout, called him Butcher Boy and Big Blubber. Leonard threw a knuckleball, an extravagantly slow curve and an unremarkable fastball. But it was no accident that he had won 20 games in 1939 and was having another strong season. His big, jerky windup could throw a hitter off, and sometimes that sandlot fastball, when it came just after one of his butterfly balls had danced by, seemed the size of a pea. DiMaggio had recently said that Leonard had one of the trickiest fastballs in the league.
By the time DiMaggio dug in his first time up, the temperature had climbed to 98 degrees. The cameras clicked as he took his stance, and when he swung hard at the first pitch—as if to say, Let's go, let's get this done with!—and drove the ball into the outfield, the people rose in the stands, only to see the able Doc Cramer glide over from centerfield, reach up and squeeze the ball in his glove.
In the fourth inning against DiMaggio, Leonard nibbled around the plate, coming in too high with his first pitch, missing off the outside corner on his second and putting a knuckleball too far inside on his third. With the count at 3–0, DiMaggio looked to third base coach Art Fletcher for the sign. Manager Joe McCarthy was allowing DiMaggio to swing away—even with one out, a runner on first base and no score in the game, and even with leftfielder Charlie Keller, the team's leading RBI man, on deck. A walk might have done the Yankees good. In came a pitch that DiMaggio should have taken, but he swung at it, and as his pop fly landed in the glove of third baseman George Archie, the crowd groaned in disappointment.
When DiMaggio stepped up for the third time, in the sixth, Leonard was still in the game, trying to keep the Yankees' lead to 3–0 and fighting the mid-afternoon heat. Again DiMaggio swung at the first pitch, but this time he missed. An errant curveball set the count at 1–1. Leonard looked in. If I can get a fastball past him, I bet I could finish him off with the knuckler, he thought. So it was a fastball Leonard threw, knee high and on the outer half of the plate. The barrel of DiMaggio's bat caught the ball flush, and in a moment it was bounding on the outfield grass toward the 422-foot sign in left center. Forty-one! Suddenly there was reason for the fans, now cheering and slapping backs, to stay around and weather the heat for the second game. They watched DiMaggio turn hard around first base and bear down toward second, his cleats kicking up the dun earth, and then slow as he reached the bag with a stand-up double. The cheering continued in the stands, and the Yankees' dugout throbbed with excitement. Though DiMaggio did not clap or clench his fist or raise his arms, he felt a release, a momentary ease.
Sweat soaked through his flannel uniform, streaming down his legs and chest and back. He sweat more than most of his teammates, which seemed paradoxical: The quality of DiMaggio's game that other players called grace or fluidity was simply an economy of movement. There was nothing superfluous in DiMaggio's swing, or in the way he ran the bases and chased down balls in centerfield. Still, he sweat heavily in the heat. When that first game ended—Yankees 9, Senators 4—DiMaggio felt very much in need of a shower.
Fans had already jumped onto the field by the time he reached the dugout; again pens and scorecards were thrust at him. California senator Hiram Johnson had also come around. His aides and some photographers wanted DiMaggio to come over and pose with him; Johnson had been California's governor the year DiMaggio was born. But there were so many people everywhere, with more coming over the rail, and DiMaggio's teammates were disappearing into the tunnel toward the clubhouse. DiMaggio felt tired and sticky. He could come back for the senator, he thought, so he asked the photographers if they wouldn't mind waiting. Then he pushed through the swarm of bodies to the clubhouse.
DiMaggio showered, pulled on a fresh uniform and said a few words to the newspaper reporters about the low pitch he had hit for the record-tying double. When he slipped back out to the field and looked for Senator Johnson and the cameramen, they were gone. Don't they still want me to pose? DiMaggio wondered. Are they sore with me now? Maybe the senator felt slighted. DiMaggio hoped this wasn't so and hoped the incident would not put him in a poor light. He'd needed to cool his body and get away from the frenzy on the field. So great was the commotion between games, in fact, that someone in the crowd had slipped into the Yankees' dugout and stolen DiMaggio's bat.
"Tommy, you​ got my ball bat?" Yankees rightfielder Tommy Henrich, out on the grass and preparing to hit in the first inning of the second game of the doubleheader, turned back to see who had called his name. It was DiMaggio. Henrich did have a DiMaggio model—the same one he'd borrowed weeks earlier—but he did not have the bat that DiMaggio had been using in games, the one he had sanded down just so. The bat was not with the others in the rack, nor was it leaning against a dugout wall or lying beneath the bench. It was gone.
So when DiMaggio, facing Sid Hudson in the first inning, swung at a waist-high fastball and looped a fly to rightfielder Buddy Lewis, he was using a reserve piece of wood. Who knows? Had he been swinging his usual bat, maybe that fly ball would've dropped in safely. DiMaggio entertained this thought himself.
He used that same bat his second time up, in the third inning, and when Hudson dropped down to whip in a sidearm curve, DiMaggio was not fooled. His line drive reached shortstop Cecil Travis before DiMaggio was out of the batter's box, and Travis caught the ball at shoulder height. Oh for two.
The game wore on, and the heat did not wane. DiMaggio sat by himself on the bench. In the fifth inning the Senators brought in Arnold Anderson to pitch. Anderson, an Iowa farm boy with auburn hair and a freckled face, weighed 210 pounds and stood 6'3". Everybody called him Red. His best pitch was the heater. That inning against DiMaggio, Red came inside with the fastball on the first pitch, then missed away with the curve. When he came back inside with the fastball, DiMaggio could get only the handle of his bat on the pitch, and the ball died in Cramer's glove in short centerfield. The fans in Griffith Stadium sat back down. The sun had fallen lower in the sky.
The score was tied 4–4 when the Yankees scored twice in the top of the sixth to take the lead, but if ever a game-turning rally seemed beside the point, it was this one. The fans and many of the players had only one thought in their minds: DiMaggio was 0 for 3. He never did the things that some ballplayers do when they're nervous on the bench. He did not scratch the side of his face or pinch his lower lip or rub his hands together. Unless something called his attention, he did not turn to the left or to the right. He stared straight ahead.
No one in the Yankees' dugout dared speak to Joe. But when the seventh inning arrived and with it, perhaps, DiMaggio's final turn at bat, Henrich went over to him. He suggested that DiMaggio use the bat that Henrich had been using—it too was DiMag's bat, after all, and the other one hadn't had much luck in it. DiMaggio agreed and took Henrich's bat with him to the plate. Again Anderson started off high and close with his fastball, forcing DiMaggio to jerk back out of its way. Then Red, in his first full major league season, might have gotten cocky. Or maybe the fastball was the only pitch he trusted. Whatever the reason, on 1–0 he threw it again—this time over the plate.
You could have heard the crowd's roar on Georgia Avenue, past the trolley tracks and way up the hill, when DiMaggio hit that ball, a hard, clean single into leftfield. First base coach Earle Combs slapped DiMaggio on the back, and first baseman Mickey Vernon shook his hand. DiMaggio gave Vernon a pat on the rump. There would be no enforcing of the league's antifraternization rule today. Even first base umpire Bill McGowan gave DiMaggio a tap on the behind. In the Yankees' dugout, caps were tossed in the air and players danced. And now DiMaggio smiled broadly. He looked around and hitched his pants. Suddenly children—the urchins, as Yankees players laughingly called them—ran onto the field toward DiMaggio. In the stands the bedlam (this was the word that the newspaper writers would use) did not quickly subside. DiMaggio touched the bill of his cap once and then a second time. Several minutes passed before the game could continue.
And when Keller tripled, bringing DiMaggio home to score, the crowd stood and hollered anew as he arrived at the dugout, greeted before the first step by Johnny Sturm, and then by Gomez and Twink Selkirk and Bill Dickey and Henrich and Red Rolfe and then by his other teammates as he stepped down among them, all of them wanting to envelop their Joe. McCarthy grinned and shortstop Phil Rizzuto hopped about and DiMaggio was filled with relief and happiness.
The euphoric mood continued in the locker room after the game as the reporters came rushing in. DiMaggio sat naked on a trunk, unabashed and laughing. Players tossed towels at him and even tousled his sweaty black locks. All of this was O.K. to do now. When McCarthy came over and shook DiMaggio's hand, the manager would not let go. His smile was unrestrained as he looked at DiMaggio, and an understanding passed between them. DiMaggio knew that McCarthy had compromised his game strategy more than once for the streak. This was no small thing for a manager like McCarthy. The divide that had existed between the two men ever since DiMaggio had held out for a larger contract in 1938 and McCarthy had toed the Yankees' line now seemed closed. "I don't deserve the credit all alone," DiMaggio told the writers first thing. "You have to give Mr. McCarthy some of it. He allowed me to hit that three-and-oh pitch, and it brought me many a good ball to swing at."
Before long a 10-word telegram arrived at the clubhouse from Sisler in St. Louis: Congratulations, it read. I'm glad a real hitter broke it. Keep going.
DiMaggio spoke as expansively as he was able to with the writers. "Sure I'm tickled, who wouldn't be," he said. "It's a great thing." This time it was impossible for him to measure every word. There were so many questions, and they came so fast. "When I got so close to Sisler's mark I didn't want to stop," he said. "I never felt so much on the spot before.... It is the most excitement I guess I've known since I came into the majors."
By then the news had traveled to all the ballparks in the country. And from New England to California, some version of this news report was broadcast on the radio: The Nazis, continuing their march, are now said to be just 225 miles from Moscow. [Pause.] And this has just come in from our nation's capital: Joe DiMaggio has done it! The Yankees slugger has hit in 42 consecutive games, a new record.
In San Francisco customers ordered Scotch highballs at the Grotto. Giuseppe DiMaggio felt relieved and aglow. And who said he couldn't joke around in English? A reporter from the Chronicle spoke to Papa DiMag and transcribed his words this way: "Joe, he waited too long. He waits until da seexth inning before he ties da record of Seesler. Then he waits until da seventh inning before he breaks Seesler's record in da second game. He makes his papa worry too long. Why cannot my son Joe do it in da first inning?"
Across the country in Brooklyn, a shout went out in Bensonhurst, where a group of young stickballers including nine-year-old Maury Allen stopped their game and ran to the first radio they could find. Down the coast in Ocean City, N.J., the main street buzzed and another nine-year-old, Gay Talese, felt thrilled, even empowered by what DiMaggio, a fellow Italian-American, had done.
And in South Jamaica, Queens, the radio hummed on the grocery-store counter near which yet another nine-year-old, Mario Cuomo, sat on a milk box, fiddling with his pea shooter, all ready to go. It was a hot Sunday night, and often on hot Sunday nights Mario and his parents and his brother and sister would all get into the wood-paneled station wagon and drive out to Rockaway Beach. They would park on the sand and put the tailgate down and sit together in the back of the car listening to the water lapping in and talking, perhaps, about the things that had happened in the ball games that day. The sun slipped to the horizon, and you could hear the voices from the boardwalk. There was not the hubbub of a place like Coney Island, with its roller coasters and Wonder Wheel and the air-rifle shooting galleries where the tin ducks had been replaced by little models of Nazi paratroopers. At Rockaway Beach the night was quieter; there was just noise enough. Mario could fall asleep under the blankets, the sea breeze upon him, full of sweet anticipatory giddiness, knowing that the next day his ballplaying hero Joe DiMaggio would be all over the newspapers, the hitting feat there for Mario, and millions of boys like him, to feast upon.