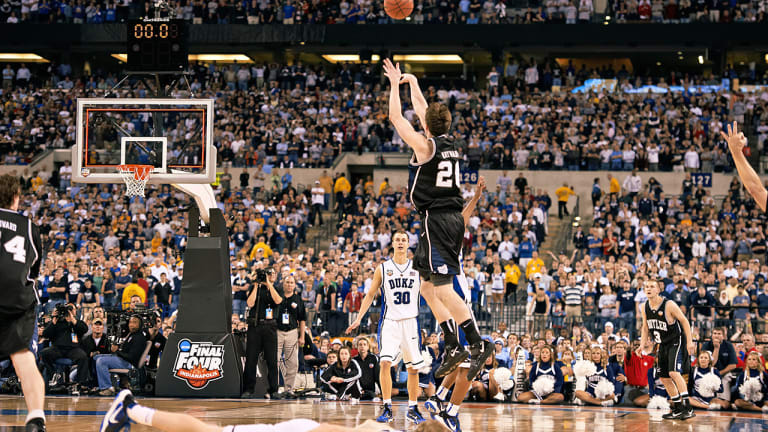 A Fling and a Prayer
After two tense minutes of twists and turns and heroics in last year's title game, Butler forward Gordon Hayward heaved a buzzer beater that had a chance to be the greatest shot in college basketball history
One after another, the shots dropped from beyond the midcourt line. Was it three? Four? Could it have been five? Hard to remember. It didn't seem significant at the time—just crazy. On a February afternoon last year, Butler sophomore forward Gordon Hayward had gone to Hinkle Fieldhouse for some extra practice. The Bulldogs work out as a team at 6:30 a.m. so they won't miss classes, but players often return later for individual sessions. Finished now, Hayward and two teammates were launching half-court shots for fun. Basketball players at all levels do the same thing. "Just messing around," says Hayward. And, hey, you never know.
A group of prospective students touring the campus entered the building, a basketball shrine built in 1928. At Butler they make sure to show off Hinkle—where Hickory High and Jimmy Chitwood won their state title in Hoosiers (and Milan High and Bobby Plump won their real one)—because, as Butler vice president Tom Weede says, "How many colleges have a movie set on campus?" Hayward threw in one bomb, and the tour kids stopped to watch. Another heave fell through, and a few of the visitors clapped. Yet another went in, and they all sat in the stands. Hayward was already an Indiana treasure. Two years earlier he had scooped up a loose ball and scored at the buzzer to give Brownsburg High a state title, and now he was Butler's star, a slender, 6'8" kid with shaggy hair and soulful gray-blue eyes, straight out of Heartland central casting. Surely the visitors knew whom they were watching. Hayward remembers the afternoon from a distance, hundreds of miles from Hinkle and nearly a year later, and the recollection is more than a little bittersweet. "So, yeah," he says, "I just wish one of those could have been the One."
The One came just before midnight on April 5, 2010, in last year's NCAA championship game at Lucas Oil Stadium in Indianapolis, six miles from the Butler campus. With his team trailing top-seeded Duke by two points and with 3.6 seconds to play, Hayward pounded four long dribbles from deep in his own backcourt, loped just across the black midcourt stripe and flicked a rainbow toward the rim. If it went in, it would be the most famous shot in college basketball history: the first desperation toss to win a national title and the last step in the ascent of a tiny mid-major school to the top of the sport. If it did not go in, it would be among the most famous misses, elevating the game simply through the delicious possibility that it might have dropped. Either way, the heave became historic as soon as it left Hayward's fingertips.
At the edge of the elevated court, above the Bulldogs' bench, coach Brad Stevens followed the path of the ball. Stevens, another native Hoosier, from Zionsville, had taken Butler to the NCAA tournament in each of his first three seasons, and this team had won 25 consecutive games. Taciturn by nature, the 32-year-old Stevens had felt the emotional intensity of the Final Four weekend chipping away at his reserve. "I remember it as clear as day," says the coach, sitting in his Hinkle office in February. "I had time to think: This is a movie. This is a fairy tale. This ball is going in, and that's how it's going to end."
On the Duke bench associate head coach Chris Collins watched Hayward's shot begin its upward arc. Collins had been there before. In 1994 he was a sophomore guard for the Blue Devils, two steps away from Arkansas's Scotty Thurman when he nailed the sideline three-point rainbow that sealed a 76--72 victory for the Razorbacks and a national championship. Not again. "Of course, the ball was in the air for about 10 minutes, and it looked good," says Collins. "Human nature, I'm thinking about destiny and Butler and Indianapolis. Who wouldn't be? My heart was up in my throat. Come on, don't let this be a fairy tale."
Two steps behind Hayward, referee Tom Eades threw his left hand in the air to signal that the basket would be worth three points. Eades, 54, is a roundball lifer, a 6'3", back-to-the-basket low-post star in the early 1970s at Central City High in western Kentucky and a three-year letterman at Belmont University in Nashville. He had been calling games for more than three decades, but this was his first national championship. (Eades and his wife had planned a cruise vacation departing on the Sunday of Final Four weekend; when NCAA supervisor of officials John Adams called him, he thought he was going to get spanked for his officiating in the rugged East Regional semifinal between West Virginia and Washington. "I almost passed out when John told me I was selected to work the national championship game," Eades says.) As he tracked Hayward's shot, he listened for the horn. "I saw the flight of the ball," he says, "and I said to myself, This thing's got a chance."
In the front row of the Butler student section, at the end of the floor beneath the Bulldogs' basket, Kyle Murphy, a 21-year-old junior from Peoria, Ill., stood as the ball sailed toward him. Murphy had been among several hundred Butler students who camped outside the stadium for more than 24 hours before the game, waiting out a cold, windy overnight rainstorm while huddled beneath a small overhang. "Gordon shoots it," says Murphy, "and you don't expect it to go in. Then it looks like it might."
Under the opposite goal 21-year-old Ari Uhalde, a Duke sophomore from Santa Rosa, Calif., and a regular in the stands at Cameron Indoor Stadium, resisted her customary urge to look away in moments of peril for her Blue Devils—as if not watching would prevent disaster. "I get so nervous, I usually close my eyes," she says. "I forced myself to watch this time." She clenches her fists even in the retelling.
Outside the stadium, in a network production truck, Bob Fishman, CBS's lead director for college basketball, was looking at a panel of 15 monitors. He had orchestrated the network's Final Four coverage in 28 of the 29 previous years (missing only 1990, after undergoing a bone-marrow transplant for non-Hodgkin's lymphoma). The truck was crowded with workers and executives. "He takes that shot, and you know if it goes in, you're recording history," Fishman says. "If it goes in, it's monumental." He remembers a sudden scream in the trailer, an echo of the roar from more than 70,000 fans inside the stadium.
College basketball arrived at the spring of last year in another of its crises. If it's not a recruiting scandal, it's overpaid coaches. If it's not overpaid coaches, it's lousy graduation rates. So it was again: The latest scourge, not entirely novel, was the raiding of talent by the NBA, which watered down the college game and robbed it of its continuity. Exhibit A of this outrage was coach John Calipari's Kentucky team, with four freshmen who would flee the bluegrass for the pros after just one season.
Yet whatever the issue, the sport is inevitably (if temporarily) rescued by March Madness. In 2010 ninth-seeded Northern Iowa eliminated top-seeded Kansas on the first weekend of the Midwest Regional, and St. Mary's, a 10 seed, took down No. 2 Villanova in the South. Buzzers were beaten. Favorites fell. Cornell advanced to a Sweet 16 matchup with Kentucky, and while the Wildcats won that game, they played immaturely two days later and lost to West Virginia to fall short of the Final Four. (Sigh of relief.) And no team better represented the healing powers of the Dance than Butler.
The Bulldogs were cast as Cinderella but didn't fit the role. This was the third time they had reached the Sweet 16 in eight years; they had started and finished the season ranked No. 11 in the country; they had claimed both the regular-season and tournament titles in the Horizon League; and they hadn't lost a game since late December. But Butler has only 4,200 students, and after the Bulldogs beat No. 1 seed Syracuse and No. 2 seed Kansas State to win the West Regional and earn the right to play in the Final Four back home, there was no stopping the story and no slowing the love. The Butler campus was soon overrun by journalists from around the country. The school bookstore was overwhelmed by demand for Butler wear and began selling gear directly from the cardboard boxes.
More than 30,000 spectators turned out on Friday afternoon at Lucas Oil Stadium for Butler's open practice. Afterward junior guard Ronald Nored went for a walk in downtown Indianapolis with relatives and friends. "I didn't wear any Butler stuff," says Nored, "but people recognized me anyway." On campus the previous week, junior center Matt Howard had ridden his mountain bike everywhere, he said, "because it's hard to stop somebody on a bike."
Thrust into the center of the frenzy was Butler president Bobby Fong, a 58-year-old Chinese-American scholar of poetry whose only college athletic experience had been as a 5'5½", 103-pound coxswain on the Harvard freshman crew in 1969. "I never passed the swim test," says Fong, "so every morning on the Charles River you would see one boat coming down with a coxswain in a life jacket." Before his appointment at Butler in June 2001, Fong had worked exclusively at Division III colleges. (He will soon be returning to D-III, as president of Ursinus College in Collegeville, Pa.) He delighted in the approval Butler's players received—from fans and journalists alike—for attending classes in the week leading up to the Final Four and even on the day of the championship. "What we did," says Fong, "was bring a Division III mentality to a Division I school." It was suggested to Fong that Butler cancel Tuesday classes if it won the national championship. "But what kind of message would that send?" he replied. Instead he canceled classes win or lose.
On the first Saturday in April, the Bulldogs earned a place in the title game, with a 52--50 victory over Michigan State. And on Sunday morning Hayward insisted on attending services at the Messiah Lutheran Church in Brownsburg, where he had worshipped since childhood. He called his father, also named Gordon, and told him, "Dad, let's keep this low profile, O.K.?"
His father said, "Whatever you say, son, but I'm not sure that's possible." The pastor talked about Butler and the younger Gordon Hayward in his sermon, and the player autographed copies of the church bulletin on his way out.
Butler's opponent on Monday night was a storied program that was as miscast in the role of prohibitive favorite as Butler was in the role of hopeless underdog. Duke had won three national titles since Mike Krzyzewski took over in Durham in 1980, and in that time the Blue Devils had inspired the type of widespread love-hate reserved for Notre Dame and the New York Yankees. "We knew we were the villains," says Jon Scheyer, then Duke's senior point guard, "but we had just played Baylor in Houston. And in general we're used to being the team people root against. It was all pretty normal to us."
Except that the Blue Devils had not won a national title since 2001 and had not been to the Final Four in six years. The senior class of Scheyer, forward Lance Thomas and 7'1" center Brian Zoubek had lost as freshmen to Virginia Commonwealth in the first round of the NCAA tournament; as sophomores to West Virginia in the second round; and as juniors, by an embarrassing 23 points, to Villanova in the Sweet 16. "People were down on us," says Scheyer. "We weren't where a normal Duke team should be."
But the struggle had served them. Scheyer was toughened by defeat and criticism. Zoubek had missed big chunks of his sophomore and junior years because of two surgeries on his left foot, and with six weeks left in his career he was suddenly playing with unexpected hunger. Duke lost three games in 22 days during January but only one the rest of the season. The Blue Devils came to Indianapolis with three seniors and two juniors in the starting lineup, something straight out of 1975. Butler, meanwhile, played a rotation that included three sophomores, three juniors and one senior, but among those seven only Hayward, who plays forward but has guard skills and a big vertical leap, was considered likely to play in the NBA the next year. Or ever.
"When the teams were out there," says Krzyzewski, "nobody watching was thinking, This pro and that pro. Where will they go in the draft? It was just about these kids at Butler and those kids at Duke. The word people kept using with me was pure. It just seemed pure."
In 40 minutes that night there were no dunks. The teams had only two fast-break points.Two. And no player can remember a syllable of real trash talk. "Maybe a little chatter when a ball went out-of-bounds off somebody," says Blue Devils forward Kyle Singler, then a junior, "but no bad blood at all. And that's rare. Both teams were so into the game."
Both teams knew what type of game they would get. Duke associate head coach Steve Wojciechowski and Butler assistant Matthews Graves were the principal scouts, and both came to understand that they would be facing the fiercest defense they had seen all season. (Long after the game Hayward would say, "Duke was, by far, the hardest-playing team we faced. Physical and clean, just getting after it on every possession, just like we play.")
Says Wojciechowski, "We emphasized to our guys that when you study Butler, they look like choirboys, but they play the game incredibly physically and hard. That was a huge factor in the tournament. Butler took the fight to people, and people were absolutely not prepared for it."
For nearly 38 minutes the Bulldogs and the Blue Devils played a tight throwback contest in which every possession was prized. There were 15 lead changes and seven ties, and neither team led by more than six points. "No runs," says Scheyer. "In our games we always made a run."
Then they crammed an opera into the final 124 seconds. Easy shots were sabotaged by fatigue and nerves. Both teams veered away from their seasonlong strategies. A Hall of Fame coach took a momentous gamble on a gut feeling. And a big kid from south Jersey did more great things in 13.6 seconds than some players do in their entire careers.
It all started with a referee's whistle.
2:04 Remaining: Duke 60, Butler 55
From the top of the key, Singler makes a hard left and barrels down toward the right block before colliding with the 6'8", 230-pound Howard. Both players crash to the floor, and the ball squirts into the corner, where Scheyer retrieves it and drains a three-pointer after the whistle. There could be a blocking foul on Howard (which would be his fifth), a charge on Singler (his second foul) or neither, in which case the basket would count and Duke would be up by eight. Baseline ref Ted Valentine calls Singler for traveling. It is a plausible but unusual interpretation of the play.
Thirteen seconds later, Nored drives left, jumps and gets stuffed by Scheyer. Maybe it's a held ball. There is no whistle. The possession arrow favors Butler, but the referees aren't aware of that; the play-on keeps Butler's possession alive. The crowd of 70,930 is roaring, heavily supporting the Bulldogs. "It was the first time I've ever felt awkward being a Duke fan," says Uhalde, the sophomore. "We were doing our little Cameron chants, and I just felt overwhelmed."
On the Duke bench Krzyzewski senses the same thing. "I felt the mood, the atmosphere in the stadium, tilting toward Cinderella," he says nine months after the game. "Those things influence you." And they will soon guide a critical decision.
1:44 Remaining: Duke 60, Butler 55
Hayward drives the lane on Scheyer (who has picked him up on a switch with Singler), gets a screen from Howard and then, on a pick-and-roll, feeds Howard for a layup.
1:19 Remaining: Duke 60, Butler 57
Duke junior guard Nolan Smith, playing in the city where his late father, Derek, won a national title with Louisville 30 years earlier, runs Butler guard Shelvin Mack over three screens on a set called Through and gets all the way to the rim for what appears to be a gimme. But Smith, a natural righthander, uses his left and babies the shot off the front of the iron. "Just left it short," he says. "Should have gotten more lift." How often had he gone to his left hand on similar uncontested drives? "Not very often," says Smith. "Maybe never." He shrugs, smiling at the absurdity of it.
Duke still leads by three. Butler has the ball. The emotional shift that Krzyzewski felt? It's palpable. The Bulldogs haven't lost a game since Dec. 22; it's as if they can't remember how. They overcame late deficits to take down Syracuse and Kansas State. The Michigan State game was tight all evening. "There was never a time after Christmas break where I thought we would lose a game," says Nored. "Even with two minutes left in the national championship game. Heck, this is just another one."
:59.8 Remaining: Duke 60, Butler 57
Mack runs Smith over a double ball screen (Howard and Hayward) 25 feet from the basket. The Butler offense is a screening machine designed to wear teams out. Singler and Zoubek, acutely aware that a three-point shot will tie the game, both freeze, and Howard rolls alone to the basket. Mack finds him with a long, over-the-top pass—"A great look," says Stevens—for another layup.
"I should have had him," says Singler. "I was worried about coming out to help Nolan on Mack, who's a good shooter."
Says Collins, "They got us." Now the big building is shaking.
:38.8 Remaining: Duke 60, Butler 59
After a timeout, Duke runs another textbook play, with Singler and Scheyer running off baseline picks, and gets another clean look. This time it's Singler who pops from the lane to the right elbow, takes a feed from Scheyer and, on a night when he scored a game-high 19 points, barely catches front iron on a wide-open 16-footer. "Short-armed it," says Collins. The ball drops to the floor underneath the goal as Zoubek and Howard battle for rebounding position. The 260-pound Zoubek's left arm is slung across Howard's neck and upper chest, and Howard crashes to the floor. "I was a little overmatched in the strength department," says Howard. "The leverage was all his, and he's a big dude."
On the CBS telecast, play-by-play man Jim Nantz says, "Howard was thrown down! No call!"
Nantz's partner, analyst Clark Kellogg, says over the replay, "Boy, a lot of hand fighting... . Howard flopped a little bit there." On a second replay Kellogg backs off slightly: "Zoubek did move him a little bit, but Howard embellished."
Zoubek winds up on the deck as well, twitching like a hooked carp. The ball ricochets off his foot out-of-bounds along the baseline. The no-call is huge: Zoubek too is carrying four fouls, and has since the 11:21 mark.
Duke declines to press, and 20 seconds into a choppy possession in which Butler can hold for one shot and win the national title, Mack penetrates and throws a pass toward senior forward Willie Veasley in the left corner. Zoubek deflects the ball with his left hand, and it bounces away. The Bulldogs will inbound on the baseline, near the deep corner, an awkward position that leaves few options. "Maybe five times all year we inbounded from there," says Stevens.
Butler calls timeout.
:13.6 Remaining: Duke 60, Butler 59
On the Blue Devils' bench Krzyzewski tells his players, "We're going to win a championship with our defense." He also makes a decision: Zoubek will guard the inbounds pass, which Duke players and coaches say he hasn't done all season. (Stevens recalls otherwise: "I think we saw it on tape.") Either way, it's a problem for the Bulldogs.
Hayward inbounds. Howard sets a screen at the left elbow, and first Veasley runs Singler and then Nored runs Scheyer over the pick, trying to get free on the sideline or to spring Howard for a screen-and-roll layup when the Blue Devils switch. Because the Blue Devils always switch. Except that neither Singler nor Scheyer switches.
"We didn't plan it, we didn't even talk about it," says Scheyer. "For 39 games we switched on screens against out-of-bounds plays, and on that one we didn't. To this day I can't tell you why. I guess we were just so intent on stopping them." Good thing too: Had the Bulldogs gotten the ball in, Zoubek would have had to guard the much quicker Hayward, a deadly matchup for Duke.
Eades counts all the way to four seconds before Hayward takes a timeout, Butler's last.
:13.6 Remaining: Duke 60, Butler 59
This time it's Butler that makes a change. Howard will inbound the ball, also a first for the season, and loft it to Hayward 40 feet from the rim. "I told Gordon," Stevens says, "'Post your guy, get the ball, and then let's play it out.'"
Hayward receives the pass even with the left side of the lane. Singler is guarding him alone. The first nugget of Wojciechowski's scouting report on Hayward was: Wants to drive left. The 6'8" Singler is a skilled, athletic defender, and he has done a terrific job on Hayward all night, holding him to just 2-for-9 shooting and 12 points. But two years earlier and two miles away in Conseco Field House, Hayward, then a senior at Brownsburg, had been held to eight points in the Class AAAA title game against Marion High—until he scooped up a loose ball after a 70-foot pass was deflected and dropped in a game-winning runner by the basket at the buzzer. Why not again?
Hayward attacks Singler, trying, indeed, to go left. "I thought I was a step quicker than Kyle," says Hayward. But Scheyer, anchored on the sideline while guarding Nored, edges over slightly to help Singler, and Hayward gives up on the drive. Instead he executes a slick behind-the-back dribble—a gutsy play under the circumstances—and slashes hard to the right. (Significantly, Duke defenders Scheyer and Nolan Smith remain at home on Nored and Mack, preventing a kick-and-shoot three-point try.)
Singler stays square, but Hayward really is a half step quicker, and he slips past Singler along the right side of the lane. It appears that he might get all the way to the glass, but Zoubek shuffles into Hayward's field of vision. Instead of taking the ball to the rim, Hayward jump-stops and leaps away from Zoubek, who extends his left arm skyward. A drive turns into a 12-foot fallaway jumper just inside the baseline.
In late February 2011, Singler watches the play unfold on a laptop. "We were lucky on the placement of the ball," he says. "If Hayward gets that ball on the right side of the court, he would have had more room and he probably would have gotten to his left. Out of 10, I give myself maybe an eight on the play. We defended it decently; I don't know if we could have done anything better. But that's not a bad shot. Brian made it much tougher."
Krzyzewski is sitting in his office on the sixth floor of Cameron Indoor Stadium, a room filled with hundreds of 8-by-10 framed pictures of players and friends and relatives. "That was all on Brian," says Krzyzewski. "Over the years, I've learned that most things are on the player. Kyle did an amazing job on Hayward, I thought, but then he gets a good shot and, wouldn't you know, damn Zoubek comes over and makes him go back a little bit farther. I'll remember that play as much as any shot in any game my whole career. This was a guy who people had been calling a stiff until the middle of his senior year."
Back in the game, Stevens watches from across the floor. Hayward has been so good so many times. "It was a tough shot," he says, "but we got an open look at the basket with a guy who [would be] the ninth pick in the NBA draft. Pretty good."
As Hayward lands, he likes what he sees. "Man, it felt so good, especially from my view," he says. "It was totally on line, right on target." Scheyer, rebounding on the weak side, thinks the ball is going to drop straight through the net, into his hands; he's already thinking about the next play. Instead, the shot catches the far side of the iron. "Back-rimmed," says Hayward. "I hate those misses the most, because they look good the whole time."
The rebound falls directly to Zoubek, who is fouled by Mack.
:03.6 Remaining: Duke 60, Butler 59
Zoubek walks straight to the line, never averting his gaze. "Fifty percent [of me is] thinking, This is what I've been dreaming of doing my entire life," he says. "Fifty percent I'm crapping my pants. And I could feel that internal battle immediately after I got fouled. There was a time when I would have panicked and completely messed it up."
He dribbles the ball three times and knocks down the first free throw. As he prepares to shoot the second, he hears a voice over the din. It's Scheyer, off to his left. "Zoubs!" he yells. "Listen to Coach!" Zoubek turns his head to the right, and Krzyzewski tells him, "Miss it."
This is Coach K's all-in. If Zoubek makes the free throw (not a lock; he's a 55% foul shooter), the Bulldogs trail by three points but get the opportunity to inbound and run a play. "They're a good team, with a hell of a coach," says Krzyzewski. "You know they had a play." In fact, they do. With no timeouts, Stevens told his players as they walked down the floor for Zoubek's free throws, "Run Line." Line is Butler's desperation endgame set, in which Hayward and Mack run off screens in the backcourt, one of them takes a pass from the inbounder and sprints up the floor. With 3.6 seconds and perfect execution, Hayward or Mack might get a running 25-foot shot up.
Krzyzewski doesn't like the feel of the arena and hasn't liked it since the Singler travel followed by the nonheld ball. "It was an unusual environment," Krzyzewski says. "There was a lot of s--- going on. It felt like miracles could happen against you. At least that's how I felt. It was instinct. I've always coached by instinct. I felt like if we did things right, they would have to shoot at least a half-court shot." (Twenty years earlier, Krzyzewski had made another instinct call. As sophomore forward Christian Laettner prepared to inbound from the sideline beyond the arc against Connecticut in the 1990 East Regional championship game, Krzyzewski saw that he wasn't being defended. Krzyzewski called Special, instructing forward Brian Davis to receive the inbounds pass and shovel it right back to Laettner. Davis did that, and Laettner hit a double-clutch 15-footer that sent the Blue Devils to the Final Four.)
Associate head coaches Collins and Wojciechowski, however, are not in agreement with their boss. Normally the staff would quickly huddle, but because the court is elevated, only Krzyzewski is at floor level. From the pit, Collins hears Krzyzewski tell Zoubek to miss the shot and reflexively shouts, "No! Make it." Scheyer hears Collins. "Chaos," Scheyer recalls. Stevens thinks Duke will make—or try to make—the free throw and then foul before the Bulldogs can attempt a three, a strategy he likes and used the previous night against Michigan State.
Zoubek hears only Krzyzewski and drills the ball off the back rim.
:03.6 Remaining: Duke 61, Butler 59
Butler likes to let Hayward corral free throw rebounds from the outside rebounding position, and that is what he does here, landing on two feet in the middle of the lane. The clock starts immediately. Zoubek follows his shot and bodies Hayward, yet another in a succession of smart, courageous plays by the big guy in the final seconds. Hayward must slip free of Zoubek to find open space. It is the delay that Krzyzewski hoped for. "Certainly we lost time because of that," says Stevens. "Without that, would we have shot it from 25 instead of 45? It's possible. Obviously it worked."
Singler tracks Hayward as he dribbles up the floor, but Howard peels back and sets a crushing blind screen that could draw a whistle if it were determined that Howard was still moving at the time of impact. The Bulldogs are running Line brilliantly on the fly as Singler crumples to the floor. The collision occurs nearly in front of Eades, but he is preparing to make the call on a last-second shot. "Tough little play right there," says Eades. "A hard play, a lot of contact. I didn't think there was anything to call."
The screen gives Hayward space to let fly, and he does.
"That one, from my angle, I felt like it was way off," says Hayward. "I wasn't trying to bank it, so I thought I shot it too hard. It was obviously closer than I thought it would be."
The ball is in the air for 1½ seconds. It smacks against the backboard at the top of the white box and then clanks off the front of the rim. Two sounds—glass and iron—both eerily audible over the roar. The ball drops to the floor just outside the lane and rolls toward the corner, at the end of the Butler bench.
Stevens falls to his knees. Zoubek puts his hands on top of his head in disbelief. Howard lies on his belly at midcourt. Confetti falls from the rafters. It has been so long since anyone beat the Bulldogs that it doesn't seem possible. They have never thought of themselves as Hickory. "I was in shock," says Mack. "Losing had never crossed my mind."
Two weeks later John Adams, the NCAA officials supervisor, reviews the tape of the game. A still photo has been circulating that seems to indicate that Hayward did not get off his shot in time. He did.
Howard's pick is another matter. "That's the one that would have kept me up at night," says Adams. "All night, those three officials created an environment where the team that played best could win. But in a vacuum, that's probably an illegal screen. If Hayward had made the shot, we'd probably be talking a lot more about that screen."
On a midwinter weekday morning in 2011, Hayward drives the 15 minutes from his apartment in Midvale, Utah, to a game-day shootaround with the Jazz at Energy Solutions Arena, in downtown Salt Lake City. When it's finished, he walks out of the locker room wearing sweatpants and a parka over a threadbare Brownsburg High state championship T-shirt. The juxtaposition of setting and shirt seems jarring, but it's really not. Hayward is an NBA rookie, but his state title came only three years ago.
The echoes from Lucas Oil Stadium had barely died when Hayward was faced with deciding whether to return to Butler—and rejoin a team that would again be a Final Four threat—or turn pro. His father favored the jump; his mother, Jody, did not. The Butler community beseeched him to stay. On the first Friday in May, he announced that he was leaving.
"It was hard," Hayward says now. "I was 20 years old, and I had never gone away from home. Butler was 20 minutes away; I could go home every weekend. This was going to be away from family, away from my girlfriend, away from friends. But I needed to look further down the line." The Jazz, whose fans booed Hayward's name on draft day, signed him to a contract that guaranteed him $4.9 million over the first two seasons.
The adjustment has been monumental. Hayward was averaging 13:35 through Sunday, having played as much as 43:50 (once) and as little as zero (six times). "Ups and downs," he says. "But it's fun to say I play basketball for a living." The resignation of coach Jerry Sloan and the departure of All-Star point guard Deron Williams in a trade erased the stability that made the franchise attractive to a young player. "It's opened up my eyes," Hayward says. "This is a business. Control what you can control. Treat the rest of it like a professional."
He has turned his own page, but the shot will always bother him. Not the One, the desperation heave, but rather the baseline fadeaway over Zoubek. "Man, I wish I could have that one back," he says. "I wish I could just go back and shoot that shot once more."
Back at Butler, a season that might have been epic has been merely terrific. Stevens turned aside numerous opportunities and signed a 12-year contract with the school. (Last season his total compensation package was $750,000.) "The grass always looks greener, and some of that grass is very green," says Stevens. "But I feel very empowered coming to work every day here." The university continues to feel a Final Four bounce. In 2011 applications for admission surged more than 40%.
What Hayward has missed by leaving, Singler has experienced at Duke. Unlikely to be taken in the lottery ("That would have made the decision much tougher," he says), he returned for his senior year. It has been everything he expected, but different in that he has had to shed his customary introversion and help Smith lead a young team, especially after the loss of gifted freshman point guard Kyrie Irving in December to a big-toe injury. "I'm not normally vocal," Singler says, "but a lot of these guys have never played in tough ball games. So I've had to say things. And that's good. I wanted to learn to be a leader."
Zoubek was the player most changed by the events of last spring. The top 25 recruit from Haddonfield, N.J., was forgotten in December 2009 and a hero last April. "It was a transition that I never would have thought was possible," he says. Undrafted, Zoubek was signed by the Nets as a free agent but waived in October. In December he had back surgery to repair a damaged disk. Yet he is undeterred. "I don't want to stop playing basketball," Zoubek says. "If I can get through what I went through at Duke, I can get through anything."
Another NCAA tournament begins this week, and Duke and Butler are back in the field. Last April recedes into memory, but it left indelible impressions. On a winter afternoon Matt Howard sits in the front row of the stands at Hinkle Fieldhouse and takes himself back. "When the last game ended," he says, "I was just thinking, This can't be real. There's got to be more time. There's got to be another shot. Right?"
Balls bounce on the supple wooden floor. A Final Four banner hangs above the south balcony, as still as the night.