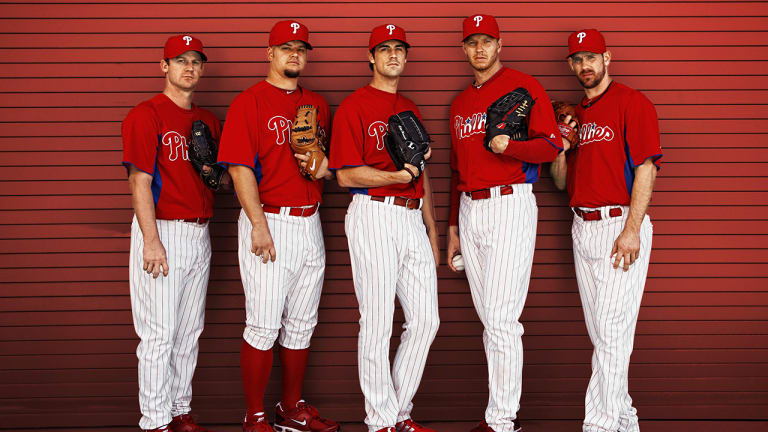 The Legion of Arms
Are the Phillies' starters more powerful than a locomotive? Faster than a speeding bullet? Maybe. But in the City of Brotherly Love, fans care more about winning the World Series and making foes go SPLAT! Here's the first installment in the continuing adventures of the Legion of Arms.
Here are the flowers. The f------ flowers, Vicente Padilla, the Nicaraguan righthander, used to call them. He'd hold out his left forearm as if it were that floozy of a leftfield wall at Citizens Bank Park, then send his flat right hand skimming over it: another five-cent home run plunging into the box of blue pansies just beyond the railing. Another power pitcher who thought he could tame one of the game's homer-happiest yards. The f------ flowers, Charlie, he'd spit to his skipper and scowl.
It's early March. The ballpark's still groggy, yet to dress or put on makeup, just rolling out of her winter bed. The f------ flowers are but a few forlorn purple petals. The warning track's one long puddle from the thaw. A groundskeeper, casting fertilizer across the frost-burned infield grass, pauses and looks up. They'll be surging through those gates soon, 44,000 strong, and when they do, he says, they'll make this place feel like a box.
They remember what John Smoltz said. If you ask me, they can't ever win in Philadelphia.... There's no way free-agent pitchers are going to go there.... I'm not even going to call it a baseball field.... It's a joke.
They remember what Curt Schilling said. F--- this f------ park.
They remember the Giants' Juan Uribe choking their windpipes last October with an eighth-inning fly ball that just cleared the railing in right.
The wind blows gently to right. The workmen scald the old lettering off the dugout roofs with acetylene torches. A drill echoes from beneath the new high-def scoreboard in left. Another overflow off-season tour group mills in the clubhouse, peppering the guide with the same question as the last group: Where will the starting pitchers dress? A fantasy is about to unfold in front of 81 straight sell-out crowds. Of all the ballparks in America, here.
The Legion of Arms—on paper, one of the best starting staffs in the history of the game—has chosen their city, their team, their ballpark. Into the belly of the beast walk The Four.
Here's the dirt hill. Here's the circle of clay where the drama will play out, where The Four will do battle. A group you dare to imagine only when you're a boy, conjuring up superheroes swooping in to save the day and forming a foursome to crush forces of evil too toxic for a single crusader. An 11-year-old boy such as Cole Hamels once was, spreading out his newest pack of X-Men cards in his San Diego bedroom years before he stumbled upon his special powers, never dreaming that one day, on a dirt hill 2,700 miles away....
First: Tunnelman. A 33-year-old character named Roy Halladay—debut issue: September 1998—who was cocreated by a pair of pitching coaches, a sports psychologist and a father who groomed him in a Colorado basement 60 feet, six inches long with a batting cage and pitcher's mound. He appears to be right in front of you, but no, he's actually alone in the invisible tunnel he's relentlessly burrowing—a tube with no sound or distractions to compromise his preparation or focus, into which he lures his enemies and dismantles them. He's an old-school superhero—empty speech bubbles, 13-hour workdays—who goes to sleep at 8 p.m. so he can arise at 4 a.m. and report for duty an hour and a half before sunrise. Secondary special powers: a Death Stare so searing that even his manager is hesitant to disturb it—"I sort of black out out there," confesses Tunnelman—and a supernatural sense of smell. No one can scent a finish line like him, his 27 complete games over the last three seasons totaling more than every other team's entire staff combined, twice as many as 14 teams' staffs and three times as many as six teams'.
Loose Laser is next. The 32-year-old crusader who nearly saved this metropolis single-handedly in an episode two years ago and whose subsequent banishment and shocking return in December has the populace in a fever of anticipation surpassing any it has ever known. Civilian name: Cliff Lee, a wild and loose-limbed country kid who suddenly discovered, at age 29, that he could hurl a white sphere wherever he fixed his eyes. Somehow his laser control—an infinitesimal 18 walks allowed in 212 1/3 innings last year—and his nonchalance only increase in crises; why, marvels a former rotation mate named Jamie Moyer, in the postseason it's as if he doesn't have a pulse! A guy flinging darts into his rival's heart for the sheer hell of it and murmuring, No sweat for me, howzabout you? Yes, Tunnelman did indeed throw a perfect game and a no-hitter last year, but were the future of this planet at stake, you might consider giving Loose Laser the nod.
Meet the third member of The Legion: Late Riser. He's the smallest, most low-key and inscrutable of The Four, a half-foot shorter than Tunnelman, and yet this 33-year-old character—formerly a scrawny boy named Roy Oswalt, raised by a logging family in a Mississippi pine forest—can actually hurl a missile faster than any of them, one that abruptly elevates and explodes at the last instant, startling his foes and spawning his name. "He's kind of invisible," says Moyer, "you don't even notice him, you can't read his face... ." and then, kaboom! Late in the season, of course, is when Late Riser rises most. His lifetime record after July, 68--17, is better than that of any moundsman in the game.
Last, but hardly last... . Kid Quantum, the youth who alters Newtonian laws of physics. At 27 he's the greenest and handsomest of The Four, the tall, skinny collector of superhero cards and a self-professed geek in adolescence ... until the day 10 years ago that Cole Hamels ran full-speed into a parked car playing street football and suffered, unbeknownst to him, a stress fracture of the humerus in his left arm. The long bone snapped like a pine branch in mid-pitch during his next summer league game, dropping him to the dirt in pain and seeming to extinguish his big league dreams. Only for him to discover, upon his recovery a year later, that that left arm now could bend time and distance, could launch a white pellet that left his hand looking exactly like his 93-mile-an-hour sizzler but then screeched to a halt and began to bend, leaving his foes swinging at something that had not even reached them yet, coiling them in knots.
Of course, as with most superhero legions, The Four have a mortal sidekick who accompanies them on their adventures and provides that human touch that the audience can relate to. Meet Joe B—30-year-old Big Joe Blanton—the stout Kentucky righthander perfect for the role. Quiet, easygoing, never raising a ripple and capable, in stretches, of performing nearly as well as The Four, all of whom were hasty, of course, to insist he be part of any Legion portrait, to reject all the quartet nicknames and to dismiss all the Internet images with the heads of The Four superimposed upon Mount Rushmore or the Four Horsemen or the Beatles crossing Abbey Road, because: What about Joe?
What a moment it was when The Legion first appeared, elbow to elbow, on the opening day of spring training. Sixty reporters and cameramen crammed into a small cafeteria to record their every twitch and utterance, a live feed capturing it all on television and online. Chris Wheeler, the Phillies' TV voice, kept grinning and shaking his head: "Oh, my God! All those guys ... in our uniform! How did this happen? It used to be cool to have one of those kind of guys on our staff—and there are four of them! It's shocking! It's like coming out of a tunnel into the daylight. Is this the Phillies?"
Yes, a franchise abandoned only a decade ago by its two lonely heroes—Schilling and third baseman Scott Rolen—who insisted that ownership lacked the hunger or cash commitment to triumph. What happened in that decade? What created this portal into an alternate universe where superheroes long for Philadelphia and yearn to hurl in this Haunted Hurlers' House?
Here is the general manger's box. It's a glass-enclosed suite with computers and plasma TV screens and rolling swivel chairs, its windows thick enough—the G.M. hopes—that his players don't hear his howls of disbelief. Are you kidding me? No way he swung at that! The box where last season Ruben Amaro Jr. sat and watched his offensive juggernaut stagger through weeks of drought as the pendulum swung and pitchers began to dominate the game once more.
Were you to sketch a character to operate a baseball franchise in the modern era, in this town, you might draw Amaro: grandson of a Cuban known as the Babe Ruth of the Mexican League in the 1940s and '50s, son of the Phillies' Gold Glove shortstop in the '60s, batboy for their world championship team in '80, bilingual Stanford grad, outfielder during the '93 pennant-winning season and 10-year assistant G.M. under Ed Wade and then Pat Gillick. A general manager more in psychic sync with his fan base than his predecessors—more aggressive, more daring, more emotional. How he used to stomp and pout when his name didn't appear in the Phils' starting lineup. "And I wasn't good enough to pout," he'll concede today. How he'd go to pieces as a kid when he lost to his older brother at anything, once beaning David with a hardball for the audacity of beating him in a backyard throwing contest. "He has to win," says David. "He was always the little guy who had to work harder and longer than everybody else. Whatever he has is never quite enough."
Not quite enough when Kid Quantum emerges in 2008 and takes the franchise to only its second championship in 125 years with an MVP performance in the World Series.
Not quite enough, with a seven-game division lead in July 2009, when Amaro just misses prying Tunnelman from the Blue Jays at the trade deadline and comes away with Loose Laser instead, and the Phils ride him all the way to Game 6 in the World Series before succumbing to the Yankees.
Not quite enough, five months later, when Ruben stalks Tunnelman again, surrenders three of his bluest-chippers to Toronto to get him and then, with a pang, decides he must restock the pantry and deals Loose Laser for prospects. Shocking Tunnelman, who finds out three hours before he signs a contract extension with the Phils that he won't have Laser as his wingman.
Not quite enough when the Phillies are 3½ games behind the Braves late last July, and Amaro pulls Late Riser out of his hat in a swap with the Astros, giving the Phillies three No. 1 launchers and triggering a late-season blitz to baseball's best record ... only to be undone by their erratic bats in the National League Championship Series against the Giants.
Not quite enough, so Amaro began to dream again last November. It wasn't an adult major league general manager's dream—none of them had four All-Star-caliber starting pitchers. Hell, it wasn't even an adult Philly fan's dream—none of them, not the rational ones, had any hope of recapturing Lee. No, this was the kind of staff that an eight-year-old left alone with the 40-man rosters of every team would conjure ... the way Amaro's nephew Andrew had one day 10 years ago when Ruben and brother David were preoccupied elsewhere. Staring up in wonder at the massive roster board in Amaro's office, the boy had begun moving the magnetic name strips, making trades, until the two men returned ... and Roger Clemens, Pedro Martinez, Greg Maddux and Randy Johnson—each in his prime—were the Phillies' new starting pitchers! "Andrew!" cried his mortified father. "What are you doing? This isn't make-believe baseball! This is real! You can't do that!"
But Uncle Rube, he'd only smiled. He'd end up getting pulverized by fans and media when—figuring he wouldn't possibly have the bankroll to satisfy Loose once he hit the open market—he dealt Lee to Seattle in December 2009 with a year left on his contract at a basement-bargain $9 million. The G.M. couldn't gas up or stroll through a sporting-goods store in Philly without being accosted: Why'd you do that, man? Why would you trade Cliff? Lee was the Dirty Harry hurler that they hadn't had in a quarter century, blowing away Yankees Hall of Famers without a blink of his blue eyes. Weird, Loose Laser professed, but he felt more relaxed in playoff and World Series games than he did during the regular season, and the mob in the blue seats, the-roof's-forever-about-to-fall Phils' fandom—sensing the presence of their psychic flip side—pined for him in a way it had no other athlete. That Amaro had handed them Tunnelman, the game's premier ace, seemed almost not to matter.
And now, a year after that heart-aching swap, word had reached Rube: Cliff was over his snit at being cast away. Gotham City and the Lone Star boys were backing Brinks trucks into his Arkansas driveway, but Laser pined for Philly.
But the Phils were maxed out with multiyear contracts. They already had three aces. So what are you doing, Ruben, murmuring on a cellphone with Loose Laser's agent? This isn't make-believe baseball! This is real! You can't do that!
All true. Except... .
Here is the owner's suite. Indoor and outdoor seating overlooking home plate, tasteful wallpaper and wood molding and a buffet bar with three brick warmers to keep the pork chops and pasta almost as hot as John Middleton's blood. Most of the energy circulating through a ballpark you can see or hear, but there's some—like that in this box—that none of the 44,000 ever notice, currents that lift and carry and reshape. Middleton was the son of one of the Five Phantoms—the local nickname for the Phillies' five invisible owners as the franchise regressed into a small-market operation in the 1990s. He attained Phantomhood when his father died in '98, then sold the family cigar business in 2007 for a smokin' $2.9 billion, making him one of America's wealthiest men. Giving John, who'd been a hold-nothing-back wrestler at Amherst in the '70s, more time to sink his heart and soul into the Phillies, to climb aboard the team bus on road trips, to shake and spray the bubbly with the boys ... to be what the other Phantoms never seemed to be: a hot-damn, win-now Phan!
He fell hard for Loose Laser during that three-month cameo in 2009. The connection became even more personal in the aftermath of the Game 6 loss to the Yanks when John's elderly mother, Frances, got turned around in the team's Manhattan hotel, and Cliff's wife, Kristen, helped her find her way, not realizing until later who she was. The Lees ended up in the hotel bar with the grateful part-owner and his wife, commiserating over the lost Series and hearing Middleton profess his fervent wish that they remain in Philly.
Kristen had loved their three months there. It was the first time that the Lees—who'd known each other since junior high in Benton—had lived downtown in a big city, and they'd discovered the joy of tumbling out of their apartment into four-star Italian restaurants, of catching an eight-minute cab ride to a ballpark that throbbed every night, of Kristen walking down the street to the train station and hopping a one-hour Metroliner to New York City to watch her man rub out the Mets, and becoming so familiar in the toy shop around the corner that their son, Jaxon, now nine—who'd nearly died of leukemia as an infant—always ended up playing ball with the clerk. It felt like a vacation from life, and they were stunned when Amaro called six weeks after the season and said ... goodbye?
No, this couldn't be happening, they'd sign a contract, do whatever it took, Kristen cried to her husband's agent, Darek Braunecker—but it was done, Cliff was a Mariner. Seven months later, when the Lees bumped into Phillies personnel at the All-Star Game in Anaheim, they were still asking, Why'd you trade us? Kristen teared up when she saw the Middletons, who consoled her and reiterated their longing for Laser.
But ... how could it happen? Stealth was the only chance the Phils had once Lee became a free agent last fall, an ambush that would keep the Yankees and the Rangers from discovering that a third suitor was involved and jacking up the bidding war to impossible dollars. Amaro cut the motors, ran up the sails and set off in darkness. Dave Montgomery, the affable team president, was the decision-maker on team finances, and Middleton's bulging treasure chest wasn't his to skim. But feeling the hunger of the billionaire Phantom, how could Monty and Ruben not keep creeping further beyond their budget, into deeper waters?
Humming with nerves and adrenaline the first two weeks of December, Amaro popped Ambien just to steal two or three hours' sleep. "You broke my heart once, Ruben!" he heard Kristen say over a speakerphone from Braunecker's agency as negotiations neared climax. "Don't break it again!"
But he had to, it seemed, as Braunecker shot down the Phils' last offer on Dec. 12 (five years, a little more than $100 million), and Amaro winced and gave up, wishing the Lees the best. A few hours later Braunecker was back on the phone with the assistant G.M., Scott Proefrock, whom he'd known for years, saying he felt sick about it. The Phils dug a little deeper the next day—five years and $120 million—and held their breath. That evening, Amaro, seated in a restaurant across from Phillies outfielder Ben Francisco and Gillick, now the team's special adviser, looked at his ringing cellphone and beelined to the door for privacy. "You got your lefthander back!" he heard Braunecker sing out.
"You've got to be kidding me!" Ruben yelped.
MLB.com busted the report at 10:50 p.m. Middleton zinged a text to Amaro: If the rumor is true, congratulations! Amaro called Charlie Manuel and asked his manager if he was sitting down. The 67-year-old, like a little boy, had to write The Legion of Arms' names on a piece of paper and stare at them, too excited to doze off till 2 a.m.
Ringing phones jolted the masses awake across the Delaware Valley, the dread in their chests—Who died?—turning into disbelief, then euphoria: How often does your team actually outdream you? Men lay in beds, arms dangling over the side, tapping out, Cn u blv ths? Imgn ths %$#&* rtation! until they could contain it no more and nudged their women awake: Honey, we got Cliff Lee! Wanna have sex?
Amaro's father, now an Astros scout, awoke to the news the next morning and called Ruben. "Oh, my son," he cried, "look what you've done!" Oswalt's mother, Jean, greeted him with a whoop: "We've got a full deck now, baby! We're loaded!"
Carlos Ruiz, The Legion's lucky-dog catcher, beamed as he and his eight-year-old son scooped up chopped steak and red salsa with their breakfast tortillas in Panama. "¬°Otro caballo, papà!" the boy exclaimed. "Another horse, dad!"
"¬°Sí, Carlitos!" cried Carlos."¬°Otro caballo!"
Usman Siddiqui, a Pakistani-American 15-year-old, emitted a silent scream at 6:30 a.m. so he wouldn't wake his mom, hung up the phone in exasperation when his father, Alam—trolling the streets of Philly in his cab—refused to believe the news and hurried off to Ben Salem High, where teachers wearing Phillies jerseys waited at the doorway handing out red let's go phillies! placards to students and grinning as teenagers' screams echoed down the hallways.
Loose Laser hadn't signed with Philadelphia so much as he'd anointed it. Chosen the city—wedged between the world's center of enterprise, New York City, and the world's center of power, Washington, D.C.—that had been nursing a couple of centuries' worth of not-worthiness. Chosen the losingest franchise in the history of American professional sports because he thought it had the best chance to win everything. Chosen the fans who, he would say two days later, didn't "need a teleprompter to tell them to get up and cheer"—words that sealed their love affair with a kiss—and chosen them, best of all, over the f------ Yankees, who'd offered him $30 million more! Go ahead, ask all the Brotherly Lovers, every last one, and they'll tell you they'll always remember exactly where and how they found out about two events in their lives that stirred totally opposite emotions: The two airplanes striking the World Trade Center ... and Cliff Lee choosing them.
Here is the home dugout railing. Here's where the pitching coach will perch, the 53-year-old who used to run out of his elementary school in Bridgewater, Mass., straight into Mary Ann's shop across the street and slap down his leftover lunch money for another pack of baseball cards that he'd take to his bedroom and segregate, according to teams, in a long box. Except for those now-and-then days, when Rich Dubee would thumb through the box and pick out the best of the best, create crazy teams, impossible pitching staffs, just to see those images rubbing against each other, just to hold them like a hand of cards and daydream... .
Of this. "A rotation you die for," says Dubee. A rotation that Leo Mazzone—the last pitching coach to have one like it in the Maddux/Glavine/Smoltz/Avery-or-Neagle Braves' staffs of the '90s—says he'd go through his roof and catch the first plane to Philly to coach, no need of an airport, because these four "could match up with anybody in the history of the game." Three Cy Young Awards. Thirteen top five finishes in the Cy voting. A World Series MVP and two League Championship Series MVPs. Six 20-win seasons. Four of the seven active National League starters (minimum 900 innings) with more than three times as many strikeouts as walks. Four men who work fast and attack, attack, attack the strike zone. Three of the game's top seven active pitchers in career winning percentage. A combined 20--8 postseason record. Four men who have been the Man, their team's ace, standing at the center of the game's October stage—that's what makes this staff unique even among the game's greatest in history.
Dubee smiles at all the wise guys offering him rocking chairs and forgetting that it was his demonstration of a split-fingered changeup that led to Tunnelman, impossibly, adding one more poison dart to his quiver last year. He's a crusty New Englander with a knack for knowing when vinegar's needed, when honey's better, and what's most remarkable about The Legion of Arms, he says, is that they'll need neither, because their character's not one whit less than their talent. "They don't seek attention," he ticks off. "They love competition. They put team first. Their preparation is phenomenal. They're grounded."
Kid Quantum's fine going from No. 1 to No. 4, he says; it'll just take weight off his shoulders and relax him. The Legion's a democracy—"no top to bottom," says Tunnelman, although the others would gladly crown him king. Even Loose Laser, asked who should get the ball in Game 7 of a World Series, points his thumb at Halladay. "He's the best there is in this era," says Lee. "There's nobody else even close. Ask everybody in this locker room and everybody on every other team."
But Laser's the one, at every hesitation in the group press conference, who takes charge and answers the questions, the no-nonsense alpha dog with one leg jiggling beneath the table. Late Riser's the one who sits back in his chair, happy to blend in with the wallpaper, the one who throws off-season bullpen sessions wearing camouflage and never quite peels it off. Kid Quantum's the innocent kid brother, smiling and drinking it all in, easiest of The Four to approach. The one most eager to widen his circle beyond the circle of clay, the one heading to Ethiopia as soon as this season's over to adopt an AIDS orphan and teaming with his wife to build a school in Malawi. The 27-year-old who former Mets pitcher Ron Darling says is taking a "class with Einstein and the greatest minds of all time," and yet, the only one of The Four with a championship ring.
It's a Masters program that'll meet in pregame outfield shagging sessions and ice tubs and on the top step of the dugout for three hours every night, one that's paying off already. Loose Laser's cutter? It's now in Kid Quantum's arsenal, his third-out pitch; he just had to have it after watching Cliff carve with it for three months in '09. Along with the Tunnelman starter kit—the binder of notes on hitters and the pitching bible written by sports psychologist Harvey Dorfman that Kid Quantum now walks around with, not to mention Tunnelman's contagious commitment to marathon video sessions and fierce off-season conditioning that brought Kid Quantum to camp with an arm stronger in February than the one he used to have in May.
Atlanta's rotation bonded by golfing 50 to 70 times a year. The Four are likelier to go kill something together, Lee and Oswalt already flashing each other photos of deer snapped by the motion-sensitive cameras set up on their hunting properties and sent daily to their BlackBerries (check out this rack!), Hamels good for the occasional bird hunt as long as it isn't five-below and Halladay an avid harvester of crappie and bass. The table at the center of their Clearwater, Fla., clubhouse became The Legion's daily forum this spring, Halladay relaxing more in the first two weeks with his mound mates than he did all of last year, Oswalt surprising them with his gift for deft storytelling of life in the Mississippi backwoods, the two Roys discovering a shared love of vintage cars, Hamels checking in with reviews of the latest movies and books.
So what happens when masters are brought under the same roof? Tunnelman becomes more tunneled than ever—his wife, Brandy, says she has never seen him slip off into the darkness so early or eagerly, nor with more glint in his blue eyes. Late Riser's mom says, "His whole personality's changed. Last year Roy looked like a whupped puppy going to [the Astros'] spring training. This year he's ready."
"They'll feed off each other like piranhas," vows Loose Laser's dad, Steve.
"Sure they will," agrees Smoltz, who visited camp to interview The Legion for the MLB Network. "We had an unspoken rule on those Braves staffs: One guy would pitch a three-hit, one-run game, the next guy had to do one better."
"It'll make them each better," predicts Moyer, rehabbing from Tommy John surgery. "If they stay healthy, you could see the best out of each."
Swell. Everyone agrees ... except The Legion of Arms. They're just too damn levelheaded to get swept up in hullabaloo or some new hot thing—hell, three of The Four, all but Kid Quantum, married women they knew as kids. Just too certain of their own engines and ignition to permit any jumper cables. "I focus on my job at hand, and that's it," vows Tunnelman. "The more you start bringing in these other desires or wishes or competitions, it starts to cloud the picture."
"Nope, no difference for me," agrees Laser, who told his wife not to buy the four aces T-shirt in the Philly airport that she was about to purchase for his father. "I could care less what the guy ahead of me did, whether he gave up five runs or threw a shutout."
"Don't fool yourself," says Joe Lynn Gant, a Mississippi legend who coached Oswalt in high school football and became his friend. "These four guys are going to look at each other and compete with each other. There are four aces, but one will emerge, and don't think he won't. They'll love each other—and want to win more games than each other. They'll still each want to be the Man."
Ask the fans, ask the ticket manager, ask the merchandise mongers in Philly. Ask the hitters who 16 months ago were the engine room of this franchise and suddenly, says shortstop Jimmy Rollins, "are the B team." They'll tell you that Amaro and the newly ravenous Phantoms didn't just buy talent when they lured Loose Laser from Gotham City and created The Legion. They purchased energy, the kind that creates songs—there's already Baseball's Four Aces, by the old Philly quartet Danny & the Juniors—before seasons even begin, the kind that gets infielders on their toes in the dog days of August and raises the endeavor to something higher than the 162-game task of winning the NL East: unfurling a season worthy of The Legion.
"Every guy in here feels we need to win the World Series this year," says closer Brad Lidge. "That's the only acceptable outcome."
Self-doubt nowhere to be found, for the first time in Philadelphia history, for two entire months from The Day Cliff Lee Signed ... until the combined weight of three spring injuries—the broken bone in the right hand of touted rookie rightfielder Domonic Brown, the knee pain threatening to sabotage All-Star second baseman Chase Utley's season and the shoulder pain plaguing Lidge—made fans wonder if they'd angered the gods and chest-pounded too early, if now The Legion would have to come to the rescue again and again, all summer here in the Haunted Hurlers' House.
A boom lift rises to an ad panel above the seats in rightfield foul territory. A workman's ladder clatters. A groundskeeper shakes his head—part wince, part pride—at the brown footprints in the grass, relics left from Tunnelman's one-week visit in January: He had to work out every day, even in the frost. A landscaper studies the f------ flower box waiting to lure fly balls, planning the pansies for Opening Night.
The stadium? echo Tunnelman and Loose Laser. They never even thought about short fences or a heebie-jeebie stadium. They don't get it.
"O.K.," says Smoltz. "I was wrong. These guys aren't bothered by anything. I didn't think you'd get any good free-agent pitchers to play in that park. Now I'm the one saying, They'll be better than we were."
The beast's nearly ready. The curtain's about to rise. Able to leap small ballparks in a single bound? Here comes The Legion of Arms.
To be continued....