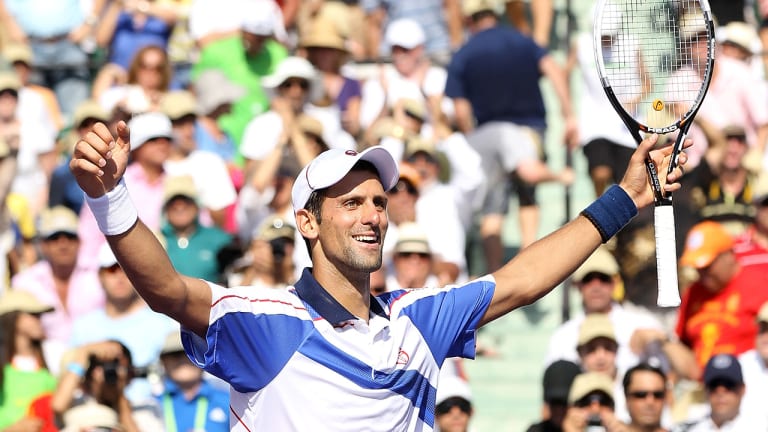 Staring Down History
Novak Djokovic always had the talent and drive to become the world's best tennis player, but his nerves and body betrayed him. No more. Going into the French Open, he's 37-0 for 2011 and gunning for the longest men's winning streak of the open era
Late on the afternoon that the 2011 Serbia Open began in Belgrade, Novak Djokovic sat down in a large tent for his opening press conference. He had driven onto the grounds of what will soon be his own tennis academy in a cockatoo-white $90,000 Mercedes, wearing natty brown suede shoes with tassels that dangled like stemmed cherries. He showed not the slightest sign of strain.
This was strange, because Djokovic, the former clown act of tennis who has transformed himself into the most dominant athlete of the year, had every reason to feel the world bearing down on his once-suspect psyche. Unbeaten in 2011, riding a streak that would soon have him surpass runs by greats Ivan Lendl and Bj√∂rn Borg and current No. 1 Rafael Nadal (and on Sunday would reach 39 since Dec. 5), the second-ranked Djokovic was starting his clay-court season before hometown fans who expected—no, demanded—that he keep on winning. Not only that, but as the omnipresent face of a tournament owned by his 150-employee company, Family Sport, the 23-year-old Serb known nationally by his nickname, Nole, also bore almost sole responsibility for filling the seats in a country with almost 20% unemployment.
Yet in a week marked by cold and rain, by Nadal's admission that Djokovic's rise was unstoppable and by a parade of Felliniesque characters that would faze even the most jaded New York City bouncer, Djokovic never so much as rolled an eyeball. No player can prepare for all the energy-draining nonsense that gravitates, like filings to a magnet, to the newest man who would be king, but Djokovic brushed off a nagging chest cold and played to his sellout crowds, gave every minispeech with feeling, greeted each sponsor with a smile, took each question as if hearing it for the first time. In the final, against Feliciano López on May 1, he shook off the scariest fall a player has taken on court this year—and won. Seconds later a courtside wall collapsed, sending fans sprawling onto the court. Djokovic barely blinked.
In fact there was only one moment when he visibly stiffened. It came early in the pretournament press conference, on Monday, April 25, when a Dutch reporter said, "It's a lot easier to represent, say, Switzerland than Serbia. How do you see that?"
Djokovic stared. "Can you repeat the question?"
It was clear what the reporter meant: Unlike Switzerland—Roger Federer's dull bastion of clocks and discreet banking—Serbia was reviled in the 1990s as a nation of gangsters; it engaged in attacks on Slovenia, Bosnia and Croatia; and it committed atrocities against Albanian Muslims in Kosovo under President Slobodan Milosevic's policy of ethnic cleansing. Unlike, say, Zurich, Belgrade was bombed for 78 days in 1999 by a U.S.-led NATO coalition, and the towering, empty-faced wreckage of those bombs still flanks its downtown streets 12 years later. Nor has Switzerland been accused of lax pursuit of an accused war criminal, as Serbia has with Ratko Mladic, its military commander in Bosnia in the early '90s.
"How do you see that?" the Dutch reporter repeated.
Djokovic didn't say what he could have: that Serbia has now had three consecutive national democratic elections; that last year its president, Boris Tadic, increased the reward for Mladic's capture tenfold, to 10 million euros ($14 million); and that Serbia's legislature had voted to officially apologize for the 1995 massacre of 8,000 people in the Bosnian town of Srebrenica. Nor did Djokovic say that, earlier that day, he had taken some fellow players to Belgrade's 671-foot-tall Avala Tower—destroyed in the '99 attacks and rebuilt last year—and scrawled in the guest book, The symbol of Belgrade: We'll be back.
Djokovic fingered the microphone. "Well," he began, "I don't think that... ."
Then he hesitated. How to describe the terror and rage he felt as a 12-year-old when the air raid sirens wailed and explosions thundered across Belgrade? How to describe the way it all got balled together, the tennis and the bombing, because tennis is what kept his family sane? The way his life, his future career, became the prime focus of his parents' attention and his success became his family's goal and salvation? "He is something special," says Novak's mother, Dijana. "I always say he is the child of God."
Easier to represent Switzerland?
How to explain what it meant to his country when, at 19, he rocketed up the rankings? With each big win, everyone—his family, his fellow Serbs, even his government—believed more deeply that he, more than any tower, could be the symbol of Serbia's rebirth. Overnight his words had the power to inspire or inflame. In February 2008, fresh off winning the Australian Open, his first Grand Slam title, in Melbourne, Djokovic addressed by video link more than 150,000 people gathered in Belgrade to protest Kosovo's U.S.-backed declaration of independence. "We are united and ready to defend what is ours," Djokovic told the crowd, his face as big as a billboard. "Kosovo is Serbia." The night ended in rioting and looting, with dozens hurt; the Croatian and Bosnian embassies were vandalized; and the U.S. Embassy was ransacked and set on fire.
How do you see that?
The reporter waited. "That's not a simple question," Djokovic said finally. "And there's not a simple answer that can be given."
The next night Djokovic showed up late to the official party for the players. The Novak Cafe & Restaurant, a tony showplace for Family Sport's operations, across the Sava River in New Belgrade, threw open its doors and bar for dozens of models of the tall, short-skirted, high-heeled variety. This was John Isner's third time in town. "It's a pretty big party city," said the towering American. "And the girls are spectacular."
At first Djokovic hewed to the elite pro's playbook, retreating to a downstairs banquet room while the band boomed and everyone waited for something to happen. When he bounded up after an hour and grabbed the microphone, it figured that he'd say a few words and bolt. He had a match on Wednesday, after all. Instead, Djokovic launched into a supremely awful karaoke rendition of Eye of the Tiger, his shout about Risin' up to the challenge of our ri-val sending an electric charge across the floor. Women danced, cheering men crowded toward their Nole, cameras flashed. The song ended; Djokovic looked around. Isner had lost that afternoon. "This is for John Isner; it's his birthday today!" Djokovic said. "It's a Serbian song: You won't understand the s--- we are singing, but you will enjoy it."
After what turned out to be a soupy dirge, Djokovic insisted that Isner join in singing the next song, a disco-polka in Serbian about coital gymnastics. Thirty seconds in, the uncomprehending Isner wandered off as Djokovic, joined by Davis Cup teammates Viktor Troicki and Nenad Zimonjic, bellowed the refrain "Ja volim taj sex!" ("I love that sex!")
For those who like their athletes monkish, it was a disconcerting sight. Djokovic had long been tennis's go-to guy on YouTube, ripping off his shirt to sing I Will Survive, mincing around to imitate Maria Sharapova, mimicking the tics of Federer, Nadal and Andy Roddick with devastating accuracy. Fans and reporters loved it, but the more stiff-necked of Djokovic's peers, such as Federer and Roddick, found it insulting. And for years this looseness seemed of a piece with Djokovic's inability to break up the Rafa-Fed duopoly. The two tennis gods radiated a sober intensity, and despite Djokovic's occasional bite at big tournaments, he often shrank when the time came to fully take them down. He lacked gravitas. He seemed fated to go down as his generation's Marat Safin, the prodigious Russian talent whose fearsome backhand was undermined by a highly distractable mind.
But this year Djokovic has given every sign of being a changed man. "He's crushing us," Mardy Fish said in April. Djokovic's serve is one of the tour's best, and he's winning a ridiculous 43% of his return games; through Sunday he had lost just eight sets since last November. He has summarily dismissed Federer the last three times they've met, including a straight-sets slap in the Australian Open semis. His four straight wins over Nadal, all in tournament finals, are even more telling. Just when the Spaniard, coming off a historic run in 2010, was expected to consolidate his place at No. 1, Djokovic dealt him the kind of psyche-rattling losses that Federer rarely could inflict. In the final at Madrid on May 8, Djokovic beat Nadal for the first time on clay—handily—snapping his 37-match winning streak on the surface. "[My] Number 1 ranking is not in danger—it's finished," Nadal said after the match. "Let's not lie to ourselves."
In truth, Nadal will be Number 1 when the French Open begins on Sunday, but few argued his concession. When Djokovic beat Nadal yet again in straight sets on Sunday in Rome, Rafa's status as the favorite in Paris began deflating—fast. The prospect of Nole tying Guillermo Vilas's alltime winning streak of 46 with a triumph in the Roland Garros final no longer seems unthinkable.
The first inkling that Djokovic had tunneled into Nadal's head came on April 3, when he beat the Spaniard in an extraordinary three-set final in Miami. That Djokovic should take Nadal on a hard court was scarcely a shock. But that the player Federer once called "a joke when it comes to injuries"—the player who once quit a Wimbledon semi against Nadal because of various ailments—had ground down the most relentless fighter in tennis left their peers slack-jawed.
"That was a game-changer for the locker room," says U.S. Davis Cup captain Jim Courier. "After the match Nadal went into a big cramp from dehydration and fatigue—and Djokovic didn't. That's remarkable. For someone to outtough Rafa? I'd never seen that."
Djokovic hadn't either, and, yes, he takes massive pride in being the first. But he insists that none of his recent progress—the winning streak, his heightened fitness—is a matter of suddenly having become serious. At the party in Belgrade, as a video of Djokovic decked out as Ironman played on multiple screens, he mangled Summer of '69—"Nothing can last forever ... forever: NO!"—and a man garbed as Superman swept in to dance and sing.
No other tournament is as tiring for Djokovic, but, he would say a few days later, "I look at it from the bright side: I want this to succeed. I want to help out, do my best to promote the tournament, to be with my family. As much energy as it takes, it takes. I love being around people who care about me, and I care about them. This is the purpose of living: being happy, being peaceful. Tennis is my life, obviously; I need to focus, I need to win. But it's not the only thing. I'm not going to play forever."
Midnight loomed. No one cared. Djokovic's Davis Cup cohorts have long been awed by what teammate Janko Tipsarevic calls "the switch," Djokovic's ability to transition overnight from lighthearted to hyperfocused. And even on off days, no other player monitors his diet and alcohol intake more strictly than the 6'2", 176-pound Djokovic, Tipsarevic says. His fixation on becoming No. 1 has been legendary in Serbia for 15 years now.
Still, that was hard to picture, what with Djokovic howling Livin' la Vida Loca across the room. An old family friend, Zoran Krstic, insisted, "Yes, tonight he is like this, but tomorrow?" Krstic held out his hand level, added, "He will ..." and slashed the air twice, like a sword hacking through anyone in the way.
After two days they'd had enough of the basement: too dank, too crowded with strangers and gypsies. The Djokovics had gone down there from the first-floor apartment of Novak's grandfather because, for most people in Belgrade in March 1999, news reports and frantic phone calls about NATO jets heading their way evoked hellish visions of World War II: Dresden, London, whole cities leveled and smoking. When the sirens began, all the adults in the apartment building in the hill neighborhood of Banjica fell into a panic: Where to go, where to take the kids? Will we be safe? Will we die?
The bombs kept falling—rattling windows, punctuating conversations with ominous echoes. But people adapt. Soon all the Djokovics and their friends decided to stay home, huddling fatalistically in the Djokovic apartment. "After one week we were doing [our] normal jobs, thinking, 'If it comes, it comes,' " says Goran Djokovic, Novak's uncle and the director of the Serbia Open. "And the family, we start again to play tennis."
Novak turned 12 that May. His parents, Srdjan and Dijana, had both been competitive skiers in the Yugoslav sports system, athletes who could just as easily pound a soccer ball or volleyball with power and grace, and they wanted their oldest son to follow their path on the slopes. What could be more natural? They lived most of the year in the mountain town of Kaoponik, where they ran the Red Bull pizza restaurant, and knew nothing about tennis. But at six, Nole had been entranced by the sight of Pete Sampras winning Wimbledon, and when a famous Belgrade-based youth coach, Jelena Gencic, began a summer camp on the new courts across the street from his mountain home, he insisted on attending.
Dijana helped pack his bag—towel, water bottle, cap, extra racket and shirt—and Gencic, who had coached Monica Seles and Goran Ivanisevic as kids, still hasn't gotten over how carefully, how much like an adult, Novak unpacked it all. Soon, back in Belgrade, Gencic was feeding him balls, reading him poetry, telling his parents how special he was. "My second mother," Djokovic says. "The base of everything I have on the tennis court, and a lot of things off it, is from her. She took care of my life in general: What I was doing in school, what I was having to eat and drink. We were listening to classical music together. She wanted to teach me how I should behave on and off the court, how professional I should be."
Yet at seven it was he who insisted on a change that serves him still. Though determined to hit a one-handed backhand like Sampras, Djokovic found he was too weak to handle higher balls with it, so he began hitting with two hands. Such are the tweaks that determine tennis history. For along with his Gumby-like elasticity, it's Djokovic's alchemical backhand, the kind that transmutes the most defensive shots into hard, dipping winners, that helped him solve Nadal the way Federer never could. Djokovic has now beaten Nadal in seven of their last nine meetings, feasting on the same high, topspin-laced crosscourt forehands from Rafa that shred the Swiss maestro's one-hander.
Seven, too, was Novak's age when Gencic first put him on national TV. A child host asked the prodigy if his tennis was work or play. "Tennis is my job," Nole said. "My goal in tennis is to become Number 1."
Asked when he has time to indulge in normal childhood games, he answered, "I play at night."
By the mid-'90s Serbia had been shattered by the breakup of Yugoslavia and by a series of savage wars that left its populace economically isolated, socially shunned and desperate for stability. Nole's goal to win Wimbledon "gave our family something we had to fight for," Dijana says. "It was a very bad time because our country was in a bad situation, so we were trying to do everything for our son."
For four years Gencic refined Nole's skills, but much of his drive came from his dad. Srdjan, with no tennis knowledge, became certain that his son would be No. 1 someday—"believed Novak was an unbelievable player even when he was not unbelievable," says Niki Pilic, the Croatian former pro who is now a coach—and he told everyone who would (or wouldn't) listen. Critics put off by the sight of Srdjan and Dijana in matching T-shirts emblazoned with their son's face at the 2010 U.S. Open wouldn't be shocked to hear that nothing, not losing streaks, adolescence or injuries, could shake Srdjan's faith. At each level he would look around at the opposition and tell Novak, "You're better than all of them."
At the Partizan Tennis Club, the most storied in Belgrade and the Serbian base for Tipsarevic and former world No. 1 Ana Ivanovic, Srdjan insisted on paying for the best coaches. Money was tight, and the Djokovic family, including Novak's younger brothers, Marko and Djordje, "were suffering," Goran Djokovic says, "because Novak had to have the top food, the top equipment, the priority of the priorities."
After the first week of NATO bombing the whole family began venturing out with Novak to practice, sometimes at Partizan, sometimes at courts near recent bombing targets, which, they reasoned, might not be bombed again soon. Five hundred combat missions were flown into Serbian territory each day, but the Djokovics put their heads down and kept hitting. "There was no way we are sitting at home and crying," Dijana says. "So we are on the tennis court from 10 in the morning to 6, 7, 8 p.m. Also our two other kids are practicing during the bombing. You are practicing and listening to sirens, but it was the only way. We were trying to find some way to get out."
On June 10, 1999, when the suspension of bombing finally was announced, Novak and his brothers spilled onto the terrace, hopping and hollering, "We are safe now! We are safe!"
Six months later Gencic asked Pilic, Ivanisevic's mentor, to consider Novak for his tennis academy in Munich. Pilic dismissed the idea at first; 12½ seemed too young for his grueling regimen. But Novak, accompanied by Goran, took his first plane ride to audition for Pilic, and the 1973 French Open finalist gave in. The boy arrived in midwinter with little cash; Pilic's wife dubbed him Jacket, because he didn't have one. Goran stayed five days. When he left Nole cried.
The stakes were high. Novak developed quickly, but the Djokovic restaurant depended on seasonal business—sometimes good, sometimes not. The academy cost more than $3,000 a month, and even when Pilic threw in a discount, the travel costs there and to tournaments near and far squeezed Srdjan. "He borrowed the money with high interest, from the loan shark, 10, 15 percent a month," Goran says. "Who knows how much? I don't want to count it."
No wonder Novak seemed like the oldest soul at the academy. One afternoon, 20 minutes before he was due to hit with Pilic, Novak passed Pilic's lunch table en route to warming up. Told that it seemed too early, Novak said, "I'm not going to waste my career." Pilic was stunned. "He was 13½!" the coach says. Serbs point to the bombing as the crucible of Djokovic's competitiveness, but he also had no choice. The family had put all its chips on him.
A year later Djokovic had just finished a grueling training regimen in the Austrian Alps, and all the players were readying for a party. He buttonholed his then manager, Dirk Hordorff, and said, "If I go out tonight, would it be good for my tennis?"
"Just go," Hordorff said. "You worked hard, drink a glass of wine... ." Djokovic cut him off.
"I didn't ask you, 'Would this be good for me?' he said. "I asked, 'Would this be good for my tennis?'"
Novak became the top U-14, then the top U-16 player in Europe. He wasn't surprised. "Always he was very confident, and he was very sure that he was going to be on top," says Ernests Gulbis, the Latvian now ranked No. 63 in the world, who met Djokovic at the Pilic Academy. "Nothing arrogant, but with all his thinking, all his work, he was really professional already at a young age. Me, at 16? I was a joke. I didn't take care about practice at all. And he was doing everything."
The family kept trolling for investors. No one bit. As a junior Novak won the third Futures (third tier) tournament he entered, then the second Challengers (second tier). But the Serbian Tennis Federation had no funds to give him. "Nobody cared," Goran says. "Srdjan is going around, trying to convince people, please invest. Like you are selling fruit or dairy: Here's an investment for you. It was a very tough time." Junior tournaments came and went without Nole. There was no money for travel.
Early in 2006, the year after Djokovic had become the youngest man in the ATP's Top 100, Srdjan was so disheartened that he had Dijana talk to England's deep-pocketed Lawn Tennis Association about the possibility of 18-year-old Novak and his brothers switching nationalities to play for England. (Marko, then 14, and Djordje, 10, were well-regarded prospects in Serbia.) "The decision in the end was mine," says Novak. "I never wanted to change countries; it's something that is part of me. We are all really proud of where we come from. And though we've been through tough times, it makes us stronger."
A month later everything changed. In Paris, Djokovic met the respected, serene Slovakian coach Marian Vajda, consulted with him informally and reached his first Grand Slam quarterfinal at Roland Garros. That netted him $149,590. With Vajda as his full-time coach, Djokovic went on to win his first ATP titles—and a total of $104,000—in Amersfoort, the Netherlands, and Metz, France. He ended the year ranked No. 16. Srdjan exhaled. He even tried congratulating his son for cracking the Top 20, but Novak stopped him. "When I'm Number 1," he said, "then you can congratulate me."
Nobody in Belgrade likes to talk about how close Serbia came to losing a national treasure. In December, Djokovic led the country to its first Davis Cup win; he brought Serbian musicians into the locker room in Melbourne to celebrate his second Australian Open title in February; he hustled into a T-shirt stamped with the Serbian flag for the trophy ceremony after beating Nadal in Madrid.
There were plenty of less graffittied, less rubble-strewn cities Djokovic could have chosen for his tournament and tennis academy three years ago. Belgrade was his only choice. Such pride is a far cry from the attitude of the last great Serbian-born player, Seles, a native of Novi Sad who tiptoed around her heritage as if it were a box of nitroglycerin and finally took the step Djokovic couldn't. Seles changed her citizenship, becoming an American in 1994.
"Novak Djokovic," said Vladimir Petrovic, Serbia's ambassador to the U.S., "is the single biggest positive p.r. this country's ever had. He's a positive face of the new democratic Serbia."
By Friday at the Serbia Open his voice had gone raspy and his eyes were rimmed with pink. Still, Djokovic kept rolling. His lingering cold was the one sign that Belgrade was taking its toll, but his wins in spite of it—not a set dropped—showed just how settled he is now.
A year ago Djokovic was a mess. An ill-conceived decision to hire coach Todd Martin to beef up his serving and volleying backfired; Vajda eased into a part-time role, Martin and Djokovic didn't jell, and the result on court was the most disoriented No. 2 player you'll ever see. "The guy couldn't buy a second serve," Courier says. "He looked like he was throwing a javelin."
By April, Martin was gone and the new serve junked, but the damage lingered: a quarterfinal exit in Paris, a disastrous straight-sets loss to Tomas Berdych in the Wimbledon semis. But Vajda was back full-time, and in July, just as Djokovic began grooving his old service motion, he met the man who today may mean more to him than any other: a holistic nutritionist named Igor Cetojevic.
Throughout his career Djokovic had been plagued by respiratory problems and niggling injuries. "Bird flu, anthrax, SARS ... common cough and cold," Roddick said mockingly at the 2008 U.S. Open. "He's either quick to call the trainer or he's the most courageous guy of all time." But Djokovic had long tried to find a solution, even to the point of doing breathing exercises with a Belgrade opera singer. Cetojevic, who says he studied traditional Chinese medicine at a college in Belgrade and earned a degree from the Indian Institute of Magnetotherapy in New Delhi, streamlined Djokovic's diet and cut out gluten altogether. Djokovic, child of a pizza parlor, shed a few pounds yet felt stronger.
"The whole allergy thing was coming from gluten," he says. "I didn't know. We grew up on gluten—bread, pasta—and I was consuming it in big, big amounts. I guess I'm very sensitive."
Cetojevic, who is also a member of the Serbia Messengers motorcycle club, is a fixture at Djokovic's matches, yelling huzzahs from the players' box, though he has little idea of what he's watching. "He doesn't even know the tennis terms: He calls a match a game," Djokovic says. "He's a very funny guy. He brought this positive energy to the team and a fresh voice."
With his entourage now solid, his body reset and his nerve tempered by the fires of the Davis Cup, Djokovic's confidence soared. It sounds simple, a matter of just getting all the elements lined up, but few players figure out how to get the balance just right. That harmony includes his girlfriend of five years, Jelena Ristic. "Everything came into the right place," he says. "My mind-set is different now; I have a different approach to my life, to my profession. I'm more stable emotionally. I feel much tougher mentally: That's the learning and experience you get playing at the highest level. Physically, I've always tried to stay fit, I've been very dedicated—and that's what's paying off right now."
Still, it must be jarring to come back to the city of your youth, a place where you were once an unknown, and see your face plastered on billboards, your name on sugar packets and key chains. There's your brother wearing a T-shirt with your face on his chest. There's a life-sized faux terra-cotta statue of you. There's nearly every male in town sporting your peltlike hairstyle, like a scene out of a film called Being Nole Djokovic. "The restaurant is called Novak, the café is called Novak—even the water is called Novak," said an attendant on the tournament grounds. She laughed. "I'm the only thing here that is not called Novak."
It's a fight for him to remain normal in Belgrade, and Djokovic kept trying to connect with those who knew him before he became a national symbol. He called a boyhood pal he hadn't seen in four years, urging him to please come by. He took the most delight—"Time for revenge!"—in thrashing the Slovenian player Blaz Kavcic in the quarterfinals because Kavcic had beaten him at 14. The past, even the most distant, matters to him more than ever now. Without it, Djokovic would be adrift.
Srdjan and his family were born in Kosovo. Logic suggests that Serbia today wouldn't feel much connection to the region, if only because a mere 7% of Kosovo's population is Serbian. But Kosovo is where Serbian culture and the Serbian Orthodox religion began; it's central to the Serbian identity. Violence against the remaining Serbs and damage done to their churches by Kosovar Albanians—not to mention the U.S.-led recognition of an independent Kosovo by 75 nations—have, in the last few years, only inflamed Serbia's feeling of aggrieved impotence.
Djokovic has become even more involved in the issue since his famous 2008 speech. He has visited Kosovo repeatedly, dedicated victories to the Serbs there and, in March, donated $100,000 to support its historic monasteries. For that, on Thursday, he received the Serbian Orthodox Church's highest honor, the Order of Saint Sava. "The most important award I'll ever get," he says.
"Imagine a part of the U.S.A., from which the U.S.A. started—where is the cradle of your history? This is Kosovo for Serbia," Djokovic says. "There are some stronger powers we can't fight. But the most important thing for me is that I know where I'm from, I know what's going on in that part of Serbia where my family's from. We are very righteous people. We want truth to come out. That's why we're hurt. I'm being careful because it's very sensitive. But I have no reason to pretend. I know who I am."
Early Saturday evening Djokovic walked through the front door of the Partizan Tennis Club in Old Belgrade. The place was all but empty, drowsy with weekend indolence; a few elderly men laced up their shoes for doubles. Perfect: All week Djokovic had been seeking one chance to look back quietly, to center himself before the summer that seems certain to define his career. It had been seven years since he'd been there.
"This is the club that I grew up in, the club where I learned my first tennis footsteps," he said. His voice echoed in the narrow hallway as he rushed past the old stringing room, the faded team photos, toward the cramped locker room. At first he spoke easily of the titles the teams had won, about the other pros whose posters, like his, were now fading in the sun. But by the time Djokovic emerged from the club, something had changed.
He hadn't realized that every court, with its red clay freshly dragged and all but glowing, would unleash a new memory: that bee sting on his heel, the win over his archrival, Troicki, the wrenching decision to go to Munich. There was the spot where his dad would sit watching, the net where Gencic stood smiling, the hard courts from which, in 1999, he and everyone else watched the bombers streak the sky. "We weren't scared anymore," he said. "Everybody wanted to play." One minute he was giggling, the next he'd go silent and his eyes would begin to pool.
"You can't imagine," he said. "I have spent my good and my bad times in this club. I watched planes go over our heads, I celebrated my birthdays here, I cried, I laughed, I had the joy, I had sorrow—all the things you can experience as a human, I had here. Coming back, it's just overwhelming. It's too good to be true."
The next day Djokovic swatted aside López in the Serbia Open final for his 27th straight win of the year. Early in the second set, chasing down a deep, wide forehand, he slid into a full split that became a face-plant, his right wrist hammering the clay—the kind of crash that would give anyone pause. But Djokovic rose, won the next point, broke López and took control of the match. The moment showed just how tough he has become.
Yet that was just tennis, a world Djokovic has handled with ease time and again this spring. The trip to Partizan, though, touched him in a way that no opponent has lately: Suddenly, by his side was the old stringer whom he'd always begged for favors, his face lined and paler now; here came the club president, a man Djokovic once feared, hair gone whiter; here now his long-ago best friend, joking, "So, what have you been up to lately?"
A TV crew arrived, and Djokovic went to greet a 14-year-old boy whose only dream was to meet him. Djokovic hugged him, said that he understood how it felt to be young and struggling; the boy's mother stared, tears rolling down to her mouth. Her reaction seemed overwrought, until you remembered what Vlade Divac, the head of Serbia's Olympic Committee and a former NBA great, said on the first day of the tournament: "For years, especially the last 15 when there were wars, civil wars, people looked at us as bad guys. It was hard to raise kids to be proud Serbs. But Novak is giving the Serbian people that feeling now: to be proud."
Ten minutes later it happened again. Djokovic walked into the club café, and there she was, the same waitress who kept him in line when he was a boy, served him cake. Djokovic had forgotten about her, but now it all came rushing back; he moaned, his voice cracking, before pulling her close. "Just to hug you," he said. "You are still here!"
When Djokovic finally let her go, she was crying, and it became clear that the ambassador was wrong. Djokovic's isn't the face of Serbia now. Hers is: weathered, weary and tear-stained, yes, but when confronted with what their Nole has become, unveiling a tight but unmistakable smile.