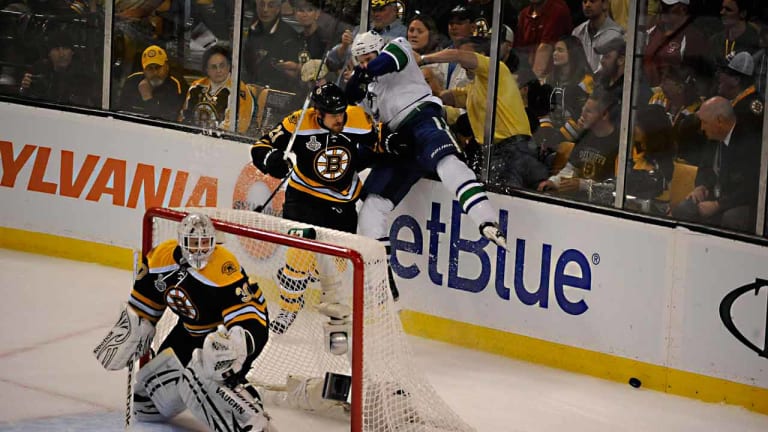 True Grit to the End in Boston
The inspired, pugnacious Bruins fought their way back from two games down to force a winner-take-all finale against the erratic Canucks in a rowdy and rude championship series.
The suddenness of the moment surprised even Brad Marchand, the feisty Bruins forward whose bad-angle goal touched off a first-period deluge that ended in a wild 5–2 rout of the Canucks in Game 6 of the Stanley Cup Final in Boston. It was a strange game that fit the chaotic nature of a series that was frequently ridiculous but rarely sublime. Gone was the bloodless efficiency with which Vancouver had bowled over opponents to win the Presidents' Trophy during the regular season. The Bruins outscored the Canucks, the NHL's highest-scoring team in 2010-11 as well as its stingiest, 19-8 in the first six games of the series. Meanwhile, Vancouver's top three scorers during the regular season—twins Daniel and Henrik Sedin and Ryan Kesler combined for just two goals. Boston goalie Tim Thomas and the Canucks' Roberto Luongo traded frantic saves and verbal salvos with equal vigor. And the resilient Bruins forced a deciding Game 7 in Vancouver on Wednesday despite suffering three bitter one-goal losses in the series.
"We never run out of battle," said Marchand after the game. "[Luongo] is not an easy goalie to beat off the rush. I think I caught him off-guard. Myself too. Crazy."
The NHL had invited an aura of mayhem into the series by choosing not to suspend Vancouver forward Alexandre Burrows for biting Bruins center Patrice Bergeron in the midst of a Game 1 scrum. The 2011 finals featured a surprisingly high ratio of menace to panache for an interconference clash between two teams that face each other just once a season and are separated by more than 2,500 miles. Not since the Canucks dumped a young forward named Cam Neely—soon to be a 50-goal scorer—on the Bruins in return for injury-plagued center Barry Pederson in 1986, a deal that still rankles in Vancouver, has there been any sort of resonant history linking these clubs.
But the non-suspension was the spark that set the finals ablaze. Both teams were desperate for a championship, and stocked with enough prickly personalities, including in net, that their enmity quickly rose to a fever pitch. "It's not like either team needs to be told what's at stake," says Boston defenseman Andrew Ference, "but a little stir of the pot kind of turns things up." Or down.
It took just five minutes for the ugliness to escalate in Game 3 on June 6, when defenseman Aaron Rome caught Boston forward Nathan Horton unaware a stride after he had made a pass at the Canucks' blue line. Rome's check was high, and Horton hit the ice headfirst. The result was frightening, as Horton's eyes rolled back in his head and doctors placed a collar around his neck before carefully transferring him to a gurney. Both teams tapped their sticks on the ice and against the sideboards in support—once as Horton, who had suffered a severe concussion, was wheeled off the ice, and again after a scoreboard message announced that he was at the hospital and was able to move his extremities—united in their concern. But they got over it.
While the Canucks' strikingly uneven play swung from overzealous to indifferent—their defense allowed goals on three straight Bruins shots in the third period—the Bruins, down 2-0 in the series, played with single-minded ferocity after the first intermission, during which coach Claude Julien told them to "win it for Horty." "Any nerves we had ... kind of disappeared," says Ference. "From that point on, we played for Nathan." The Bruins stopped overthinking their jittery offensive entries and giving away pucks at Vancouver's blue line and began to gain the zone with alarming ease. The once formidable Canucks defense suddenly looked more like a loose turnstile.
Though the Canucks killed the five-minute major assessed to Rome—who was kicked out of the game and suspended the next day by the NHL for four games, essentially the rest of the series—Boston scored four times in both the second and third periods, getting goals from all four lines in an 8–1 romp. It was only the third Stanley Cup finals game ever to be settled by seven or more goals. Vancouver, still holding a 2-1 series lead, tried to downplay the lopsided score. "This isn't the Champions League [soccer tournament], where they take the aggregate score," said defenseman Kevin Bieksa. "It's only one game."
But the win took on totemic significance for the Bruins. In keeping with the lunch-pail image of their Cup-winning teams, they have a locker-room tradition in which the MVP of the preceding victory presents a faded and tattered black-and-gold team windbreaker (purchased by Ference on eBay in March) to the MVP of each subsequent victory—sort of like the Masters' green jacket if you had bought it at Wal-Mart, then dragged it behind your car for several days. But in honor of Horton, who had earned the prize after scoring the winning goal in Boston's seventh-game victory over the Lightning in the conference finals, the Bruins left the jacket hanging in his locker after Game 3. "It wasn't right to give it to someone else," Ference said.
Minutes before the puck dropped in Game 4 on June 8, the arena lights dimmed at TD Garden and a single spotlight focused on a corner of the lower bowl, revealing Hall of Fame defenseman Bobby Orr, the Bruin whose flying Cup winner in 1970 is the defining image of the franchise. Orr began waving a flag with Horton's name and uniform number. A Rockne-like call to action might be too gimmicky for a veteran team steeled by years of late playoff runs, but for a Boston team playing in its first finals in 21 years, it was a galvanizing moment.
Fittingly, Horton appeared in the dressing room after Boston's 4–0 shutout to present the jacket to Rich Peverley, an unheralded 28-year-old forward who replaced him on the top line with Lucic and David Krejci and scored a pair of goals. Without Rome and Dan Hamhuis—the Canucks' top defenseman hadn't played since getting injured in Game 1—Vancouver coach Alain Vigneault subbed in veteran Keith Ballard, who was outskated and outthumped by Boston's forwards throughout the chippy contest.
No Bruin showed more fight than goalie Tim Thomas, who allowed one goal on 79 shots over the two games in Boston and got ornery on both nights. He floored Henrik Sedin with an unpenalized body check in Game 3 and chopped Burrows's right leg after he had slashed at Thomas's stick in Game 4.
Roberto Luongo was neither as pugnacious nor as resilient as his counterpart. During Game 3, Luongo declined Vigneault's invitation to come out after he had surrendered five goals. In the Canucks' 4–0 loss in Game 4, Vigneault finally replaced Luongo with backup Cory Schneider after the last Bruins goal. In the dressing room an hour later, a reporter asked Luongo if he had been aware that fans watching on a video screen at Rogers Arena in Vancouver had cheered when Vigneault pulled him. Luongo turned and walked into a players-only hallway, where he whacked an equipment bag. It was one of the Canucks' more effective hits of the night.
About five hours before the start of Game 5 in Vancouver last Friday, Burrows was sitting with Luongo at lunch when the goalie announced he was going for a walk around the city's scenic seawall, where the swarm of bodies in hockey jerseys is typically as cluttered as the traffic outside his crease. Just a man with a hoodie, some headphones and the collective dream of an entire city on his shoulders. Often vexed by the fickle impulses of his own self-confidence, Luongo had used the same head-clearing tactic before beating the Blackhawks 2–1 in Game 7 of the opening round. But Burrows was shocked. "There might be a few people out there," he warned. "And Roberto says [to me], 'I know, but I just want to relax.' Right, relax. Relax now? O.K., if he can relax now with the heat on him like that, I'm thinking he's gonna get a shutout."
In Game 5, Vancouver's reeling defense—fortified by the play of Andrew Alberts and Chris Tanev, both healthy scratches in the series opener who had been forced into duty after the losses of Hamhuis and Rome—did a superb job of keeping rebounds away from Luongo for most of the first four power plays, all of which went to Boston. When the Bruins got second chances, Luongo responded with sparkling stops. In the first period he slapped away a goalmouth tip by Bergeron with his left arm, then quickly reset before knocking away Bergeron's rebound try with his blocker. "We'll live and die with Roberto any day," says Kesler.
With Luongo standing tall, the Canucks' forwards set about breaking through on Thomas. During Games 1 and 2 they had been able to exploit the goalie's fearlessly aggressive style, scoring goals when Thomas's first move left him out of position. Early in the third period, Bieksa snapped a wrist shot several feet past a lunging Thomas's left shoulder, hitting the endboards and leaving the net wide open to the goaltender's right. The puck took a fortuitous hard bounce behind the goal, caroming too quickly for Thomas to play it or set himself to block it. As Vancouver's Manny Malhotra tied up defenseman Dennis Seidenberg in the low slot, center Maxim Lapierre parked unguarded on the left side and took the rebound. Diving desperately toward the goal, Thomas got his blocker on Lapierre's quick shot, but the puck dribbled across the line to put the Canucks up 1–0, an advantage that held to the end of the game. Boston was supposed to be the team with extra grit, but a pair of Vancouver's third-line scrappers, Raffi Torres in Game 1 and now Lapierre, had the lone goals in a pair of 1–0 victories.
Of course this was a finals in which both teams have been consistently feisty on and off the ice, and even up 3–2 in the series Luongo couldn't resist taking a jab at Thomas's missed save after the game. "It's not hard if you're playing in the paint," he said. "It's an easy save for me, but if you're wandering out and [playing] aggressive like he does, that's going to happen." Asked later if he could say something good about Luongo, Thomas replied, "I didn't realize it was my job to pump his tires." The words were further fodder for the sixth-game dramatics that followed.
Before the halfway point of the first period in Game 6 on Monday, Luongo had already been demoted to the bench, having given up three goals in 3:04. One defeat from losing the Cup, Boston responded by thoroughly dominating Vancouver.
The Bruins' never-say-die nature has struck a chord at home. Boston-area TV ratings for Game 1 on June 1 (25.5 rating, 39 share) were higher than those for the Celtics when they opened their finals against the Lakers in Los Angeles last spring. On June 4, the Red Sox moved the start time of their game against the A's from night to day so as not to conflict with Game 2 of the Stanley Cup. The stage is set for an emotional seventh game. And the Bruins, who have already survived two seven-game series to get this far, might finally have the Canucks right where they want them.
IN CONTRAST TO THE CANUCKS' UNEVEN PLAY, THE INSPIRED BRUINS ATTACKED WITH SINGLE-MINDED FEROCITY.
THE NHL HAD INVITED AN AURA OF MAYHEM INTO THE SERIES EARLY BY CHOOSING NOT TO SUSPEND BURROWS.
PHOTO
Photograph by DAMIAN
STROHMEYER
BEANTOWN MUSCLE Boston's domination of Vancouver in Game 6 began in the first period, when Ference (21) took Kesler high and hard into the boards.
PHOTO
DAMIAN
STROHMEYER
SWARMING B'S The Boston defense kept the pressure on the Canucks' top scorers, including Kesler (17) and Daniel Sedin (22), who combined for just one goal.
PHOTO
LOU
CAPOZZOLA
FACE THE CONSEQUENCES Thomas relished a hit by Seidenberg (44) on Burrows in Boston, while the chippy Lapierre (left) led the Canucks to a Game 5 win.
PHOTO
DAVID
E. KLUTHO
[See caption above]