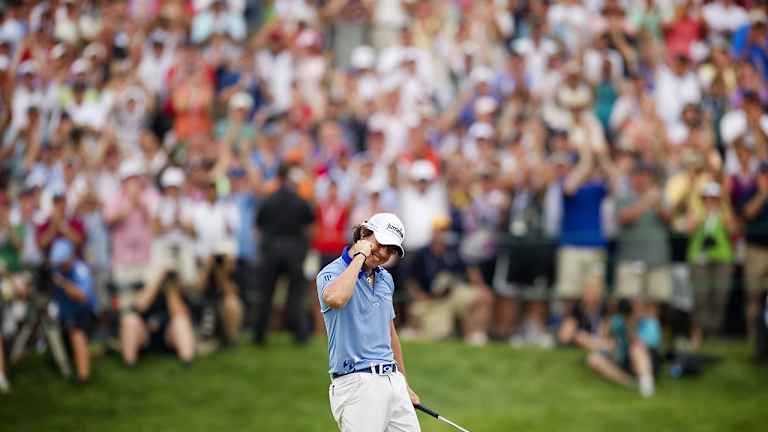 Rory's World
Dazzling fans and his peers with a performance never seen in the U.S. Open, precocious yet polished Rory McIlroy announced the advent of a refreshing new era in golf
What just happened? You hit the refresh button, and suddenly nothing looked the same. One day Tiger Woods announced that knee and Achilles injuries would force him to miss the U.S. Open for the first time since 1994. Twelve fast days later 22-year-old Rory McIlroy of Northern Ireland was hugging his father on the 18th green at Congressional, having just won golf's most demanding event by eight shots in a performance that was so precocious and superior it brought to mind Tiger's 12-shot win at age 21 at the 1997 Masters and his 15-shot win at age 24 at the 2000 U.S. Open and not much else.
Tiger's thing—he got this from his father—was to let the legend grow. Well, McIlroy, who can cite for you chapter and verse what Woods did in amateur events when Rory was still in grade school, is following suit.
Sunday, 10th hole. Behind the Freckled One was a sprawling hillside so crowded with delirious spectators that it looked like a preppy version of Woodstock. The day was warm and buggy, like it always is when the USGA brings its marquee event to Amtrak's Northeast Corridor. Congressional draws a hard-core golf crowd and even the overserved remembered what Rory McIlroy had done the last time he played a 10th hole on a Sunday in a major. That was in April, at Augusta National, when, sitting on a one-shot lead, he smother-hooked a drive that was about 100 yards offline. He made a triple bogey there en route to an 80 (including a back-nine 43) when 69 would have won him a green coat. When the wheels came off on that Sunday, he didn't know how to stop the train and start it up again. That was then.
This time, one major later, on the 10th on a Sunday, he smoked a six-iron on Congressional's 218-yard downhill par-3 10th, over the water and through the gray, still U.S. Open air. With his ball making a beeline for the flagstick, McIlroy held his knees tightly together and made a downward dip, just like Arnold Palmer does again and again in the old Masters clips Rory's watched a million times. (The kid's a serious golf buff.) Damn thing nearly went in the hole.
The wee golfer—he's Steve Nash with some baby fat—made a tap-in 2 en route to a Sunday 69, which was preceded by a Thursday 65, a Friday 66 and a Saturday 68. His total, 268, was 16 under par. Nobody has played a U.S. Open in fewer strokes or more under par. Not Tiger. Not Arnold. Not even Rory's occasional adviser, Big Jack himself.
Nicklaus said last week that he likes McIlroy's "moxie." (Jack's pretty good with the words and McIlroy is too. He left school at age 16 but in one 10-minute session with reporters last week he used the words thoughtless, complacent, reassuring and immensely.) There's moxie in Rory's slinky gait and moxie in his speed of play. McIlroy takes no practice stroke on the putting green (courtesy of Dave Stockton) and usually needs about 10 seconds, 20 tops, to play a shot. If everybody watching him did the same, golf could become a three-hour game again.
He's a little cocky on the course, and easygoing and unassuming off it. He has traveled the world since age 11, often without his parents. He won a European tour event in Dubai at 19. He won the Tour stop at Quail Hollow in Charlotte last year at 20, closing with a 62. He shot a first-round 63 at last year's British Open. He followed it with an 80 on a nasty day at St. Andrews but still tied for third. Then he finished a shot out of the playoff at the PGA Championship. In other words, he's been a major factor at the last four majors. Sounds familiar, doesn't it, the idea of bringing the heat every time out?
But we interrupt this R. McIlroy reverie for a reality check. McIlroy has won one major championship. One. He trails Jack by 17 in that category and Tiger by 13. Some fool at Congressional yelled out, "Tiger who?" What? Let's show the man the respect he deserves. Of the 55 majors Tiger has played as a pro, he has had top 10 finishes in 35 of them. Tiger is the single most dominant golfer in the long history of the game. Padraig Harrington, who doesn't drink, was talking last week about Rory's prospects for catching Jack. There was one person at Congressional who wasn't going crazy—McIlroy his own self. Upon hearing about Harrington's turn as a swami, McIlroy put his forehead on his left arm and said, "Oh, Paddy." His soft Irish lilt is one of the loveliest things in golf. Owe, PAH-dee.
He is nothing like Tiger Woods, not on the course, and not off it either. Fans who made eye contact with McIlroy at Congressional found that he'd look back at them, sometimes completing the exchange with a dimply smile or a nod or a wave of the hand. If you make eye contact with Woods, you feel as if you're intruding. Then there's Tiger's swing, a study in technical perfection (circa 2000). But driving a golf ball always seems like an aggressive act with Woods, as if you could hurt yourself with it if you did it enough. With McIlroy, the swing—the driver swing in particular—builds and builds, like the great, warm Indian Ocean waves in The Endless Summer.
He's super supple, and he holds his finishes forever, an artist admiring his brushstrokes. You can have fun with McIlroy. Fans, players, caddies, reporters—anybody. As Rory posed after his tee shot on the par-3 7th on Friday, Joe LaCava, Dustin Johnson's new caddie, said to him, "Get the f--- off the tee." LaCava was having some fun: The kid had hit another beauty, like all his others, and now the caddie wanted his man to have the chance to do the same. You can ask McIlroy about the nutty Jonathan Livingston Seagull--type birds imprinted on the shoulders of his Sunday shirt. He doesn't know. He simply wears what Oakley tells him to wear.
McIlroy became the first Northern Irishman to win a U.S. Open since ... Graeme McDowell won last year's U.S. Open at Pebble Beach. The following month Louis Oosthuizen of South Africa won the British Open. Then Martin Kaymer of Germany won the PGA Championship. In April, Charl Schwartzel of South Africa won the Masters. That's five straight majors won by non-Americans. Maybe you're asking yourself, "What's up with you, American golf?" Ask it if you like, but the fact is, there is no such thing as American golf anymore, except for the week of the Ryder Cup. There's no Asian golf, there's no European golf. There's a global economy, there's a global water supply and there's global golf. The No. 1--ranked player in the world, Luke Donald, is an Englishman who splits his time between Chicago and South Florida. On the course on Saturday an American amateur of Korean ancestry who missed the cut, David Chung, imitated McIlroy's unique driver-swing hip action. Of the record 20 players who finished under par—soft greens from a wet spring led to low scoring—only nine hailed from the U.S. Does it really matter? McIlroy had an Old Glory headcover on his putter last week. (The putter under it worked quite well. He had only one three-putt, on the 71st green.) He said the fans were so supportive of him, "it felt like a home match."
Sir Nick Faldo, the English golfer who works for CBS and lives in Florida, watched Sunday's golf from a waterfront lodge in British Columbia. He traveled to China with McIlroy when Rory was 15 and has admired him ever since. "It's global golf now," Faldo said. "The players accept that. Where that hasn't been accepted yet is in the media."
McIlroy played his Saturday and Sunday rounds with Y.E. Yang, a Korean who lives in Dallas and who ran down Woods in the 2009 PGA. Yang's caddie, Michael Bestor, and Faldo both made the same observation last week: McIlroy has the ability to, as Faldo put it, "get inside himself, play a shot, then come out of it and let people in." Bestor said that ability allowed McIlroy to be embraced by the crowds.
Of course golf fans dig the long ball and McIlroy is long. Last week his average drive traveled 310.6 yards, seventh in the field. He spoke repeatedly about how Congressional "suited" him. Well, it would. Congressional was a big, long, soft course that welcomed the high, long, drawing tee shots on at least 11 holes. McIlroy was drooling. Another course like that is Augusta, and you'd have to think he'll have lots of chances to win there over the next, oh, 20 or 25 years.
McIlroy has a generous spirit. When he sees Faldo, he asks about his kids. Earlier this month McIlroy went to Haiti as a UNICEF ambassador and hung out with Haitian kids for whom access to soap and hot water is a matter of life and death. On his way to Congressional he spent two days at Pine Valley, playing with friends, and when he found out his caddie was on the golf team at North Carolina, he invited him to the practice tee for a two-hour wedge session. Raising his only child, Gerry McIlroy instilled this credo in Rory: "It's nice to be nice. And it doesn't cost you a penny." Gerry and his wife, Rosie, raised a nice kid.
Rory knows all about the Earl-Tiger hug when Tiger won the '97 Masters. He was eight. Tiger was his hero and Rory was once just another kid chasing him down for an autograph on a visit to Ireland. On Sunday night McIlroy was asked about the inevitable, the many sentences, written and spoken, in which his name and Tiger's name would both be mentioned.
"When you win a major quite early in your career, everyone is going to draw comparisons, it's natural," McIlroy said. "It would be nice, obviously, for him to be healthy again and get his knee and his Achilles in shape and be back out on the golf course, because he does bring a little something extra to tournaments. He's Tiger Woods. I'm simply happy to be sitting here with the trophy that has his name on it."
That's honesty, not modesty. Tiger Woods has an immense body of work. Rory McIlroy is only starting out, really. But you have to win your first before you can win your second. One's in the book, and it was great. Onward.