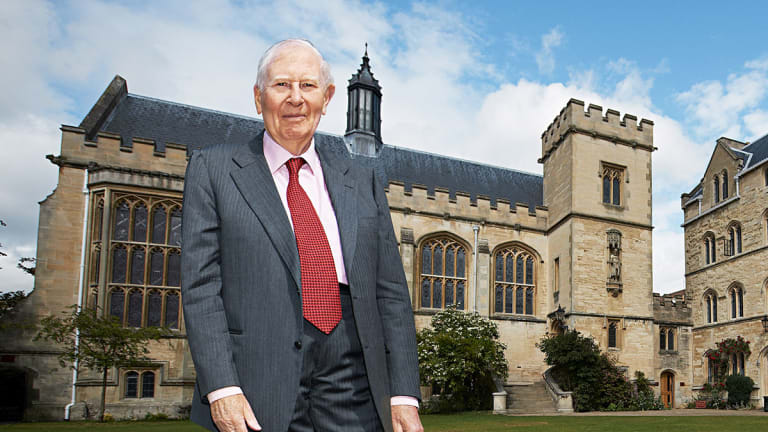 Sir Roger's Run
Fifty-seven years ago, Roger Bannister broke the four-minute barrier in the mile. Although he retired from track soon after, he has continued to push the pace—in medicine, science and fitness.
Today it is as hard to keep up with Sir Roger Bannister's mind as it once was to keep up with his feet. With the offer of tea and biscuits out of the way, Sir Roger, 82, sits down at the table in the living room of his Oxford flat, takes up his pencil and legal pad and begins his interview.
"And what's your Christian name?" he asks, in perhaps another of his historical firsts, given that he is soliciting this information from a David Epstein of Brooklyn.
"There isn't much about [track and field] in SPORTS ILLUSTRATED anymore, is there?" Nope. (Sir Roger was SI's first Sportsman of the Year, in 1954, in honor of which he was given a replica of an ancient Greek amphora. He later covered track and field at the '56 Melbourne Olympics for the magazine.) "And do they do random drug testing between seasons in baseball?" Sort of. (When he was head of the British Sports Council, from 1971 to '74, Bannister oversaw the development of the first urine test for steroids.) "And is the penalty suspension for five years or life?" Definitely neither. "Well," he concludes, looking on the bright side after collecting further updates on BALCO and Roger Clemens, "it's difficult to believe that Usain Bolt has ever been involved in drugs. He's such a magnificent athlete.
"The subject of drugs now in a sense bores me," Bannister continues. "I just would hope that the international bodies pursue random testing to the point that athletes become clean." He lays down the pencil that has now covered a page of the legal pad with information ranging from the names of SI columnists to the length of Marion Jones's prison sentence. "So let's stop talking about that."
As it apparently is in his conversations, competitive sport has been only a fraction of Bannister's life, and something from which he moved on quickly. On May 6, 1954, on the strength of training sessions done when he was supposed to be in obstetrics and gynecology lectures as a med student at Oxford, Bannister ran history's first sub-four-minute mile. The effort left him feeling like an "exploded flashlight with no will to live," as he once put it. He retired from racing three months later, at age 25.
Bannister's retirements since then fill a formidable CV. His second retirement was from the Sports Council in '74. Then he took leadership of the Berlin-based International Council of Sport Science and Physical Education in '76, retiring in '83. He was made master of Oxford University's Pembroke College in '85, a post from which he retired in '93, when he also retired from his neurology practice. In 2008 he retired from retiring when he finished his work with the British Sports Medicine Society, having helped to create an official sports medicine specialty for British doctors.
He is many times retired but certainly not yet at the finish line. Bannister is still writing, and not just to fulfill the 10 or so autograph requests that come in the mail each week. Next to the legal pad is another document on which the pencil has left its mark, a section of a book that Bannister is revising. Chapter 36: "Management of Postural Hypotension." It's for the fifth edition of Autonomic Failure, a textbook on nervous-system disease that Bannister first published in 1982. When asked whether his best memories and greatest contributions came on or off the track, Bannister has no hesitation: "Oh, medicine," he says, repeating it for emphasis. "Medicine."
ASKED WHETHER HIS BEST MEMORIES AND GREATEST CONTRIBUTIONS CAME ON OR OFF THE TRACK, BANNISTER HAS NO HESITATION: "OH, MEDICINE," HE SAYS, REPEATING FOR EMPHASIS. "MEDICINE."
In addition to the paintings done by his wife and eldest daughter—he has four children and 14 grandchildren—his home is decorated with letters from presidents (Kennedy, Clinton) and pictures of his smiling encounters with luminaries (Winston Churchill, the Queen Mother). But Bannister's favorite ornament seems to be the glass obelisk awarded to him in 2005 for lifetime achievement by the American Academy of Neurology. "This is more important," Bannister explains, "because it's about my life as a whole and medicine, which are more important to me than whatever I did as a runner until I was age 25."
It has been 36 years, after all, since he could even jog.
In the summer of 1975, Bannister was driving back to London from a weekend at his country house in Leominster, his wife, Moyra, in the passenger seat and three children in the back when an oncoming driver, who "may or may not have been sober," Bannister says, swerved across the center line and slammed into the driver's side of his car. Bannister suffered injuries to his chest and face, and his right ankle was shattered.
Up until then Bannister had continued to run recreationally. He competed in orienteering races—often against Sebastian Coe—and would jog with his children. But persistent pain in the ankle meant that history's first sub-four man was never able to run again. The crash changed Bannister's outlook as well. "We were lucky not be killed," he says. "That gave me a new lease of thought, as it were, as to how to spend the time that I had, and I decided it was most important to do research."
Bannister cut back on the time he spent in the clinic treating people with epilepsy, multiple sclerosis and Lou Gehrig's disease, and ramped up his research on a particular condition that had begun to intrigue him a few years earlier. One of the first cases Bannister saw as a doctor was a priest from a small English village who would go temporarily blind toward the top of his weekly ascent to ring the church bells. "This meant that upon exercise the blood flow to his eyes and head was being impaired," Bannister says. The man's autonomic nervous system was not triggering an increase in blood pressure to accommodate the exertion of the climb.
Bannister documented a wide array of deficiencies in such patients, usually in their 60s, across bodily functions that were normally unconsciously controlled. To study how the patients sweat, for example, Bannister built a "heat cradle," a tanning-bed-like contraption that he made using a large metal box and electric light bulbs, inside which a patient would lie. Bannister dusted the patients with quinizarin, an almost colorless powder that turns dark when touched by water, and then photographed them as the cradle heated up and they began to sweat. Any part of the body that didn't show up black in the photos was an area where the patient was not sweating, and thus pinpointed a region where the nervous system was not functioning properly.
When Bannister first began to see patients with this progressive autonomic failure, their life expectancy was two to three years. The condition is still terminal, but a better understanding of the symptoms and the degeneration of cells in the spinal cord that causes them has allowed for medications that improve patients' quality of life and have doubled the life expectancy to around six years.
"It is always sad," Bannister says of the illness, "but nothing previously could be done with these patients. And when one is able to help them and get to the bottom of symptoms that were life-restraining and puzzling to other people, including themselves, they are extremely grateful."
A half joke among physicists is that Albert Einstein received the Nobel as a consolation prize because he won it for describing the photoelectric effect, a pedestrian achievement compared with his awe-inspiring discovery of relativity. It might seem obvious that Bannister was knighted for the combination of his history-making mile and his medical contributions, except that his Sir was conferred in 1975, primarily for his service as the first chairman of the British Sports Council, where he led the Sport for All campaign to expand access to sports throughout the country.
As head of the council, Bannister felt that Britain's "pretty bad climate of rain and cold" meant that people needed indoor sports areas if they were to exercise. So he devised a creative use of the council's limited resources: He organized a grant for every other town in Britain to help build an indoor-outdoor sports center, hoping that the skipped-over towns would, in the interest of keeping pace with the Joneses, build ones of their own accord. "That did work quite well," Bannister says cheerfully. "By the time I finished there were 800 to 900 of these centers across the country."
His impact is most obvious at the Oxford University Sports Center, just two miles from his home. The center's Iffley Road track (now the Roger Bannister Running Track) was a tree-root strewn path with a dip that took runners momentarily out of sight before Bannister led its reconstruction from 1948 to '50. Six years later he would mark the cinders for eternity with his 3:59.4. Today the red synthetic track, which sits just off Bannister Close, is part of a facility that includes grass tennis courts, a pool and a bouldering wall, as well as the Café Sub-4, where athletes and guests can stop for nibbles.
When Bannister visited the facility recently, he was delighted to see a ballroom-dancing group. "There isn't a better example of 'sport for all' than competitive ballroom dancing!" he says.
Bannister has long touted mass-participation sports while repeatedly warning of the potential for professional sports to alienate the masses and to narrow the lives of top competitors, who are forced to hyperspecialize. Like Bannister, his two friends who paced the sub-four mile were true renaissance men. Sir Christopher Chataway, now 80, set the world 5,000- meter record in 1954 and later was a television newscaster, a politician, the chairman of the Civil Aviation Authority and a managing director of Orion Bank. Chris Brasher, who died in 2003, went on to win gold in the steeplechase in the '56 Games before becoming a journalist and founder of the London Marathon.
In his book The Four-Minute Mile, which Bannister churned out in six weeks shortly after his retirement from racing, he writes that "the Greek ideal was that sport should be a preparation for life in general," and that increasing professionalization and corruption in concert with burgeoning emphasis on individual victory led to the decay of the ancient Olympics.
Though much of what Bannister warned of has come to pass, he is quick to find a golden lining. He is visibly excited by talk of the 2012 London Olympics, and not only because Britain surely will reap more than the single gold, in equestrian show-jumping, it took at the 1952 Helsinki Games, when Bannister finished fourth in the 1,500 meters. "Two hundred thousand people have volunteered to act as aides and drivers," he says. "It will involve the country as a whole, and it is inevitable that young people will be inspired."
And what about the fact that the current level of professionalization means that were Bannister competing in 2011 he could not have balanced medical school with Olympian performances? "I accept the fact that were I running today, I wouldn't be breaking world records," Bannister says. "I just happened to be there at a crucial time." A time when his mile and Sir Edmund Hillary's 1953 ascent of Mount Everest were part of the spiritual rebuilding of postwar Britain.
But were Bannister in his prime now, mightn't he at least have considered putting off medicine for a few years to make a go as a pro runner? "No," he says with a smile. "It's a part of life. It's not really life as a whole, is it?"