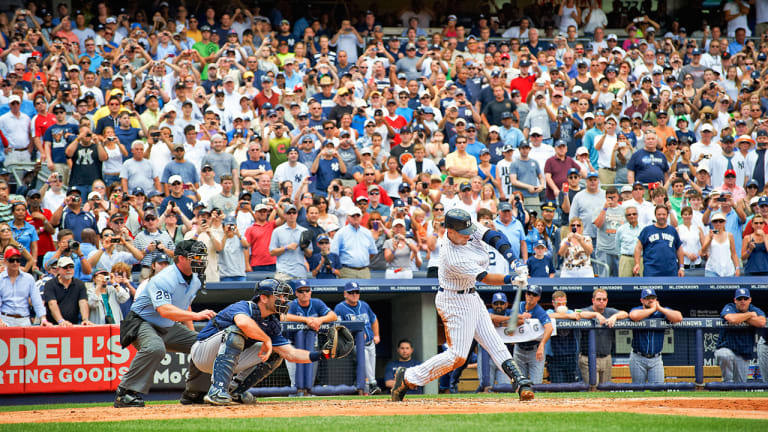 3,000 Reasons to Party
What made Derek Jeter's milestone hit different from his many others? Nothing ... and everything. How a career of greatness was celebrated in a moment of our choosing.
We choose the things we celebrate in sports and in life. Birthdays. Anniversaries. Weddings. Retirements. Why celebrate 3,000 hits? Why not? We all want a moment to celebrate.
Of course, Derek Jeter did not really get his 3,000th big league hit last Saturday under a clear blue sky at Yankee Stadium. No. He actually got his 3,184th hit ... then 3,185 ... then 3,186 ... then 3,187 ... then 3,188. That would be if you count his postseason hits. But we don't count those. Why not? Well, why don't we celebrate a player for, say, reaching base 4,000 times? (Jeter passed 4,000 times on base last year.) Why don't we celebrate 500 doubles or 2,000 RBIs or 4,000 innings pitched? Why don't we celebrate the Directors Guild Awards instead of the Oscars?
We choose the things we want to celebrate in sports and in life. We choose 3,000 regular-season hits as something to treasure. That was why Yankee Stadium on Saturday felt charged with excitement and nervousness and the buzz of anticipation. You don't need an irreproachable reason for a celebration. You need only a consensus.
Saturday was a good day to celebrate Derek Jeter for being one of the most splendid players in the game's history. It was a day game—baseball always seems a little bit better when it's played during the day. It was in New York, which is a great place to throw a party. A waft of a cool breeze blew. The game was sold out. Derek Jeter was nervous. He would not admit that part until later—"I've been lying to you guys for a long time," he would say after the game—but the nervousness wasn't hard to pick up. No Yankees player had ever reached 3,000 hits. Jeter visibly felt the burden of Yankees history.
Jeter led off for the 790th time in his career and engaged Tampa Bay starter David Price in an interesting little eight-pitch tango. Price threw eight fastballs, each from 92 to 95 mph. On the sixth and seventh pitches Jeter fouled the ball into the stands, way late on both, though the crowd roared with expectation even on those. It is something to be in a full stadium where everyone in the place is rooting for the same thing. Finally, on that eighth fastball, Jeter chopped a ground ball that bounced between the Rays' shortstop and third baseman for a single. That was hit 2,999.
Jeter smiled as he stood at first base, as the loud cheers roared around him. "It was huge," he would say. He had worried—seriously worried—that he would not get the two hits he needed last weekend at Yankee Stadium. He was worried about a lot of stuff. He told everybody that he wasn't nervous. As he said: He was lying.
Derek Jeter got his actual 3,000th big league hit—counting postseason hits—in June of last year against Houston's Wandy Rodriguez. It was a home run. He hit another home run that day. And those were the last over-the-fence home runs he hit at Yankee Stadium for more than a year. This has been the most jolting part of watching Jeter the last year or so—the ball has stopped jumping off his bat. It thuds. Since that June day against Houston, he had slugged .323. That's slugging percentage. The young Derek Jeter had six seasons where his batting average was better than .323.
So, there was a vision of how he would get that 3,000th hit. A bloop over the second baseman was one possibility. A ground ball with eyes was another. "I just wanted to hit the ball hard," he would say. He stepped up to the plate against Price in the third inning, and the stadium filled with those loud cheers that people make when they are really cheering for themselves and a moment to remember.
Jeter stepped in. He touched his helmet. He held up his right hand to the umpire. He dug his cleats into the dirt. He arched his back. How many times have we seen this routine? How familiar has it become to fans who love Jeter and fans who despise Jeter and ... well, those two options more or less cover everybody. This time Price decided to show his repertoire. He got a called strike with a changeup, and Jeter fouled off another change. Jeter fouled off a fastball into the stands on the first base side, at least 50 feet foul, but still people cheered with hope. It was, as Vin Scully likes to say, as if they were seeing the game with their hearts.
At exactly 2 p.m., with Jeter expecting fastball, with the crowd in high pitch, Price threw a 78-mph curveball that hung over home plate the way the sun hangs over Key West. And Jeter did the last thing anybody expected—including himself. He turned on it. He crushed it. As Jeter broke out of the box, he did not know if it would clear the fence. But he did know that nobody was going to catch it.
The ball went over the fence.
And then ... madness. The Yankees' players rushed out of the dugout. The Rays' infielders clapped slightly. A 23-year-old man named Christian Lopez, who was given his ticket by his girlfriend, fell on the ball in the leftfield bleachers. The sound in the new stadium was as loud as it was in the old stadium when Jeter hit the home run in the 2001 World Series just after the clock struck midnight on Nov. 1. Jeter rounded the bases, and when he touched home plate, he ran into a bear hug from Jorge Posada. Incredible. Ridiculous.
There were details to sort out at that point. Jeter had become the second man to get his 3,000th hit on a homer; the other was Wade Boggs, who was famous much of his career for not hitting homers. Jeter became the 14th man to get his first 3,000 hits for one team, and the first to do it for the Yankees. And so on.
There were plenty of "and so ons" after that. The next time up, Jeter ripped a double to left. And so on. The time after that, he used an inside-out swing to punch a line drive to rightfield, the sort of line drive Jeter has hit so often that it should be named for him. And so on. In the eighth inning, with the go-ahead run on third and the Rays infield drawn in, Jeter hit a ground ball single, his fifth hit of the day. It was the second 5-for-5 game of his career, the first in more than a decade.
And so on.... Mariano Rivera closed the door with a perfect ninth inning, which Jeter would tell you is the way he would have dreamed for his 3,000-hit game to end. The crowd stayed for a long time to scream. Jeter stayed around to acknowledge them. Sinatra sang New York, New York. Christian Lopez, the fan who caught the historic ball, gave it to Jeter for free because, he said, "it's his accomplishment." "Movie-ready," Yankees manager Joe Girardi would call it. And, yes, at some point it did feel like Robert Redford might just show up to throw a baseball with his son.
But perhaps the most striking part of all was how happy Derek Jeter was to have it over. He has worked hard through the years to keep many of his feelings private. He has worked hard through the years to say the right things, to do the right things, to exemplify grace and class and confidence and humility, all at the same time. He is a proud athlete, and he has been growing old in front of America, and that cannot be easy.
On Saturday he played young again. He ripped the ball again. He got his 3,000th hit on a home run. His 3,003rd scored the winning run. And when the game ended, he talked mostly about relief. It's over, he said. We can move on now, he said. We will move on, of course. The All-Star Game was this week. The NFL lockout might come to an end. Rory McIlroy goes to the British Open. Jeter goes back to his battle with the years. It all moves very quickly. Saturday was a nice afternoon to stop for a moment. Why celebrate 3,000 hits? Hey, why not?