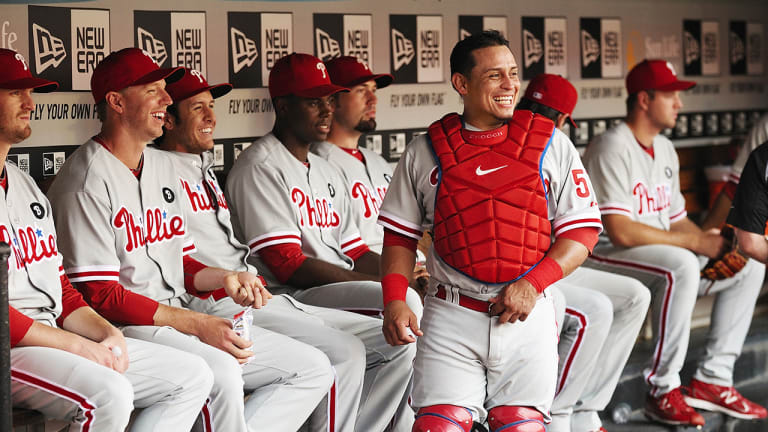 The Legions of Arms Part II: Brotherly Glove
Think it's been a treat to watch the dominance of the Phillies' rotation? You should see what Chooch sees—and know all he knows. The catcher with the nickname that was once (literally) a curse has proved to be a most unexpected blessing
It's 6:15 p.m. The locusts with pens and microphones have been swept from the Phillies' clubhouse. It's their living room again. Creeping to the center of the room, like a seven-year-old in Dad's pajamas, is their stumpy catcher lost inside their massive first baseman's uniform and cleats. A half foot of Ryan Howard's pant legs droop from Carlos Ruiz's feet. That alone has the clubhouse cackling ... but Chooch has more. He has made a career by watching everyone in silence, recording everything. This one's easy meat.
He lowers his backside like an emperor settling onto an invisible throne, imitating Howard's setup in the batter's box, then points the end of Howard's bat at an imaginary pitcher, sighting on his prey like Howie does. Only now Chooch begins tilting his head and squinting, trying to see around Howard's big black war club, then yelps, "Hey! Where ees the peetcher? I can't see him!" and the whole squad's howling.
Chooch! comes a request. Do Sammy! That's coach Juan Samuel's nickname. Chooch flashes those big white teeth, those imp eyes and that mierda-eating grin that make every impersonation double delicious, and nails Sammy's slowwww, cool-disco-dude signals from the third base box. The boys roar. Chooch winks. Chooch, do Charlie! He takes a few shambling steps and sends his head bobbing and rolling from shoulder to shoulder, just like Manuel when the Phillies' manager is pissed and heading to the mound to separate the ball from his pitcher's hand, then drops the cherry on top: Charlie's Southern drawl strained through Chooch's Panamanian accent. Chooch, do Shane when Kuroda threw at his head in the playoffs! ... Chooch, do Cliff!
Wait a minute. He's got a dandy Cliff Lee in his repertoire, teething on his necklace and spitting it out as he peers in for the sign ... but Cliff's on the mound tonight. Nope, sorry, no way Chooch will imitate someone he's about to become.
When I am catching," says Chooch, "it is not two people out there—a pitcher and a catcher. It is one person. It is my fault if something goes wrong. Whatever is happening to him is happening to me. One person. That means I am a different man with each pitcher."
It's 6:35. Cliff and Chooch head to the bullpen to warm up. Lee has come out of the chute in 2011 like a windup action figure wound one turn too many—walking more hitters in the first two months than he has in years and whiffing them at a faster clip than he has in his big league life, reverting to the 16-year-old who used to walk 'em loaded, then fan the side—lurching along with four wins and five losses until June arrives and his body suddenly remembers the dart-throwing routine he discovered a few years ago, and he unfurls five straight dazzlers while allowing just one run over 42 innings, the best month in franchise history and the sixth-lowest National League ERA ever for a month, 0.21, since earned runs became a stat in 1912. Chooch gets him now: He's this big, easygoing country hardballer—the long-haired kid he once was, with the hemp necklace and the fishhook in his ball cap, still lurking just beneath his $120 million skin—and so the catcher knows that tonight it's best if Chooch appears loose and carefree and does not burden his other self with the scouting reports or details that are churning in his head.
Look, Cliff! See that crazy man up in the fifth row? Chooch knows he can point anywhere and say anything tonight because then baseball will feel like it should to Cliff, like he's back in Arkansas sitting on an overturned ball bucket between innings and going through a gallon bag of barbecue-flavored sunflower seeds, nodding to whatever number Chooch flashes and playing the same I-couldn't-give-a-flip game of pitch-and-catch that the two of them played when they six-hitted the Yanks in Game 1 of the 2009 World Series.
Even more than funny and free, Chooch knows that tonight he must be fast, must keep Cliff in that feeding-frenzy tempo he craves. Eight seconds. That's all Chooch will have from the time the ball thwacks into Cliff's glove before the lefty's flowing into that stream-of-consciousness-smooth delivery. Ayyyyyy, the ball was exploding in Chooch's face almost before he was prepared to catch it the first time he caught Lee.
Ohhhhhhh, say, can you see? ...
Cliff's ready. Chooch isn't. He enters the bullpen bathroom as the national anthem begins for his ritual moment of soul searching, and stands alone in the dark ...
... and it all comes whistling back. Who he is. Why he's here. What he comes from. The morning when he was seven, playing baseball in the neighbor's yard in David, Panama, and his mother's scream shattered the quiet. Carlos running into his house and asking her what was wrong, his mother looking up through her tears and ordering him to return to their neighbor's house until she called for him.
He tried to obey her, but his nervous eyes kept watching one car after another pulling up in front of his house, dispatching relatives, friends and strangers: Something in it felt familiar. Forever passed, finally the boy was permitted to go home, and at last came the truth. On his father's last shift before a long vacation, a tire had blown out on Sgt. Joaquin Ruiz's police jeep as he patrolled a nearby town. The jeep spun into a ditch, flipped, flung the unbelted man from his seat and then crushed him. Two weeks after Carlos's grandmother died of cancer, his dad, too, was dead.
Carlos, the eldest of Inocencia's three sons, knew at once that he must become the new father. "Don't worry, I will play in the big leagues one day," he informed his mother not long after, unaware that the odds of that were roughly two in one million. "I will take care of the family." At the cemetery he dug himself an even bigger hole, repeating the promise to his father's spirit. Then he grew silent and watched what men did, so he could become one too. At 10, Carlos became a laborer in the coffee bean fields, filling his apron pockets with beans till the fields were stripped bare. Then he began walking a half hour to a farm to carry crates of tomatoes on his head for three quarters of a mile to the Pan American Highway, turning around and racing back for the next crate. At dusk he'd take the precious three dollars he'd earned to the grocery store to buy flour, tortillas, yeast, eggs and milk, and stand tall, for such a short boy, when he laid them on his family's table. But he knew that wasn't enough, nor ever could be, unless he kept his two-in-a-million promise.
... O, say does that star-spangled banner yet wave ...
In the darkness of the bullpen bathroom, he hears the anthem closing. He pictures the place on the edge of the road where he stops at the end of each off-season, on his way to the airport to return to the U.S. for spring training—the cross and candlestick holders that mark the place where the jeep pinned his father—and remembers the words he whispers each time: I don't want to bother you, Father, but I am going to America and I am keeping my promise to you to help our family. God help me this season. I will continue to do my part. Thank you for being my father.
He feels the energy surge through his chest and legs as the crowd thunders to the song's last chords, the same gust that swept through him in Panama last December after he learned that his team had added Lee to its extraordinary stable of arms, that sent him flying on his daily run on the dirt road past the cows and the pasture and the forests, past the cemetery where his father slept in a little green chapel, as the voice in his head cried, Let's go! ... Let's go! ... We got Cliff! ... C'mon, let's go! ... I can't wait! ... We got Cliff!
He exits the bullpen bathroom when his pregame reflection is done, blesses himself, touches his fingertips to his lips and looks up to the sky. Then he pats his pitcher on the back with an open hand and pounds him in the chest with a fist. Everything's good now. Cliff Chooch Lee is ready.
It's 6:15 p.m. Another night. Another ace. Chooch, do Werth! ... Chooch, do Rowand! No, boys, sorry, no oldies but goodies tonight. Chooch drops his head and demurs, far preferring to spring his material when it's not expected, and recedes back into shadows: He's the Tailor of Panama. The discreet man whose job and joy is to make his client look and feel wonderful, materializing in the mirror beside him only to smooth out a wrinkle, make a subtle alteration or offer a few quiet words of praise or advice. "Our starting pitchers do not need a tailor to make them look good," he murmurs. "They make the tailor look good." The perfect tailor's words. The perfect fit for the Legion of Arms that has paralyzed National League hitters the first half of the season, hurling their team to baseball's best rotation ERA and best record in spite of their hitters' anemic support and the loss of Roy Oswalt, Joe Blanton and all three of their closers to the disabled list, their starters hanging up a 1.96 ERA in June that's the lowest that MLB has seen in any month in 19 years.
It's Hamels on the hill tonight. Chooch, do Cole, the one where Carlos imitates Hamels walking off the mound when the sky's caving in, looking upward as if asking God how this could happen to a man as talented and well-meaning as he, closing his eyes and drawing a deep breath and blowing out his deep exasperation with the cosmos.
No Cole skits. Tonight the two men, both sons of elementary school teachers, are one. They head to the pen for warmups, Chooch already becoming the man he must be tonight. Firmer and gentler both, more aware of every flicker in his pitcher's eyes, swifter to intervene, because Hamels—though day by day becoming less so—remains the most temperamental of the Legion of Arms, the one Chooch knows best from their long history hoeing on the Phils' farms together, the ace he's quickest to soothe or tease or bark at after a bad pitch because theirs, says Cole, "is a brotherly love. He'll get on me if I throw a bad pitch. I'll say something right back at him. We can bicker back and forth. He'll curse and shake his head. But he really believes in you and really cares."
The lefty tilts into his windup in the bullpen. It's been heaven, Cole's '11: an All-Star selection, a 2.32 ERA and 11--4 record in the first half that could easily be three wins fatter with a little help from his friends. He uncorks a belt-high changeup. Chooch looks back over his shoulder and opens his right hand, as if asking an ump for a new ball after a pitch has been hit 450 feet, and studies Hamels's jaw. Good. It's grinning, not gritting.
Ohhhhhh, say, can you ... ? That's Chooch's cue.
He enters the dark bathroom. Walks straight into himself ...
... on that night in 1998, in the dark, when he broke. He was 19 years old, sitting in a telephone agency in La Vega, Dominican Republic, the loneliness and hopelessness inside of him about to burst through his ribs. He dialed his mother, terrified of the words on the edge of his tongue. He looked and felt like a 10-year-old among the tall, athletic prospects surrounding him at the Phillies' baseball academy where he'd just begun. He was playing a position he'd only taken up a few months before, at the urging of the scout who'd signed him as a long shot for a mere eight grand but told him he was too slow to play his native position, second base. He couldn't gauge pop-ups from this new angle. He kept trying to short-hop pitches in the dirt like an infielder. He felt like a small insect inside this strange hard shell he now wore. The telephone call went through to Panama. "Hola, Mami? ..."
"Carlicho?"
Suddenly the power went out in La Vega, the phone went dead, darkness fell over the world ... and Carlos surrendered. Tears streamed from his eyes as he sat alone in black silence. When the electricity finally returned, and the signal crossed a thousand miles of sea, he had nothing left. "Mami, be ready," he murmured. "I cannot do it. I am coming home."
"O.K., my son, come home," she said.
Suddenly he heard a male voice on the phone. "Carlos," cried Uncle Elias, his mom's brother, "if you come home, it is me who will be waiting at the airport! It is my face you will have to see! This was your dream. You must take it. You cannot quit! You are a man now!"
Carlos sat there, stunned. He returned to the dorm at the academy and lay looking at the ceiling in the eight-man bunkroom. He taped his father's picture to the inside of his locker, stared at it and began sending shallow breaths back into the promise he'd just nearly crushed. Observing everyone and everything from the shadows from that day on. Mimicking. Arising in the off-season at 5 a.m. in Panama to drive to the farms to fill and hoist 45-liter tanks of milk onto his stepfather's dairy truck until he was 26, mixing cement at his uncle's construction sites, then laying out orange cones for his daily footwork and balance drills.
Chucha! That was the word that seemed to burst most from the quiet man's mouth over the long, harrowing years that followed. It was the equivalent of the f bomb in his native land, and in the spring of 2004—when his bat utterly betrayed him—it escaped his mouth so often that his minor league teammate and roomie, Anderson Machado, began to address him that way ... and it stuck. How Chucha cringed when he heard his new nickname, praying that no Panamanians were in earshot. His hitting agonies spilled into summer that year, his second season in Double A, but then came his break when Reading's starting catcher was injured and the chance to play regularly brought Chucha's bat back from the dead, his .284 average marking him—at the borderline age of 25—as a man who ... well, might be a backup big league catcher one day. When his call-up came in 2006, the Philly writers, thank God, anglicized his nickname to Chooch, and the Philly fans took it as a children's train reference, even sending him cute locomotive pictures as they began to fall in love with his pluck. The man with the steamy nickname became the Little Engine That Could. At age 27, two decades after uttering it to both of his parents—one dead, one alive—Carlos had kept his promise.
O'er the land of the freeeeeeee ...
Chooch's thoughts light on his own two sons, one an infant and the other just a little older than he was when he lost his father—the boy who loves to race around the house whenever Chooch homers, whether on TV or on his MLB video game, and mimic the famed Hispanic baseball broadcaster Ernesto Jerez hollering, "A lo profundoooooooo y no no no no no no no no!"
Chooch smiles, blesses himself and emerges gingerly from the bullpen bathroom. Hamels, when his warmup sessions disgusted him, sometimes reared back and fired the ball right into the john, screaming it off the inside wall, and Chooch would go right to reminding him how splendid a hurler he is and how meaningless are warmup pitches. But all's calm tonight. Chooch rubs his pitcher's back and pounds his sternum, a mother ladling out equal portions of love and challenge, and the bullpen gate opens.
Cole Chooch Hamels begins the long walk in, a brown hand resting on his shoulder.
Oooooh. Lookat Chooch! Chooch has new shoes!! Chooch has new batting gloves! Look, with his number on them! It's 6 p.m. Another night. Another ace. Chooch is a superstar now! Chooch has a commercial! Chooch has gone big time! They tease him about everything, and the loudest one laughing at him ... ishim. Rather than defend himself, he'll gyrate and turn the pop hit Like a G6 into "Like a cheese steak! Like a cheese steak!" or pull on all his gear, even his mask, and sit in front of his locker punching a fist into his glove, shouting, "Let's go!" ... an hour before game time. "It's the catcher's job," he says, "to bring energy and happiness to the game."
No tomfoolery tonight. Doc's on the slab, the one guy Chooch won't impersonate. The Tailor grows more quiet and attentive than ever, watching from the corner of his eye as Roy Halladay sits as still as a stone in front of his locker and studies the thick notebooks he keeps on hitters. Waiting for Doc to nod to him, even walking past the pitcher in silence now and then just to give him that opening, so not a second will be lost once Doc's ready to meet and formulate their game plan.
It still awes Chooch. He's catching the best pitcher in the game. The first day they got to know each other well—in March 2010, when Chooch found himself opening his car door to drive Doc to Tampa to pitch against a team of Yankees minor leaguers—he froze. What would a poor boy from Panama say to a living legend? Sure, he'd picked the mind of Phils pitcher Jamie Moyer for 3½ years—in clubhouses, in dugouts and on flights—and learned the art of pitch sequence, the divination of batters' body language, the conviction he had to convey in his pitch selections rather than the timid suggestions they were in his first two years in the bigs, becoming so adept that his staff had learned only to nod and launch ... but how could he tell the master which pitches to throw? The silence gathered as they drove. "How many kids do you have?" Chooch finally squeaked.
"Two boys."
"Do they like baseball?"
"Oh, yeah," said Doc, and they were rolling.
"How do you want me to catch you?" Chooch asked before they got out of the car.
"You call the pitches."
Doc shook off nothing that day and hurled three dominating innings. At once he sensed what the other Phillies pitchers did, something that was burning in those two eyes and shining from that round moon face looking up at him: all the innocence of the boy who'd lost his father and all the responsibility of the boy who'd become the father. Sensed Chooch's belief that the pitcher's ERA was his ERA, and that every opponent's hit should never, ever have happened to his hurler—it was his fault.
Three months after that day Doc was pouring perfection into Chooch's mitt against the Marlins, and four months after that, the second playoff no-hitter in major league history. Of the 219 pitches he threw in those two hitless games, he shook off Chooch once. "Speech!" cried the players, greeting Halladay with a standing ovation as he returned to the clubhouse after the perfect game. Doc pointed to his catcher and said, "Chooch is the man! What else can I say?" End of speech.
The numbers, in the end, sang their love song: When Chooch was his receiver last season, Halladay's ERA was 2.13 and the opposition's batting average was .232. When it was anyone else, Doc's ERA jumped to 3.75 and opponents' batting average leaped to .294. The two or three times a game he used to shake off his catchers, Doc says, became two or three times a month with Ruiz, and this season he began striking out more hitters than ever at age 34, steamrolling into another All-Star Game with an 11--3 record and a 2.45 ERA.
Words weren't Doc's currency, so how could he thank his masked mate? Here, Chooch. The home plate that the Marlins dug up and presented to Doc after the perfect game—it's yours. Here, Chooch. A wristwatch and a stunning diamond ring with that game's date and line score and thanks, roy etched inside it—yours. Here, Chooch. The topper, a brown box with to chooch and from roy scrawled in the corner, left on a chair in front of Chooch's locker in spring training: an exact replica of Doc's 2010 Cy Young Award. Then came the commercial for the MLB 2K11 video game in which Doc couldn't decide anything—whether to eat a turkey or ham sandwich for lunch, whether to wear his red shirt or blue one—without looking to a Chooch blowup doll for a signal. Each gesture stunned Chooch. He kept Doc's offerings near his father's photograph, police belt and badge, and his eyes filled with equal reverence when he spoke of both men and their keepsakes.
It's 6:35. They head toward the bullpen. Tonight the Tailor becomes even more discreet, measuring every word and gesture against the sanctity of the tunnel Doc burrows into when he's pitching. Even on days between starts, rather than risk interrupting Halladay's routine with spoken words, Chooch often exchanges texts with him. Their warmup session transpires in silence tonight, to the metronome of mitt pop.
Ohhhhhh, say ...
Chooch disappears into the dark bathroom and his own cocoon... .
The Star-Spangled Banner—the hurrah of a young nation overcoming the same empire twice in three decades—averages a minute and a half in length. Who's to say what odds mightn't be overcome by a man who spent a minute and a half each day touching the bottom of his being and the summit of his dreams? Why, to think ... the least-respected hitter in the Phils' lineup, usually relegated to the eight hole, might end up leading his first-place team in hitting, as Chooch's .302 did last season.
The man whose nickname was an obscenity hissed in exasperation might bring a city to chorus that obscenity every time he cracked another momentous base hit:Chooooooooooch.
The only everyday Phillie who'd never been an All-Star might wind up hitting .353 in 11 World Series games and be anointed with a second nickname each autumn: Señor​ Octubre.
The man who'd toiled eight years in the farm system learning a foreign position might even become the field general for one of the most renowned starting staffs in the history of the game.
The most silent and timid Phillie might even become—by consensus of teammates and in the words of closer Brad Lidge—"the heart and soul of this team." The player who was the runaway winner in a team poll asking Phillies whom—if they were Batman—they'd choose as their Robin, proving that his effect extends far beyond his superhero pitching staff. The player who circulated in the clubhouse asking them how their families were doing, and how their hearts and minds and bodies felt. The man who went to each player in the dugout as each game was about to start to exchange a new touch: knuckles yesterday, low-fives today, fist pounds to their hearts tomorrow, so hard that they'd yearn for his chest protector. The one who tore into them when they were lax and verbalized what team leaders Chase Utley and Halladay kept tight under wraps. The one taking charge as if he has been here forever and yet still asking questions as if he has just been called up. The most endearing player to the sold-out crowds at Citizens Bank Park every night, even when his average dips to .255, as it has this season, crossing a cultural moat that Hispanic players often can't—the Phillie whom bartender Tubby Kushner impersonates every game he attends, from uniform down to the shin guards, chest protector, mask and, yes, even cup—because fans feel like he's their little secret, their little golden nugget.
And the home of the brave ...
The bullpen gate opens. The catcher remains six feet to the left of this pitcher and one step behind for the walk back, in deference to the master's tunnel ... but don't be fooled. That's just how Doc Chooch Halladay rolls.
When their season ended in ashes last October and all the Phillies were scattering after their failure against the Giants in the National League Championship Series, Chooch went looking in their clubhouse for the hardest man to find. There was something he had to tell Doc before they parted. He found him in the trainer's room, made small talk for a moment and finally gathered his courage. "Next year I want to give you a gift," he said. "I want to give you a World Series ring."
Then he embraced Doc and walked away, carrying the weight of the second-biggest promise of his life.