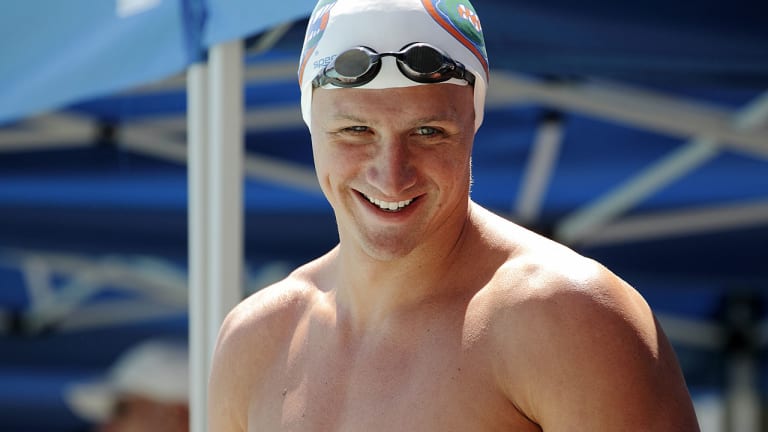 Fast Times In Shanghai
Dude! Ryan Lochte might be more known for his surfer's attitude and freak injuries than for his gold medals, but expect him to tear up the pool when the World Swimming Championships begin on Sunday
The news bulletin appeared on the website of a Gainesville, Fla., television station on June 22, just a month before the start of the World Swimming Championships in Shanghai: RYAN LOCHTE CRASHES SCOOTER, HURTS CURRENT GATOR.
Driving to a morning practice at Florida with junior Marco Loughran seated behind, Lochte, a six-time Olympic medalist, swerved to miss a car pulling out of a driveway, hit a patch of dirt and spilled, bruising his left knee and sending Loughran to the hospital with minor internal injuries. For most elite swimmers, splatting onto the pavement before the biggest meet of the year would be cause for concern, or at least make a ripple in the news cycle. But for Lochte, who has made a habit of getting banged up when the stakes are highest and then performing his best, the accident was "par for the course," says Gators strength coach Matt DeLancey.
"I don't worry about Ryan anymore because I know that regardless of what happens to him outside the water, once he gets in it, he's going to swim fast," says DeLancey, who has helped nurse Lochte through a foot fracture (scooter accident before 2007 worlds), an ankle sprain (chasing his Doberman, Carter, before the 2008 Olympic trials); a torn meniscus (break dancing, before the 2009 short-course nationals), a groin pull (practicing before 2010 nationals) and a strained MCL (reaching for his cellphone in the backseat of his car, April 2011), to name some of the injuries Lochte, 26, has sustained as an adult. "It's just who he is."
Aside from a stomach bug at the Beijing Games three years ago, nothing—not freak accidents, not sharing an era with the greatest swimmer in history, Michael Phelps—has slowed Lochte on his ascent from perpetual runner-up to world-beater. Last summer was a breakout season: After losing head-to-head to Phelps in the 200 and 400 individual medleys 20 straight times in major long-course races over seven years, Lochte finally beat him in the 200 IM at last summer's nationals in Irvine, Calif. (For good measure, he also beat Phelps in the 200 back.) Two weeks later at the Pan Pacific Championships in the same pool, Lochte won six gold medals, a haul that marked him, at least for the time being, as the top swimmer in the world.
*****
So who is Ryan Lochte? Perhaps you've heard the comparisons to Jeff Spicoli, the spacey surfer of Fast Times at Ridgemont High, and nodded knowingly when you saw the laid-back skateboard enthusiast interviewed poolside. Maybe you've seen him stride to the awards podium in the rhinestone-studded "Martian" green high-tops he helped Speedo design for him, or watched him hop up on the blocks at Grand Prix meets in a pink Speedo brief (also his design) that provides a stunning contrast to the black jammers worn by most of his competitors. Perhaps you've heard about his annual July 4 tradition of standing in a circle with his brother Devon and a few friends, lighting an arsenal of bottle rockets all at once and then standing still as the fireworks whoosh and dive around them—enduring the random nicks and burns because, he says, "it's crazy and fun." ("He likes to surf a lot too," sighs his mom, Ileana, speaking on the phone from Port Orange, Fla. "And we're shark-infested here.") Maybe you've summed up Ryan Lochte in one word: flake.
"I don't know if flakey is the right word, but he does have a little bit of an airhead quality to him," says his coach, Gregg Troy. Yet that carefree, "doo-di-doo" (Lochte's word) attitude may be the least of the swimmer's defining characteristics. Poll the people who know him best and you'll learn he is hardworking, dogged, generous, humble, caring, genuine, coachable, playful, tough, imaginative and—did we mention the pink Speedo?—fearless.
"Ryan is a risk-taker," says Troy. "There are some negatives about that. He gets injured doing stupid things. At the same time, in a race he's not afraid to go out a little fast or sit back and see if he can catch everyone at the end. As a competitor you never know what he's going to do. So you can't take the risk-taker out of him. You can't take away his biggest skill."
Lochte has started to think twice about risking everything for a thrill—Troy talked him out of going skydiving in Hawaii last fall, for example—but his philosophy remains intact. "My parents always told me to live life to the fullest," he says. "Have fun with it. I took that to heart."
Lochte's sister Megan Torrini, 31, says her little brother has had the same approach to swimming since he was eight. "In Ryan's first race, it might have been the 25 or 50 free, he had no idea what he was doing, but once he dived in, he just took off and killed everyone," says Torrini, one of five Lochte siblings. "That's been the story of his swimming career. He doesn't question his ability, his training or what he ate for breakfast. He doesn't worry about whether the other guy is better than him. He just races. It's a game to him. He is like a kid playing tag. That's his gift."
*****
As a kid in rural Bloomfield, N.Y., Lochte got kicked out of the pool almost every other day. If blowing bubbles and distracting other swimmers didn't push the buttons of his coach—who happened to be his mom—he would ask to go to the bathroom. An hour later he'd return, his back lobster red from a hot shower, his mouth blue from eating powdered Kool-Aid, his suit frayed from a favorite game: flooding the showers with soap and water and sliding around on his butt. "But when it came time to do a time trial, he was the first in line," says his dad, Steve, a former All-America swimmer at Miami who started coaching Ryan when he was 12. "He'd go all out in a race."
Lochte was good at a lot of sports—as a 10-year-old soccer player he could banana a corner kick into the net—and didn't focus on swimming until the family moved to Florida when he was 11. After a friend beat him for the 13--14 age-group high-point trophy at the 1998 Junior Olympics in Gainesville, Ryan was unusually quiet on the drive home. "What's wrong?" asked Steve. "I got beat," said Ryan. "What are you going to do about it?" asked Steve. Ryan turned to him and, with a look of adolescent determination, vowed, "I'm never going to let it happen again!"
Lochte's dismissals from practice dropped from three times a week to once a year. By the time he was a junior at Spruce Creek High in Port Orange, he was attracting college recruiters. When Troy, the coach at Florida, attended the state championships in 2001, he saw firsthand that Lochte was a unique character. Minutes before the 500 free final was due to go off, Steve and Troy found Ryan in a nearby gym, shooting baskets in his racing suit. "I said, 'Ryan, what the heck are you doing? You're up in the next heat!' " recalls Steve. "He says, 'One more shot, Dad.' He makes the basket, says 'Yeah!' grabs his cap and goggles and runs out of the gym. Gregg looks at me like, I'm recruiting this kid?" After Ryan won the race by more than 10 seconds with a personal best of 4:25.54, Troy said, "I want him."
After winning the 2004 SEC and NCAA titles in the 400 IM during his sophomore year at Florida, Lochte made the '04 Olympic team by finishing fourth in the 200 free and second, to Phelps, in the 200 IM at the trials. The resulting awards-podium tableau—Phelps at the top, Lochte a step below—would be repeated virtually every time the two swam head-to-head at a major event over the next four years. Before last summer, Lochte's best chance to knock off Phelps might have been in the 400 IM in Beijing. Lochte had lost to Phelps by a fingernail at the Olympic trials, but he came in a distant third at the Games, behind Phelps and Hungary's Laszlo Cseh. Having slept through the team meeting about the dos and don'ts of being in China, he was still suffering the effects of an intestinal virus that hit him after he brushed his teeth with tap water. "It sucked, because I had trained four years for that, and then I did something stupid and got sick," says Lochte. "But I got an Olympic medal. I was proud of that."
Three days later Lochte had recovered enough to swim the second leg of the world-record-setting 4 √ó 200 free relay, and two days after that, he pulled off an impressive double: He won the 200 back in a world-record 1:53.94 and followed that 27 minutes later with third place in the 200 IM, again behind Phelps and Cseh. It was a good meet overall, but Lochte didn't dwell on it for long.
After every swim season, Lochte mentally puts himself, as he calls it, "back to the bottom" of swimming's hierarchy, to begin the chase to the top again. His injuries often necessitate that mind-set. A few months after he set the current world record in the 200 IM and won another individual gold in the 400 IM at the 2009 worlds in Rome (Phelps didn't swim either event), Lochte tore his left meniscus break dancing in his Gainesville split-level. Temporarily hobbled and gaining weight, he quit the fast food he had relied on for fuel (in Beijing he gained 15 pounds consuming virtually nothing but McDonald's for fear of contracting another stomach bug) and started eating more lean meats and salads. He reworked his breaststroke to de-emphasize his kicking (to take the stress off his knees), and he added more butterfly training. In 2010 he added a fourth day per week of strength training—a Strongman routine that includes tossing beer kegs, flipping tractor tires and whipping heavy boat ropes. He never doubted he would eventually prevail over Phelps, which puts him in a very tiny club.
"Michael has destroyed a lot of people psychologically," says Phelps's coach, Bob Bowman. "There are a number of swimmers who came up against Michael, found it impossible to beat him and just gave up. But Ryan was never fazed."
Phelps, who has won a record 14 Olympic gold medals, has little left to prove in swimming. Lochte, who has won three golds, including one individual, feels he has yet to peak. "What Michael did in '08, and what he's capable of, it pushes me every day in practice because I want to be just like that. I want to beat him," says Lochte of his regular spades partner at national team camps. "He knows I'm coming. So he knows he has to keep training. We help each other out that way."
*****
Lochte's moment has arrived. As he prepares to swim six events in Shanghai starting this Sunday—the 4 √ó 100 and 4 √ó 200 free relays, the 400 IM, the 200 back and the 200 IM and 200 free, the latter two of which will likely be battles with Phelps—he is stronger, fitter and more confident than he's ever been. He has money (four major sponsors pay him endorsement fees that total in the high six figures annually), a measure of celebrity and a platform to indulge two of his passions, design and fashion. A shoe obsessive who keeps his 138 pairs, mostly high-tops, in a fastidiously kept walk-in closet, Lochte has designed a signature collection of flip-flops for Speedo as well as the one-of-a-kind Martian shoes, and he has ideas for half a dozen other distinctive kicks. But his favorite part of success is being someone to whom little kids look up. "Every time I sign an autograph," he says, "I feel like I'm doing it for the first time."
When he was seven, Lochte and his family attended the 1992 Olympic trials in Indianapolis. Finding himself alone in a hotel elevator with an Olympian and his coach, Lochte asked for an autograph. The swimmer, whom Lochte is too polite to name, refused. "I was crushed," says Lochte. "I thought, If I'm ever in that position, I will never get like that. I know what that feels like to a little kid."
So Lochte signs, happily, and he gives away all but a handful of his medals, usually to little kids but sometimes to people who have had an impact on him. DeLancey, the strength coach, displays Lochte's 200 backstroke gold from the 2007 worlds (representing Lochte's first world record) on a shelf in his office. Inside the wooden case Lochte wrote: "Matt, thank you for everything. I wouldn't be where I am without you."
"Nicest gift I've ever received from an athlete," says DeLancey. "The guy has a huge, huge heart. I don't think people get that about him."
Three years ago, Lochte got a call from a foundation honoring Mac Crutchfield, a 12-year-old swimmer from Georgia who had recently drowned in a freak accident. Lochte didn't know of Mac or his family, but he was moved by Mac's story and agreed to make a 2½-hour drive to speak at a fund-raising dinner. He quickly became the foundation's spokesman and a big brother to Mac's little sister, Savanah, with whom he exchanges regular texts and phone calls. (A fellow shoe nut, Savanah has told Lochte his Martian shoes are the "dorkiest" she has ever seen.)
When Savanah turned 12 in June, Lochte called her from a meet in Santa Clara to wish her a happy birthday. "How many young men would do that for a 12-year-old girl?" asks Mac's mom, Maggie, who has already bought tickets to watch Lochte swim in London in 2012. "Ryan reminds me so much of a grown-up Mac. He was one of those kids who never met a stranger, and he didn't care if you were two years old or 90 years old. Ryan exemplifies what Mac always said, 'It doesn't matter what you do in the water, it's what you do out of the water.'"
And we already know what Lochte will do in the water, come groin pull or ankle sprain: swim fast.