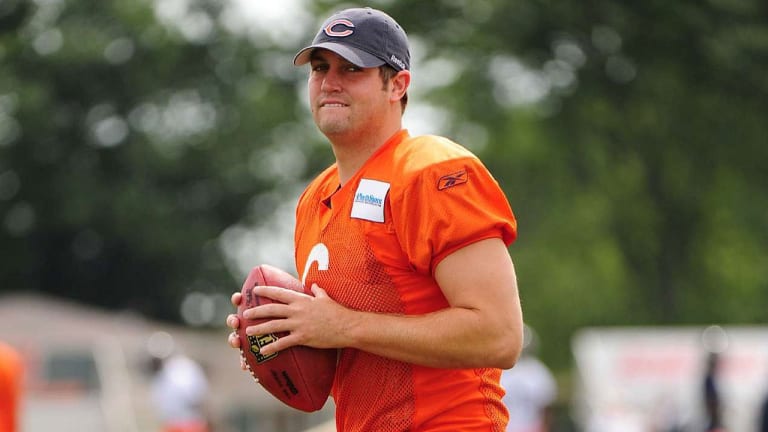 You're Wrong About Jay Cutler
The Bears' QB doesn't mind if you think he's an unreliable quitter or a future Super Bowl champ. But the popular notion that he's not tough? He's not sure where that came from
Jay Cutler won't fight back. Rip him, poke him, prod him, call him soft, call him a quitter. It doesn't matter. The Bears' quarterback shrugs.
"He just really doesn't care what other people think," says Cutler's high school coach, Bob Clayton. "That pisses people off."
Clayton was one of the first people to try to get inside Cutler's helmet. At Heritage Hills High in southern Indiana, Clayton teased his star quarterback: Come on, Cutler, this isn't the damn basketball program or the baseball program! Quit loafing!
"It bothered me, but I wasn't going to let him know," Cutler told SI last week. "I wasn't going to let him have the satisfaction."
Got that, America? He won't let you have the satisfaction either.
Cutler has been a target for fans, media and even fellow players since he stood on the sideline for most of the second half of Chicago's 21--14 loss to the Packers in the NFC title game. He didn't appear to talk to anybody, didn't get treatment, didn't even take his pads off. As third-string quarterback Caleb Hanie led the Bears on a late comeback, Cutler did not seem to be engaged at all. He looked like he was tired of waiting for the cable guy.
Before he left Soldier Field that day, Cutler had been engulfed by a social-media bonfire. And his harshest critics were fellow players.
On his Twitter feed Cardinals defensive lineman Darnell Dockett wrote, "If I'm on chicago team jay cutler has to wait till me and the team shower get dressed and leave before he comes in the locker room! #FACT." Former Buccaneers linebacker Derrick Brooks tweeted that "there is no medicine for a guy with no guts and heart," and Hall of Fame cornerback Deion Sanders wrote, "u must drag me off the field" in that situation.
Michael Vick had to kill innocent dogs to get the country to hate him. All Cutler did was stand still.
Actually, Cutler had a Grade II tear of the medial-collateral ligament in his left knee and couldn't plant and throw if the season depended on it—which, of course, it did. But nobody knew that at the time. The Bears were not exactly forthcoming with in-game injury reports, saying only that his return to the game was "questionable."
The uproar was absurd on so many levels. Questioning Cutler's toughness is like questioning whether China has a lot of people. Whatever you want to rip him for, you can't rip him for that.
Cutler was sacked 52 times last year, 12 more than any other quarterback. The Giants sacked Cutler nine times in the first half of a 17--3 defeat of the Bears last October. New York quarterback Eli Manning was sacked 16 times >all year. After one of the Giants' sacks, Cutler was so woozy, he got up and started walking toward the wrong sideline. Nobody knows exactly when he was concussed in that game, just that he was.
Tough? In high school he played safety as well as quarterback, and led his team to a state title despite playing with a sprained ankle.
Cutler played the entire 2007 season for the Broncos with undiagnosed type 1 diabetes. He lost 33 pounds over the course of the season but started all 16 games. How could anybody think he would wimp out in the biggest game of his career?
Almost every other star quarterback would have gotten the benefit of the doubt. But people couldn't wait to question Cutler. The irony was rich for a man who has never seen it as part of his job to be likable. Cutler had always figured that as long as he got up off his back, he didn't need to scratch anybody else's. Then people doubted his toughness because they didn't like him.
"He might be arrogant, might be a little stubborn, he might not have good body language—say what you want," Clayton says. "But don't say he's not tough."
The criticism "definitely bothered [me] some," says Cutler. "But I think with the media markets these days, and the competition in that market, papers are dying ... people are looking for stories."
Never mind that the most vicious shots came from fellow players, not newspapers. That fact seems beside the point to Cutler. His image floated away from him, like a helium-filled balloon, a long time ago. Wherever it lands, it lands.
*****
It is 2011. Jay Cutler is rich and famous. He doesn't have to defend himself; he can have somebody do it for him. "We've said for a long time, Jay probably needs some kind of public-relations coach," Clayton says. But Cutler doesn't have one.
Heck, Cutler could have somebody pay him to improve his image. He could ask an advertising executive to present his case, the way Nike did for LeBron James with the What should I do? campaign. But Cutler does not endorse products.
His explanation: "I was in Denver, not a huge market, came to Chicago and haven't really [sought out] a lot of marketing opportunities because we haven't accomplished what I want to on the field yet. Until we get to the Super Bowl, win Super Bowls and are successful there, then I don't think it's right for me to go out there and venture into those other markets."
Can we handle this? If sports have become an enormous entertainment vehicle for everybody involved, what do we make of a guy who won't participate?
We get Cutler only on Sunday afternoons, when he often looks like somebody stole his last bottle of ex-lax. "He doesn't help himself any [with] his facial expressions," Clayton says.
Americans embrace all kinds of quarterbacks: fiery, stoic, joyful, gritty. But can we love a guy who seems so ... glum? Cutler has never looked like a kid out there, even when he was a kid. The typical Cutler pose, in high school, college and the pros: helmet tilted back and cocked to the side, edges of his mouth instinctively pointed down, arms at his side.
That's all he gives us. Cutler grew up in Santa Claus, Ind., but he is not a ho-ho fellow. Clayton says Cutler "is not a chatty guy. He's not ebullient, bubbling over. . . . Jay is not going to go up and scream and holler or tell them they're full of crap."
From the way he talks about Cutler, you might be thinking, Wow, Jay Cutler's high school coach really doesn't like him. And you would be wrong. Bob Clayton loves Jay Cutler.
Most coaches do. What we see as the entirety of Cutler's personality, they see as personality quirks. Clayton has seen Cutler pose for pictures with everybody who asked him for one at a charity function in Santa Claus, and then set aside his dinner to convince a boy he had never before met to stick with football. That is Cutler's kind of scene. As the honoree at a charity golf tournament in Chicago two months ago, he was supposed to bring his own foursome. He showed up by himself, with no clubs, then carted around the course all day, shaking hands and posing for pictures.
Cutler's friends occasionally try to spread word of his kindness, but they do it in whispers, lest he find out. Hints and snippets: A friend of a friend of Cutler's found out that his 12-year-old son had type 1 diabetes and sent Cutler an e-mail.
"He responded within 10 minutes," says Jake LeGrone, the boy's father. "The guy went out of his way for my son, and it's not like he knows me." Cutler now advises Tucker LeGrone on his diet and insulin intake.
Nice story. But this snippet is more amusing and just as revealing: On July 15, Cutler watched his fiancée, Kristin Cavallari, walk down a Miami fashion-show runway in a glass bikini that was both sexy and recyclable. He was photographed wearing the same old Cutler face—Ugh, I have to watch my gorgeous fiancée walk around in a glass bikini—and the blogosphere mocked him again. (Reportedly, Cutler and Cavallari, a reality-TV star, recently broke off their engagement.)
The stories of Cutler's texting instead of looking people in the eye are part of who he his. His best football friends tend to be other quarterbacks or position coaches. His foundation is run by his sister Jenna and a friend from Cutler's Vanderbilt days named Mark Block. "I have a very tight circle of friends, people I trust and people I care about," Cutler says. "They respect me, and I think they're gonna protect me as well. It's been that way for a while."
Protecting Cutler means understanding that he would rather be viewed from a distance. A college teammate praised Cutler to SI, then e-mailed to ask that his quotes not be used. Cutler's best friend from Vanderbilt, strength and conditioning coach John Sisk—who's now at Furman—said "he may get mad at me for talking to you" before offering this nugget: "I think the world of him."
The desire for protection probably explains Cutler's reaction when he learned that the Broncos had considered trading him in 2009. New Denver coach Josh McDaniels wanted to work with quarterback Matt Cassel, with whom he'd had a successful partnership in New England. Cutler felt a trust had been broken, saying that he was "upset" and "shocked."
Should Cutler have understood that trades are part of life in the NFL? Maybe. But a man who doesn't want any endorsement deals is unlikely to say, "I understand this is a business." The Broncos were paying him millions, but he felt betrayed. Vanderbilt pays him nothing to throw to senior receivers on the school's Pro Day, but Cutler does it.
After weeks of bickering with McDaniels, Cutler finally forced a deal to Chicago. The Bears have yet to surround him with either high-caliber skill players or a competent offensive line. In football terms, they have not protected him. The front five (and offensive coordinator Mike Martz's pass-first scheme) turned Cutler's body into a science experiment last year. But Cutler has yet to complain about it. To him, that's just football.
Cutler's career, so far, seems designed to create equal numbers of believers and doubters. He led the Bears to the NFC championship game last year, but it was his first winning season since high school. He may have the strongest arm in the NFL, but his mechanics are inconsistent.
One of his coaches in Denver, the highly respected offensive coordinator Mike Heimerdinger—who is now recovering from his second round of chemotherapy after being diagnosed with pancreatic cancer last year—says, "I think he is one of the few guys in this league that can carry a team on his back and win a Super Bowl." But Cutler's career numbers (104 touchdowns, 79 interceptions) don't match up to that praise.
The 28-year-old Cutler has only begun to mine the depths of his talent. He did not play in a true passing system until his senior year at Vanderbilt. His footwork has been sloppy, in part, because Cutler is so talented. "I could get away with it," he said. "In [Chicago's] system I cheated a little bit, getting away with stuff, not getting my footwork completely right."
During the lockout, with no coaches at his side, Cutler went to work. He lost a little weight. He started bending his knees more when he throws. He organized workouts with his teammates and refined his passing game. Martz, who questioned Cutler's footwork in January, raved about it in training camp. So did quarterbacks coach Shane Day, who calls Cutler "a model quarterback."
Cutler says he is "absolutely" as excited as he has ever been to play football. The Bears are good enough to talk about the Super Bowl with a straight face. They buoyed their receiving corps last month by signing former Cowboys Sam Hurd and Roy Williams. And Chicago also drafted a left tackle of the future in 6'7", 316-pound first-rounder Gabe Carimi.
What if Cutler leads one of the NFL's signature franchises to championships? Will he walk off the field at the Super Bowl and declare that he is not going to Disney World?
Cutler says seeing himself on a billboard "wouldn't be weird. It just hasn't happened yet." It is hard to imagine him hawking razor blades or cheeseburgers. Then again, it was hard to picture Cutler dating a reality-TV star until he did it. Maybe he will start doing commercials just because he feels like it, or raise money for juvenile diabetes because somebody asks him the right way.
He does not seem concerned about it. Cutler could have worked on his image this off-season. Instead he worked on the fundamentals of his game. Maybe that's all he needs to do to satisfy us: Become a true superstar player. Maybe the key to an image turnaround is not cracking a smile but bending his knees.
Maybe we'll start to see Cutler the way Steve Crosby does. Crosby, who recruited Cutler to Vanderbilt, says, "What does body language mean? I've caught myself watching on TV sometimes and saying, 'Jay, don't do that!' But I can tell you, this guy is a first-class guy, a team guy and highly, highly competitive."
It would be easy to walk around to the other side of Jay Cutler and view him from the opposite angle. We can say he is difficult with the media because he prefers the focus to be on the team, that he turns down endorsements because he isn't obsessed with money, that he sometimes seems like he is off in his own world because he is so focused on winning, and that he is so tough, so unflinchingly tough, that he wasn't even wounded when people questioned his toughness.
We wrote one narrative for Cutler. We can write another.
Maybe he'll be a villain forever, or maybe he was so vilified that he is becoming a sympathetic figure. There are signs that Cutler's relationship with the world is thawing. His first two media sessions this summer were quite pleasant. An outsider, who had not formed any opinion of him, would have thought he was quite media-friendly.
At the end of his interview with SI, Cutler was asked, If the public should know one thing about Jay Cutler, what should it be?
"I don't know," he answered quickly. "I don't even answer these questions."
He smiled and walked away.