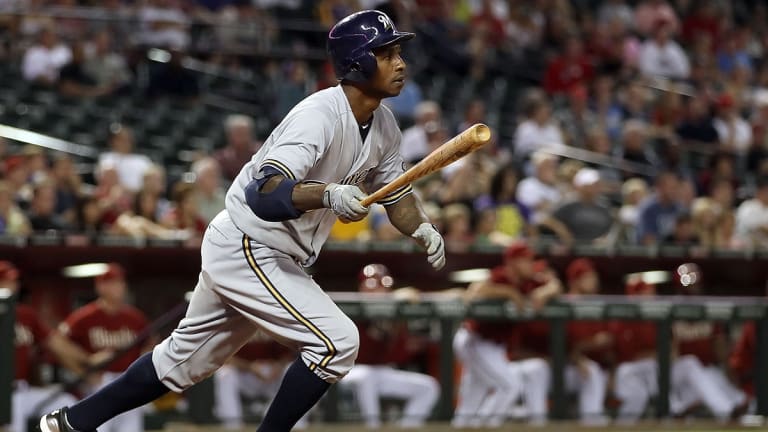 Strange Brew (But it's Working)
Naked golf, baby oil rubdowns, party rockin' in the house every night—Nyjer Morgan, T-Plush and the rest of Milwaukee's best team in nearly 30 years are taking their city for a ride
Nyjer Morgan stood in the middle of the clubhouse at Maryvale Baseball Park in Phoenix on the last day of spring training, his new jersey already damp with a nervous sweat, and searched for the words a roomful of strangers were waiting to hear. The Brewers had acquired Morgan two days earlier from Washington, where he was blackballed for reasons having more to do with his personality than his performance. Ron Roenicke, Milwaukee's rookie manager, thought it was important for Morgan to introduce himself to the entire team.
The other Brewers had introduced themselves early in camp, revealing little more than their names, hometowns and previous career stops. Morgan planned to be equally cautious, the respectful and deferential newcomer. But as he fidgeted, he thought about what the team's cornerstones, outfielder Ryan Braun and first baseman Prince Fielder, had told him when he walked through the door: "We want you to be yourself."
Morgan could be genuine or he could be polite, but he could not be both. He sweated some more. Finally, he flexed his arms in front of his chest, scrunched his face into an exaggerated scowl, and shouted the first words that came to mind: "What's up f------!" Some of his new teammates sat in confused silence. Others laughed awkwardly. They weren't sure whether to hug or pummel him. "Everybody kind of looked at each other," says John Axford. "It was like, 'Who is this?'"
Simple answer: Morgan is an irreverent 31-year-old centerfielder who spent eight unremarkable seasons in professional baseball, played for two major league teams that never finished better than 24 games under .500, and was traded to Milwaukee for a minor leaguer because outfielder Corey Hart was injured. But the Brewers have discovered over the past five months that there is nothing simple about the appeal of Nyjer Jamid Morgan, a man of many names and voices, poses and expressions, some explicit but every one of them entertaining.
"He has brought silliness back to baseball," says general manager Doug Melvin. Morgan has also helped bring joy back to Milwaukee, where the Brewers are heading for their first division title since their last World Series appearance in 1982, winning nearly three out of every four games at Miller Park. Through Sunday they led the Cardinals by 8½ games in the NL Central and had won 22 of their last 25 overall. The team has even taken on some of Morgan's identity: It's a high-stepping, head-bobbing, shoulder-shimmying juggernaut with an affection for baby oil, naked golf and on-field choreography that stretches baseball's rules of decorum. "We're coming at you like a SWAT team!" Morgan hollers, raising his hands and curling his fingers into claws. "Aaaah!"
In a sport populated by cardboard personalities, Morgan carries on conversations with fans both supportive and hostile, often between pitches. (Fan: "You're horses---." Morgan: "Thank you for supporting your local hero.") His least favorite time of the day is the end, when he retreats to his empty apartment 10 minutes from Miller Park. Last week he adopted a gray cat from a Milwaukee shelter to fill the void. (While he was submitting paperwork, a senior citizen told him, "You make me feel alive.") Morgan is calling the cat "Slick Willie." He calls starting pitcher Shaun Marcum "Meatball," reliever LaTroy Hawkins "Spatula," reliever Marco Estrada "Tha-tha." There is meaning behind all of the monikers, esoteric explanations that only Morgan fully understands.
Milwaukee has embraced his hyperactive imagination, not to mention his .311 batting average and affinity for wall-scaling catches. Morgan is the main surprise in a year that is unfolding exactly how the Brewers envisioned last winter, when they traded for starters Zack Greinke and Marcum, jacked their payroll to a franchise-record $90 million and geared up for a final go-round with Fielder, who will be a free agent after the season. Greinke is 12--4 with a 3.92 ERA, Marcum is 11--3 with a 3.40 ERA, and Fielder has only enhanced his market value with 28 home runs, 98 RBIs, the National League's second-best OPS (.977) and the best on-base percentage (.415) of his career. The league's best OPS belongs to Braun (.984), who has 24 homers and 26 stolen bases. It's everything the Brewers dreamed—except Morgan has made it way more fun.
Standing in centerfield, Morgan conjures up scenes of the Brewers winning the World Series, but before you dismiss him as a total whack job, listen to how many of his other bizarre visions came to life. Morgan was seven years old, watching the 1988 Winter Olympics on television, when he decided he wanted to be a hockey player. "I was an African-American kid in San Jose," Morgan says. "It was weird." (Keep in mind that this was three years before the NHL's San Jose Sharks were born.) He became a puck-rushing defenseman who dropped out of high school when he was 16, moved alone to Canada and played left wing on junior league teams from North Okanagan to Regina. His host families either loved him, because he livened up the dinner table, or hated him, because he tried to squire their daughters.
On a trip back home to the Bay Area in 1998, Morgan sat in the leftfield bleachers at Candlestick Park, three rows behind Barry Bonds, and decided to change sports. "Then I got this girl up in Canada pregnant," he says. "So I was like, Oh, s---, I better get serious." Morgan, who had been playing baseball since Little League, tore up Canadian summer leagues, earned his GED and a roster spot at Walla Walla Community College in Washington in 2001. He celebrated the birth of his daughter, Niah, that year but grew apart from her mother. Ever the ladies' man, Morgan learned about the Rat Pack and couldn't understand why he was not getting the same attention Sinatra did. He arrived at the conclusion that women in noisy clubs couldn't make out his first name. So he started calling himself Tony Plush, dressing in fedoras and Gucci sunglasses. His wingmen, childhood friends Matt McKoin and Alfredo Knowles, were Frankie Sleeze and James Dean. They spoke in a fast-paced and often unintelligible slang known as hyphy, which had been invented by Bay Area rappers. Their act worked. "It started out as a silly way to break the ice with girls and make them laugh," says McKoin. "But you could see Nyjer had more confidence when he was Tony."
Morgan took his new persona to the field. After two seasons at Walla Walla he was drafted in the 33rd round by the Pirates in 2002 and batted under .280 just once in his first seven pro seasons. He broke into the majors with Pittsburgh in '07, went to the Nationals in a midseason trade two years later and finished second in the NL with a combined 42 steals. Last season he stole 34, but he clashed with Washington manager Jim Riggleman, threw a ball into the stands that accidentally struck a fan, crashed into Marlins catcher Brett Hayes and the next day charged Florida pitcher Chris Volstad after the Marlins' righthander threw at him. His average fell to .253, and his only alter ego seemed to be Milton Bradley. "He needed Tony again," says Morgan's mother, Trina Perry. "And I think Milwaukee needed Tony too."
Like Morgan, the Brewers have at times felt repressed. They were scolded by the Cardinals in 2008 for untucking their jerseys in postgame celebrations, by the Giants in '09 for falling down around Fielder after a walk-off homer and by their own managers for violating various codes of conduct. They deteriorated in each of the past two years under Ken Macha, bottoming out with 85 losses last season. When Roenicke, who had been an Angels coach for 10 years, was hired last November, he asked himself, "Is it better to hold them under a lot of rules or let them go and make mistakes and learn?" He flew to Milwaukee, watched video of the players, quizzed executives and made his choice.
"Ron embraced the youthfulness and craziness of this team," says Axford, 28. "We're not like most people. You have to cut us loose and let us go." As Axford speaks, he twirls handlebars on the ends of his Fu Manchu mustache, so long that he refers to them as "choppers." Rollie Fingers, the Brewers' closer in '82, would beam. Axford is a former cellphone salesman and bartender who used to spend off-season nights mixing drinks at a tavern in Hamilton, Ont. Now he has a streak of 34 consecutive saves and a total of 37 in 39 chances this season, to go with a 2.28 ERA and 72 strikeouts in 59 1/3 innings. When the indie band The National swung through town for a concert in April, they decorated their speakers with Axford bobbleheads.
Happy hour in the Brewers' clubhouse starts early, with Morgan flexing in two coats of baby oil, Axford scanning the room for the putters used in naked golf, and the team listening to a head-rattling mash-up of music ranging from Marilyn Manson to Lil Wayne. In the dugout the starting pitchers recline in their personal cushioned chairs, including one they claim has supernatural powers to improve changeups. Batters commemorate hits by raising their claws and growling like beasts from the movie Monsters, Inc. They celebrate walk-off wins by punching one another in the kidneys. All teams have customized handshakes ... but the Brewers have customized handshakes with their security guards.
The Brewers irritate some traditionalists—or as Morgan calls them, "plain-Jane wonderbreads." This year St. Louis manager Tony La Russa has accused the Brewers of everything from throwing at Albert Pujols to stealing signs to changing the lighting at Miller Park depending on which team is at the plate. (Major League Baseball dismissed a formal complaint about the latter). Last week catcher Jonathan Lucroy flipped his bat after a home run, and a couple of Dodgers recoiled. "As long as I can remember, that's how they were," says L.A. outfielder Tony Gwynn Jr., who came up through the Brewers' organization. "Everybody had fun. Everybody showed emotion. It was a relaxed environment. You add Nyjer to that mix, and he is the ingredient that makes it all bubble over."
The rich teams usually win the World Series. Sometimes the nutty ones do: the 2004 Red Sox, the '05 White Sox, the '10 Giants, all delightfully unstable. "The Giants have Brian Wilson," says Melvin. "We've got Nyjer." Morgan is 6 feet, 175 pounds, with seven stolen bases, yet on the field he claims he is 6'6", 240 and as fast as Usain Bolt. He pulls back an imaginary bow and arrow to imitate Bolt's prerace routine. After a walk-off hit in June against the Mets, Morgan kept running because he thought it was still the eighth inning. After a walk-off sacrifice fly against the Pirates on Aug. 14, Morgan didn't run at all, standing at home plate as if he had swatted a second-deck grand slam. This is all part of Plush-mania, along with the T signs he makes with his hands at big moments and the television interviews he ends suddenly with the call: "Gotta go!" In San Francisco, fans saw Morgan signaling outs with his violent cross-armed motion and accused him of flipping them off.
Morgan is not among Milwaukee's five most accomplished players, yet two of his jersey T-shirts are among the Brewers' top five sellers, with Plush ranked first. Many athletes have capitalized on the marketability of their nicknames, but Plush is no Prime Time. "It's not an act," says Hawkins. "It's really him. If we weren't winning, I don't think it would go over too well. But if it keeps him playing well and running around with a smile on his face, we'll go along." Still, Hawkins reminds Morgan to read tweets three times before sending them. Roenicke meets with him regularly to clarify rules. The team does have rules.
According to Hawkins there is no discernible difference between Morgan and Plush. According to Trina Perry, who technically brought them both into the world, the contrast is subtle but significant. She can hear the transformation in her son's voice, the way it heightens and quickens. Both characters are outgoing, but Plush is outrageous. "He uses Plush as a way to release pressure," says Perry. "When things get too tense, he can go there and keep it fun and light. It helps him relax."
Morgan thanks Braun and Fielder for allowing both him to fit in, but they are just as grateful. The main story line in Milwaukee this season could have easily been Fielder's potential departure as a free agent this winter, and the juxtaposition between him and Braun, who in April signed an extension to stay with the Brewers through 2020. Fielder may look like an Ewok, but he is not always cuddly, and Morgan has shielded him from unwanted attention. "Prince is the most intense person I know," says Gwynn Jr., the godfather of Fielder's two children. "I have never seen him smile as much as this season."
Realistically the Brewers cannot expect Fielder to re-sign, yet they refuse to think of themselves as part of baseball's Northeast feeder program. When Los Angeles investment banker Mark Attanasio bought the club in 2005, the payroll was $27.7 million. The Brewers had the smallest television market in the major leagues, and the most fans they had ever drawn was 2.8 million, when Miller Park opened in '01. But Attanasio despised the small-market label and urged employees to stop using it.
The Brewers still have the smallest TV market in the majors, but their attendance is in the top 10 (they drew over 3 million in 2008 and '09 and are on pace for just under 3 million this year), their ratings are even higher and their payroll has risen more than 200% since 2004. They have been bold about taking on more salary, as they were in '08, when they obtained CC Sabathia for the stretch run, they have not been shy about taking on salary. They acquired closer turned setup man Francisco Rodriguez from the Mets in July and watched Greinke heal from the cracked rib that forced him to miss the season's first month; he has a 1.52 ERA since the All-Star break. Last week, when Attanasio spoke to the Milwaukee Jewish Federation at the Pfister Hotel, they gave him a standing ovation.
The Brewers finally have a rotation and bullpen to match their lineup, which is always fearsome with Braun and Fielder in the middle. After each blast they pretend to trade punches like sparring partners. Much of the Brewers' nucleus is locked up at least through next year, but with Fielder's future in doubt and the farm system short on top prospects, the club is clearly built for this fall. Morgan knows what the wonderbreads say, that a focused ballplayer should never look ahead. But he cannot lie. He is daydreaming about the Phillies in October and how plush it will be, with Meatball, Spatula and the bartender throwing up their claws for a city that shouldn't have a chance. He looks around the clubhouse and, at last, his reality exceeds his imagination. "If I invented a team," Morgan says, "this would be the one."