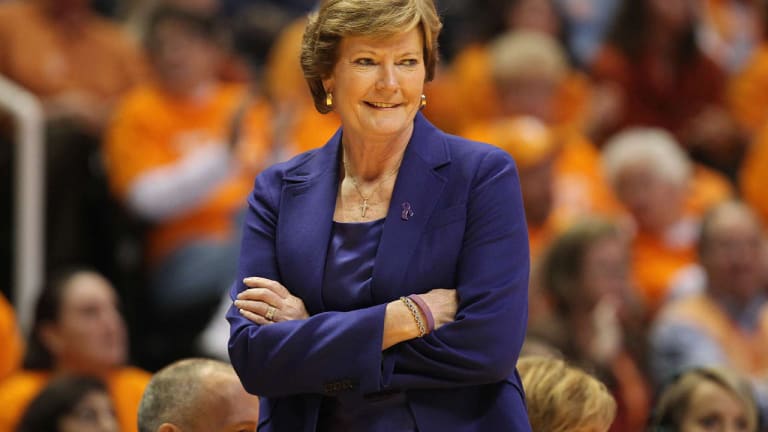 A Coach in the Game
Pat Summitt's courage will help in the fight against Alzheimer's disease
We have a tendency in sports to cast every life obstacle as just another opponent to beat, as if victory is always possible if you have the will, talent, luck and game plan. Sometimes the analogy fits. Sadly, with early-onset Alzheimer's, with which Tennessee women's basketball coach Pat Summitt last week revealed she has been diagnosed, it doesn't. In the end Alzheimer's always prevails.
That's why Summitt's decision to go public with her condition is both courageous and critical. Alzheimer's, an irreversible disease that progressively destroys memory and cognitive function, affects an estimated 5.4 million Americans, 96% of them age 65 or older, when most are retired and out of public view. Alzheimer's has had many famous faces, including that of former president Ronald Reagan, but no one as young and vibrant as the 59-year-old Hall of Famer with the celebrated steely blue gaze. In carrying on her public career as long as she is able, Summitt can add to an already towering legacy—which includes eight NCAA titles and 1,071 wins, more than any other coach in major-college basketball history, as well as a leading role in the elevation of women's basketball—by bringing attention to an underfunded and stigmatized disease that looms as a crushing health-care crisis.
Of the top 10 causes of death in the United States, Alzheimer's (No. 6) is the only one with no cure, no prevention and no way to slow its progression. There are five FDA-approved Alzheimer's drugs on the market, but their effects are modest at best. Federal funding for Alzheimer's research, which is budgeted at $450 million for 2011, is dwarfed by spending on research for cancer ($5.8 billion), heart disease ($1.7 billion) and HIV/AIDs ($3 billion).
"There are a lot of people now who are labeled as cancer survivors or who are prevented from having heart disease by managing their risk factors," says Bill Thies, chief medical and scientific officer of the Alzheimer's Association. "We don't have any Alzheimer's survivors, and we haven't been able to prevent Alzheimer's because we haven't had the same kind of investment."
Alzheimer's is an enormously costly disease, especially to the nearly 15 million people in this country who serve as caregivers. The Alzheimer's Association puts the value of their unpaid care at $202.6 billion annually, on top of $183 billion in patients' medical expenses. The problem will only get worse as baby boomers age. Experts predict that by 2050 as many as 16 million Americans will be afflicted. "Alzheimer's disease is going to be the most explosive health-care problem we face, for the simple reason that the point of health care is to make us live longer, and the longer we live, the more we're at risk of getting Alzheimer's disease," says Dr. M. Marsel Mesulam, director of Northwestern's Cognitive Neurology and Alzheimer's Disease Center. "If [Summitt's announcement] brings more attention to this and sways public opinion for supporting more funds for research in this area, that would be a positive thing."
Even if Summitt doesn't become a spokesperson for Alzheimer's (and from her taped announcement last week it seems clear her priority is spurring the Lady Vols to a ninth national title), it's hard to imagine, given her thousands of friends and fans around the country, that there won't soon be an Alzheimer's fund-raising foundation in her name. One way or another she'll be following in the footsteps of other sports icons whose own public battles with disease have increased awareness and understanding of their illnesses and raised money to fight them. That particular hall of fame includes the late Jim Valvano, the North Carolina State men's basketball coach whose V Foundation has raised more than $100 million in cancer research grants; Kay Yow, the N.C. State women's basketball coach who started the Kay Yow Cancer Fund ($4.3 million for cancer research) two years before she died of breast cancer, in '09; the late Arthur Ashe, whose foundation raised $5 million for HIV/AIDS research before it closed in 1995; Magic Johnson, whose foundation has raised more than $20 million for HIV/AIDS research; and Lance Armstrong, whose foundation has raised more than $325 million for cancer research, education and services for survivors.
The public outside the circle of Summit's staff, team, close friends and administrators may not see many manifestations of her disease, especially in the next few years. Unlike her friend Yow, who donned a brown wig to coach after she lost her hair to breast cancer treatments, Summitt won't change in appearance. We probably won't notice if, surrounded by assistants who have already taken over some of her duties, she forgets the play the Lady Vols just ran or the name of the last player on the bench. But every time Tennessee plays, Alzheimer's will be part of the conversation. It will no longer be just a disease of the elderly that is suffered behind closed doors. It will be an opponent all of us should be focused on beating.