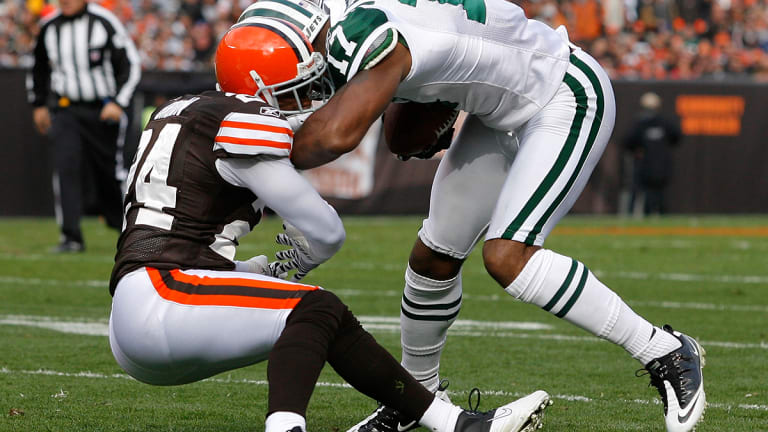 What Ever Happened to Tackling?
Even as ballcarriers get bigger, more athletic and more elusive, the list of rules to protect them grows longer. That's put defenders on their heels, and turned the pure takedown into a dying art
Good, hard, sharp, and sure tackling is the very essence of a successful defense, and no player should hope to be placed upon a team unless he has become adept in this most important of football fundamentals. No team is going to be severely beaten, even if it has no offense at all, if it is composed of eleven good tacklers....
—GLENN SCOBEY (POP) WARNER
May 1927
On a November Sunday in Cleveland last year, Jets quarterback Mark Sanchez completed a pass to wideout Braylon Edwards in the shallow left flat. Browns cornerback Sheldon Brown jumped forward to perform the essential job that Pop Warner had described 83 years earlier: Tackle the ballcarrier. (Huddle. Repeat.) Football plays can end in various ways: with touchdowns, field goals, incompletions, fair catches, dead-ball penalties and stepping out-of-bounds. But most end with the ballcarrier being taken to the ground by the defense. It is absolute. After a tackle, whistles are blown, the ball is spotted and the offense must draw up another play and start anew.
But tackling has also become one of the most uncertain elements in the modern NFL, altered not only by evolutions in strategy (sideline-to-sideline passing attacks supplanting between-the-numbers power running) and performance (more elusive athletes with each passing year), but also most recently by rules changes designed to protect ballcarriers from injuries by limiting concussive, helmet-to-helmet hits. The pure, unbridled, bone-jarring tackle is a fading memory.
As Brown moved up on Edwards, his instincts told him to blast headlong with little regard for the consequences, tactical or physical. There are two basic ways to tackle: either "break down" into a balanced crouch to reduce the possibility of getting juked in the open field, or barrel into the ballcarrier at full speed. Brown had played his first seven NFL seasons for the Eagles under the late defensive coordinator Jim Johnson, who gave his troops only one option.
"Coach Johnson taught us to never break down, just keep running through like knives," says Brown. "And if I miss on the correct side, one of my teammates will be right behind me, running like a bat out of you know where, and he'll make the hit and maybe force a turnover. One of the knives will hit." (Ravens coach John Harbaugh, who worked under Johnson in Philadelphia, says, "Arrow through snow" that's what Jim used to say: Attack like an arrow through snow.")
As an Eagle, Brown lived Johnson's credo. In January 2007 he laid out Saints running back Reggie Bush with a blowup hit by driving hard upfield on a swing pass, a shot so monumental it made the cover of SI six months later. But here, against the Jets, Brown hesitated. The previous month, after the notorious Oct. 17 afternoon so packed with violent, concussive hits that it became known as Black Sunday, the NFL announced it would stringently enforce rules against head shots. That clouded Brown's mind. "I tried to break down and then come up," says Brown of the play on Edwards. "He dipped his shoulder, and that got him lower than me, and I took the brunt of the hit. They talk about defenseless receivers. I put myself in a defenseless position, and I hurt my shoulder. I was confused with all the changes, and I made an adjustment." (Though his forward momentum was stopped, Edwards never did go down—four other Cleveland defenders threw themselves into the play, and the whistle blew with the Jets receiver still standing.)
Brown is sitting on a shaded bench outside the team's headquarters in Berea, Ohio, after a morning practice during training camp. He covers receivers for a living, but he makes tackles, too, and it's much too late to change his approach. "Not trying to be dirty, but I've got to play the game the way I've always played it," he says. "I've got to run through tackles. If [league officials] punish me, they punish me."
For a very long time, coaches at all levels taught players to tackle with their shoulders. "It goes all the way back to playing the game without face masks [which entered the NFL in the mid-1950s]," says Patriots coach Bill Belichick, for whom the history of the game is an avocation. "Guys were taught to lead with their shoulder and turn their head to the side to protect their faces. Then equipment changed, and techniques changed. Players were taught to generate all their power in a straight line. Both hips, both legs. That allowed you to put your face in the middle of the runner, keeping your eyes up. It was a fundamentally better way of tackling."
This change occurred not in a single season but over time, from the 1960s into the '90s—a gradual but constant shift toward more straight-on, powerful collisions that coincided with players' getting bigger, faster and stronger. The last several generations of NFL players came up playing by a common set of tackling rules. "Lead with your head," says veteran linebacker Nick Barnett, who played eight years in Green Bay and is now with the Bills.
"See what you hit," says Steelers linebacker James Farrior, a 15-year veteran who has won two Super Bowls with Pittsburgh.
"Eyes up, head across, bite the ball," says Patriots fourth-year linebacker Jerod Mayo. "Then bring your hips through and grab cloth in the back. That's old-school, Pepper Johnson--style tackling."
"Low man wins—drive your feet," says Buffalo linebacker Chris Kelsay. "Same set of rules I learned in junior high school."
This head-on technique was at first perceived as safer. "Back in the old days," says Bills coach Chan Gailey, 59, who played quarterback at Florida in the early 1970s, "we had a lot of neck injuries from guys turning their head at impact to use the shoulder." But as the game quickened and headgear became seemingly more protective (a proven fallacy), players began to use the crown of the helmet to deliver heavy blows. Seeing what they hit became seeing what they intended to hit, then lowering their heads at the last moment.
Concurrently the game became faster and more spread out. Running plays had dominated the NFL and college football into the mid-1970s, but rules changes limiting physical pass coverage and schematic innovations helped shift the strategic weight to the passing game. In 1975, NFL teams averaged 27.4 passes and 36.3 runs per game; in 2010 the numbers were 33.7 passes and 27.2 runs. That means less action between the tackles, where the defenders' lines of pursuit are shorter and more compact, and more in the open field, where the ballcarriers become more elusive. "Faster athletes in more space," says Steelers defensive coordinator Dick LeBeau, who played defensive back in the NFL from 1959 to '72 and has been a coach since '73. "The guys with the ball have gotten much better. They're good at deceit, and they have the burst to make you pay for any mistake. So a lot more often you're seeing a tackler just get an arm on [the ballcarrier]." (Coaches do note that young players, even as their tackling skills have declined, possess much more advanced pass-coverage ability.)
Two predominant trends have emerged as the game has changed.
First, conventional tackling skills (securing the ballcarrier and putting him on the ground) have diminished, especially among perimeter defenders—defensive backs and outside linebackers. "We're teaching the same fundamentals we've always taught," says Belichick. "But the young players coming in are more in need of that teaching. Execution of the basic techniques has diminished."
Mike Singletary, the Hall of Fame linebacker who's now a defensive assistant with the Vikings, says, "There's not much focus on individual tackling skills. The focus is on taking the right angle and getting a group of guys to the ball, like a pack of wild dogs. Know where your help is and make sure everybody is running to the ball."
Second, a new type of tackler emerged, one who had almost no tackling technique but a penchant for blowing up receivers and ballcarriers by launching into them, helmet-first. A tackler like Patriots fifth-year safety Brandon Meriweather, whose Black Sunday knockout of Ravens tight end Todd Heap might have been more brutal than Steelers linebacker James Harrison's more publicized shot on Browns wideout Mohamed Massaquoi. Meriweather was taught tackling by his uncle and cousin, who hung a heavy punching bag from a tree in the backyard of Meriweather's home in Apopka, Fla., and told their young student to just hit it.
"They'd have me put on my Pop Warner equipment and just run through it," says Meriweather. "Make sure you hit as hard as you can. Inflict as much pain as possible. Take 'em out. That's what got me recruited to Miami from high school—the violence that I tackled with. I guess I knew there were rules, but I didn't really think about them until I got to the pros. Then I realized you can get fined for breaking them. Coming up, I felt like the best way to inflict pain was to use the crown of your head and just go through them. Now it's bring the shoulder and wrap up."
Not all defenders deliver kill shots on demand. Vikings cornerback Antoine Winfield is one of the best run-support corners in the league—he has made 4.2 tackles per game during his 12-year career—and he seldom launches, instead hitting low and wrapping up. "I can't run at somebody and just tackle them," says Winfield. "I only weigh 190 pounds, so I'm going to break down, hit you somewhere low and wrap up."
Yet there is an improvisational quality to all tackling in the modern NFL, in part because, as Minnesota defensive end Jared Allen says, "Sometimes tackling is just lucky. Find the ball, run into somebody and hang on." More pointedly, little practice time is spent on live tackling drills in which ballcarriers are taken fully to the ground. Such drills are too dangerous on their own—no coach wants to see his franchise running back or receiver injured by a teammate—and also contribute to the accumulation of hits over a player's career, which is suspected of leading to brain damage. All teams practice technique, but in most drills, and even in scrimmages, defenders stop short of actually tackling the ballcarrier. The league's new collective bargaining agreement also included a reduction in fully padded practices, which should enhance safety but will also cut down on full-contact instruction.
"You can't tackle live very often, we realize that," says Bills assistant Dave Wannstedt, entering his 17th season as an NFL coach. "When I was on Jimmy Johnson's staff with the Cowboys [from 1989 to '92], we took guys to the ground in the week of the Super Bowl. Then teams got away from that and started 'thudding up,' where you hit but don't take the guy to the ground. Now we just break down, come to balance and 'pad off' the guy, just put your hands on him."
Game days, too, are likely to become less violent as the league systematically legislates against the heaviest blows. The first step was last fall's decision to enforce existing rules against helmet-to-helmet contact and blind shots on defenseless players with fines and suspensions. Then in the off-season the NFL expanded the definition of a defenseless receiver and outlawed helmet-first launches. "At this point," says Bills safety Jairus Byrd, "I have no idea when to launch."
The changes are deeply controversial within the league, where players—who to a man do not seek brain damage—are struggling to conform. The new rules are particularly unpopular with the Steelers. After an early August training camp practice, three-time All-Pro safety Troy Polamalu stood on the field and grimaced under his famous shock of hair (which is becoming streaked with gray, it should be noted). He was asked about changing tackling techniques but answered with an impassioned soliloquy on the new landscape.
"I've seen the new rules video," says Polamalu. "I've been playing this game for 20 years, which is two thirds of my life. Everything is instinctive for me. But when the rules changes are this drastic, I don't think you can conform yourself, because then you'll get beat and that's worse than getting a fine. We're all disappointed, our whole defense. That's where our edge is. We play the game physically."
Polamalu is clearly laying down a gauntlet for officials and opponents. (Told of his comments four days later, Harbaugh said, "Good. I just hope they penalize them. We'll take the 15 yards.") But Polamalu, a spiritual man who thinks as deeply off the field as he hits hard on it, says the issue is more visceral than penalties and fines, and more complicated than simply a flawed-by-definition attempt to make a hopelessly violent game safe. "When you start conforming to these rules," he says, "you take away the aspect of fear, and overcoming fear is what makes us men, you know? It's what challenges us. You take that away, you kind of make the game for everybody."
On a muggy summer afternoon the Steelers are nearly finished with practice when coach Mike Tomlin dials up a full-contact short-yardage drill on the goal line. It will last just seven snaps, but for those seven snaps there will be no thudding up or padding off. There will be live tackling, and players will be taken to the wet grass, which is still oozing rainwater from showers earlier in the day. Teammates will edge closer to the action, screaming encouragement and spewing trash talk.
On the fourth snap, rookie running back Baron Batch, a seventh-round pick from Texas Tech, darts through a hole cleared by the offensive line. Farrior, the veteran inside linebacker, bursts forward into the void and meets Batch at full speed. There is an unmistakable crack—helmets, face masks and upper body pads all colliding, a noise that can't be heard on Sundays in living rooms or from the distant and soft club seats. But it is the soundtrack of the game. Batch is drilled backward into a scrum of yellow and white. Cheers and howls explode from players and spectators. Both players rise, shaken but seemingly unhurt.
It is a thing of primitive beauty, the pure tackle. For so long, an essential part of the fight. Closer now to a lost art.