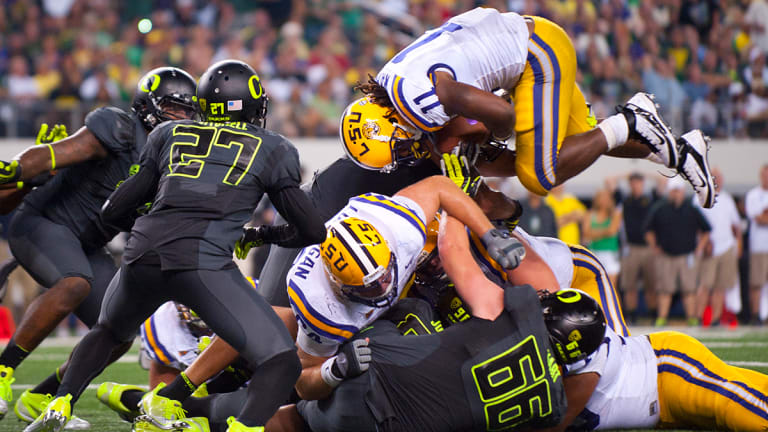 Publish date:
The Start of Something Big
Too early to play everybody's favorite parlor game, BCS 2012? Never. LSU has the eye of a January tiger. Oregon, good-bye. And Boise State? Fixing to make yet another mess of the championship calculus
Les Miles is best known for his surgically attached ball cap and meandering digressions; his madcap clock management and ruminant behavior. (In a tight spot the LSU coach has been known to ... eat stadium grass.) But as he proved in the month leading up to the start of this college football season, Miles is also a superb crisis manager—an invaluable trait in the game these days, when a coach never knows what ill tidings the next e-mail, text or phone conversation might bring:
Let me get this straight—they signed merchandise in exchange for tattoos?
Who the hell knew a Nissan Altima could do 118 miles per hour?
You're saying he would bring the hookers onto the yacht?
This moment could not come soon enough. That was the consensus across the college football cosmos. Kick it off already! Let the healing—or at least the forgetting—begin!
But the malfeasance of the off-season just passed is too tawdry and far-reaching to be swept away by a batch of highlights from the game's opening weekend. Those transgressions included, but were not limited to, the clouds hovering over the Cowboys Classic between the fourth-ranked Tigers and No. 3 Oregon, a.k.a. the Willie Lyles Bowl, so nicknamed for the shady transactions between alleged Houston-based "street agent" Willie Lyles and two of his most prominent clients. The NCAA is currently investigating his relationship with both schools.
About a week before kickoff, Miles lost starting wideout Russell Shepard, who'd violated school and NCAA rules, and suspended starting quarterback Jordan Jefferson, who'd been arrested on a count of second-degree battery for his alleged involvement in a brawl at a Baton Rouge nightspot called Shady's. (Like Jefferson, backup linebacker Josh Johns was charged with the same felony and suspended.) Jefferson stands accused of kicking a 21-year-old Marine in the face. Before arresting Jefferson, police searched his off-campus apartment, seizing 49 pairs of shoes, including the kicks he was wearing when he did the alleged kicking. (The lawyers for both Jefferson and Johns say their clients are innocent.) While the majority of Tigers fans in Arlington, Texas, who bothered to make signs went with some variation on ducks as prey or food—DUCK GUMBO, ROAST DUCK, DUCK SEASON STARTS EARLY—one purple-shirted fortysomething brandished a sign with a slightly more sinister legend: WELCOME TO SHADY'S WEST.
We salute both the Cowboys Classic, now in its third year, and its actual host. If it weren't for Jerry Jones, the Dallas Cowboys owner at whose behest this $1.2 billion, flying-saucer-like venue was erected, this matchup of Top 5 teams would not have taken place. College football would be the poorer. While there were a handful of meaningful games across the republic in Week 1, most Top 25 teams engaged in the pigskin equivalent of picking the wings off flies. (Felicitations, Nebraska, on your 33-point triumph over Chattanooga. Congrats, Alabama, on your 48--7 win over Kent State.)
What Jones envisioned as a showcase between national title contenders, however, was defined as much by the players who weren't on the field as it was by those who were. It turned into a competition to see which team could better withstand the epic screwups of its marquee player(s).
Not making the trip to Texas from the Ducks' side was cornerback and punt returner Cliff Harris, a preseason All-America with outrageous talent—as a sophomore last season he intercepted six passes and returned four punts for touchdowns—and a whimsical air. It was Harris who stood up as a freshman at his first team meeting and declared, "My name is Cliff Harris, and I'm here to lock s--- down." Harris also once famously described himself as "the cheese on top of the nachos." But that light personality is accompanied by a correspondingly heavy foot. He was cited in June for driving 118 miles per hour on a suspended license, in a Nissan Altima rented by a woman in Oregon's business affairs office. Video shot from the police car shows the officer leaning into the window and asking, "Who's got the marijuana in the car?"
Replies Harris, "Just smoked it all."
Later in the video, he appears to retract that statement, explaining that it was his cousin, in the backseat, who had smoked the dope. And, to his credit, he nailed the field sobriety test the officer administered. None of which prevented him from being indefinitely suspended by coach Chip Kelly.
With Harris out, punt-returning duties fell to the less-experienced Kenjon Barner, who did well to track down Brad Wing's majestic, 53-yard kick early in the second quarter. Having run nine yards in the wrong direction to create space for himself, Barner was then stripped by ubiquitous cornerback Tyrann Mathieu (10 tackles, two pass breakups), who grabbed the bouncing ball in stride on the three-yard line and scored easily to put the Tigers up 9--6.
The game within the game—which team could better cope with the loss of its star player(s)—was won by LSU ... decisively. It helped the Tigers that Miles believes quarterback play can be overrated. With Jefferson's stand-in, Jarrett Lee, turning in a C-plus performance against the Ducks, LSU still overpowered last year's national runner-up, which boasts a warp-speed offense that takes your breath away—unless they happen to be facing an SEC defense.
After reeling off 12 consecutive wins, Oregon has now lost two straight. In the BCS title game, Auburn's defense held Kelly's offense to 75 yards rushing, only the second time in his two seasons as coach that the Ducks had not reached 100. LSU made it three. (Oregon ran for 95 yards.) The vaunted attack that racked up 82 plays of 20 or more yards last season managed none last Saturday night. On one telling moment in the second quarter, Oregon running back LaMichael James burst through a gap on the right side of the line, ticketed for at least a 30-yard gain. Despite a poor angle, Tigers strong safety Brandon Taylor closed on his quarry like a purple-and-yellow blur, dropping him for just an 11-yard pickup. Welcome back to the SEC, boys.
They call me Sonic Sam," LSU defensive end Sam Montgomery explained after the game. "So I'm not too worried about [an opponent's] speed." Along with his bookend, Kendrick Adams, Montgomery was superb setting the edge, denying James the outside. With just 54 yards on 18 carries, the Duck known as LaMike became the first top-shelf candidate to be voted off Heisman Island this season.
There was Sonic Sam, midway through the third quarter, punching the ball from the grasp of running back De'Anthony Thomas, the heralded freshman from Crenshaw High in Los Angeles, whom the Ducks poached from USC. LSU turned its takeaway into seven points and kicked off to Thomas, who fumbled again. And again LSU converted his miscue into a touchdown, this time for a 30--13 lead, turning what had been a close game into a romp that was not as close as the 40--27 final suggests.
And there was Lee in the game's final minutes, flashing a thousand-watt smile, working his way down the bench, hugging his sweat-soaked offensive linemen. While his numbers (10 of 22 for 98 yards and one touchdown) were underwhelming, he wasn't picked off.
Avoiding interceptions is major progress for the embattled Lee, who while starting eight games during his redshirt freshman season in 2008 threw 16 picks, seven of which were returned for touchdowns. JARRETT LEE IS A WALKING PICK-SIX proclaimed one headline. He started one game over the next two years. "It's kind of been an up-and-down career for me here," allowed Lee, who has been booed by Tigers fans. Against Oregon he missed several receivers but also had several balls dropped.
His coach's response? Tepid. "I expected him to throw the football better," said Miles. "He's better than he showed today."
Also better than he showed on Saturday is Lee's Oregon counterpart, Darron Thomas, another Duck whose Heisman candidacy blew a tire against LSU. In one of this Classic's tasty subplots, Thomas actually committed to the Tigers as a junior at Aldine High in Houston. But even after getting him in the fold, Miles kept recruiting quarterbacks. Before long, Thomas noticed that his position on recruiting websites had changed from quarterback to athlete. When Kelly assured him that Oregon wanted him under center, Thomas rescinded his commitment to LSU and headed for Eugene.
His high school coach, Bob Jones, had spoken to Thomas two days before the opener. The quarterback was stressed about getting tickets for his family. It seemed clear that Thomas was putting a little extra pressure on himself to play well in his first college game in his native state, against the team that wouldn't guarantee him a chance to play quarterback. "It's extra special to me," he told reporters leading up to Saturday. "It's bigger than the national championship to me and to most of the team."
Thomas was jittery and out of sync with his receivers for most of the first half. The Ducks, whose 47.0 points per game led the nation last season, eked out two first quarter field goals. Thomas's line on the night was deceptive: 31 of 54 attempts for 240 yards, a touchdown and an interception. But half of his passing output came in the fourth quarter. By then, the game had been decided. The Tigers' offensive line had worn Oregon down.
"I could see it in their eyes when I was lining up there before the snap," reported LSU running back Spencer Ware, whose 99 rushing yards were complemented by the 96 from Michael Ford, whom Ware describes as the "lightning" to his "thunder." The Tigers' final touchdown, a 16-yard blast by Ford, triggered predictable chants of "S! E! C!" from the predominantly purple-and-gold crowd.
Predictable and justifiable. SEC teams have won the national title five years running. The conference's dominance raises an interesting point. While one of its teams could suffer an early-season loss and still fight its way to the BCS title game, the same can't necessarily be said for a squad from Oregon's Pac-12. The West may one day rise again—reports last week said Oklahoma and Oklahoma State are seriously considering joining the conference and may bring along Texas and Texas Tech with them—but only two of the Pac-12's teams are in the Top 20. For now, the Ducks will need a lot of help to get back to the Big Game this season.
Equally implausible, it seems, is the notion of LSU's remaining perfect in the loaded SEC West with its unproven quarterback. Considering that second-degree battery is a felony punishable by a maximum of five years in jail, Tigers fans might have to resign themselves to Jefferson's prolonged absence—and persuade themselves to embrace Lee.
Of course, if the defense plays all season the way it played against the Ducks, "we're gonna be in a lot of games," Miles predicted. And Lee has plenty of room for improvement. He kept mentioning after the game that there were "a few plays I'd like to have back."
Lee is a likable, modest fellow with much to be modest about, but his teammates have his back. When he struggled early against Oregon, Ware got in his ear several times. "I just kept patting him on the back, telling him, 'It's gonna be all right. We got this.'"
With the game finally in hand, Lee delighted his mates with a modest prank. After LSU took over with 12 seconds left, Lee jogged to the huddle with instructions to call the game-ending kneel-down play. Instead, Lee called a running play. "We all kind of went, What?" said Will Blackwell, the right guard. "Then we saw that he had a big smile on his face. It was good to see a guy who's been through so much really relish this experience."
So did Lee, eventually, call the kneel-down formation?
"He did."
Its name?
"Victory."