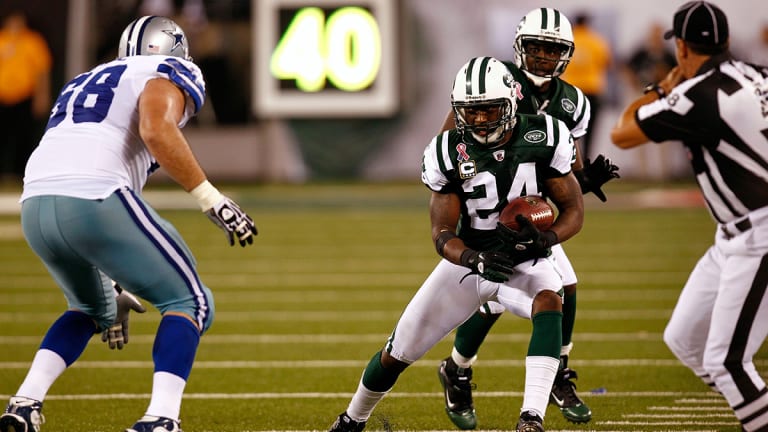 Oh, Brother, What a Start
They're big, they're brash, and they live for the game. The Ryan twins—Rex of the Jets and Rob of the Cowboys—set the tone for the NFL season with a wild opening-week showdown
The father of the 46 defense sat in the front row of a luxury box at MetLife Stadium, looking down at the field through wire-rimmed glasses, a brown blanket draped over his shoulders. He held up a championship ring from Super Bowl III, rattling off the names of every one of his Jets defenders who forced a turnover in that game. You can tell Buddy Ryan has mellowed a bit because he constantly says he doesn't want to see any players get injured. Ryan, 80, is starting his fifth round with cancer, set for surgery on Friday in Kentucky. But it would have taken some serious blitz pickup to keep him from the Sunday night opener in New Jersey. Ryan may be remembered as one of the NFL's classic curmudgeons, a reputation built over nearly three decades as a defensive assistant (Jets, Vikings, Bears, Oilers) and head coach (Eagles, Cardinals), but he improbably sired two of the game's great jesters, and they even crack up the patriarch of punishment. "Those boys," Buddy says, "are as fun as the '85 Bears."
On one sideline Sunday night was Jets coach Rex Ryan, the tabloid fixture who guarantees Super Bowl wins and once, in the media, challenged former Dolphins linebacker Channing Crowder—and Crowder's father—to a fight. Rex has guided the Jets to the past two AFC Championship Games, provided enough one-liners to keep Bartlett's working overtime and covered his right calf with a tribal tattoo. He is by far the most animated head coach in the NFL, but he's not nearly the most animated person in his own family. Hard as it is to believe, Rex is the understated brother.
Meet Cowboys defensive coordinator Rob Ryan, Rex's 48-year-old twin, hidden for the past seven seasons in Oakland, Cleveland and his brother's substantial shadow. Rob casts quite the silhouette himself at 305 pounds—"All belly," he says, giving it a quick pat—with bulging blue eyes, an unkempt gray goatee and a tangle of shoulder-length locks the color of the Cowboys' helmet. He stalks the sideline in workout pants, play card between his teeth, pausing to whip himself with his baseball cap after big plays. He looks as though he arrived at the stadium by Harley, on three hours' sleep. The cover of the Cowboys' defensive playbook features a picture of Rob napping under his desk, with cornerback Terence Newman standing over him.
If you don't like Rex because he's too burly and brash, you'll hate Rob. He talks to opposing receivers, once asking veteran Isaac Bruce, "Old man, what are you doing? You can't run anymore." His favorite expression is sweet live ass, which he uses mainly as an adjective and term of endearment. Buddy is a sweet live ass dad. Rex is a sweet live ass brother. Ace of Spades is a sweet live ass champagne. Rob hands out bottles of the bubbly for impact plays. As the Browns' defensive coordinator he would show Eastbound & Down clips in meetings and ask rookies, "What's the nickname for McDonald's?" When they responded, "Mickey D's," he hollered, "Deez nuts!" "Rob Ryan could put the Family Guy out of business," says Cowboys safety Abram Elam, who played for him in Cleveland the past two years. Rob once compared Rex to a turkey because of his pronounced jowls, wore a weightlifting belt around his midsection after Rex underwent lap-band surgery and last week addressed certain videos linked to his brother that popped up on YouTube last year. "My wife, she's got everything," Rob says. "She's got great feet too. She's got everything nice. What the hell?"
Rob was understandably beloved in Oakland's Black Hole and Cleveland's Dawg Pound, but Browns coach Eric Mangini, under whom he worked in 2009 and '10, muzzled him in front of the media. "I've been banned again!" Rob would say. Last winter he moved to Dallas, where for the first time he has playoff-caliber talent and a national audience. The NFL now has a Ryan brother in two of its most prominent markets, an alluring or appalling notion depending on your point of view. "People don't think anybody talks more trash than Rex," says Jim Ryan, the third brother, a St. Louis lawyer who is six years older than the twins, "but they don't know Rob." To prepare for the Jets, Rob scrawled 12 new defensive pressures on the grease board in his office, which he termed the Dirty Dozen. He then assembled clips from the 1967 Lee Marvin movie of the same name, spliced with footage of Dallas defenders. "We've got some sweet live ass calls this week," he said.
For most of the night the calls worked, as the Cowboys sacked Jets quarterback Mark Sanchez four times, stifled the running attack and allowed just 10 points through the first three quarters. But it was Rex and his staff who made the decisive defensive call—Jets Mike Mix—with 59 seconds left and the score tied at 24. Jets safety Brodney Pool inched toward the line of scrimmage as if he was going to blitz, then dropped into coverage behind All-Pro cornerback Darrelle Revis. Dallas quarterback Tony Romo spotted receiver Dez Bryant one-on-one against Revis and let fly. But Revis knew Pool was behind him, jumped the route and made his first interception since January 2010. Nick Folk, the former Cowboy, drilled a 50-yard field goal, and on the 10th anniversary of the Sept. 11 attacks, New York's team beat America's team. Rex edged Rob. Again.
Rex was born five minutes ahead of Rob, forever the big brother. When they climbed trees as kids, Rob was the one who fell out and broke his arm. When they played hockey, Rob was the goalie, and Rex knocked out his front teeth with a slap shot. When they played night golf, Rob was the flagstick, and Rex hit him in the head with a drive. During a backyard football game featuring mandatory cheap shots, Rob slid over the back of a snowbank and into a moving car.
The Ryans are fraternal twins, but everyone figured they were identical. At Stevenson High outside Chicago they wore mullets, high-topped turf shoes and Bears warmups while classmates were in oxford shirts and khakis. "It was a very conservative, very preppy environment," says Bob Mackey, who coached the twins in baseball and football. "Then here come these two good old boys trucking down the hall, full of life." Rex led the baseball team in home runs; Rob led in being hit by pitches. Local umpires grew tired of his leaning into fastballs and started calling them strikes. Rex once got ejected from the bench for arguing on his brother's behalf.
The brothers were so close they shared contact lenses, and in college at Southwestern Oklahoma State in the 1980s they had one wallet between them—whoever got the date got the wallet. The boys were slender then, 6'2", 215-pound defensive ends, and if they grew their hair below the helmet line, coach Bob Mazie said he'd cut it off. The Ryans won almost as many bar fights as football games, defending friends and the family name. Buddy would send money to bail them out of jail, and the twins were back in Mazie's office the next morning deconstructing defenses. They decided in second grade that they would be coaches, and though they weren't the most bookish students, they could see the football field in sharp relief, every player with just one glimpse. "Rob was more serious about it than Rex," Mazie says of the boys' joint career goal. "I thought he would make it first."
Rex got another head start. His first job, in 1987, was at Eastern Kentucky, a Division I-AA dynamo, while Rob went to Western Kentucky. Rex was at Oklahoma when Rob was at Oklahoma State. They both worked under Buddy with the Cardinals in 1994 and '95—"Frankly, they were out of their league then," says former Cardinals center Ed Cunningham—but Rex made it back to the NFL before Rob, as the Ravens' defensive line coach in '99. When Baltimore won the Super Bowl a year later, Rex told Rob he couldn't participate in family card games without a championship ring.
Rob never drew as good a hand anyway. At Ohio State in 1988 he unloaded Burger King trucks in the middle of the night before heading to work as a graduate assistant in the morning. At Tennessee State he oversaw the running backs for three seasons, a position he knew nothing about. Back on the defensive side at Oklahoma State in '98, when the Cowboys were tied with 27-point favorite Nebraska midway through the fourth quarter, he told coach Bob Simmons, "Don't worry. We've got this." The words weren't even out of his mouth and a Nebraska punt returner was racing past him for a game-winning touchdown.
Rob finally scored his upset in 2000, chosen over more pedigreed candidates to be the Patriots' linebackers coach after an interview in which he spent six hours scrawling coverages on a grease board for Bill Belichick. Rob won two Super Bowls with New England and banned Rex from the family card games for lack of a second ring. He also became an NFL defensive coordinator a year before Rex, in '04, but to do so he moved to Oakland while Rex stayed with the Ravens. As a coordinator and a head coach, Rex has never had a defense that finished outside the top six. Only one of Rob's has finished better than 22nd. Rob's players challenge the significance of that statistic, since he was working with units that lacked depth and were left on the field by weak offenses. When Rex joined the Jets, he adopted a package Rob used in Oakland and called it Raider Coverage. "We play it better than you," Rex told him.
The Ryans are sons of the 46, genetically bound to the blitz, but their styles differ slightly. Rob likes to blitz more on first and second down, Rex on third. Rob sticks almost exclusively to the 3--4; Rex sometimes shifts to the 4--3. Rex is able to sustain pressure the entire game, protected by a security blanket like Revis, considered the best corner in the league, while Rob sometimes backs off.
The two discuss these and other matters almost every day, communicating in a language they call "twin talk." They were together when Rob met his wife, Kristin, on a flight home from the scouting combine in Indianapolis. "Babe here," Rob told Rex, about the pretty blonde across the aisle. The two families vacationed together in Hawaii this summer, but that was not the trip the brothers originally planned. Rex acquired a weather-tracking device so they could chase storms across Oklahoma. Said Rex, "I want to see how far I can hit a Wiffle ball in a tornado."
The NFL's nutty uncles are among its premier motivators and strategists. Two years ago Rob flew to Indianapolis to help Rex prepare for the Jets-Colts AFC Championship Game. In 2010 the Jets and the Browns happened to be the only teams to beat the Patriots in the regular season. Last week, though, Rob and Rex treated each other like double agents. After the Jets signed safety Andrew Sendejo off waivers from Dallas, Rob changed elements of his plan because he feared Sendejo would relay details to Rex. In fact, the Ryans were raised to be suspicious of anyone from Dallas. Buddy once said of the Cowboys, "I want all their quarterbacks on the ground." He wrote in a game plan about Tony Dorsett, "Lay some Riddells on him and he'll cough it up." In the strike season of 1987 Buddy accused the Cowboys of running up the score against his Eagles with players who crossed the picket line. Philadelphia won the rematch easily, but in the final seconds Buddy ordered quarterback Randall Cunningham to fake taking a knee and to throw deep. Former Dallas coach Jimmy Johnson later accused Buddy of putting bounties on Cowboys players, including their kicker.
Days after Rob shook hands with Cowboys owner Jerry Jones last January, Buddy called frantically—the Eagles were looking for a coordinator and were supposedly interested. Rob could have played the two rivals off each other, but he has never been interested in office politics. He and Rex share a management philosophy they call KILL, which sounds like an invention of Buddy's but is actually an upbeat acronym: Keep It Learnable and Likable. Rex predicts a Super Bowl victory for his team each year; Rob started his first meeting with the Cowboys' defense by telling them, "We're going to be great." Never mind that they had 10 starters back from a unit that had franchise worsts last season in points and yards allowed.
Rob engenders such affection in the Cowboys' locker room that a player who knew him for only three weeks offered to put him on the Jill Lane nutrition program for the next six months, picking up the tab for a diet that Rob says will cost $16,000. The desk in his office is now littered with vitamins. His minifridge is stocked with carefully wrapped salads and protein bars. His weight and body-fat percentage are on display in the meeting room. He instructs his players to knock sodas out of his hand and promises to donate $500 to a kangaroo court if he gains any weight. In his first six days on the program he dropped six pounds.
"The fat jokes really hurt me," Rob says. "No, I don't actually give a s--- about that. But I think the players looked at me and thought, 'My God, he's going to explode on us.' I don't want to let them down. And I definitely don't want to do the whole lap-band thing." He is taking another jab at his twin brother, who wears the sweater vest, cuts his hair close to the scalp and sometimes even thinks before he speaks. "Rex tells me he's got a sweet live ass Polo shirt," Rob says. "I don't have any designer clothes."
The modern NFL is not so different from old Stevenson High, crowded with coaches who look and talk like CPAs. Jets owner Woody Johnson hired Ryan even though he was 45 minutes late to the interview. The question is whether other owners, who have witnessed the Jets' success, will be as bold. "There are so many coaches in the NFL who say one thing to the media and another behind closed doors," says Pool, the Jets' safety, who also played under Rob in Cleveland. "Guys don't want to play for phonies. We want to play for coaches like the Ryans. I don't know why the rest of the league hasn't figured that out yet. Maybe they aren't smart enough."
Rob runs his fingers through his hair, a process that takes several seconds. "Look, if I have to cut it to become an NFL head coach, then I'll cut it," he says. "But I'll be pissed about it."
Many of his friends don't know why he started growing it in the first place. When his daughter, Dimitra, was in elementary school, one of her classmates was diagnosed with cancer and lost her hair while undergoing chemotherapy treatments. Dimitra told Rob that the girl wore a wig donated by the nonprofit organization Locks of Love. Then Jim Ryan's son, James, was diagnosed with cancer at 14 and also underwent chemo. Rob grows out his hair every year, cuts it off, donates it to Locks of Love and starts again.
These are the Ryan brothers: big mouths, big bellies, big hearts. After the Cowboys lost on Sunday night and Rob fell to 0--4 against Rex in the NFL, he walked out of the locker room in his rumpled travel suit. Rex, Buddy and Jim were waiting for him in the hallway. They all hugged him twice.
James, now cancer-free, could not be in New Jersey for the reunion. He just started his freshman year at Miami (Ohio), already volunteering for the hockey team, offering to videotape practice and break down film. He sees the ice the way his uncles see the field, every player with just one glimpse. Miami is nicknamed the Cradle of Coaches, springboard of Weeb Ewbank and Paul Brown, Woody Hayes and Bo Schembechler, Sid Gillman and Ara Parseghian. James may never win a Stanley Cup, but Uncle Rob says he's going to be a sweet live ass coach. That much is guaranteed.