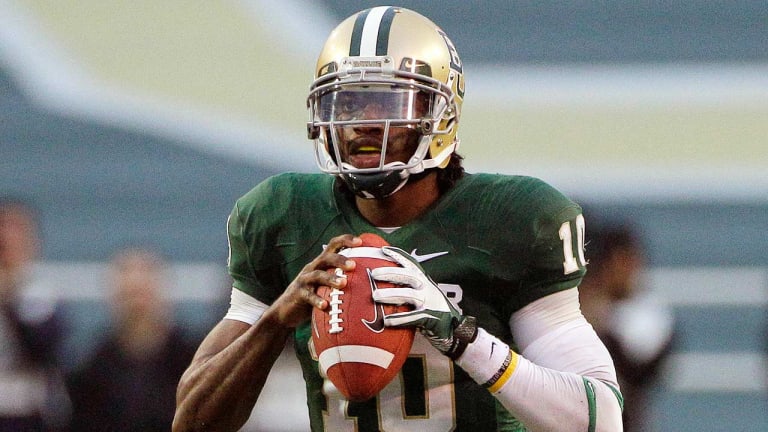 Back of All Trades
He runs. He throws. He sings. He volunteers for charities. He makes the honor roll. Quarterback Robert Griffin III can do just about everything—including make Baylor football relevant again
Spend enough time in the orbit of Robert Griffin III—known around Waco, Texas, as RG3, Superman, Black Jesus, the Ambassador and the Most Exciting Player in College Football—and it's impossible to shake the thought that the cheery quarterback was constructed in a secret military lab in southern Japan. Yes, official records contend that Griffin, 21, was born at Camp Lester on Okinawa to two loving Army sergeants, Robert Jr. and Jacqueline. (The family settled in Copperas Cove, Texas, in time for Robert III to go to kindergarten.) But these days, as a legend mushrooms around the Griffins' only son, suspicions about his merely human origins have followed. "You can put limitations on even the great ones," says decorated Baylor track and field director Clyde Hart, who has coached Olympic gold medalists Michael Johnson and Jeremy Wariner. "With Robert, you can't do that. He's ... different."
Just how different? Start with the fact that Griffin, who has racked up 740 yards and eight TDs for No. 17 Baylor (2–0), is perhaps the fastest quarterback ever and the first in at least 35 years to be projected as both a first-round NFL pick and an Olympian. In the spring of 2008, having graduated a semester early from Copperas Cove High (where he was class president), the 17-year-old Griffin arrived in Waco and promptly became a Big 12 champion, NCAA All-America and Olympic trials semifinalist in the 400-meter hurdles before playing a single down. Since then, all he has done is break 40 Bears football records—while making the honor roll every semester and earning his degree in political science in three years.
Griffin, now studying for his master's in communications, dreams of law school, volunteers with five charities and says he doesn't "drink or smoke or any of that stuff." The 6'2", 220-pound quarterback's idea of recreation is lugging a mammoth tire around his apartment complex. Last October the former choirboy (literally) even found time to get engaged to his girlfriend, Baylor grad Rebecca Liddicoat, belting out an original ballad in a meticulously planned surprise ceremony. This was 90 minutes after he had thrown for 404 yards and four TDs to beat Kansas State.
So, what can Griffin not do? "We all have our flaws," Griffin insists. But press him for examples, and it takes a full 74 seconds of atypical hemming and hawing before he says, "I'm not good at ... trivia games?"
It's 12:15 p.m. on a Wednesday, and Griffin, wedged into a booth at Baylor's Student Union with Liddicoat and a visitor, keeps searching for instances of personal mediocrity between bites of two chicken sandwiches. The environs here aren't helping. The ladies behind the Chick-fil-A counter call out that they want him to replace Tony Romo. A student surreptitiously clicks a photo of Griffin's socks—high and black with white stars—and posts it to Twitter. Perry Jones III, Baylor's 6'11" sophomore forward and future NBA lottery pick, stops by to pay his respects. "Just trying to be like you," he tells Griffin.
That's a tall order. To be like Griffin, after all, is to be more valuable to your school than any other player in the country—while also playing for a program that has ranked last in Big 12 attendance every year and lacks any comparable athletic forebear. (The statue welcoming visitors to Baylor's athletic building is a former punter's Ray Guy Award.) Consider: That K-State win made the Bears bowl-eligible for the first time since 1995. Which makes it all the more unfortunate—and ironic—that, as the Big 12's death looms ever closer, rising Baylor is still desperately fighting for its life.
When Ken Starr became the president of Baylor on June 1, 2010, college football was far from the most pressing issue on the former solicitor general's docket. Baylor, the world's largest Baptist university, had expected Starr—best known for investigating Bill Clinton and sparking his impeachment—to raise funds and help stop decades of internal tension over the perceived erosion of the school's religious faith. But within days, Starr found himself blindsided by the potential dissolution of the Big 12. "This is the future of college athletics for a number of very important institutions in the state of Texas," he declared at a press conference on June 11, 2010. "The entire nation is watching."
More than a year later, it watches still. The acceptance of Texas A&M by the SEC and the rumors besieging virtually every other Big 12 school have left the conference on life support. Starr's solution? Try to filibuster members' departures by reserving the right to sue poaching conferences (such as the SEC and Pac-12) for "tortious interference."
So it was that a pall fell over a packed Floyd Casey Stadium on Sept. 2, during Baylor's game against No. 14 TCU, as news spread that Oklahoma was set to defect. (Griffin, meanwhile, would pass for 359 yards and five TDs in a 50–48 upset.) So it was that Baylor launched a last-ditch campaign called Don't Mess with Texas Football, urging fans to tell the leaders at the University of Texas, Texas Tech and A&M to "stop this madness." And so it was that ESPN host Jim Rome blasted Waco on the radio two weeks ago. "It's scrubby little Baylor that's holding up this potential seismic shift in college football," he raged. "There's a reason you're not being mentioned in any of these prominent moves to prominent conferences. You're Baylor.... You are what you are, and you're headed back!"
Thus the dismal backdrop to a season in which the Bears have attained their highest AP ranking in 20 years behind a player who has been a poster child for the NCAA. (Griffin appeared on the cover of NCAA Champion magazine last fall and was one of three athletes to address the 2011 NCAA convention.) Then again, such p.r. hits are nothing new to Griffin. During the quarterback's first season, in which he was named Big 12 offensive freshman of the year, fans across the Lone Star State acknowledged his success by urging him to, well, transfer. Flee upward while you can. You're too good for scrubby little Baylor.
Griffin never considered leaving. "That'd be really cowardly," he says. And besides: At first it was Baylor that hadn't wanted him.
They showed up his junior year of high school, salivating at Griffin's size and speed and saying they wanted to make the quarterback an All-America ... defensive back or receiver. The lot of them—coaches representing a dozen BCS powers, including LSU, Nebraska, Texas and Texas A&M—flew off Griffin's list. Pedigree, high or low, didn't impress him. In the fall of 2006 he visited Baylor at the prompting of Bears track coach Todd Harbour, who'd already tried (and failed) to get Griffin to commit exclusively to running track. When Griffin met then football coach Guy Morriss, he learned that he could play quarterback ... if he wanted to walk on. Another college was immediately crossed off.
Instead Griffin fell for Art Briles, then at Houston, whose football camp he attended in June 2007. "I was looking for a guy who could run," Briles recalls, "but the first time I saw Robert throw, I said, Man, this guy's special." Griffin committed to the Cougars that October. The very next month, however, Baylor canned Morriss and picked Briles as his successor, and Griffin—particularly excited by the prospect of Big 12 play—chose to follow Briles to Waco. Bears athletic director Ian McCaw quickly dialed up Harbour. "He's coming," McCaw told the stunned coach. "We finally got your hurdler."
Griffin, who missed most of the 2009 season after tearing his right ACL in his third game, has competed in only one track meet since that eye-opening spring. His bond with Briles, on the other hand, has been historically productive. As a freshman in '08 Griffin set the NCAA record for completions without an interception to start a career (209) while also running for 13 touchdowns and 846 yards. Last year he accounted for 4,136 yards from scrimmage and 30 touchdowns against just eight interceptions. This year Griffin has as many scores as incompletions.
"He's as good as anybody out there that I've seen," Texas coach Mack Brown has marveled. "He has changed their program completely."
Back at the Student Union, Griffin is still attempting to pull skeletons out of his closet. All that comes out, though, are action figures—a collection of about 1,000 (Dragon Ball Z, X-Men, pro wrestling). He keeps about 200 in a bag in his off-campus apartment but hasn't actually played with any of them since enrolling in college. "After a while," Griffin laments, "you just lose your imagination."
Elsewhere in Waco, imagination remains as plentiful as the dust. The only speculation more popular than that involving the Bears' future conference concerns Griffin. Harbour and Hart gush about him competing in the Olympics. Starr wants to talk to him about law school. Basketball coach Scott Drew muses about Griffin suiting up with Jones. Whenever NFL talk starts up—If he wins the Heisman, should he declare for the draft?—Briles grabs Griffin and, as if attempting a Jedi mind trick, tells him, "I'm looking at my starting quarterback for 2012." And then there's the growing success of this young season.
"You know," Griffin finally says at the lunch table, "I can't play ... polo. Or water polo, either. Or ... archery." There.
He's as unconvincing as ever. The Most Exciting Player in College Football at least needs to try those sports first.