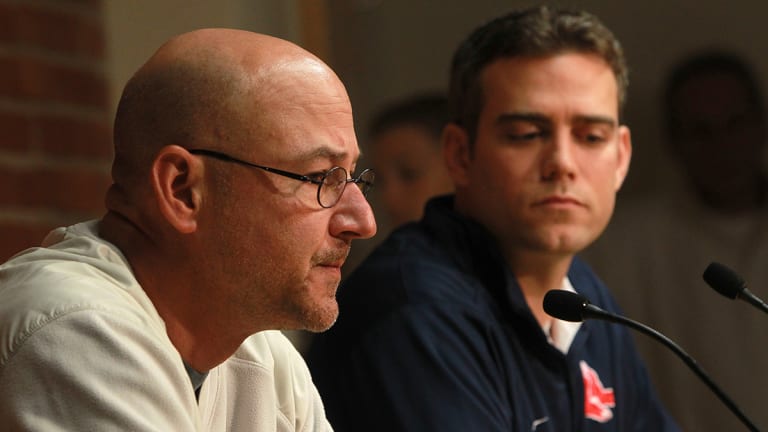 The Art of Winning an (Even More) Unfair Game
Eight years after it forever shifted baseball's tectonic plates, Moneyball is a Brad Pitt movie, but its ethos has changed. Intellectual firepower is mandatory, but no guarantee of success now that the game's financial giants have cracked the code. Competitive advantage: Red Sox
One floor below street level on Yawkey Way, in his windowless corner office which looks out upon a bank of cubicles that could pass for a telemarketing firm, Red Sox general manager Theo Epstein is deep in consultation with a trusted adviser he identifies only as Carmine. Adrian Gonzalez may be the team's most valuable player and the object of an 11-year Ahab-like pursuit by Epstein, but the G.M. never makes a move without consulting Carmine, a five-year-old proprietary computer program that is the virtual brains of the Boston operation.
Epstein fell for Gonzalez long before he had Carmine. He first saw the All-Star first baseman in 2000, smashing what appeared to be long home runs far over the unmarked wall in left centerfield at Eastlake High, 30 minutes from where Epstein worked as director of baseball operations for the San Diego Padres. Epstein fell in love with that stroke the way baseball men, connoisseurs of kinetics, swoon over the arc of a pitcher's arm or a shortstop's sleight of hand. "I fooled you," Gonzalez revealed to Epstein this spring, a few months after Epstein at last fulfilled his quest by trading three of his top six prospects to the Padres for Gonzalez. "It was only 270 feet to left center."
What Epstein did know back then was that an information revolution was coming to the hidebound world of baseball. A Yale grad and law student in his late 20s, he was too young and too curious to be content with the status quo. Two years earlier, for instance, the Padres did not have any college statistics to prepare for the draft: The club didn't know something as basic as whether a player it was considering hit .250 or .350. Days before the draft, Epstein asked an intern to call college sports information directors across the country to get team statistics faxed to the office. Armed with at least some rudimentary data, Epstein ventured that a college pitcher with more walks than strikeouts, for instance, might not be the best use of a first-round pick.
In 2002, with the Red Sox under the new ownership team of John Henry, Tom Werner and Larry Lucchino, his former boss in San Diego, Epstein was hired as an assistant to Boston general manager Mike Port. The club's operations were so archaic that you could still hear the clackety-clack of Port tapping out memos and reports on his typewriter and, upon completion, the thwack of his stapler. In another part of the office, however, the future of the game was incubating among bright young minds not long out of elite colleges, including Epstein, Jed Hoyer (Wesleyan), Ben Cherington (Amherst) and, upon joining them in December of that year, Josh Byrnes (Haverford). They understood that statistics represented a reservoir of information—and a potential competitive advantage.
The young men had heaps of fun, working crazy hours and, to blow off steam, knocking golf balls around the office, playing football among the cubicles and celebrating big wins with postgame refreshments at Boston watering holes. Then one day in 2002, a best-selling writer by the name of Michael Lewis walked into the Red Sox offices and knocked the smile right off Epstein's face. Lewis was working on a book about baseball's nascent information age, but Epstein wanted nothing to do with him.
"I can't believe Billy is letting him write this book," he told his colleagues.
Billy Beane, Oakland's general manager, had granted Lewis access to his front-office operations, which meant revealing how the A's were mining information from statistical analysis, a tool used extensively at the time by only the Athletics, Indians, Blue Jays and Red Sox. "He's handing out the blueprint," Epstein told Hoyer.
Explains Epstein now, "It just seemed that [the book] would take a nuanced idea—while not a great secret, because Branch Rickey was using a lot of it a half century ago and Bill James had been writing about it for decades—and make it mainstream pretty quickly.
"The book hit The New York Times best-seller list. People who own baseball teams read The New York Times best-seller list. So they started asking questions about the processes their front offices were using, and it changed things really quickly."
Today, eight years after Moneyball roared and Port's typewriter was silenced (Epstein took his place after the 2002 season), all 30 clubs incorporate statistical analysis in their baseball operations, with 15 to 20 of them relying on it heavily.
The advantage of the early adopters is gone. In his first winter as G.M., for instance, Epstein was able to scoop up Kevin Millar, Bill Mueller, David Ortiz, Todd Walker and Jeremy Giambi on the cheap because he understood that on-base percentage was a far better tool to evaluate a hitter than batting average, which was still the industry standard for rating—and paying—players. Epstein immediately built a team that broke the alltime slugging record set by the famed 1927 Yankees and set franchise records for OPS and home runs—and he did it while cutting the payroll by $8.4 million. But now "teams are looking at similar metrics," Epstein says. "So players are valued pretty closely by 30 clubs."
As Moneyball, the movie, hits screens this week, Beane and the Athletics have been trampled by their own revolution. They haven't had a winning season since 2006, and even amid great regular-season success in the aftermath of the book's publication, they never did win a playoff game beyond the first round. Playing in an antiquated multipurpose stadium with the worst attendance in baseball, Oakland is unable to compete with clubs that caught up to it intellectually and blow it away financially.
No team better defines the state of the art than the Red Sox, host to more than 700 straight sellouts at Fenway Park, a $163 million payroll and Carmine, which Epstein commissioned in 2006 to catch up to Cleveland, which had its own proprietary software called DiamondView. Under Epstein, the Red Sox have won two World Series, fielded more 95-win teams in nine years (six) than the franchise had in the previous 53 (four) and been judged by Baseball America as the team of the decade (2000--09) when it came to the amateur draft. "I'm proud of the people and the processes here," Epstein says, "but just about everything we're doing here is being done elsewhere, and a lot of it better. We have a pretty big cushion with our resources. We can take sixth-rounders and pay them third-round money without thinking twice about it."
When Epstein took over as general manager he developed a mantra, the clean version of which is, "We don't know spit." The quest for as much information as possible is at the heart of the Red Sox Way, especially now that the Moneyball blueprint has gone mainstream. Information is the game's currency—though the one issued by the Federal Reserve is also quite nice, thank you. "The field has been leveled [since Moneyball]," says one NL executive. "The fact that the Red Sox have the resources gives them an edge. [This year] they paid [lefthander] Andrew Miller a million dollars to pitch in Triple A. That's an entire Triple A payroll for most teams. But give those guys credit. They took that organization from a steam engine to a motorized gas engine. Why shouldn't they take advantage of their resources?"
The story of how Gonzalez became a Red Sox player is the nexus of Boston's intellectual and financial might in a post-Moneyball world. It is also the story of lesser names: first baseman Anthony Rizzo, whom the Red Sox drafted in 2007; pitcher Casey Kelly, an '08 pick; and outfielder Reymond Fuentes, an '09 pick—the three key prospects they traded for Gonzalez. It is the story of searching for any edge through information.
Now I can click on the screen... ." Epstein says as he executes a few keystrokes, "... and call up ... there's [Jacoby] Ellsbury."
A trove of information pops up about the Boston centerfielder. It includes some proprietary statistical data, including Boston's in-house defensive metrics (the popular ones cannot be trusted, especially in one-year samples) and an overall empirical valuation that combines offense, defense and baserunning metrics. Carmine automatically updates the numbers, including projections, every day for every player in professional baseball.
Carmine also guards less quantifiable data, including the first report filed on Ellsbury in 2003, two years before he was drafted, as well as eight follow-up reports chock-full of anecdotes culled from interviews with his coaches, trainers, college SID, opposing coaches, summer league coach and others. There is a story about a foot injury "no one knew about" that explained a brief slump in the Cape Cod League in '04. There is the story of the day in '05 when two cross-checkers worked out Ellsbury in a San Diego gym because of rain: The 21-year-old picked up a stray basketball and threw down a monster dunk, confirming their reports on his athleticism. All those notations—which a decade ago would have consumed just two or three sentences under "makeup" in most teams' player files—are separate from the actual nuts-and-bolts scouting report on his skills.
Each spring the typical area scout for the Red Sox will follow about 50 players on his watch list. Cross-checkers will see about 100 players each. They all file background reports with Carmine every time they see a player. "That's a lot of information," Epstein says. "But that's where you get the edge. You're not going to have the most success with the most obvious, readily available information."
Epstein understood early that draft picks, like information, are a form of currency—so why not hoard them? During the 2002 season Port traded for lefthanded-hitting slugger Cliff Floyd, whom Epstein had no interest in re-signing. Epstein knew he could replace Floyd with a free agent—it turned out to be Ortiz, who worked out quite nicely—and get two compensatory draft picks after Floyd signed with another team. The Red Sox wound up with three of the first 49 picks in the '03 draft, each of which produced a future big leaguer (outfielders David Murphy and Matt Murton and pitcher Abe Alvarez). One player leaves, and you wind up with a net gain of two.
The industry narrative at the time regarding players in their free-agent walk years was, "I can't let him walk and get nothing but draft picks in return," a conviction that drove the trade market. But Epstein understood that the counter argument made more sense: "I'll let him walk and get the draft picks." As happened with on-base percentage, the rest of the industry has caught on and draft picks are cherished to the point where one of the hottest names in this year's trade market, San Diego closer and free-agent-to-be Heath Bell, went nowhere because the value of draft picks outweighed the players being offered in return.
In his early years as G.M., Epstein, like Beane, was more apt to use those picks on college players because statistical models indicated they were better bets to succeed than those out of high school. From 2003 to '06, the Red Sox used only a third of their picks on high school players. But by 2006, three years after Moneyball had spelled out Oakland's college-centric draft strategy, Epstein noticed the industry was focusing disproportionately on college players. High school players who would have gone in the second or third round before Moneyball were still on the board in the fifth or sixth.
So the Red Sox switched gears in 2007, the first year under Epstein in which they drafted more players out of high school than from four-year colleges. (They used 56% of their picks on high schoolers from 2007 to '11, nearly doubling their early rate.) One of those picks was Rizzo, a lefthanded-hitting first baseman out of Marjory Stoneman Douglas High in Parkland, Fla. Rizzo wasn't even the best prospect on his team; most scouts went to Douglas to see a catcher, Daniel Elorriaga-Matra. But when Laz Gutierrez, a Boston scout in the area, watched the team early in the season, he liked Rizzo. Rizzo did not run well and had a soft body—faults that turned off some scouts—but Gutierrez filed reports enthusing about the way the ball jumped off his bat to all fields and how smooth his hands and footwork were around the bag. Team cross-checkers Dave Finley, Mike Rikard and Marc Delpiano all concurred with Gutierrez.
The Red Sox, thinking they might have found a rare hidden gem, had Gutierrez lie low on Rizzo, which meant showing up only at big games when his attendance would not be construed as unusual. By the sixth round of the '07 draft, Rizzo was still available. Boston took him and paid him $325,000, a bonus generally reserved for a third-round pick.
Rizzo worked hard to transform his body. But the next year, at age 18, he was diagnosed with Hodgkin's lymphoma. After six months of treatments, including chemotherapy, Rizzo's cancer went into remission and he became one of the most liked and talented prospects in the Boston system. Last year he was named the organization's minor league player of the year. "He was an unbelievable inspiration, and everybody rallied around him," Epstein says. "We were just blown away with how this kid handled everything."
Under Epstein, the Red Sox have made 43 picks in the top three rounds of nine drafts. They have used only four of those picks on high school pitchers—five if you count Kelly, who wanted to be drafted as a shortstop and was prepared to play quarterback at Tennessee if he wasn't.
High school pitchers represent the biggest investment risk in the draft because pitching skills are harder to predict than hitting skills. The Red Sox won't take a high school pitcher high in the draft unless he is extremely polished. For Boston, that means the pitcher must have very clean arm action; a repeatable delivery; a natural feel for spinning the ball; a fastball that has not just velocity but also finish, deception or command; exceptional athleticism and great makeup. Kelly was the rare high school pitcher who met every criteria.
The area scout for Boston on Kelly was Anthony Turco, who had attended the same high school as the prospect, Sarasota High on Florida's Gulf coast. To keep Kelly from playing college football, Turco learned, a club would have to draft him as a shortstop and pay him first-round money. The problem for the Red Sox was that they considered Kelly a first-round pitcher but a third- or fourth-round shortstop.
Holding the 30th pick in the 2008 draft, the Red Sox had resolved to take Lonnie Chisenhall, a junior college third baseman—until Cleveland took him with the pick immediately before Boston's. The Red Sox scrambled. They got Kelly on the phone and cut a deal: They would give him a $3 million bonus and allow him to play shortstop and pitch. In his first two years in pro ball Kelly hit .219 with a .281 OBP and a .336 slugging percentage; he didn't pitch in 2008, but in '09 he had a 2.08 ERA and more than four times as many walks as strikeouts. After that season the Red Sox flew Kelly and his dad to their spring training complex in Fort Myers and explained that he could be the next Zack Greinke if he devoted himself full time to pitching. Three days later, Kelly called back and said, "O.K., I'll pitch." In 2010 he made the jump to Double A at age 20, and despite a 5.31 ERA, he was picked as the No. 1 prospect in the Boston system.
Though Epstein is known as a new-age baseball thinker, one of his most trusted early advisers was Bill Lajoie, who was 39 years older and cut from the old school scouting cloth that Moneyball virtually mocked. Lajoie, the former general manager of the Tigers who passed away last December, helped Epstein learn how to approach a draft.
In San Diego, Epstein noticed that the Padres tried to arrange the top 200 players in order, which invited the difficulty of trying to draw fine distinctions between player 156 and 157, for instance. The top 200 invariably included players the team's scouts didn't necessarily recommend but were considered to have early-round talent by industry consensus.
Epstein asked Lajoie, "How many guys would you have on your board?"
"Screw it," Lajoie replied. "Just focus on guys you're really excited about. Go with the guys you're on early and have the most history on and screw the guys who pop up late and you don't know anything about. The guys you can't get excited about? Don't spend time with them. You're not going to take them.
"We would rank 20 guys," Lajoie said. "And we'd get 12 of our 20."
With time running out before the start of the 2009 draft, the Red Sox were uncertain about the order of the top four players on their board, the ones they thought might be available when they picked at No. 28. Epstein, his assistant Allard Baird and scouting director Jason McLeod wanted one more firsthand look at all four players, but they were scattered from Puerto Rico to the West Coast.
What to do? Epstein approached Henry, the team's owner, and essentially asked, "Can we borrow the jet?"
Henry understood the power of mining information from statistical analysis: It had made him a rich man. He had applied proprietary formulas to his money-management firm. He so believed in applying the same principles to running the Red Sox that after the '02 season he first tried to hire Beane to replace Port. Beane accepted the job one day, changed his mind the next and recommended the like-minded Epstein. Henry threw his full support behind Epstein, which sometimes includes his private aircraft.
Epstein, Baird and McLeod saw four players in three days. They jetted to Puerto Rico to see Reymond Fuentes, an 18-year-old player recommended by area scout Edgar Perez. They weren't sure if Fuentes was a first-rounder or a second-rounder, but watching him play a doubleheader convinced them that his speed, defense and swing gave him the makings of an Ellsbury- or Johnny Damon--type player. They drafted Fuentes in the first round and signed him with a $1.13 million bonus.
Over the past five years, the Red Sox have spent $44 million on the draft without picking higher than 19th. The only teams to invest more in those drafts are perennial losers with expensive picks every year: the Pirates, the Nationals and the Royals. Tampa Bay, at $40 million, is the only winning organization that has approached Boston's spending during those five years. Thanks in large part to their deep farm system, the small-market Rays are chasing Boston in the AL wild-card race, trying to steal their third postseason appearance in four years.
The Red Sox pay more than the recommended signing bonuses of the commissioner's office—so-called "slot money"—but their draft costs are also high because they hoard picks by letting free agents leave. In the past five years, for instance, Boston has had 12 first-round picks. (The Yankees have had half as many.) Moneyball ended the hidden value of OBP, what Beane called a market inefficiency. "I've been giving the same answer for years," Epstein says of the next inefficiency. "It's keeping pitchers healthy, and it's better drafting."
Epstein tried to trade for Adrian Gonzalez as far back as 2005, when the first baseman played for Texas, only to lose out to Epstein's old team, the Padres. He tried to trade for Gonzalez at the trade deadline in '09; in fact, Epstein went to sleep on the night of July 30 with possible deals in the works for Gonzalez and Seattle ace Felix Hernandez. Epstein considered trading a total of 10 prospects, virtually wiping out the upper end of his farm system, but both deals fell through. He tried to trade for Gonzalez after the '09 season, but his good friend Hoyer, who had just been named general manager of the Padres, wasn't about to deal a franchise player immediately after taking over.
Finally, after the 2010 season, with Gonzalez entering the final year of his contract, Epstein saw an opening. While the Cubs, White Sox and Mariners all made preliminary calls on Gonzalez, Epstein pushed Hoyer relentlessly. He wanted to close a deal before the December winter meetings, where he knew an auction atmosphere would develop.
When the Red Sox lost out on free agent Mark Teixeira after the 2008 season (the first baseman signed with the Yankees) they knew they had to put themselves in position to get one of the Big 3 first basemen scheduled to reach free agency after the 2011 season: Gonzalez, Albert Pujols and Prince Fielder. Epstein is a big believer in park effects, the impact of a player's home stadium on his statistics. Spacious Petco Park in San Diego muted the greatness of Gonzalez. Epstein considered Gonzalez not a .904 OPS hitter—his overall mark last year—but a .980 OPS hitter, his rate on the road in 2010. (Gonzalez's OPS this year is .953.)
Epstein, however, had one disadvantage when it came to cutting a deal with Hoyer: The guy across the table knew his system as well as he did. Hoyer—who had brought McLeod to San Diego with him—knew what Carmine knew about Rizzo, Kelly and Fuentes. "When you make a trade," Hoyer says, "you hope a team asks about players you don't like. The knowledge we had made it more difficult, but it also made it more transparent. There was no b.s. For us, the comfort was in knowing the prospects and their makeup. Taking prospects is very difficult when you don't know their makeup. Every G.M. says that's the scariest part of a deal. In this case [McLeod] drafted all three players."
The trade was announced on Dec. 6. Five days later, to considerably more shock, the Red Sox signed free-agent outfielder Carl Crawford to a seven-year, $142 million deal. (Gonzalez would sign a seven-year, $154 million extension in April.) The Crawford signing underscored how the team's "We don't know spit" mentality applied to major leaguers as well as the draft. Baird, for instance, had compiled a 40-page background report on Crawford. (The Red Sox prepared a similar one on Jayson Werth, another free-agent outfielder.) But the Crawford deal, on the heels of an 89-win season that left the Red Sox out of the playoffs, also signaled how high the stakes have been raised in Boston since 2003. Epstein is less an architect now than he is the supervisor of a factory that must operate continuously at peak load. One step back to take two forward—or heaven forbid, a second straight nonplayoff season—cannot be tolerated.
"We felt this [pressure] a lot my last two or three years in Boston," Hoyer says. "We missed being able to go after the cheap, undervalued player. The intellectual reward with star players is not the same.
"Boston's advantage now is—and Billy said this—Boston can do what Oakland did but they can do it at a bigger, stronger level. They can see a player like Adrian and sign him to $154 million. They can go after Crawford. They can go after players they want and retain the ones they want."
Like Beane, Epstein made his mark in baseball by understanding what numbers could reveal about the value of ballplayers. But the more Epstein learns, the more he values the human side of the game, in part because it is much more difficult to understand. His trust in his scouts often trumps his trust in numbers. Epstein, for instance, won't acquire a player, professional or amateur, with good numbers unless his scouts like him.
Boston's track record in free agency, Epstein admits, is checkered. Edgar Renteria, Matt Clement, Julio Lugo, J.D. Drew, Daisuke Matsuzaka and Brad Penny all brought little bang for the $261 million outlay. (Interestingly, Epstein chose none of the above when asked to identify the mistake that most gnaws at him. He instead offered a 2006 trade for backup catcher Doug Mirabelli. Epstein was on the road with the club when catcher Josh Bard was having trouble catching knuckleballer Tim Wakefield. Instead of returning to the office and convening his assistants to assess the club's options, he adopted the fix-it-now mentality of the clubhouse and rashly traded Cla Meredith, a valuable low-cost reliever who would thrive in San Diego, along with Bard to get Mirabelli. What bothers Epstein is not the result of the trade but the knowledge that he short-circuited the process.)
"The biggest surprise for me as a G.M.," Epstein says, "is you spend more time as a psychologist than you think. A latent injury or a latent psychological injury is behind almost every underperforming player. If you can find it and address it, it's a huge advantage.
"That's the Number 1 competitive advantage—the human resource, the instructors and coaches. They get it. They bond with the kids. They care about them. They put themselves last. It's the exact same thing with teachers when it comes to education.
"That's why trading Rizzo, Kelly and Fuentes hurts. You're breaking the kid's heart. But if you're doing your job right, you're breaking 20 hearts—everyone who's touched this kid along the way."
Epstein personally called Rizzo, Kelly and Fuentes to inform them of the trade. The call to Rizzo, the cancer survivor, was especially difficult; Rizzo at first was so taken aback that he didn't talk. But he quickly found that same brave voice. "I'll always appreciate what you did for me," he said. "I'll always be a Red Sox."
Kelly was also stunned. The Red Sox had invested $3 million in him. They allowed him to play shortstop and pitch, a rare courtesy, before convincing him to give up hitting. But Kelly, whose father, Pat, has been a major league player and minor league coach, understood the thinness of the bonds of loyalty in the business of baseball.
When Epstein called Fuentes, he found excitement in the player's voice.
"We just made a trade," Epstein said.
"Oh, yeah? Who?" Fuentes replied.
"We're getting Adrian Gonzalez."
"Cool!"
"Yeah—and you're in it."
"Oh. Really?"
Rizzo, 22, hit .331 for Triple A Tucson this season with a whopping 1.056 OPS. (He has appeared in 44 games for the Padres, hitting .130.) Kelly, 21, was 11--6 with a 3.98 ERA in Double A. Fuentes, 20, hit .275 in Class A ball with a .342 OBP and 41 stolen bases. They are among the most important assets for the future of the Padres. But as general manager of small-market San Diego, Hoyer knows a run as long as Beane's Athletics put together—eight straight winning seasons, averaging 94 wins per year—might not be possible for such teams today. Market inefficiencies are harder to find and are more fleeting, especially because the teams with money added intellectual muscle. "The joke on Moneyball was, Where was the chapter on having three of the five or six best pitchers in the game?" Hoyer says, referring to Oakland's young aces Tim Hudson, Mark Mulder and Barry Zito. "But I don't think people give [the A's] enough credit. You're not going to have that long a leash anymore.
"Look at the Red Sox. They had 15 All-Stars on the team Opening Day. They've been the best team in baseball hands down acquiring draft picks. They are a very stable organization with very good coaches and not a lot of churn. What Theo does better than anyone is constantly push you to think in different directions. He wants as much background stuff and makeup information as anyone. Always asking for more is probably his best quality."
Back in 2002, as Lewis and Beane were collaborating, Epstein worked with Cherington, Craig Shipley, now the senior vice president of player personnel and international scouting, and their fellow whiz kids in the basement of Fenway on a project of their own. There was no established Red Sox Way, so they set out to define it: They began writing a player-development manual. "Everything from bunt plays to how we want our hitters to be selectively aggressive at the plate," Epstein says, "to what requirements we have to be a starting pitcher to how you throw your bullpens—every fundamental and every philosophical idea." They also wrote a companion manual, on scouting, because "what the scouts look for has to match up with your development philosophy."
Those manuals became the foundation for the Red Sox Way. No book or movie is in the works.