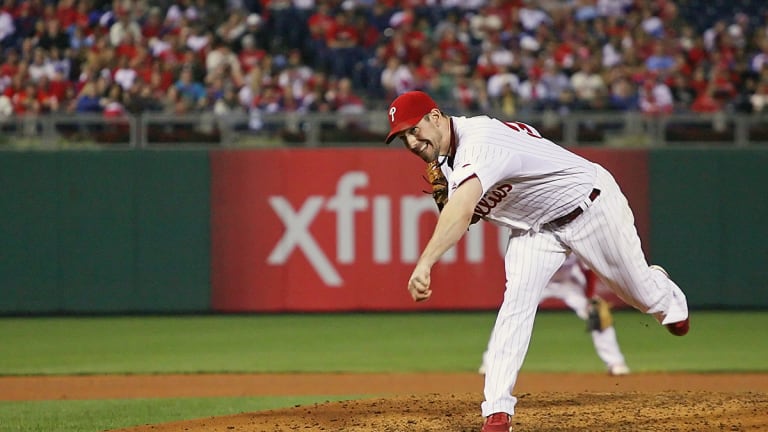 "We're in Baseball Heaven"
For Phillies Nation, every game has felt like October since Cliff Lee's return. Now an ever-growing fan base wonders: Is it still O.K. to boo?
You've seen this story in a movie, maybe, or read it in a book. It's the one where the guy's in heaven the whole time, but you can't be sure because it seems like just another day.
Come and get me, boy! You ain't got nothin'!
That's not the guy. That's his 10-year-old son, Jaxon, trying to trash-talk him into playing another video game, which the guy would love to do because he loves video games and trash talk and every moment with a boy given a 30% chance of surviving leukemia in his first year of life. But nope, the guy's out the door of their condo in jeans and a T-shirt, catching an elevator and jumping into his black BMW. It's nearly 3 p.m. Cliff Lee's going to work.
He merges into the traffic on Rittenhouse Square. Squint and you're in Paris: fountain and sculptures and iron railings and pigeons and lap dogs and sidewalk tables with rattan bistro chairs and waiters in white carrying cafés au lait. And people, every kind of 'em: corporate executives and shuffling down-and-outers and baby-strolling moms and dog-walking college girls and sunbathing fat men and... .
Cliff blinks. Is he at work already? Scores of them are dressed like his workmates, down to the very names on the backs of their shirts—why, there's HALLADAY and ROLLINS and HOWARD and UTLEY and look, even two of him, two lees. There's a young woman from Russia entering Barnes & Noble with his company's logo tattooed on her neck ... and a white-haired lawyer hurrying his briefcase and deposition back to an office whose desk, shelves and walls have vanished under Phillies keepsakes ... and that old man in a Phillies hat with a Phillies key-chain necklace who comes here every afternoon to feed the birds on his way to whisper his prayers at St. Patrick's ... and that beefy guy in a Phillies cap who sets up his chessboard behind the Lion Crushing a Serpent sculpture every day and challenges passersby to play for cash, which Cliff would love to do because he loves playing anything for cash and playing chess till his opponents whimper—but he can't. Cliff Lee's going to work.
Boooooooooo!
What? Did someone just recognize him? Is this the city that Cliff heard about when he first moved here, the town full of bitter burghers who'd bellow that word at him and his workmates at the first trace of failure, the city chosen in a 1994 Gallup poll as America's most hostile place?
No, that was just someone calling out to the hurrying lawyer who knew David Rodden's nickname—Boo—from when he was a kid growing up in a big Irish family in a South Philly row house, always sneaking away from his job mopping floors at a concession stand at Veterans Stadium to catch another glimpse of a team that he and his kin had loved and booed all their lives. "Losing didn't get to you," Boo'll tell you. "It was part of you." Now he and a brother have four Diamond Club seats nine rows behind home plate to 40 games a season, worth nearly 20 grand, and his team's the winningest one in the National League for the second year in a row, and he can't believe it: It's nearly October, and he has bellowed his nickname at his team no more than, gosh, a couple of dozen times all season.
"Booing's over," remarks the old man feeding birds in the square. "It's all love. We're in baseball heaven."
Four blocks away, about to turn onto Broad Street, Cliff suffers a red light. When he was a kid, squirming on the hard pews at Sharon Baptist Church in Benton, Ark., or chopping firewood in his grandfather's yard and gazing up at the big sign that Grandpa Buck posted for the I-30 traffic hissing by—WARNING: PREPARE TO MEET GOD—he'd wondered what heaven would look like.
Surgeons slicing open abdomens in the hospital 22 blocks behind him, wearing Phillies scrub caps. Chihuahuas pattering the sidewalks, wearing Phillies sweater vests. Old homeless men, conversing furiously with themselves, wearing Phillies T-shirts. A sex-shop window mannequin with two black leather bondage belts across its chest—in the so-called Gayborhood, just a couple of blocks away from Cliff's red light—no longer wearing the Phillies jersey it used to because the proprietor grew sick and tired, even after posting a sign in the window saying WE DO NOT CARRY PHILLIES MERCHANDISE, of shoppers wandering through the sex toys and porn in search of Phillies merchandise. Look around, Cliff. This is what heaven looks like.
He looks left to the largest city hall in North America, at Broad and Market, crested by the 37-foot statue of William Penn. The founder of a city that he called a Holy Experiment and that he named, in Greek—no, don't do it!—the City of Brotherly Love. But a man toiling on the second floor there says he can feel it, the populace has been altered, has become more what Will had in mind ... because of, of all things, a baseball team, the losingest one in major league history. "The people have become happier, more supportive," says the mayor, Michael Nutter. "There's a sense of joy here, a feeling we can do big things. Everyone's together. Everyone knows who's pitching each night even more than who we're playing against. It's a Cliff Lee Night or a Cole Hamels Night or a Doc Halladay Night or a Roy Oswalt Night. The Phillies have taken this town by storm. It's the perfect storm."
The perfect mesh of blue-collar city and blue-collar team: a fan base that falls asleep feeling as if it has plenty in common with guys making $10 million, $15 million, $20 million a year. A roster full of players who write checks for the town's parks and schools and abandoned pets and never run afoul of the law. A pent-up city that finally climaxed, allowing it to finally, just maybe, actually enjoy the 162-game foreplay this year.
A place where, as it once was with the Beatles, everyone has his own guy, one of the aces on this history-making starting staff whose demeanor and habits stand best for who the fan is and what he or she thinks sports should be all about. Boo, the lawyer on the square, he's a Doc Guy: "Because he does his job and says nothing." Dick Clark, the old guy feeding birds, he's a Cliff Guy: "He has more determination than anybody out there. He's having more fun than anybody out there."
Cliff looks right, toward the three stadiums hunkered at the south end of Broad Street, the nexus of angst during those 25 years, those 100 seasons, when four big league teams went without a championship in a city that lived and died its sports more than any other because ball games were the only way it could possibly keep up with its two big brothers, New York City and Washington. "They should've done something to prepare me," says Charles Barkley of the day in 1984 that he joined the 76ers. "Like put me in prison for six months."
The black BMW turns right, away from the city's forefather, and heads down Broad, once dubbed the longest, straightest street in the world. No wonder. All those years, stretched taut between Penn's lovey-dovey vision of the world and the Sports Complex's angry disillusionment with it. Cliff Lee's going to work.
Imagine driving to work every day down the street where two million people will gather to drink and dance and climb trees and light poles to shower you with love if you succeed. Imagine reporting every day to a workplace where 45,000 people leap to their feet and roar for you for doing the smallest thing—writing a half-decent memo or bringing in a half-dozen doughnuts. That's what happens in baseball heaven every time Cliff Lee runs hard to first on a ground out or hits a pretty long fly ball to left.
He hits a wall of traffic. At 18 months he was hunting ducks with his firefighter father. At 10 he was yanking largemouth bass out of the Saline River, and at 15 getting fetched by his American Legion coach from the fishing hole in the quarry when it was time to practice. He'd never wanted any part of the subway and siren scream of a big city, heading straight for Cleveland's burbs when he broke in with the Indians in 2002; renting Jamie Moyer's house outside of Seattle as a Mariner; commuting from a hotel in suburban Las Colinas, Texas, during his three months with the Rangers. But something about Philly, gritty Philly... .
It was the littlest big city in the world, whittled into scores of neighborhoods that exuded none of the arrogance of its big-city brethren; seeping, on the contrary, from an old infested identity wound suffered when it tumbled off its pedestal as the capital and wealthiest city in the newborn nation, a wound that gangrened as factories and textile mills and sugar refineries began closing and crumbling during the decades after World War I in the burg once known as the Workshop of the World. Two thirds of Philly's industrial jobs vanishing like ... like a 6½-game lead with 12 left in the 1964 pennant race, or a two-run lead on Black Friday in the '77 playoffs with two outs and nobody on in the ninth, or a Mitch Williams 2--2 fastball hissing skyward off Joe Carter's bat in the ninth to send the '93 World Series up in soot.
Cliff never tasted that soot, never wallowed in the 10,000 losses that the losingest franchise in the history of pro sports had seared on Philly's forehead, never blackened in the baseball hell that third baseman Scott Rolen and pitcher Curt Schilling, the team's two lonely turn-of-the-millenium stars, fled a decade ago. He'd only known the homey shop owners and the out-of-this-Old-World Italian food and the every-night sellouts and the thunder at each display of leather and lumber during his three-month joyride here in 2009, and he and his wife, Kristen—undaunted that it ended in a World Series loss to the Yankees, sickened when they suddenly lost all of that in a shocking off-season trade to Seattle—wanted back in. Wanted more Philly, those two Arkansas kids who'd howled at the moon over bonfires in the woods off Highway 9, and wanted smack dab in its high-rise heart.
That was the pivot point, that night last December when Cliff astonished 1.5 million inferiority complexes by spurning bigger money from the big-shot sib 100 miles north ... and chose them. That next dawn—even more than the 2008 World Series spanking of an unpedigreed Tampa Bay team—was when the sky opened and the seeping wound began drying up: Day One in Baseball Heaven. That morning when Philly, for the first time in a century and a quarter of professional sports, finally knew that the owners of one of its teams needed it as desperately as Philly itself did. The day when Cliff pinpointed them, those oft-bashed banshees, as a major reason for his Second Coming, and the All-In cry rang like church bells through the city: Empty your wallets, max your credit card—red-and-white duds for the wife, kids and pooch, 18-game Sunday packages, Amtrak train tickets, road trips wherever the boys are playing some ball.
And, oh, did it ever pan out. Halladay, 19--6 through the season's final weekend, and Lee, 16--8, right in the thick of the Cy Young race until the final two weeks, when the Phillies—having secured the NL East—downshifted, began resting tired and nicked-up players and went on an eight-game losing streak. Their starting staff's 2.87 ERA was the best rotation ERA in the majors in the last 26 years. Their pitchers overall recorded the most strikeouts in team history and the best team ERA since 1917. Lee's six shutouts were three times the total of the next-closest pitcher in the league, and he was one out away from two more. Even during the two months when he struggled, no big-money free agent in history has played under less pressure, or been bubble-wrapped in more love, than Cliff Lee, 2011. But could a man who'd never known hell here grasp that this was heaven?
He glances left, to the senior citizens center at Broad and Lombard. The old-timers on the brick porch are describing kingdom come.
Earl Woods, 76: "I just sit here watchin' red go by. Top-to-bottom red."
Missouri Grier, gold bangles dripping from her ears, 91: "Unbelievable. All of 'em are my favorites. Ain't fair to pick one. To pick one creates animosity."
Marty Krasner, 77: "We want more excitement in the next parade that comes by here. I want Mummers in costumes. String bands. High school bands. Dancing girls. Throw in a couple of cheerleaders. And liquor."
Missouri: "As long as you drink the liquor and the liquor doesn't drink you."
Marty: "I just hope they win. Oh, I don't want to see them lose."
Missouri: "Then close your eyes."
Whoa. Cliff guns it. Leaves behind the potted plants and Rembrandt banners and artsy halls and playhouses on that highfalutin patch of Broad. Then South Street, Bainbridge, Fitzwater, Catharine, Christian, Carpenter ... gone in one black whoosh. It's impossible: Nobody in this much haste can know he's already there, in heaven. Not the college kid fishtailing down I-20 at 85 mph through an Alabama snowstorm in his mom's minivan as his panicking buddies shrieked, "Cliff, slow down!" Not the dad moving everyone else's tokens to speed up Candy Land. Not the guy who once copped a ride on an F-16 to prove to himself that he could handle Mach 2 without passing out or throwing up, or the first Phillie to race on and off the field every half-inning. Nice try, Pythagoras. The shortest distance between two points is Cliff Lee.
Thank goodness. A red light at Washington Avenue. Look right, Cliff: a vast vacant lot, a calamity of cracked concrete and weeds. No, don't look right—look left: Oh, God, exact same thing! Yep. This is what heaven looks like.
Keep looking east on Washington, to where all those Laotian supermarkets and Vietnamese cellphone joints and Cambodian hair salons and Buddhist apothecaries suddenly burst out. It's a neighborhood swarming with Asian immigrants over 50 who'll bet like crazy on the Fightin' Phils, says Vietnamese printer Hoang Tho, even though they haven't the faintest clue who Cliff Lee is ... and their kids, who can rattle off Cliff Lee's brain-blowing June and August stats—10--0 aggregate with an ERA of less than half a run. There's Vinh Su, a 24-year-old wearing a soul patch, a diamond earring and one of his six Phillies hats, a Chinese-American kid delivering pizza made by Mexicans in a joint owned by an Italian, who'll spend all evening bolting out of his blue Toyota with the Phils game blaring from the radio, running pepperoni-and-cheeses up row-house steps and staring over the shoulders of poor saps digging in their pockets for a 20 so he can see how Cole's pitching Chipper Jones on the living-room TV, then bolting back to his car to catch Cole corkscrewing Brian McCann. Vinh's a Cole Guy. "Cole's underrated, and he's from our system," he says.
Hold on. This can't be the South Philly that Cliff has seen Rocky Balboa jog through in movies. Mexicans too? Fanning out to work evening shifts in restaurants across the city, their numbers nearly tripling in the last decade. Philly actually growing for the first time in 60 years, according to the 2010 census, much of it due to this influx of Mexicans and Asians. Becoming an immigrant gateway again for the first time since the Irish and Italian waves of a century or more ago, a black-and-white quilt finally going Technicolor, held together by tight red thread.
Check out the lid on Luis Gustavo, one of those mexicano cooks, a Cliff Guy. He took scissors to the crown of his Phillies hat and slashed a big hole so he could stay in the kitchen, stand the heat and keep wearing his new town's colors. Because, says Luis, the Phils are all everyone in his new town talks about. "We are going to win everything this year," he says in Spanish. "We are very proud of this team. Everyone on the streets is so happy. I have bought the hats for my son and daughter also."
It's the damnedest thing. He's from just outside San Mateo Ozolco, this tiny town at the foot of an active volcano, over half of whose population of 4,500 has ended up as busboys, line chefs and dishwashers in Philly restaurants, turning the Italian Market on 9th Street—which claims to be the oldest outdoor one in the U.S.—into a riot of Mexican record shops and produce stands and taquerias and florists and throbbing fiesta music. Half the campesinos from that one dusty cinder-block pueblo with no restaurants and no baseball, now 2,400 miles away craning their necks as they napkin-wrap silverware, checking their restaurants' wall-mounted TVs to see if Los Phillies can pad their lead in the eighth.
C'mon. One block, another bloody red light? Take a long, slow breath, Cliff, and actually notice that breath. The way you learned to do on the mound just before the 2008 season, changing everything. The only way anyone will ever realize he's in heaven.
There he was, reeling from the worst season of his life—6.29 ERA, banishment to the minors—when he finally listened to the spiel that sports psychologist Charles Maher had been giving to the Indians every spring. The one about finding your breath, returning to this moment, every moment, so the moments don't dogpile and bury you. All his life, without knowing it, he'd been afflicted by attention deficit disorder, eyes and mind racing to the next thing, leg always jiggling, unable to get through more than a few pages without forgetting what he'd just read—"Never read a book in my life," he says—but at last he'd been humbled enough to change, at least on the mound. He finally relented to taking Adderall and began reminding himself over and over to come back to his breath. Presto: 22--3 in 2008, a 2.54 ERA, American League Cy Young Award.
But can he do it right here, at the corner of Broad and Ellsworth? Look over your right shoulder, Cliff. That's Point Breeze, a mostly African-American neighborhood, the last place you'd have found a Phillies fan a decade ago, or even a quarter century back. The older ones were raised on Jackie Robinson and the Brooklyn Dodgers, the middle-aged ones on Doc Gooden, Darryl Strawberry and the '80s Mets. The Phillies? The team that taunted Jackie unmercifully in '47, the last National League team to integrate, with a 30-year-old sure-to-fizzle nobody named John Kennedy in '57, and no quality black player until Dick Allen in '64? Don't need that noise.
So what's occurring five blocks down Ellsworth, at 19th Street? Why is Diane Brown, a 58-year-old African-American woman with multiple sclerosis, jumping off her front step in a Phillies' NL championship T-shirt, peering in for her sign, rearing back and whipping her right arm to an imaginary Carlos Ruiz behind the plate? Sorry, Cliff. She's a Doc Girl. "I just love Doc's pose!" she howls. "Yes, yes, yes, I go wild! Tear 'em up!"
She drops back onto her front step overlooking Chew Playground, breathing hard. Here comes a 14-year-old black kid on a bike, Javaun Parris. He's wearing the red Phillies shirt of a white guy, outfielder Hunter Pence—who has been on the team for all of a week—because he got tired of seeing Jimmy Rollins and Ryan Howard T-shirts in his hood. Javaun's a Cliff Guy. Here comes Turtle Thomason, a 29-year-old black man in a wheelchair and a Phillies hat. Turtle's a Doc Guy.
What happened in Point Breeze was Howard's 2006 MVP season, Rollins's '07 MVP season and the Phillies' '08 World Series championship. That's the night Diane flung four Heinekens into an insulated cooler bag and raced to join the joy mob on Broad, where she danced and jumped and screamed, "We won it! Gimme that diamond ring! We won it!" And now TVs attached to extension cords appear on fold-out tables outside row homes at dusk in Point Breeze, along with bushels of crabs and coolers of beer and a dozen chairs full of folks watching the Phillies. And Diane, every other night, goes straight to her 60-inch plasma TV and starts screaming so loud, her husband has to take refuge in another room. But not every night, thank God, Thomas says, because every second night he injects her with Betaseron to relieve her MS symptoms, and she pops two Benadryl and falls into a deep slumber, making sure just before fading away that he's DVRing her Phillies so she can start whooping and howling first thing in the morning.
Look around, lefty. Corner of Broad and Passyunk. The second-damnedest thing's happening here. Look east on Paah-shunk, as the locals pronounce it, one of the city's rare diagonal streets and once one of its busiest commercial centers until the owners of the bustling shops began cashing in and bolting for the burbs back in the 1970s. But suddenly Passyunk's humming again with designer coffee shops, gastropubs, cantinas, outdoor tables ... and look, all those tattoo-covered Cliff Guys in their 20s and 30s. Hipsters. The other demographic fueling Philly's and the Phillies' resurgence.
Hold on. Those guys, the skateboarders, artists, musicians and borderline nerds in high school a dozen years ago? Those thin-shouldered dudes, raised suburban and Protestant, wearing scruffy beards, mustaches, tattoos, thick-framed eyeglasses, black sneakers, tight T-shirts and a grin over the three-buck happy-hour craft brew perched next to their open laptops? Those guys, who spurned their parents' two-car-garage dream in search of cheap apartments where they didn't need even one car, didn't need to sell their souls for corporate jobs with six-figure salaries, didn't need a big house to express their individuality because the ink on their flesh and silk-screened T-shirts did that ... but who did need glue, something to connect them to their gritty new digs?
Yep. Those guys. You just never know who you're going to meet in heaven. The Phils felt right to them: A team led by baseball nerds named Doc and Chase and a pitcher wafting their same scruffy and casual air—you, Cliff. A team managed by this folksy old syntax-challenged uncle whose creviced face they love wearing on their T-shirts. A team performing in a beautiful, eight-year-old ballpark that serves up the microbrews they cherish, all at an entry fee—$17 for a standing-room-only ticket—they can handle, and all without the tribal, testosterone-fueled Eagles crowd that makes their eyes roll.
Mark Precheur, a 35-year-old video editor, bellies up to the bar at P.O.P.E.—Pub On Passyunk East—a corner joint that's packed on weekend nights with a young, tatted-out crowd cheering the Phils on TV and peppered here and there with a skinny guy trying his best, shouting, "Yeahhhh! Sports!" Mark's a Doc Guy. "Doc's the guy I'd want operating on my brain ... even with bombs going off," he says. "But this whole team... . Every decision by the front office is the right one. You used to want to be a Yankee. Now you want to be a Phillie. They're our soap opera here. Everyone talking about who's hot, who's slumping, why he's slumping. And you'd better know your stuff because you can't bulls--- your way here too long. Phillies! is like our password on the street, our greeting to each other."
You think that's odd, Cliff, modern-day hippies whose cause is beer and your ball team? Wait till you visit the other hipsters' haven in town, just a few miles to the north, a neighborhood named Northern Liberties. Picture a cobblestoned plaza in an old European town where everyone gathers at night, only in this one, three sides of the stone plaza are six-floor modern glass-walled apartment buildings and the fourth side—the fading brick wall of the old Schmidt's Brewery—features a 400-square-foot TV screen flickering with the Phillies game each night. The Piazza, it's called, inspired by Rome's Piazza Navona, and it's filled with hipsters draped on towels, lounge chairs or outdoor restaurant seats, quaffing beers, tossing Frisbees and watching the Phils.
Weaving through them, selling one of the alternative Philly Phaithful t-shirts he's created to celebrate Ruiz—proclaiming simply, enjoy chooch—is 27-year-old Dan Hershberg, a Doc Guy. He and his girlfriend, he says, have come up with a hand signal to demonstrate their disbelief each time their team does something stunning: They turn to each other and pinch the flesh on their upper arms as if to say, Are we awake or dreaming?
Sipping a Belgian beer on the Piazza is Bryan Dilworth, a red-bearded 42-year-old music promoter who awoke from a 20-day diabetic coma three years ago with a rewired brain, one mesmerized by the nuances of baseball and in much deeper love with the Phillies. "And it all just keeps getting better and better," he gushes. "When the Roy Oswalt thing goes bad, the Vance Worley thing appears in its place. Everyone here loooooves Worley. He's fearless, and we won—what?—14 straight games the kid started? That's crazy. The dread we used to walk around with, it's gone for 75 percent of this city. And now Hunter Pence. He's perfect for this team and for this town. He just wants everything so badly. He's like watching a baby giraffe run. This has to be heaven. An angel just appeared here—Hunter Pence."
They're all in Cliff's dust now. The hipsters' hangouts, the black hood, the Mexican barrio, the Asian enclave, the ritzy section. Now he's deep in South Philly, running a gantlet of hoagie shops and Italian funeral homes and weaving between potholes and cars parked smack in the center of Broad—even in the turn lanes—that are covered with Phillies stickers but not parking tickets, and corner taprooms where in a few hours the old crustaceans will be settling in with a stack of ones and a pack of smokes next to their glass of uncraft beer, peering through the Marlboro haze at the Phils game on the screen ... and still bracing for the sky to cave in, especially after the Phillies' postclinching swoon. Mostly Doc Guys because he's no frills and all lunch pail, just like them, their eyes narrowing when their children say that they're Cole Guys because Cole delivered that World Series in '08 ... because they can't accept the Gift of '08. It's just too dangerous.
Cliff approaches Packer Avenue. One block to his right, the boys—Ace and Head and Joey and Boo and South Philly Pat and Tastykake Dom and Violations Greg—are tight around a table at Chickie's & Pete's, dangerously close to the WIP microphone of Anthony (Ant) Gargano, the buddy whom many of them grew up with in South Philly, all hollering to be heard over one another and the barroom din and the live airing of the sports talk show that Ant cohosts with Glen Macnow. Holding their weekly referendum: Is this really heaven now, or can heaven only come at the end? Can you boo in heaven, and if so, under precisely what circumstances? Like when Hamels got mauled in his first start this year, and confusion reigned as some booed and screamed, "Three aces and a queen!" and others, outraged, turned on them.
Ant's the purist, the jurist, the arbiter of the city's confusing sports code: "That's a violation!" he'll cry on the air. Sure, he gets the Philly Boo, knows that it was the only way for a man who was paying to be serially violated to salvage one slim scrap of his integrity, to demonstrate that he was at least aware of what was being done to him. But c'mon, boys, you're the Haves now.
Jimmy (Head) Hetherington, a Cliff Guy, snorts. He was a nine-year-old murmuring the Rosary every day during the '64 Collapse, learning, he says, that Jim Morrison's right: You canNOT petition the Lord with pray-ah! Who but Head in 2006 thought to tally up all the Phillies' won-lost records, to discover that they were closing fast on 10,000 losses and get the word out to the media in time for it to become a civic landmark? And, nope, sorry, the 2011 Phillies have not sucked the poison from his wounds. "I'm not fulfilled," he says. "It's not heaven till we beat the Yankees or the Red Sox and get a second championship. We went 100 sports seasons without one and now we're up to 12, and my happiness is vanishing like sand through an hourglass."
Which appalls Tastykake Dom Rosa, an Oswalt Guy. "It's a violation to boo anyone on this team," he protests. "I've never in my life felt this way about a team. Look at Oswalt, bad back, pitching on pure balls. Six years ago, this was a green town even in June—all you'd see was Eagles hats and jerseys. Now, look, it's September and I saw 80 million Cliff Lees today. Ninety-five percent of us realize we're in baseball heaven. There's just certain guys... ."
"No booing?" yelps Boo Rodden. "That's like saying put your brain on hold. You boo 'em like you boo your relative—you still love 'em, but c'mon, it's embarrassing: The Yankees have 27 World Series and we've got two in 100-some years? And the last one was against Tampa—that's not even a big-boy championship! We've got to win one more World Series, we've got to beat New York or Boston—or it isn't heaven. It's just purgatory."
"You gotta be kiddin' me!" cries Ace Borgesi, an Absolutely-Torn-Between-Being-a-Cliff-or-Doc Guy. "These players work their balls off—you'd think Hunter Pence was born and raised in South Philly! This is 100 percent heaven, cuz! This is the best team any of us have ever seen! What kind of bubonics you smokin', Head?"
The boys scatter. Boo back to lawyering, Ace back to inspecting the cables 495 feet up on the Walt Whitman Bridge, Dom back to his Tastykake truck and Head—sand leaking through his hourglass—off to knock on doors and serve mortgage foreclosure papers. Wearing his Phillies gear so the deadbeats won't slug him.
Almost there. Cliff zips beneath the overpass that leads to the Walt Whitman, the bridge no one needs to jump off anymore, and turns left onto Packer. Finally the forest of row houses sighs and surrenders to a vast clearing: the parking lot where the Vet used to be. Ahh, the memories... .
"It was San Quentin," says Head.
"It was a circular concrete slab of crap," says Boo.
"It was a green dying turd," says Dan Tarng, a first-generation Taiwanese-American fan who needs to meet Head and Boo.
"You'd sit there feeling like you needed to call the suicide hotline," says Jacklin Rhoads.
Jacklin? Is that ... a woman? Take a long look around as Citizens Bank Park's homey red bricks and towering light stanchions arise from the asphalt. Even now, four hours before game time, everywhere you look, something never seen before at ball games in Philly: females in droves. Queuing up for standing-room-only tickets, playing Beanbag Toss and Beer Pong amid a daily tailgating festival that used to materialize only on NFL Sundays. Teenage girls who don't hang at the mall anymore: They hang at CBP. Women in their 20s, 30s and 40s who don't have Girls Night Out or Happy Hour at bars or restaurants: They throw down light beer in the CBP parking lot, hard lemonades in the concourses, low-fat wraps and water ices on Ashburn Alley. They eyeball Cliff and Chase and Cole. The Phillies blew up San Quentin. They built Friday night on the boardwalk at the Jersey Shore.
And the boardwalk has wheels. The Red Army, beyond its 200-plus straight home sellouts, has helped set attendance records in Pittsburgh and Washington, and poor Cliff, when he leaves the dugout in stadiums as far away as Cincinnati and Miami to take a leak and hears a sudden roar, can't be sure if something good or evil just happened to his team.
He parks his car. He enters the place where men and women will adore his eight-foot bunts and thrust up signs proclaiming PHAMLEE REUNION! and CLIFFMAS IN PHILLY because he's the one who opened up the pearly gates and let a whole city in ... except for those certain guys. Does Cliff get it, though? Does he know this is heaven?
Wrong guy to ask about metaphysics. "It's been great," he says. But not heaven? "It's been nothing but positive. They're superfans, really. I've seen what they can do to players who left here—they can be pretty cutthroat fans. But they pack the place every night and they bring it every night, so you have to respect that." Off he goes. In a hurry.
The stadium begins to fill. Bartenders all over the city begin clicking on the pregame show. October's in the air, but how can that be different in a place where every night for six months has felt like October?
"October?" says Mark Precheur, gazing at the TV above the bar at P.O.P.E. "That's when the whole city will start inhaling and exhaling together."
Perfect. Breathe in right now. Breathe out right now. Like Cliff on the hill, shed yesterday and tomorrow, and even the biggest test of heaven, the last two weeks of sloppy anticlimax. Three hundred years after William Penn, the Holy Experiment finally begins.