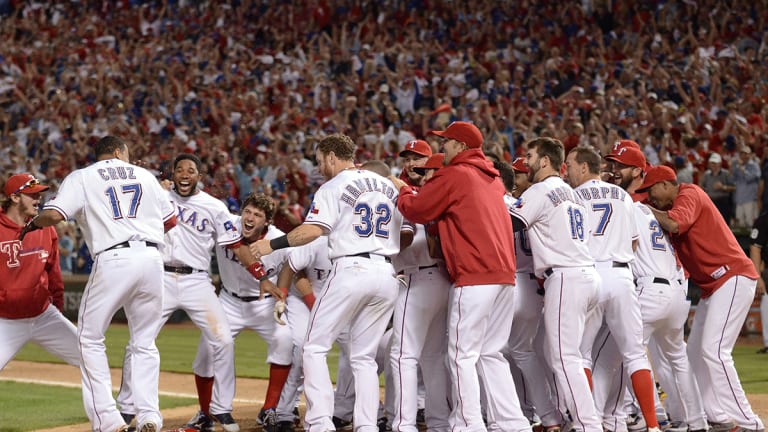 Boom or Bust
Money pitchers and fat payrolls are the keys to a title, right? Not in 2011, when the Rangers and the Cardinals turned the script upside down, riding big bats, lockdown bullpens and ... more big bats to the World Series. In a postseason of firsts, another looms for Texas
One night last week, due to a lengthy rain delay, the American League Championship Series preempted the Fox talent show The X Factor. Some viewers might not have noticed though, especially the way Rangers manager Ron Washington habitually went all Simon Cowell on his starting pitchers and showed them the door. At times amateurish—the Brewers' defense took up juggling this October—and at other times spectacular but at almost no time boring, this postseason has been an unscripted, beautiful wreck of a show nobody saw coming.
Baseball's equivalent of the Geneva Convention, the established protocol of postseason engagement, has been suspended until further notice. Forget everything you ever learned about fall baseball, which is exactly how the Rangers and the Cardinals wound up in the World Series—with St. Louis, a team that finished in second place, six games behind Milwaukee in the NL Central, holding home field advantage because of a home run surrendered by a Texas pitcher, C.J. Wilson, in the All-Star Game. Small ball? Great starting pitching? Big payrolls? The might of the Northeast Corridor? None of those supposed October truisms matter in 2011, a prime number year that lacks divisors (other than 1 and itself) and logic.
Speaking of prime numbers, Washington and St. Louis manager Tony La Russa combined to make a whopping 53 pitching changes, an average of nearly 4½ per night, in LCS play—and they were the winning managers. Following a regular season in which runs per game (8.56) dropped to its lowest level in 19 years, runs have become 14% easier to come by this postseason (9.78). Washington and La Russa both jerry-rigged a previously blasphemous postseason formula to win pennants: Get the starting pitcher out quickly, before he can do real damage, turn the game over to a parade of relievers and simply outmash the other team. Such strategy works especially well when LCS MVPs Nelson Cruz of the Rangers and David Freese of the Cardinals slug better than 1.000.
In defeating the Tigers in six games in the ALCS, the Rangers joined the 1997 Indians as the only teams to win a best-of-seven series without getting a win from a starter. The Cardinals had no starter throw a pitch after the fifth inning in their six-game NLCS win over the Brewers. "It could be more of the same [in the World Series] with these two teams," Rangers general manager Jon Daniels says. "You still have to think somebody is going to come out one day and go eight innings, give up one run. But I guess you could call me naive for still thinking that. The off days in the postseason allow this [bullpen-heavy] strategy to play out a little more."
Says La Russa, "It's a freaky, weird postseason. It's very possible in the World Series to see starters take charge and get everything back to normal. But it's defined the postseason so far."
For La Russa, the founding father of the modern specialized bullpen, running an eight-man relief unit with a day off every two or three is like Dennis Kozlowski throwing a birthday party or Charlie Sheen on the company dime in Vegas: There is no such thing as excess. On Sunday, La Russa hooked his starter, Edwin Jackson, in the NLCS clincher, a 12--6 win, after two innings, with a 9--4 lead.
Entering this year, teams lost 73% of the time when a starter failed to last more than five innings in the postseason (213--564). But the Rangers (6--1) and the Cardinals (5--2) have flipped those odds and are winning 84% of those quick-exit games. What may be freakier yet about this postseason is how much money was spent not to make the World Series. The top nine spenders in baseball failed to win a single playoff series (Yankees, Phillies, Red Sox, Angels, White Sox, Cubs, Mets, Giants and Twins). The Cardinals came in at No. 11 ($105 million) and the Rangers at 13 ($92 million), according to Opening Day payrolls.
Texas pulled off a rare feat by winning back-to-back pennants. The Yankees are the only other AL franchise to do so in the 17 years with the wild-card format. Going back further, the Rangers are just the eighth franchise in either league in the free-agent era (since 1976) to appear in two straight World Series. But their achievement has a singular honor attached to it: They are the only team in the wild-card era to go to back-to-back World Series without having a payroll among the seven biggest in baseball. (They ranked 27th last year.)
"I do think that has meaning," Daniels says. "How many times have you heard an executive or writer say you may not need a high payroll to win once, but you do to sustain it? I do agree payroll extends the run at the top of the cycle. But I think our guys take pride in how we've done it. And we're cycling up right now."
In January, after free-agent outfielder Lance Berkman signed with St. Louis rather than with Texas, he dismissed the defending AL champions as the equivalent of a one-hit wonder. "I felt like if they didn't re-sign Cliff Lee, that they were going to be an average team, and I feel that's probably what's going to end up happening," he told a Houston radio station. "I feel like last year was one of those special years where you kind of catch lightning in a bottle, and they got hot and they had some guys that I felt like were pitching better than their talent level, and consequently they had a great year."
Within days Berkman called Daniels to apologize. (Daniels didn't hold a grudge: He tried to get Berkman again in July, in a trade when it looked as if the Cardinals were out of the race. Daniels wound up dealing for relievers Mike Gonzalez, Mike Adams and Koji Uehara instead.) Berkman, reminded of those comments after the Cardinals clinched a Series berth against Texas, said, "Clearly, my comments were proven incorrect. I have no problem standing up and saying I was wrong. I guess I'm a poor evaluator of talent."
The Rangers, with little historical relevance and an unorthodox team architecture (seven of the nine players in their batting order in the ALCS clincher were acquired in trades; none of their first- or second-round picks are on their roster), are fighting for respect. The franchise has never won the World Series in its 51 seasons, dating to its start in Washington. Only the famously dry Cubs and Indians have been waiting longer.
Until last year Texas had never won so much as a postseason series, and it was best known as a baseball backwater. But these Rangers, in front of a franchise-record 2.9 million fans and with a game-changing $80 million per year TV contract starting in 2015, may be replacing the Phillies as the next new elite franchise. They have improved their win total in four straight seasons and have become a major player on the international market, spending the equivalent of an entire draft budget on three Latin American free-agent outfielders alone this year ($13.5 million). Texas increased its payroll this year by $27.3 million, and with increased revenues this season from another World Series run, Daniels says, "our payroll will go up again next year, but it's yet to be determined how much." The Rangers have interest in Nippon-Ham Fighters pitcher Yu Darvish, a 25-year-old flamethrower who is expected to be available through the Japanese posting system. They also will explore an extension for outfielder Josh Hamilton and may seek relief options through free agency if they choose to move current closer Neftali Feliz to the rotation.
What Texas has done best of all is trade for players when their stock is low—including Hamilton, who was a year removed from a drug suspension when Daniels acquired him from the Reds in December 2007, and three key players in the ALCS win: a pitcher who was never on a mound until six years ago, a catcher who was traded twice in five days last January and a slugger no club wanted three years ago for the pocket change of a $20,000 waiver claim.
Regularly scheduled programming aside, reliever Alexi Ogando was the real x factor of the ALCS. He pitched in all four Texas wins, twice getting the victory, while giving Washington 7 2/3 innings of sanity (one run allowed, 10 strikeouts) behind the silliness of the starters. Ogando was a starter during the season, so he is Washington's multiple-inning weapon. But in 2005 Ogando, then 22, was an outfielder in the Oakland system when Daniels's top advisers, player development director Scott Servais, player personnel director A.J. Preller and scout Mel Didier, recommended taking him in the Rule 5 draft and converting him to a pitcher. "When he saw his frame, Mel said he reminded him of [former Dodgers pitcher] Pedro Astacio," Daniels says. "When he saw him throw, he reminded him of Pedro Astacio. And when he saw him hit, oh, boy, he reminded him of Pedro Astacio.
"That winter Scott and A.J. were down in the Dominican talking to him about trying to pitch. The first pitch he threw was 94. The second was 97 and hit the kid batting in the head. But by the second or third time he was on the mound, he was just pounding the strike zone."
Like Ogando, catcher Mike Napoli experienced a career upturn upon being acquired by Texas. Toronto got Napoli last winter from the Angels, where he had a .346 on-base percentage and homered every 16.8 at bats in 506 career games but never won the trust of manager Mike Scioscia. Daniels, on the lookout for a potent righthanded bat, immediately called Blue Jays G.M. Alex Anthopoulos. Toronto had yet to formally announce their deal because Napoli was on a cruise and hadn't taken a physical. The delay worked to the Rangers' advantage, buying them time before the Jays introduced Napoli to the local media. Four days after the Los Angeles--Toronto trade, Texas dealt reliever Frank Francisco to get Napoli, 29, who, with a new start and a new approach, hit .320 this season with 30 home runs, including a .291 average with two strikes. "I never had a two-strike approach before," Napoli says. "Now there are times in batting practice when I'll go through a whole round of two-strike approach: just trying to stay short to the ball with my swing."
The Angels saw Napoli as a liability behind the plate, but unburdened of the demands of Scioscia (a former catcher), Napoli improved so much defensively in Texas that he took regular catching duties away from Yorvit Torrealba. His performance in Game 4 of the ALCS would serve well as an instructional video: He blocked the plate to tag out cement-mixer-thick Miguel Cabrera to preserve an eighth-inning tie, threw out speedy Austin Jackson on a stolen base attempt in the 10th and knocked in the go-ahead run in the 11th with a single. "He's much better as a two-way player than what his reputation was with the Angels," says Servais, himself a former big league catcher. "I asked him something in spring training about technique and the way he did things with Scosicia, and he said, 'If you don't mind, I'd rather not get into it about Sciosch.' I never brought it up again."
Says Napoli of Scioscia, "He might be proud of me now. And he might also be kicking himself."
Cruz may be the best turnaround Rangers story of them all. Texas acquired him from Milwaukee during the 2006 season in a deal that also brought veteran slugger Carlos Lee. Cruz was 26, had already bounced from the Mets to the Athletics before Milwaukee and was regarded as a player with great tools but who struck out too much. "We just had a lot of depth at that time, outfieldwise," says Milwaukee assistant G.M. Gord Ash, "and didn't see him being one of our regular three."
In 2008, on the last day of spring training, the Rangers chose Jason Botts over Cruz for the last outfield roster spot. Cruz, out of options, had to pass through waivers to report to Oklahoma, the Rangers' Triple A affiliate. Any team could have claimed him for $20,000. None did.
Servais asked Daniels if he could fly to Albuquerque, where Oklahoma was playing, and meet with Cruz. "I've got to try something drastic," Servais said.
Servais changed Cruz's batting stance to a more open position, similar to changes Andres Galarraga and Luis Gonzalez made well into their careers. "The main purpose was to flatten out his swing path," Servais says. "Nellie was a dead low-ball hitter, but he tended to flail at breaking balls, and his swing had a loop to it. To Nellie's credit, he worked hard and he got results with it right away."
Cruz, like Jose Bautista in Toronto, became a late bloomer. Over the past three years Cruz has slugged .534—only Cabrera, Bautista and Hamilton have slugged better in the AL—and smashed 84 homers, eighth most in the league. A notorious streak hitter who hit .067 in the Division Series, Cruz was torrid in the ALCS. He became the first player in any postseason series to hit six homers, to drive in 13 runs, to hit two extra-inning homers and to hit a walk-off grand slam.
"It's not some master plan or formula," Daniels says about the success he has had acquiring players. "It's good baseball people making recommendations. The only thing we might do different is trying to be more open-minded. Talent comes in all shapes and sizes."
Last Saturday at Rangers Ballpark, having demolished Detroit 15--5 in the ALCS clincher, Cruz and the Rangers were spraying one another in the infield with ginger ale (in deference to nondrinkers Hamilton and Wilson), with the hard stuff saved for later in the clubhouse. So potent is the Rangers' attack—Cruz hits seventh—that in Game 6 they had forged the biggest postseason inning in nine years (nine runs in the third) while batting for as long (38 minutes) as an entire war was staged (the Anglo-Zanzibar War of 1896, in which the British suffered fewer casualties than the Tigers).
Says Detroit ace Justin Verlander, "The only thing they have that isn't exceptional is starting pitching. Everything else is that good. The lineup, the bullpen ... if their starting pitching goes out in the World Series and just throws decent, they're going to be tough to beat—and I don't mean that in a derogatory way. It's a compliment to their lineup and bullpen. They are excellent."
By happenstance, or by the freaky nature of this October, the assessment fit Texas's World Series opponent just the same.