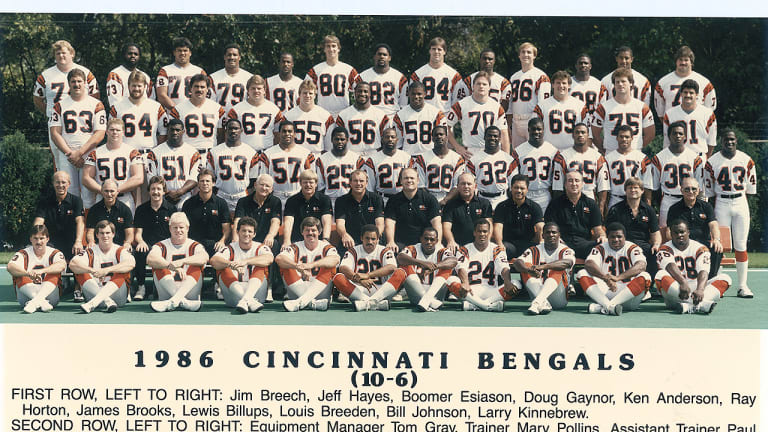 One Team, 25 Years On
In a first-ever comprehensive survey of football's long-term effects on an entire NFL roster, SI polled the former members of the 1986 Bengals, whose physical and psychological conditions a quarter century later range from near complete normalcy to near total disability. But no matter their current hardships, the vast majority say they have no regrets
When Mike Martin wakes up in his house north of Cincinnati, he first takes off the mask that pumps oxygen to ward off sleep apnea. He swings his feet to the floor and stretches them, then stands. Martin feels stiff on his walk to the bathroom. His left Achilles, surgically repaired in 1988, causes him to limp slightly; since the operation his left calf is smaller than his right. His right hip, replaced last January, shortly after he turned 50, takes a while to loosen up and feel right, so he favors his right side too on the short walk. He flexes his neck, always sore when he wakes, and spends 15 or 20 minutes stretching. A wide receiver for the Bengals from 1983 to '89, Martin had problems with his hamstrings during his NFL career, so he pays particular attention to those. When the weather is bad or suddenly turns, the early-onset arthritis in the three fingers he dislocated while playing flares up, so he flexes his hands quite a bit.
The headaches come later in the day. Often that would be while coaching at Taft High in Cincinnati's inner city. The headaches wouldn't go away until he slept that night.
"I'm just stiff all the time," Martin says. "I guess it's the wear and tear of playing on the [artificial] turf all those years. I don't have the mobility I used to. But once I get going, I can move around pretty well."
Martin was lightning-quick as a player—he led the NFL in punt returns in 1984, with a Devin Hester--like average of 15.7 yards—but his young charges at Taft have to do as he says, not as he does, because he can't "do" anymore. Even after he has loosened up, Martin can't demonstrate how to avoid bumps at the line of scrimmage or the nuances of getting in and out of cuts.
But he doesn't complain. In fact, for 10 years Martin spent his days teaching teenage boys how to play the game that has left him sore and battered, with aches that will get only worse. "I knew going into this business there'd be consequences," he says, "and now I'm dealing with 'em."
Exactly what are the long-term effects of professional football on a man's mental and physical health? Headlines over the last few years have conditioned many people to think that for retired NFL players the extreme is the norm. Former Bears safety Dave Duerson killed himself last February at age 50, a tragedy his family believes was the result of repeated brain trauma from years of football collisions. That echoed the suicide of another safety, 44-year-old Andre Waters, in November 2006. Run-stuffing Hall of Fame linebacker Harry Carson, retired for 23 years, still has days of debilitating postconcussion syndrome. Hall of Fame running back Earl Campbell, 56, is so battered from his eight NFL seasons that he sometimes needs a golf cart or a wheelchair to get around. But these are the high-profile cases. What of the typical retired player who should still be young enough to enjoy his post-NFL life? How does he feel decades after his playing days are over? How much of a toll did football take?
To get a clearer picture of the sport's impact on a large group of players and to assess their quality of life today, SPORTS ILLUSTRATED examined an NFL team from a quarter century ago, the 1986 Bengals. That team was good but not great, finishing second in the AFC Central with a 10--6 record, with one future Hall of Famer (tackle Anthony Muñoz), a couple of stars who would become familiar media personalities (quarterback Boomer Esiason, wide receiver Cris Collinsworth) and dozens of the workmanlike players who make up most NFL rosters. SI interviewed 39 of the 46 living players from Cincinnati's opening day squad as listed in the NFL Encyclopedia. The youngest of these former players turns 47 this week; the oldest is 62. Three declined to participate, and four others did not respond to multiple interview requests over a six-month period, including running back Stanley Wilson, who since 1999 has been serving a 22-year sentence for burglary. Two of the 48 on the opening day roster have died: cornerback Lewis Billups, who was killed in an auto accident in 1994, and safety Bobby Kemp, who shot himself in the chest in 1998 (page 82).
What did SI find? First, that the range of what these Bengals experience a quarter century later runs from almost perfectly healthy to borderline disabled. There is no template. Center Bruce Kozerski, 49, is sharp and nimble enough, despite eight football-related surgeries, to teach high school calculus and coach football in Covington, Ky.; his team just won the Kentucky Class 2A state title. Wide receiver Eddie Brown, 48, hasn't been able to turn his head freely from side to side since neck surgery in 1992, a year after he retired. Fellow receiver Steve Kreider, 53, a portfolio manager for an international investment firm based in New York City, says he feels "just like any 50-year-old man in the United States—maybe better." Collinsworth, 52, now an Emmy-winning sportscaster, uses the elliptical machine more than the treadmill when he works out because of one creaky knee but otherwise is well. Linebacker Reggie Williams, 57, has had 24 surgeries on his right knee alone and, like many former teammates, fears he's only at the beginning of a steep physical and mental decline. "I know the clock is ticking," says Williams. "I'm playing the stalling game like everyone."
Most players, like Martin, live with some pain and physical limitations—and worry what the future might hold—yet still treasure their time in the NFL. Of the 39 former Bengals, 37 said they'd suit up all over again, even knowing the game's residual impact. "My wife will ask, 'Why are you limping today?' " says Ken Anderson, 62, who was Esiason's backup in '86, his 16th and final NFL season. "And I'll say, 'I didn't know I was.' I think our pain tolerance may be a little higher than most."
The results of the SI poll of the '86 Bengals, conducted between May and October:
• Residual injury Of the 39 players surveyed, 28 (72%) had at least one surgery during their NFL careers, and 16 (41%) reported postcareer surgery for an NFL-related malady. Twelve players (31%) said they have an impending surgery to address something that happened in the NFL. And 36 players (92%) said they are bothered by an NFL-related ailment from their years in the game.
• Daily pain The average player has three body parts that hurt daily.
• Head trauma Seventeen players (44%) said they have memory loss, ranging from forgetting what they had for dinner the previous night to forgetting a conversation they just had. Thirteen (33%) reported daily headaches and believe they stem from football. Only two players said they didn't think they had suffered a concussion in an NFL game (though compared with today, diagnoses of head injuries were often primitive 25 years ago).
• ​Replacement surgeries Four players (10%) have had a total of eight knee or hip replacements.
Most compelling might be the collective attitude toward pro football among these old Bengals, especially given the recent raft of stories about former pros suffering postconcussion symptoms. Only five players (13%) said they wouldn't want their sons or close relatives to play in the NFL, while another five said they would have mixed feelings about someone close to them playing pro ball (page 78). The drumbeat from player after player was loud and clear: They knew the dangers, chose to participate and understood there would be physical consequences down the road. That doesn't mean some of them aren't bitter about the NFL's postcareer health coverage and other medical issues that plague them. What it does mean is that most wouldn't trade their NFL days for anything.
"I'd do it again in a minute," says Ray Horton, a cornerback on the Bengals and now the Cardinals' defensive coordinator. Horton, 51, retired after the 1992 season, his 10th, with one significant knee injury, a torn left ACL (he chose not to have surgery) and feels no daily football-related pain. "[The NFL] affords a great lifestyle. Are there inherent risks? Yeah, but those coal miners in West Virginia and down in Chile, they have an inherent risk in their jobs. The soldiers who go over to Afghanistan, they have an inherent risk in what they do. Firefighters have an inherent risk. Are you kidding me? To play a sport I love the whole time and to just lose a knee—guys come back from Afghanistan with no legs."
Says guard Bruce Reimers, 51, who had a knee replaced last January, "I wouldn't change a thing."
But hard-hitting safety David Fulcher, 47, might. He hurts from Achilles, shoulder and back injuries he had during his career, and from the multiple concussions he says he suffered in the NFL. Fulcher was a rookie in 1986, and he played eight seasons. "I went out there and rammed my head against another man's helmet or chest, got hurt, and now—things are starting to happen to me now," says Fulcher. "It was worth it while I was playing, but now I feel like, no, it wasn't worth it whatsoever."
Among the 39 Bengals interviewed, three—Williams, linebacker Emanuel King and defensive lineman Jim Skow—say they have the kind of disabling injuries that mean they'll probably never live completely normal lives. During his career Skow had two shoulder surgeries, plus operations on his nose and neck; he's facing more neck surgery down the road. Playing seven years in the NFL, he says, "was like trading body parts for money."
Compared with 1986, today's players are bigger and faster, so it's natural to think the physical and mental fallout 25 years from now will be worse than it is for the '86 players. But those older players had tougher working conditions than players today, particularly given the new rules limiting contact in training camp and padded practices during the season. In 1986, Cincinnati played 13 of 16 games on harsh AstroTurf fields, including home dates at multiuse Riverfront Stadium. In 2011 the Bengals will play five games on grass and 11 on the springier next generation of artificial turf, including the FieldTurf at their home, Paul Brown Stadium. The unforgiving old artificial turf took a toll—on the legs and joints, on the head when helmets hit the surface flush, and on the exposed skin. "In our day," says Martin, "it wasn't the hits that hurt the most. It was hitting the ground."
"The turf was like concrete, maybe a thin pad on concrete," says Muñoz, who played 13 seasons at Riverfront. "You jump in the shower after a big win against Pittsburgh or Cleveland, and you feel like you've been through the wringer. Not only are you sore, you feel like someone has taken sandpaper across your body and taken a few layers of skin off. You had to get over the initial shock of the water hitting your body.
"You try to describe to people what you felt like after a game, and it's hard to explain. You put your feet on the ground, you stood up, and you tried to figure out which part of your body was going to need the most attention. Now at 53 I feel it in the morning, and I'm going to feel it in the middle of the day. I'm going to feel it Monday; I'm going to feel it Wednesday; I'm going to feel it every day. I see a lot of guys who are younger who have total knee or total hip replacements. I'm just thankful I'm still up and walking and able to move around."
Guard Max Montoya, 55, played 223 NFL games. "My body is like a 70-year-old guy's now," he says. "I'm deteriorating. I can really feel it in my knees, and my neck hurts all the time. Some days you feel good, and doggone, some days you feel like you've just been in a wreck."
Linebacker Joe Kelly, a rookie on that 1986 team, went on to play 11 years in the league. "Compared to some of my teammates, I feel blessed," Kelly says. "But compared to another 46-year-old man.... If you put me in an MRI machine, you're going to read that I'm probably 65. My back went out, and my physician said, 'Do you know you have arthritis in your spine?' I was like, No. The joints, the knees, the elbows—everything is not in great shape compared to the normal 46-year-old guy."
Kiki DeAyala, 50, a linebacker and special-teamer, played just two NFL seasons but has had his left knee replaced and feels beat-up daily from six football-related surgeries. "Obviously getting a knee replacement at 49 is probably not normal," he says. "It's a real quality of life issue. That took away my ability to play tennis, water-ski, snow ski, do some of the things that I really like to do. Basketball? Forget it."
"Every morning when I get up," says offensive lineman David Douglas, a 1986 rookie who played for five NFL seasons, "I want to put oil cans in all these little places before I get going."
One of the most gruesome NFL tableaux of the '80s was when Cincinnati nosetackle Tim Krumrie suffered a triple fracture of his left leg during Super Bowl XXIII in January 1989. Krumrie, a 10th-round pick in '83, played six more seasons after the injury, for a total of 12. He sounds like he wishes he could have played 12 more. "I still have numbness on the top of my foot," says Krumrie, 51, who's been an NFL and UFL assistant coach since retiring. "I still have numbness on the outside. I can't kneel down on one knee because the way they braced the leg in the healing process put pressure on that patellar tendon. To kneel down to pick up something, I always have to kneel down on my right leg. It's stuff you live with."
And yet. ...
"If I could have the same career but had to break the other leg, I'd do it again today. It wouldn't make a difference. I've been out now 16 years, and I still dream football. Something psychologically in there still wants me to play."
More are hurting than not, for sure. But then there's Esiason, who never had a surgery in 14 NFL seasons and hasn't had one since. He plays hockey three times a week in a Long Island men's league. Kreider, who finished his eight-year career in '86, says, "I may have gotten more injuries playing soccer." Horton spent a decade with two artificial-turf teams, Cincinnati and Dallas, and he plays golf when he can get out of the Cardinals' coaching offices. "Every day is a beautiful day," he says. "Nothing hurts when I wake up in the morning."
On Oct. 25, 1987, at Three Rivers Stadium in Pittsburgh, Mike Martin scored his first NFL touchdown. He caught a pass from Esiason on a 10-yard pivot route, then cut up the sideline, making five Steelers, including All-Pro strong safety Donnie Shell, miss on his way to the end zone for a 41-yard score. "That's the play I show my players when they wonder if I really played in the NFL," Martin says. "My game was quickness."
It's a good thing Martin has that video, because something else happened to him that day in Pittsburgh: He suffered a likely concussion in the second half. After the game, when reporters came to talk to him about his first career touchdown, he said, "Really? I scored?" The game now is mostly a blank.
"They asked me on the sideline if I could go in and just catch the ball [on a punt return]. I wouldn't have to run. Still a little groggy, but I told them I was O.K. I still don't know how I caught the ball. I could barely see."
He thinks of moments like that because of what happened two years ago in the locker room at Taft High. As he did after every game, Martin had his team kneel to recite the Lord's Prayer. "Our Father, who art in heaven," he began, "hallowed be thy name. ..."
When he got to the line "and forgive us our trespasses ..." what followed out of his mouth was gibberish.
"Hey, Coach!" a player said when it was over. "You messed up the words!"
Same thing happened the next week. "Hey, fellas, my bad," Martin told his players. "Pick me up here."
"I've been saying it my entire life," he says, "and I just forgot. I'd get in the car after the game and try to remember the words."
Martin has noticed other things since he turned 50. Sometimes he forgets why he's phoned people, and when they pick up, he'll have to apologize. He's an NFL analyst on a Sunday night sports show in Cincinnati, and he says that on a couple of occasions he has totally lost his train of thought and changed the subject inexplicably.
And then there are the headaches, which he says put him "in a somber mood." As with many of his former teammates, he has no idea if they are a direct result of what he says were multiple concussions. That, of course, has been the premise of neurologists who have studied the brains of deceased former NFL players. Football, evidence suggests, might be as hazardous to one's mental health as to one's physical well-being. Dr. Ann McKee of the Veterans Administration Hospital in Bedford, Mass., has studied more than 20 former NFL players' brains, as well as those of high school and college players who have died, and found chronic traumatic encephalopathy in all but one. "I have never seen this disease in any person who doesn't have the kind of repetitive head trauma that football players would have," McKee says.
The members of the '86 Bengals are certainly worried about the long-term effects of head trauma. Players like Fulcher and fellow defensive backs Barney Bussey and Robert Jackson say there are little things they have trouble remembering. Collinsworth says the same—though he notes, "How do you know if that's because you played football or because you're in your 50s?"
In their day players chuckled when wobbly teammates would get up and stumble toward the wrong huddle. Today, those guys are typically taken out for the rest of the game. "We knew guys were not right after they were sent back in the game," says kicker Jim Breech, 55. "You've got three fingers up? Oh, yeah, you can go back. You're fine. I don't think anybody had any idea how it would ultimately affect people."
Reggie Williams says that early in his career, playing while dizzy or hurt "was a badge of honor." He tells a harrowing story of getting a concussion and what he called "a broken face" against the Oilers. "I fractured the left orbital socket in my eye," Williams says. "The old-school attitude at the time was that you can't let a rookie go into your end zone standing up. So I hit this running back at the goal line, and on the other side of him was [Oilers guard Mike] Munchak. And so I was hit with 500 pounds on my nose. It was the most crushing knockout. The pain was excruciating, but there was no [visible] damage—I showed the doctor my nose at halftime, and he said, 'You're O.K.' It wasn't until I blew my nose to go into the game in the second half that my eye blew up like a balloon. And I went to the doctor and said, 'See, see, I'm hurt!'"
Today, Williams feels fortunate he's as mentally acute as he is. "I know I put my brain in a hard place more than once," he says. "But I want to have rich experiences with my kids and grandkids. That would be the biggest thing taken from me—not to be able to look forward, to understand. So I do cognition games. I do crossword puzzles. I read interesting books. I watch movies in foreign languages. All to keep my mind engaged."
Fulcher and Bussey have sons who play at Ohio University. Both kids would like to follow their fathers into the NFL. Michael Muñoz, an All-America tackle at Tennessee, could have signed with an NFL team as a rookie free agent but chose not to after being passed up in the 2005 draft. "Maybe it is better that he's working [in business] with an MBA and doing pretty well," his father, Anthony, says. "He's not putting his body through what I put mine through. But I would have supported him if he had wanted to. He's a smart kid. He knew the risks."
Kelly, the former linebacker, says, "If I had a son, I would tell him to use his athletic ability to obtain his college degree. I see my college buddies [from Washington] who didn't get an opportunity to play in the NFL, and the majority of them are a lot more successful. I would say 90 percent of the guys who didn't make the NFL are a lot more successful now in their 40s than the guys who made the NFL at 21, 22, 23. And in a lot better condition."
Eric Kattus, 48, a backup tight end in 1986, says, "I have three sons, younger boys, and they're really bothering me to play football—and I would prefer they don't play. Until they can really control the concussions and any kind of brain damage that happens, I don't want them to play. It's a very physical game that just takes a tremendous toll on your body."
Martin didn't have that luxury as a kid growing up in Washington, D.C. For him the reason to play football was socioeconomic—he had to make it out of the projects. He sent the same message to many of his Taft players: Use football to make a better life for yourselves.
At practice Martin would mix life lessons with football ones: The adversity players overcome on the field mirrors what they will have to overcome in life. Those were the lessons he was taught as a kid and in college and with the Bengals. Football lessons. Unchanging ones.
One week this fall he was out on the Taft practice field, working with his quarterbacks. The weekend's opponent was susceptible to the option, so Martin took the ball in the backfield and began to show quarterback Kendall Bobo how to pitch the ball, or fake the pitch and turn upfield if the halfback was covered. Martin ran out of the backfield, made a cut, took a couple of strides, then stopped.
"I was afraid my hip might pop out," he says. "That's just something I have to live with." Now and forever.