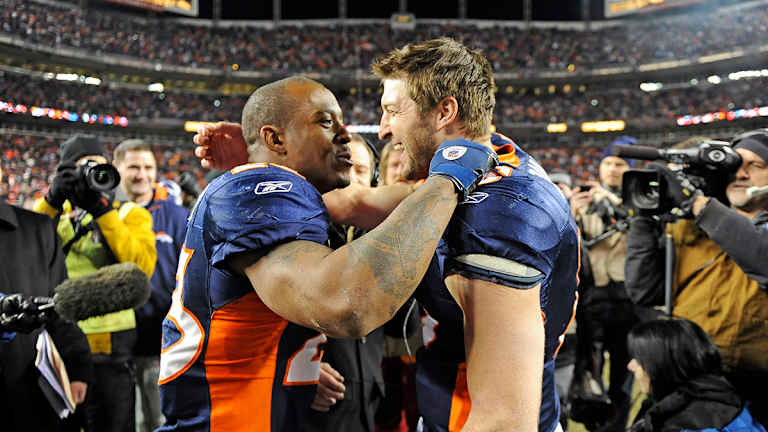 The Power of the Possible
Tim Tebow has led the Broncos from 1—4 to the division lead with the craziest, most unlikely eight-week run in NFL history. It's taken clutch playmaking, a newly stout defense and, most of all, unwavering belief
An hour before his team would face the Broncos on Sunday, Bears general manager Jerry Angelo stood in the first row of the press box at Sports Authority Field at Mile High Stadium and gazed down to the spot where 6'3", 235-pound Tim Tebow was loosening up. Angelo has a seasoned perspective on the NFL, having spent the last three decades as a scout or personnel man. Tim Tebow? Angelo flipped through the pages in his mind's scrapbook for a player he recalls generating as much mania, magic and polarization as the second-year quarterback, who's as interested in saving souls as he is in saving the Broncos.
"There isn't anyone like him," Angelo said. "I've always believed that 60 percent of evaluating quarterbacks is based on intangibles, and he has all the ones you'd want. He has talent too, but the main thing that drives [the Broncos] is his teammates' belief in him. You hear people talk about his religious beliefs—and that's O.K. I'm strong in my faith as well. But I believe there is some divine intervention associated with what's taking place."
Four hours later the resurgent Broncos' season went from improbable to indescribable, after they rallied from 10 down in the final 4:34 of regulation to beat Chicago 13--10 in overtime. The comeback left Angelo stunned and 76,487 spectators delirious. Team employees, stadium workers and police officers were shaking their heads. Viewers across the country stared in disbelief.
How to explain it?
The Broncos had failed to score on their first 12 possessions, seven of which were three-and-outs and three others of which lasted five plays or fewer. They committed two turnovers while forcing none in regulation. They had a field goal attempt blocked. There were dropped passes by Denver receivers—including one sure touchdown bomb—and many overthrows. Tebow was 8 of 23 for 106 yards and no scores through the first 55 minutes.
Then, well, something intervened. Tebow led a 63-yard touchdown drive that culminated in a 10-yard strike to wideout Demaryius Thomas with 2:08 to go. The Bears recovered the onside kick and needed merely to burn clock—but running back Marion Barber inexplicably ran out-of-bounds on second down to give Denver an extra 35 seconds, at least. Starting from their own 20 with 56 seconds left and no timeouts, the Broncos pushed to the Bears' 41 (with Chicago's defense allowing receivers to run free and get out-of-bounds), setting up Matt Prater's 59-yard tying field goal with three seconds remaining. In overtime the Bears won the toss and drove into field goal range, but then Barber fumbled the ball away at the Broncos' 33. Tebow promptly drove his team to the Chicago 33, where Prater booted the 51-yard game-winner.
How to explain it?
"I don't think words can describe it," says Denver wideout Eddie Royal.
Truth is, the Broncos aren't scouring the dictionary for adjectives. They're riding the wave. Denver, which opened the season with four losses in five games, has won six in a row and seven of eight since Tebow moved into the starting lineup on Oct. 23. The games have been largely ugly, with the offense staggering for three-plus quarters before remembering how to put the right foot in front of the left. But the endings have been dramatic masterpieces. Six of the wins have been decided by a touchdown or less, including five by no more than four points. In five of the victories the Broncos trailed in the fourth quarter. Three came in overtime.
"I really don't know what to compare it to," says Denver cornerback Champ Bailey, a 13-year veteran. "I've never seen anything like it. Overtime game after overtime game. Three-point games and last-second field goals. I mean, when does that ever happen week after week? It doesn't. But I'll take it any way we can get it."
That's because the 8--5 Broncos are closing in on an AFC West title. With three games left, they lead the Raiders by one game (and own the tiebreaker over Oakland) and the Chargers by two. After hosting the Patriots this Sunday, they close against the Bills, who have lost six straight, and the Chiefs, who have dropped five of six and haven't scored more than 10 points since Halloween.
There are multiple layers to the turnaround, and each was evident on Sunday, beginning with the defense, which kept the game close until Tebow Time. Denver didn't allow a drive of longer than 44 yards in regulation and limited the Bears (who were without starting quarterback Jay Cutler and starting tailback Matt Forte) to five plays or fewer on 10 possessions, including seven three-and-outs of their own. Through Week 5 the Broncos were giving up 28 points per game, and in three of those games they allowed opponents to convert more than 50% of their third-down opportunities. Since Tebow took over, the D—paced by rookie linebacker Von Miller—has held five opponents to 15 points or fewer and has held teams to 27.3% on third downs. (The league-leading Ravens are at 28.7% for the season.)
Special teams have also come up huge. Prater's game-tying boot was just the 18th field goal in NFL history of 59 yards or more, and his 51-yarder marked his third overtime game-winner this season. Punter Britton Colquitt is tied for second in the league with 26 punts inside the 20. Royal had an 85-yard punt return in the 38--24 win on Nov. 6 at Oakland.
Last, the offense makes plays when it absolutely, positively has to. On Sunday, Tebow connected on 10 of 13 passes for 102 yards in the final five minutes of regulation. He accounted for every yard on the Broncos' 63-yard TD drive, completing seven straight passes, and set up the tying field goal with completions of nine, 11 and 19 yards. Once Denver got the ball back in overtime, the outcome seemed foreordained.
By now we should be accustomed to this from Tebow, who starts like a '72 Pinto in a Rocky Mountain winter. Consider his completion percentage by quarters this season: 48.3 in the first, 33.3 in the second, 37.5 in the third and 61.3 in the fourth. His yardage and touchdown numbers rise accordingly: from 171 yards and one TD, to 107 and one, to 242 and three, to 732 and six. "I guess I just gotta get to the stadium and start practicing a little bit earlier," he says.
Tebow can joke now because he's more comfortable in his environment. The offense is his—surely for now, if not beyond this season. It wasn't supposed to be that way. Veteran Kyle Orton was the incumbent and had the backing not only of management but also of the players. Orton was the experienced pocket passer who could impress coaches in practice with his precision and understanding, whereas Tebow, who is better throwing on the move or out of the pocket, routinely skipped passes or sailed them over open receivers.
The frustration simmered to the surface during the first week in camp, when Tebow told SI that his effectiveness could not be accurately measured in practice. "A lot of my game is keeping the chains moving, running for a first down, taking on a tackler, running through a hit and inspiring my teammates," he said. "Those aren't things you do in practice. In practice you want to work on those areas where you need to get better—play-action drops, checking it down to the flats, understanding the concepts of the offense and defense."
Tebow would most likely have remained on the bench had Orton not committed nine turnovers in the first four-plus games. John Fox, who was hired in January 2011 after nine seasons with Carolina, is an old school coach who relies on a strong running game, ball security, pressure defense and field position. Tebow's abilities in the first two areas have been manifest. With 517 yards, he's second on the team in rushing to Willis McGahee. And for all his inaccuracy, Tebow has thrown just two picks in 198 attempts this season. His interception percentage of 1.0 leads the league.
But Tebow's greatest accomplishment is how quickly he won over his teammates and the organization. His security blanket, former coach Josh McDaniels, was fired late last season. Orton was so popular that teammates voted him a team captain this summer. Fox and new executive vice president John Elway had no ties to Tebow, and neither immediately threw his support behind the former Heisman winner.
It's not a stretch to say that Tebow was like an outsider in his own home. Even after being promoted, he proceeded with caution. He had to be reminded about little things, like barking out the snap count with conviction in practice. In his first start, at Miami, he looked unsure and overly cautious—until the final five minutes, when he was 9 of 13 for 131 yards with two touchdown passes, and even ran in the two-point conversion to force overtime in an 18--15 win. "It was definitely a hard situation," says Tebow of assuming the leadership reins. "One of the key things was just getting a familiarity with everyone around me, plus the offense, the scheme, the game. The relationship with the guys has continued to improve, but I don't think I ever felt [out of place] in the games."
While Broncos players say they supported Tebow from the moment he was named the starter, Bailey and others admit that unproven players have to "earn respect." Tebow has gotten their attention by spending an extra 30 minutes before and after practice working on fundamentals, particularly his footwork. Quarterbacks coach Adam Gase couldn't devote much time to Tebow last season because Orton was the starter. And this year, because of the lockout, coaches had no off-season contact with players.
The Broncos are now trying to accelerate the learning process without overwhelming Tebow. They started with the small package of plays they had for him as a backup and have added to it each week while getting a better feel for what works. The key, though, is not to stymie his playmaking. "The good thing with Tim is that he doesn't care about stats," says Gase. "He just wants to win. That's the great thing about this team—everybody just wants to win. When it's close, it's weird on the sideline. Everybody is like, Here we go! Time to make a play."
In the Dolphins game, Virgil Green recovered an onside kick with 2:44 left to set up the tying touchdown. At Oakland, Royal's return broke a 24--24 tie and McGahee gained 163 yards on 20 carries. At Kansas City, receiver Eric Decker had a 56-yard touchdown catch with 6:44 to play to provide breathing room in a 17--10 win. At San Diego, Decker and tight end Dante Rosario made tough catches to set up the fourth-quarter field goal that tied the game at 13--all, and McGahee busted a 24-yard run up the gut to put Prater in position for his 37-yarder with 33 seconds left in OT. At Minnesota, cornerback Andre Goodman's late interception of Christian Ponder set up Prater's game-winner.
Not to be forgotten—nor could he be—is Tebow. There have been scrambles for first downs and touchdowns and two-point conversions, clutch passes and in general a sense that anything is possible.
Last Thursday, three days before facing the Bears, Denver offensive coordinator Mike McCoy was discussing the quarterback's effect on him. One lesson the 24-year-old has affirmed to his coach is to never give up, to always battle.
On Sunday, after the Broncos' latest improbable comeback, McCoy, Tebow and Gase came together near the sideline. They hugged individually, then as a group. Within the circle McCoy looked at his young star and thanked him. "You kept believing! You kept believing!" he told Tebow. "I love you. I love you."